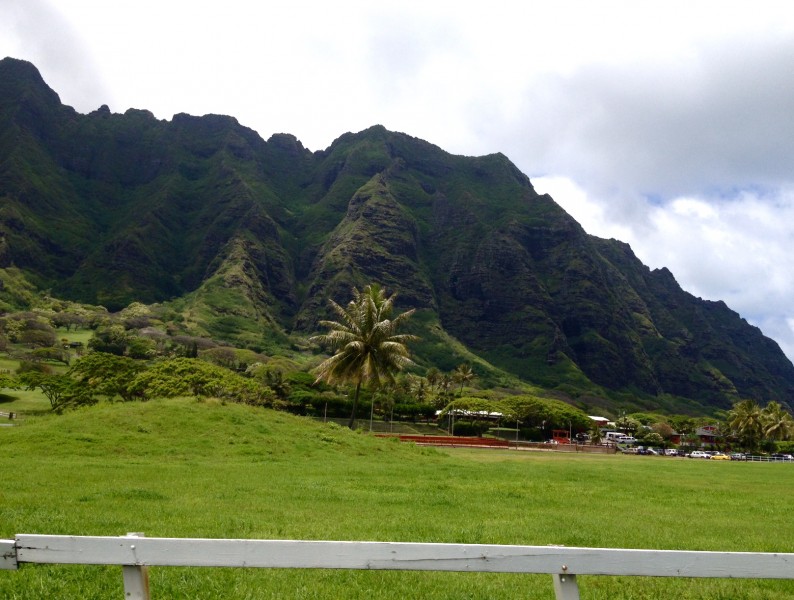 Alrighty, so here's a not-as-long-as-part-1 post on the rest of our Hawaii trip.
I tried REALLY hard to keep this one shorter than the last.
Also, I dropped my camera a few days before we left Hawaii and broke my lens, waaaahhhhhhhhh, so I didn't have a good camera to take food pictures with the last few days, and had to resort to using my phone and iPad.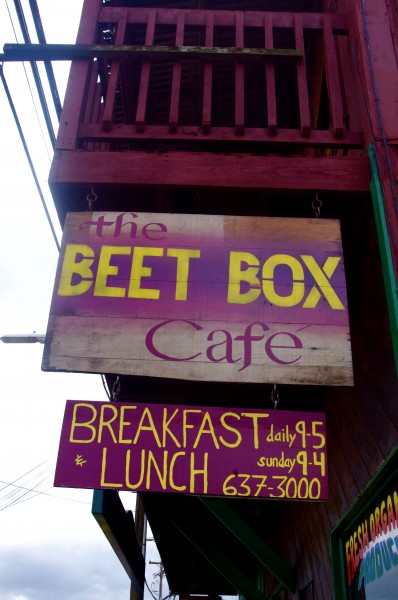 So, one morning we went surfing and if anyone has tried surfing you KNOW how holy-crap-intensely-hard that sport is! Paddling on a surfboard will make your arms feel like lead within 3 minutes, literally. The hubby and I went surfing when we were in Costa Rica a few years ago but decided to take a lesson this time in Hawaii, it was awesome, we learnt a lot and went out on our own again a couple days later to have another go at it!
After surfing we were both ravenous and ready to fuel up so we hit up the Beet Box Cafe in Haleiwa.
I had done some research online and came across this restaurant and knew that I had to go there!
The Beet Box Cafe is all about local, fresh, organic, healthy, vegetarian food! They have an amazing menu using locally sourced organic ingredients with a range of mouthwatering vegetarian dishes. I had a hard time choosing what to eat it all looked so amazing!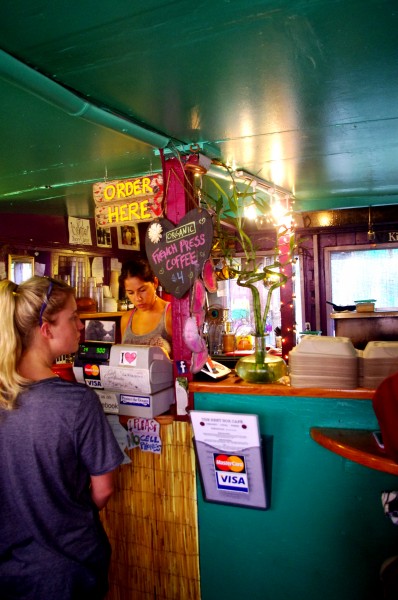 The cafe had this cool, indie, hippie-ish vibe to it which I loved. The cafe was open to the kitchen where we could see the girls in the kitchen doing their thing, making delicious dishes, and smiling the whole time. Such an awesome happy feel to this cafe the whole way through.
It's a tiny little place but it was packed the whole time we were in there, so we knew it had to be good!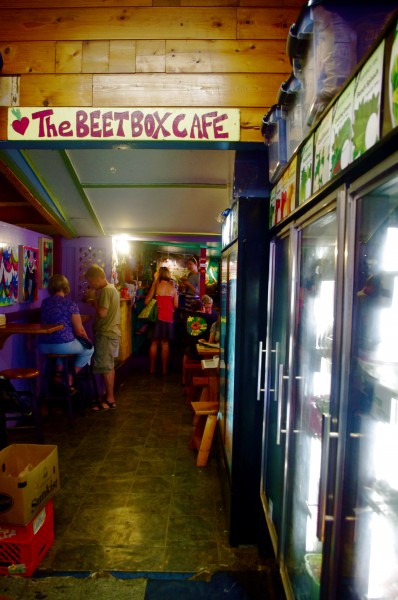 The cafe is located in the back of an organic grocery market which was also unique but totally suited the vibe of the place!
The hubby ordered the "Burrito Babe" which had broccoli, onion, carrots, zucchini, red peppers & tofu in a thai curry peanut sauce wrapped in a toasted whole wheat tortilla with brown rice .
It was HUGE, and honestly so delicious, he devoured the whole thing! After our surfing session though I'd say he worked hard for that whole burrito!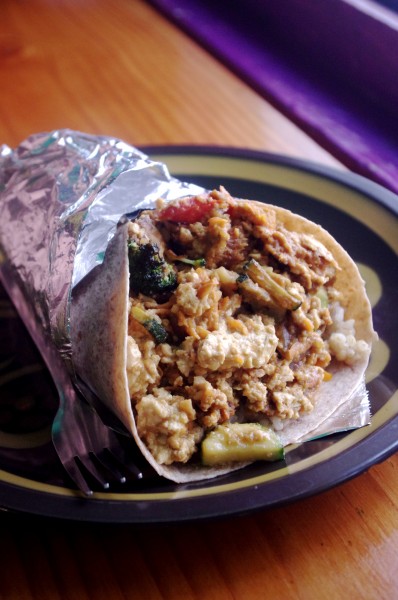 I ordered the "Zen" breakfast plate. This dish is a scramble of eggs, broccoli, carrots, onion, and zucchini seasoned with curry, then topped with avocado with a scoop of brown rice and black beans on the side! The curry in the egg scramble was unbelievably delicious! I am seriously going to try to recreate this at home, it was unreal!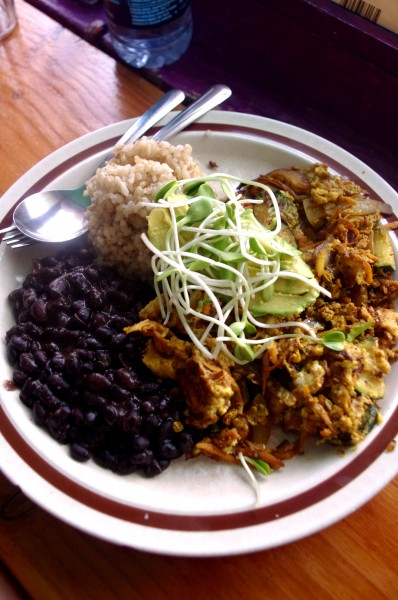 We thouroughly enjoyed our Beet Box Cafe experience and recommend anyone, vegetarian or not, to stop by for a bite if you are ever in Haleiwa!
The next day we took a trip to Waimea Valley on the North Shore of Oahu. This place totally reminded me of Jurassic Park and I swear I was waiting for a velociraptor to jump out of the bushes at any point and start chasing us!
It was truly beautiful scenery, and after a 30 minute walk through the valley we reached a waterfall with a swimming hole!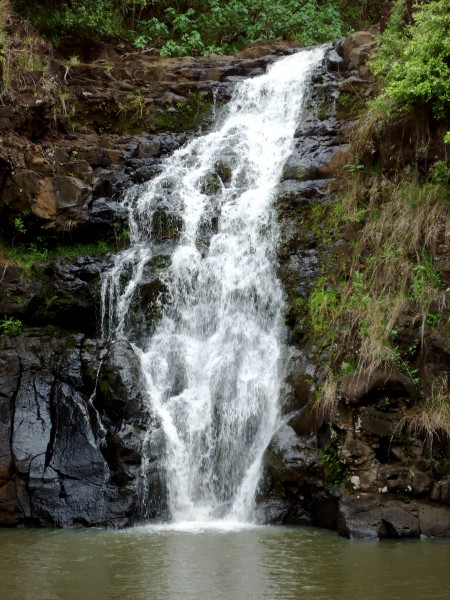 The swim was super refreshing and a lot of fun! The walk back was great too, and the whole experience turned out to be a good workout! I made sure to have my water with me to stay hydrated because it was a super hot day!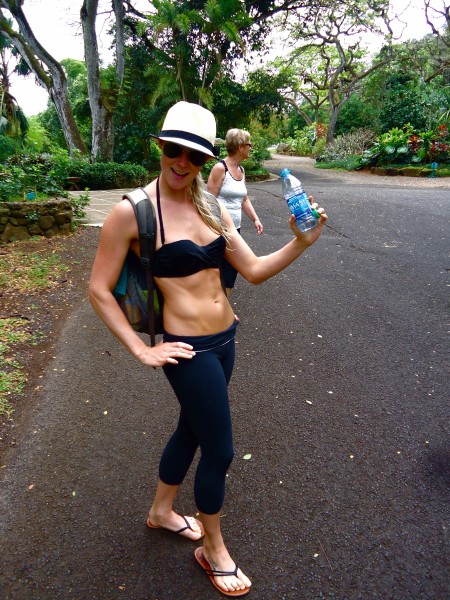 When we got back to our house we enjoyed a couple beverages on the beach! There's nothing more refreshing than a cold glass of white wine on the beach after a day of hiking and exploring!
For dinner that night we whipped up a batch of turkey burgers! Grilled pineapple rings to top of course!
I did my usual lettuce wrapped burger and decided to forgo the bun, then enjoyed some baked purple sweet potato fries on the side as my healthy carbohydrate!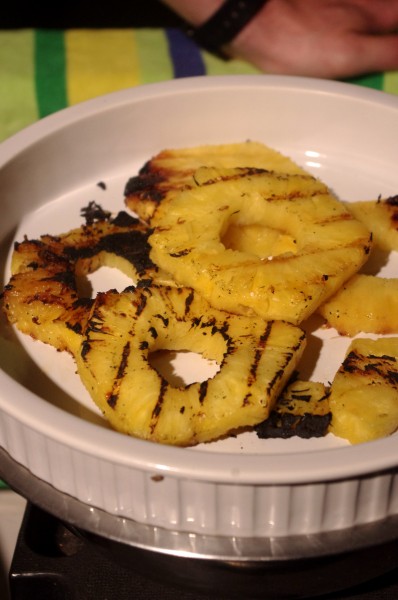 It was a delicious healthy meal! This is definitely going to be a staple dinner this summer – grilled turkey burgers with grilled pineapple to top! Yummo!!
I can't wait until summer arrives here in the prairies!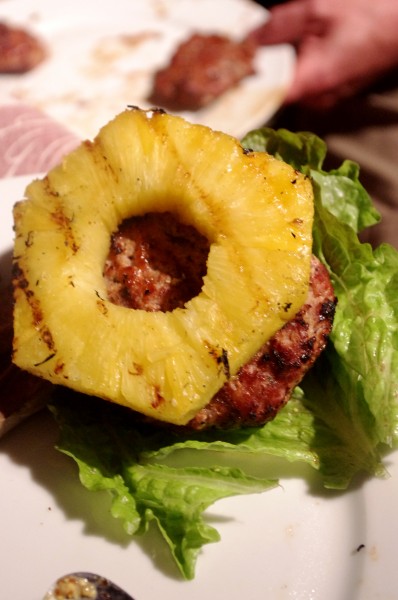 On our last day in Hawaii the hubby and I went off on our own little adventure to do some more exploring of the island! We stopped at the Polynesian Cultural Center and took a long walk through the whole park! It felt a little like Disneyland in the park as we made our way through all the themed Polynesian villiages!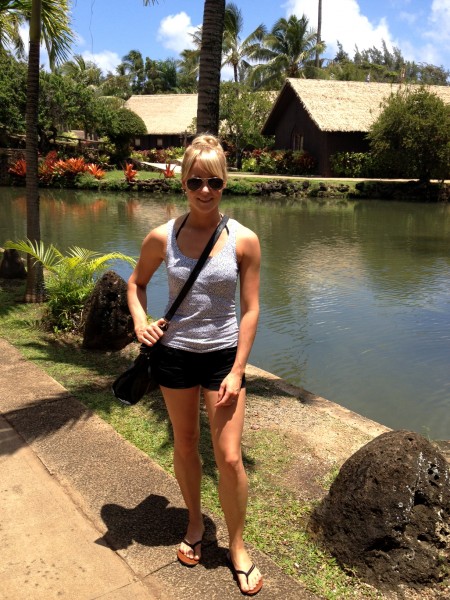 We didn't end up going to a Luau during our trip which was a bit disappointing so we will make sure we get one in on our next trip to Hawaii!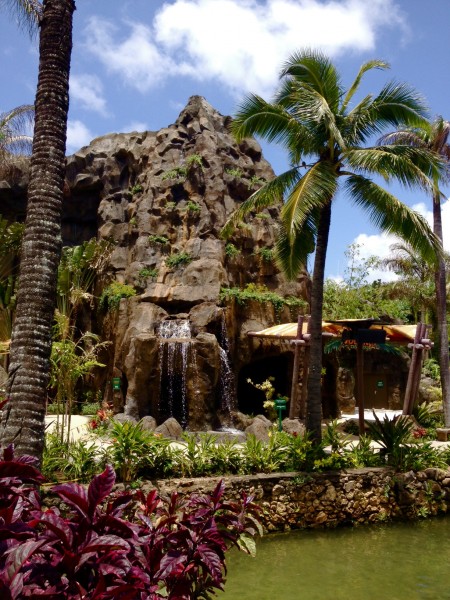 We drove along the East coast of Oahu and made our way into the cute little beach town of Kailua where we stopped for lunch and then spent the afternoon lounging at the beach!
I did a quick trip advisor search for tasty and healthy eats in Kailua and this Kalapwai Cafe & Deli came up as the best place to go, so we found it and stopped in for lunch!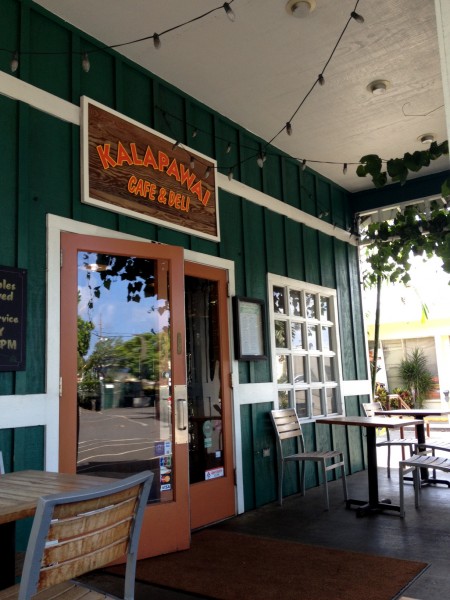 I got a delicious salad with grilled chicken breast, cucumber, sliced strawberries, and almonds on watercress greens with a side of creamy balsamic dressing!
The salad was freshly made to order and fantastic! Thank you Trip Advisor!
After lounging at the beach for a few hours getting our last bit of sun we drove back to Honolulu to drop off the rental car and head to the airport. The views along the way were stunning, Hawaii is honestly a place of it's own. Magical, breathtaking, and truly an unforgettable experience.
Mahalo Hawaii for an enriching vacation, I will see you again soon!
Christal
Nutritionist in the Kitch