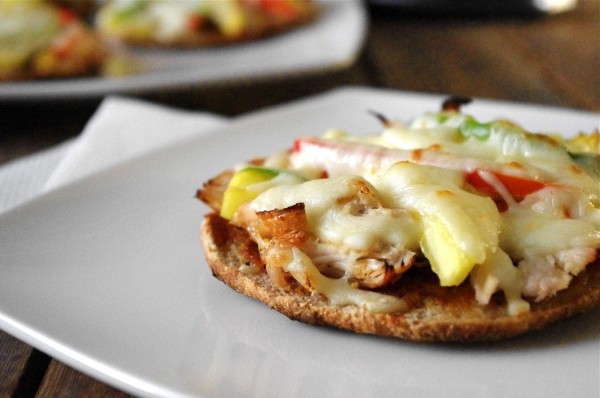 I'll let you all in on a little secret… I LOVE PIZZA. The crispy crust, gooey cheese, delicious and flavorful toppings. Mmmm yup, I do!
Unfortunately, pizza hasn't always agreed with me, so I usually avoid eating it, especially out at a restaurant when it's white bread topped with too much cheese, oil and well everything that = a whole bunch of stomach pain for me, no matter how yummy it might taste.
So, my solution? Make my own! 🙂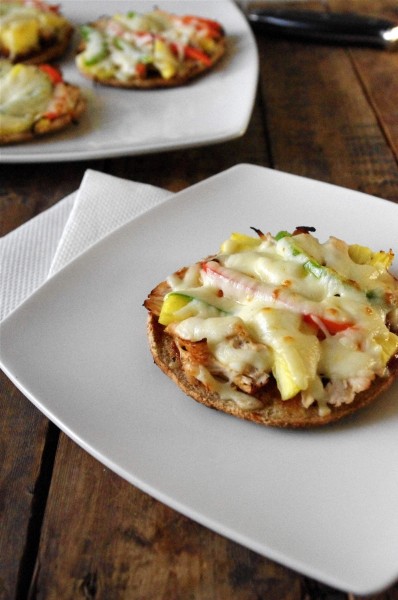 When I can be in control of the crust, the amount of cheese, the toppings, and the overall health-quality of my pizza, I can eat it with peace of mind, and a happy tummy!
For these mini pizzas I went with one of my favorite pizza flavors – Tropical Chicken! I used whole grain thin style buns as the crust (and when put on the grill they crisp up perfectly!), a small amount of partly skimmed mozzarella, organic refined sugar-free BBQ sauce, chicken breast, pineapple, and bell peppers!
This BBQ sauce is great as it is made with molasses, honey, apple cider vinegar and spices, much better than the typical BBQ sauce which usually has "glucose-fructose" as it's first ingredient and over 15g of sugar in 2 tablespoons! NO joke, if you have BBQ sauce in your fridge right now, go look!
The smoky BBQ sauce, sweet pineapple, and crunchy peppers along with the ooey-gooey mozzarella tastes DELICIOUS! As I was munching away at my mini pizza I almost forgot it was homemade and healthy!
These pizzas can be made in the oven too but I am kind of clinging to summer like using the grill too because it keeps the crust nice and crispy! Just put these on the top rack with the BBQ on low, and about 10 minutes later, voila!
Dinner idea?? I think so, and make extras to take for lunch tomorrow! You can thank me later. 🙂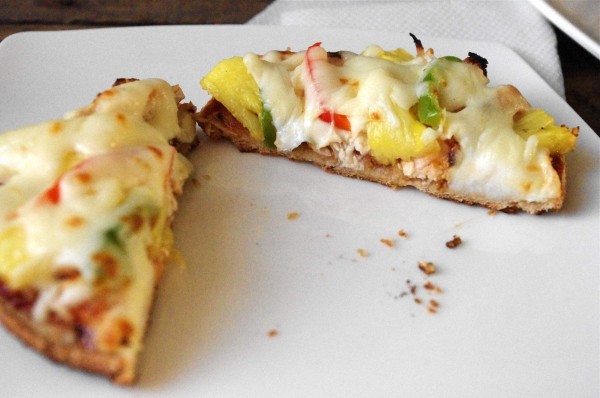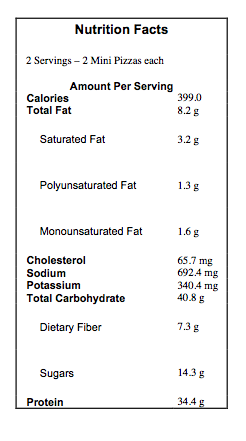 Mini Tropical Chicken Pizzas (on the grill!)
Ingredients
2 thin-style buns, halved
6oz chicken breast, cooked and sliced thin
4 tablespoons organic BBQ sauce (look for brands without refined sugar!)
¼ cup fresh pineapple, chopped
¼ cup bell pepper, sliced thinly
¼ cup shredded part-skim mozzarella
Instructions
Preheat the grill to low heat, or preheat oven to 325 degrees.
Take thin bun and separate (should be pre-cut, use each half as a pizza crust).
Top with 1 tbsp BBQ sauce per pizza, chicken breast, pineapple, bell pepper, and top with shredded cheese.
Place on grill or in oven for about 10 minutes or until cheese is melted and starting to bubble.
Enjoy!
Christal
Nutritionist in the Kitch