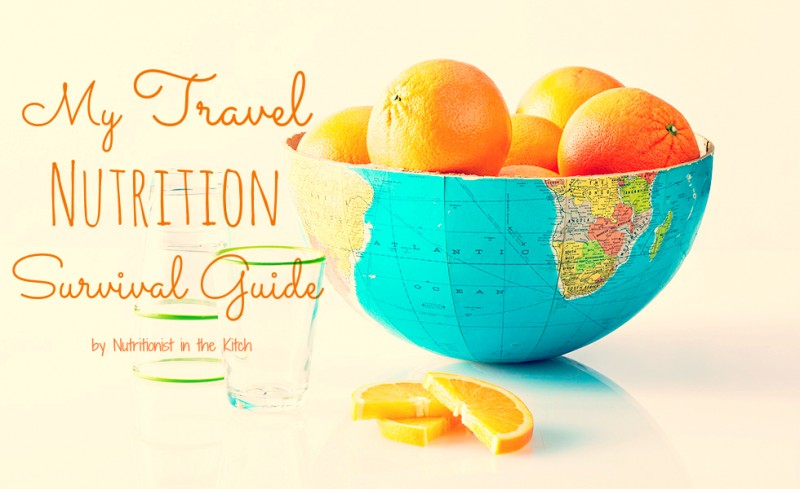 (insert squeal of excitement here)
YES! … we are officially OFF to Hawaii tomorrow!
By we, I mean, yours truly, the hubby, and my wonderful, love-them-to-bits Mom & Dad!
My parents have been to Hawaii many times, it's one of their fave destinations, but for me and the hubby it's a first, and we are super excited to go!
Now, as you may have guessed, I can be a little, teensy weensy, obsessive compulsive about my eating, especially when I travel. I wouldn't be lying if I told you the thought of a day in and out of airports, on and off of planes, without access to my beloved fridge, with my beloved healthy food choices didn't give me a bit of anxiety.
Also, the fact that my body is pretty much programmed to need to eat every few hours, to avoid a crazy bout of "hangry", doesn't always work well with layovers, flights, and the in-between.
Not only travel days themselves, but the vacation days too, of hotels, unfamiliar surroundings, a total throw of routine – this can all really mess with my normal eating habits.
So, what do I do?
I plan, I plan big time.
What am I going to bring with me in terms of food, when and what I am going to eat on travel days, how I'm going to eat/prepare foods/grocery shop for the time I'm away, and what restaurants I most definitely must must must check out.
Here is what I do before I go, during my travel days (airports and such), and while I am away!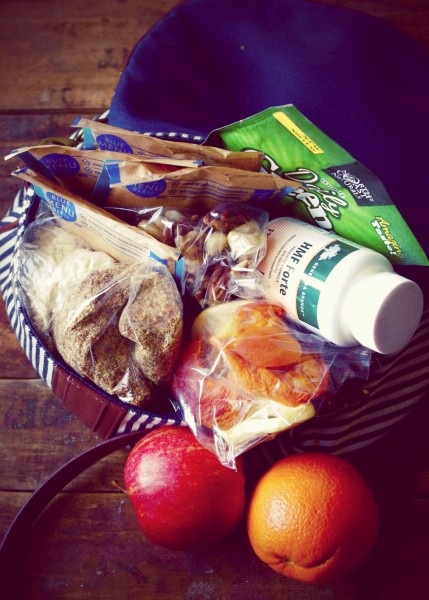 BEFORE I GO
Seeing as I'm a total list person, here is a list of what I do before I go!
Book accommodations with the essentials – a microwave, mini fridge, and electric kettle (this way I know, no matter what, I will have at least a few healthy options I am comfortable with on hand.) Ideally, I book accommodations with a kitchenette or even a full kitchen (I'm a HUGE fan of VRBO (vacation rentals by owner), I use it all the time). 
Research my surroundings – once I know where I am staying I google where some healthy places I can grab food will be close by – wether it's a grocery store, farmers market, or healthy cafe, I know about it, and I'll be stopping there to stock up first thing!
Compile a grocery list – If I am staying in a vacation rental, I'll jot a little grocery list down so I can pick up most of the foods I'm used to eating at home. I find when I stray from the foods I'm used to eating I can feel like a bloated mess, and that really doesn't = fun travel. When I stick to what I'm used to, I feel good and and enjoy myself!
Google the local healthy cuisine – I love checking out awesome, healthy, different restaurants when I travel, as I am a bit of a self proclaimed "foodie", so I always make sure to check Urbanspoon, Yelp, etc. to see where I need to hit up!
Pack my Essential Nutrition Travel Kit– I make sure that on my day of travel I have snacks and my essentials with me – it's always good to have an emergency stash, just in case! Here's what I typically include in it:

Plain Instant Oatmeal Packets (you can pretty much get boiled H20 anywhere, even on a plane!) 
Ground Flaxseed (one of my digestive hero's, things tend to slow down for me when I travel, so flaxseed keeps things running smoothly if you get my drift!)
Probiotics (another digestive hero, same idea as the flaxseed, couldn't live without these!)
Whey Protein Powder (a perfect dose of protein when I need it that just needs to be mixed with water, or even yogurt, it also doesn't need to be refrigerated) 
Dried Unsweetened Fruit such as peaches, pears, apple rings, and apricots – (perfect for a pick-me-up when I'm feeling that travel fatigue) 
Dry-Roasted Nuts – (another great protein hit!)
North Coast Naturals Daily Greens (a boost of antioxidants, vitamins and minerals that just needs to be mixed with H20…. stay tuned to the blog later this month.. this product may be part of another give away ;))
Fresh Fruit – (healthy, clean, good travel food!) 
A Spork – (the perfect hybrid plastic travel utensil!)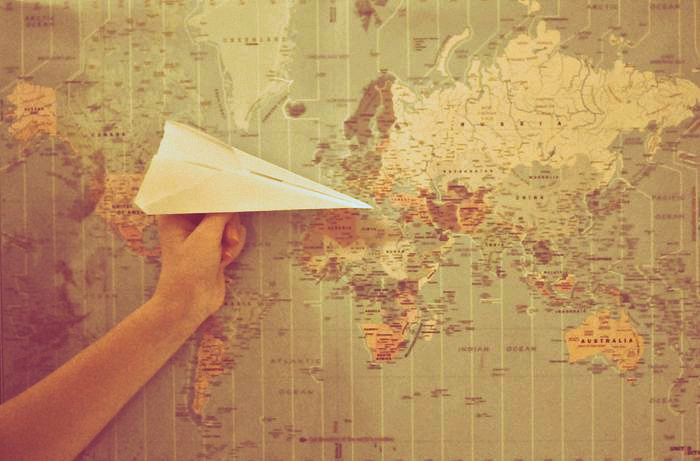 DURING TRAVEL DAY
On the day of travel I make sure to wake up and stick with my normal routine no matter what time I depart. If it's in the morning I still make sure to get up with enough time to have a good solid breakfast, and if it's a late departure I eat as I would normally on any other day. The less I throw my body out of routine, the happier it seems to be with me!
At the airport once through customs I always try to scout out some healthy meal options that I can bring on the plane.
I REFUSE to eat airplane food. REFUSE. It tastes like cardboard, is rarely even close to being healthy, and I saw this documentary once that pretty much convinced me deep fried bugs would be a safer bet than the food on an airplane…. so yeah, I just stay away from it.
At the airport, depending where you are, you can usually find at least some hard boiled eggs, a salad, or hummus and crackers. Those are usually the choices I'll go with!
I always make sure to stay well hydrated on travel day too. It's easy to forget to drink water so I make sure I always have a bottle or two with me!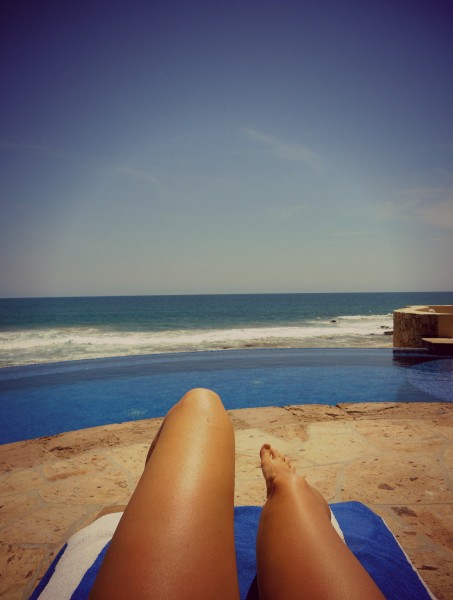 WHILE I'M THERE
Aaaah, I've made it!
First, I will go to grab some groceries, even if I'm staying it a hotel, I will get some good foods to put in the mini fridge to have for breakfast, lunches, snacks – typically I'll grab some yogurt, fruits, rice crackers, hummus, raw veggies, hard-boiled eggs, etc. A good mix of healthy things to have on hand!
I always have my iPhone with me when I travel, which has my favorite My Fitness Pal app, so even while I'm away I will log in my food diary here and there for the sole purpose of keeping myself accountable. It's far too easy to go off the rails and gain 10 lbs just because "it's a vacation", so I make sure by keeping tabs on what I'm eating, I don't come home to a tipping scale!
Even on vacation, when typical day to day routine is different than at home, I will still make sure to keep my regular eating routine. This means no skipping meals, still eating every few hours, and several times a day!
Another thing I make sure to do is NOT have a complete exercise hiatus. That makes it much harder to get back into the routine when I get home so, if at a hotel, I will hit up the gym, or if I'm not somewhere with a gym I will still make sure to do a body weight workout, some cardio such as renting a bike, running, or going for a good walk. In Hawaii we will be surfing which is a killer workout too, so I will be for sure doing some form of exercise every day!
And there you have it! My Travel Nutrition Survival Guide!
I won't be posting as frequently while I'm in Hawaii, but I will be sure to post pictures and at least one WIAW (Hawaiin Edition!)
I also have a great Hawaii inspired recipe for you this week that I munched on continuously last week because it was so darn yummy, and healthy of course!
Stay tuned!
Christal
Nutritionist in the Kitch (on her way to the beach… tomorrow!! 🙂 :))