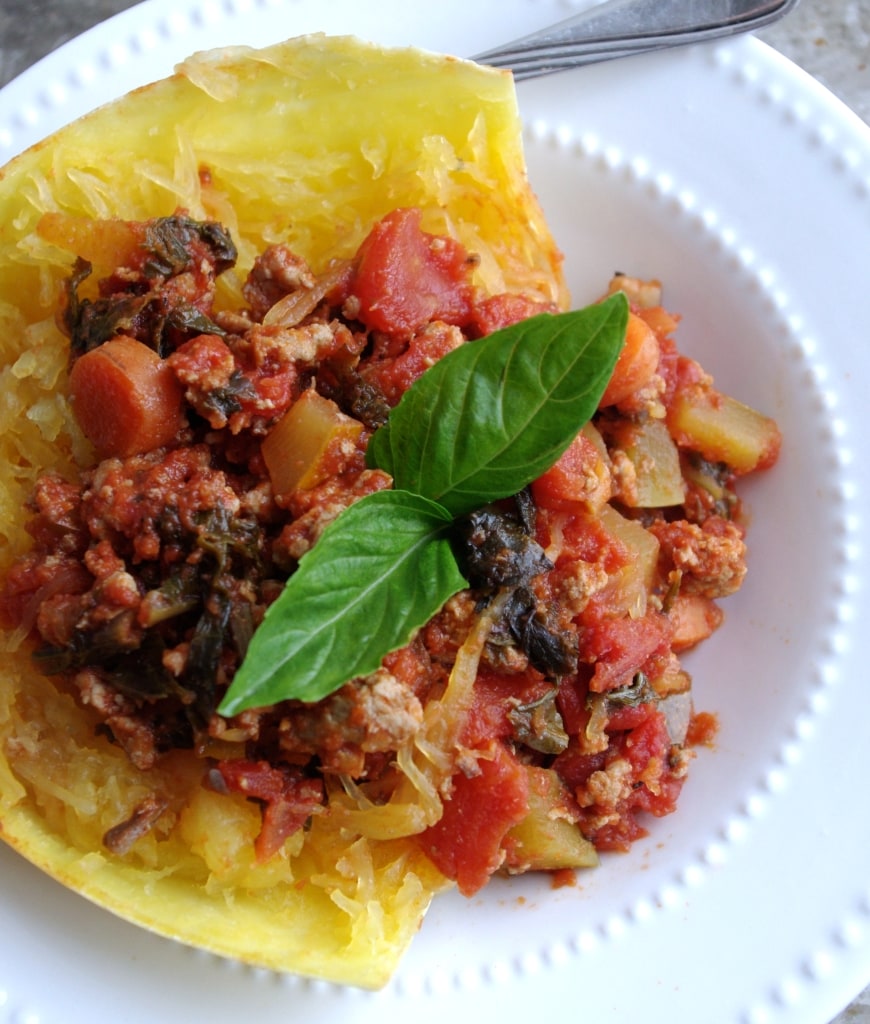 There's something about a hearty bolognese sauce that really hits the spot. This is always an easy go-to meal in our house as it's simple, quick, and super healthy!
This particular bolognese sauce is loaded with garden veggies. My sweet pal, Keri, came over the other day and we cooked up a storm! We wanted to fill her freezer with healthy meals as she's due to have her first baby this month, and we all know that with a new baby comes a big lack of time to spend in the kitchen cooking. Doing this set her up with a bunch of great healthy meals for those first couple months!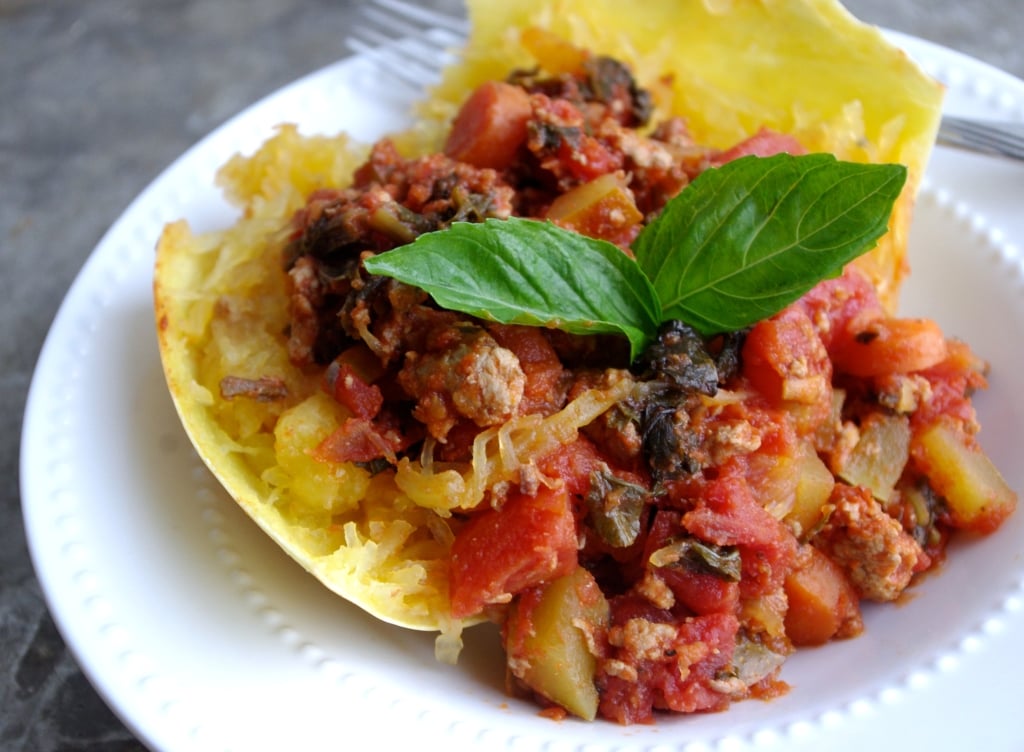 Keri has a HUGE garden, and she brought some of her veggies to use in our cooking. We used her 8-ball zucchinis and carrots, and also added in tomatoes, kale, onions, garlic, lots of herbs and of course, tomatoes! Turkey was the protein of choice, and worked wonderfully in the place of beef, which is traditionally used in a bolognese sauce. This was the perfect swap to keep the fat content low and ease up on the calories.
This bolognese sauce could easily be made vegan by forgoing the protein altogether, it's totally up to you!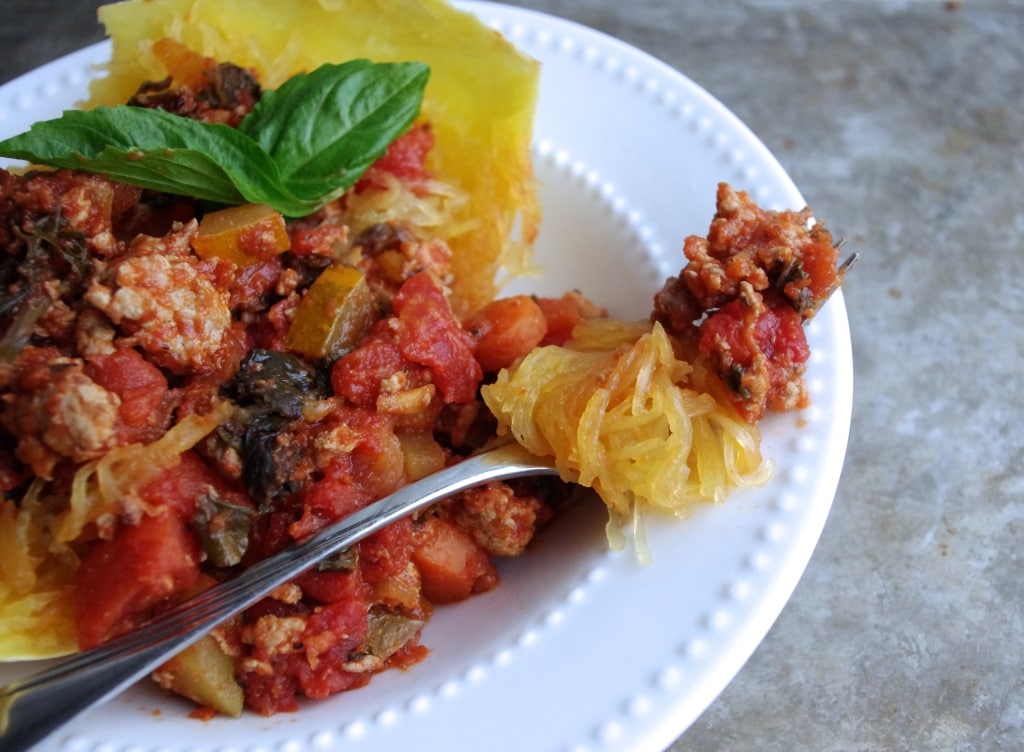 After packing up Keri's portions I decided to take a little bit for myself, because it was just to yummy to miss out on – plus I took it as a welcomed form of payment for my labor in the kitch' ;)!
Personally, I'm not into pasta, it's never sat well with me, and I don't ever get the urge to make it, so when I decided to enjoy this delicious bolognese I had to think outside of the box…. the pasta box that is!
My choice pasta comes in the form of zucchini! I've used green zucchini plenty of times to take the place of pasta – in this prawn recipe, and in this seafood one!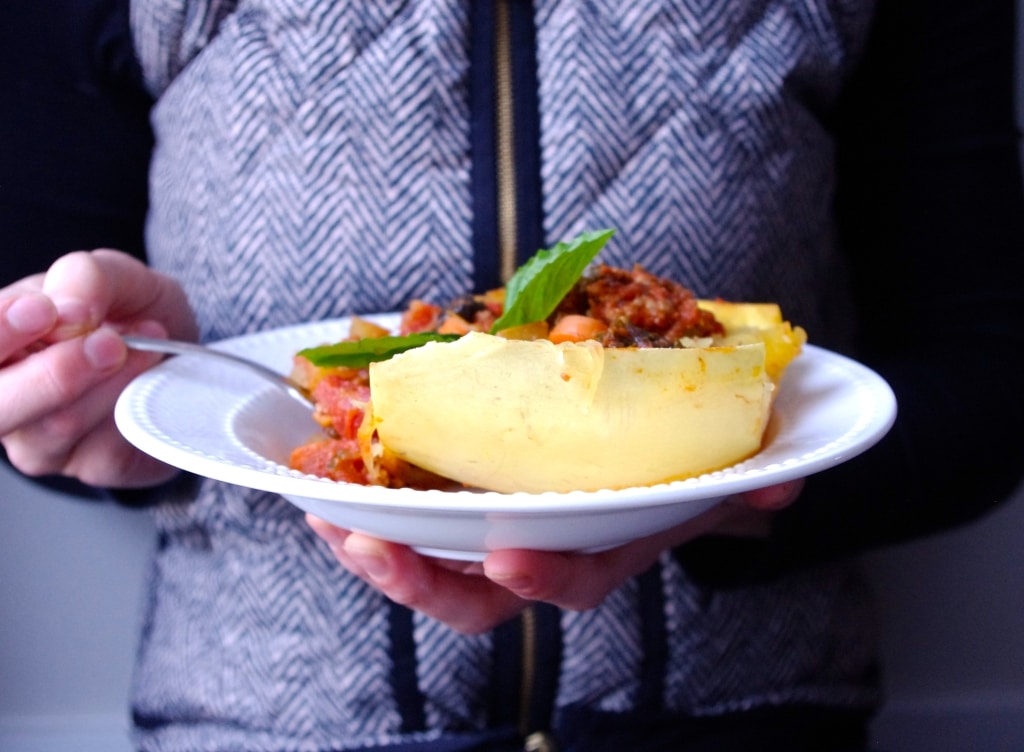 This time, I decided to use another version of squash – spaghetti squash! I love how spaghetti squash cooks up into spaghetti-like strings to hold onto the bolognese sauce, and the "shell" makes the perfect bowl! I had such a big squash that I cut it in half, so I still had to use an actual bowl, but a smaller squash works perfectly as the bowl itself!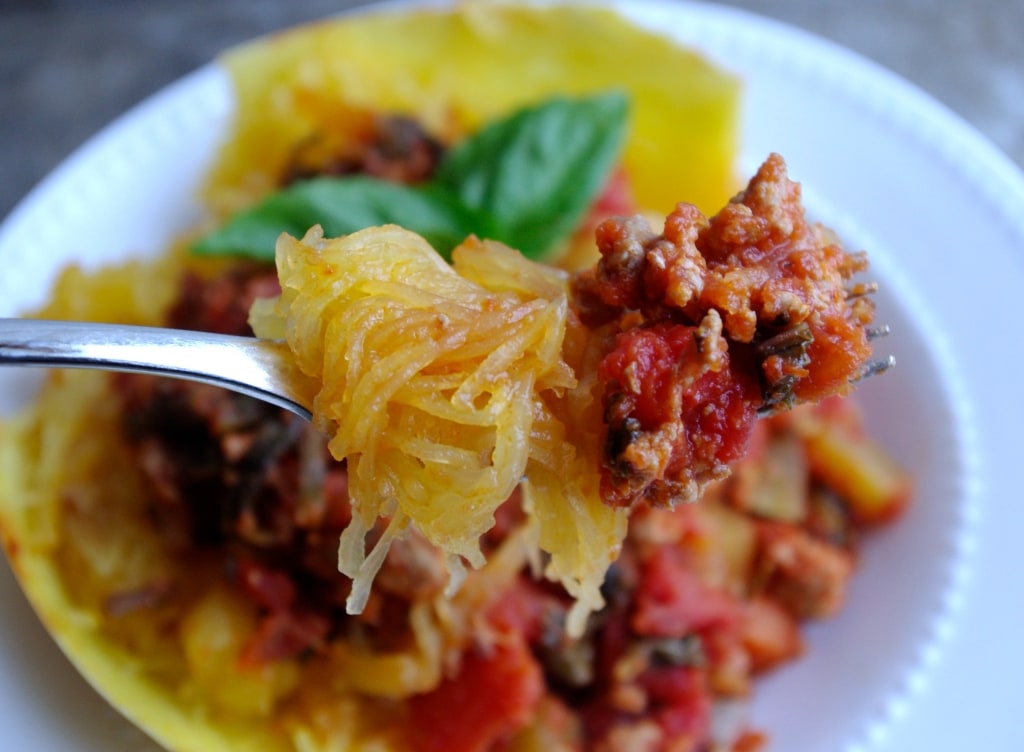 If you are keeping an eye on your carbohydrate intake, spaghetti squash is the perfect pasta substitute as it's much lower in carbohydrates but still packs in a good amount of filling fibre!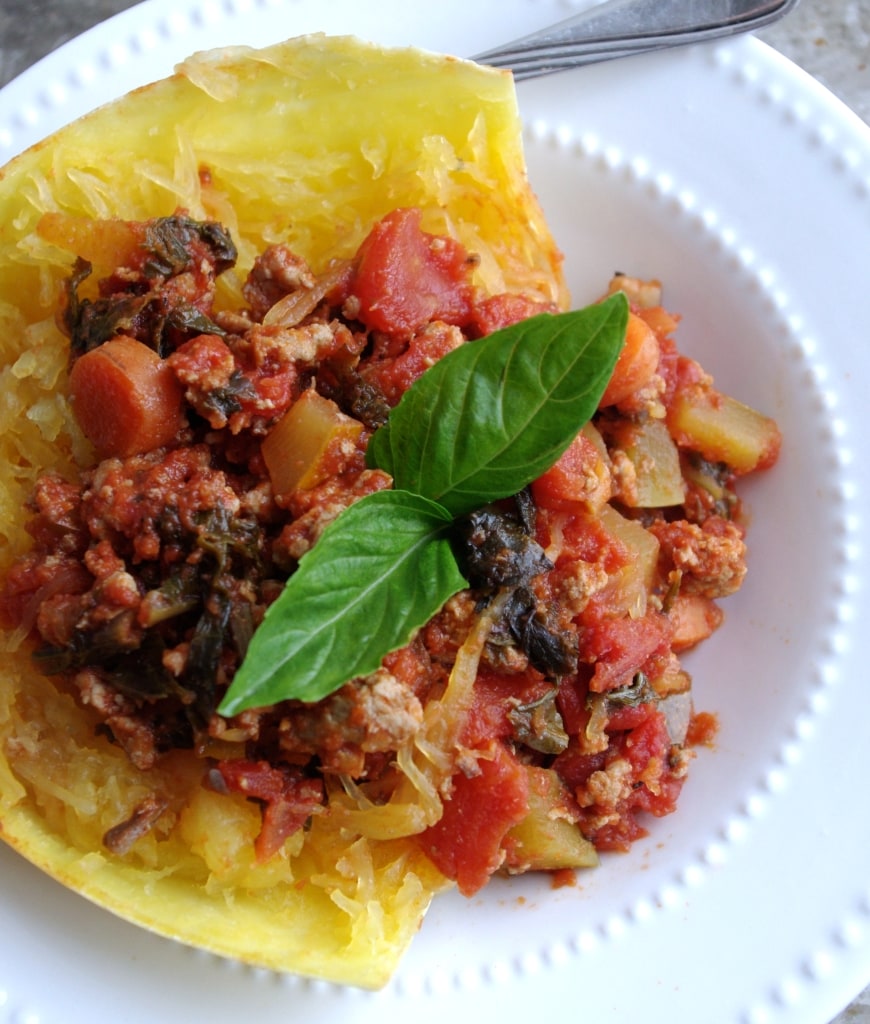 I loved how the vegetables in this sauce made it so bright and colourful, and I'm a huge fan of texture and there was a small crunch from the zucchini and carrots, and softer bits of onion, juicy tomatoes, and hearty chunks of ground turkey!
I used a simple mix of italian spices for that extra flavour and voila! The sauce was done in no time at all!
This is just one of those meals that makes you feel totally and utterly nourished, from the inside out! I'm glad that this dish will be keeping new momma Keri healthy and energized while she gets to know her new little peanut – who I, by the way, also can't wait to meet!!

"Squash Bowl" Garden Vegetable Turkey Bolognese
Ingredients
1 large spaghetti squash, halved (or more if you are serving more than 2 people - 1 large squash per 2 people)
500g lean ground turkey breast (or chicken breast, or omit for vegan)
1 28oz can diced tomatoes
1 8oz can tomato paste
1 cup water
2 tsp olive oil
1 tablespoon italian herb mix
1 white onion, chopped
2 cloves garlic, minced
1 cup fresh mushrooms, chopped
1 large zucchini, chopped
1 medium carrot, chopped
2 cups chopped kale
salt
pepper
fresh basil (optional, garnish)
Instructions
Preheat oven to 350 degrees.
Cut squash in half lengthwise, remove seeds and inner fibers. Drizzle both halves with 1 tsp olive oil, and season with salt and pepper, and rub minced garlic over both halves.
Place on a baking tray cut side up. Cook in oven for about 1 hour, or until flesh is soft.
After the squash has been cooking for about 40 minutes, begin to make your sauce.
Heat 1 tsp oil in a pan at medium heat. Add in onions and garlic and cook until softened.
Add in ground turkey and cook, breaking up into small pieces, until cooked through.
Add carrots, zucchini, and mushroom and continue to cook until all vegetables are softened - about 7 minutes.
In a bowl, add the tomato paste and whisk together with 1 cup water until a thick sauce is achieved.
Pour tomato sauce and diced tomatoes in with the turkey and vegetables and add in the italian seasoning and stir until sauce is slightly bubbling and heated through.
Season with salt and pepper.
Turn heat to low.
Remove squash from oven, use a fork to scrape the inner flesh from the outer shell, but keep the flesh inside the squash.
Top each half of spaghetti squash with 1 cup of the bolognese sauce.
Garnish with fresh basil.
Pack the remaining sauce into portions to freeze or keep in the fridge for leftovers.
Have a wonderful day!
Christal
Nutritionist in the Kitch