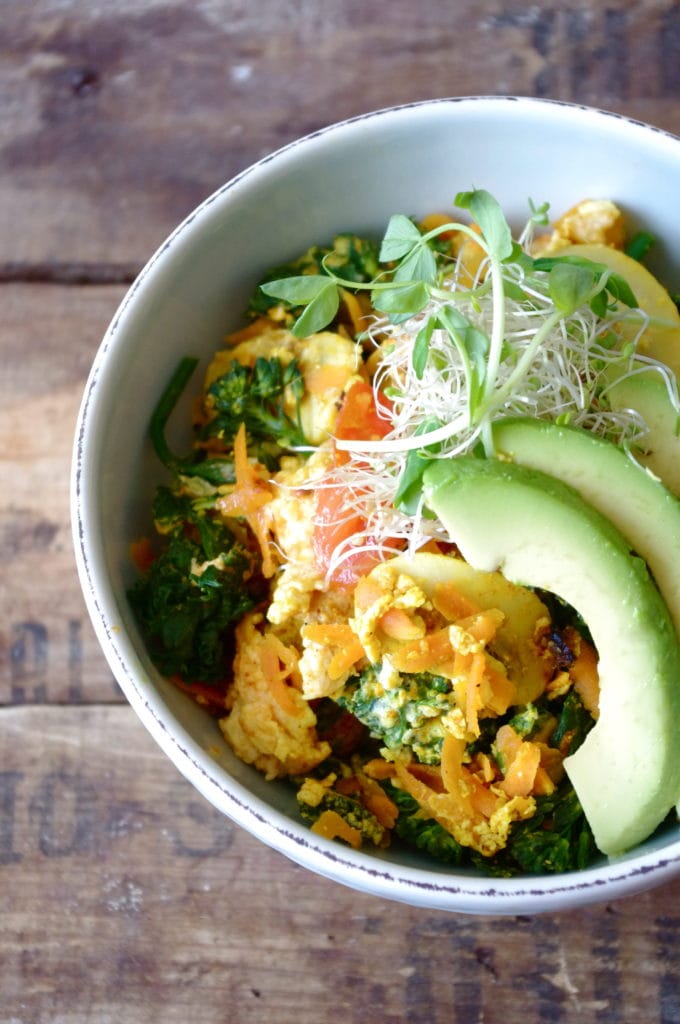 This is definitely one of my favorite meals as of late, it's easy to make, full of delicious flavors, and super healthy!
This is my adaptation of a dish I had in Hawaii at an awesome little place called The Beet Box Cafe. A funky little vegetarian joint that serves up healthy, organic, local food in a little surfer town on Oahu. When I was there last month, I ordered a dish called the "Zen", and it was incredibly delicious! After we returned from Hawaii I made it my goal to recreate this amazing dish!
Here's my version!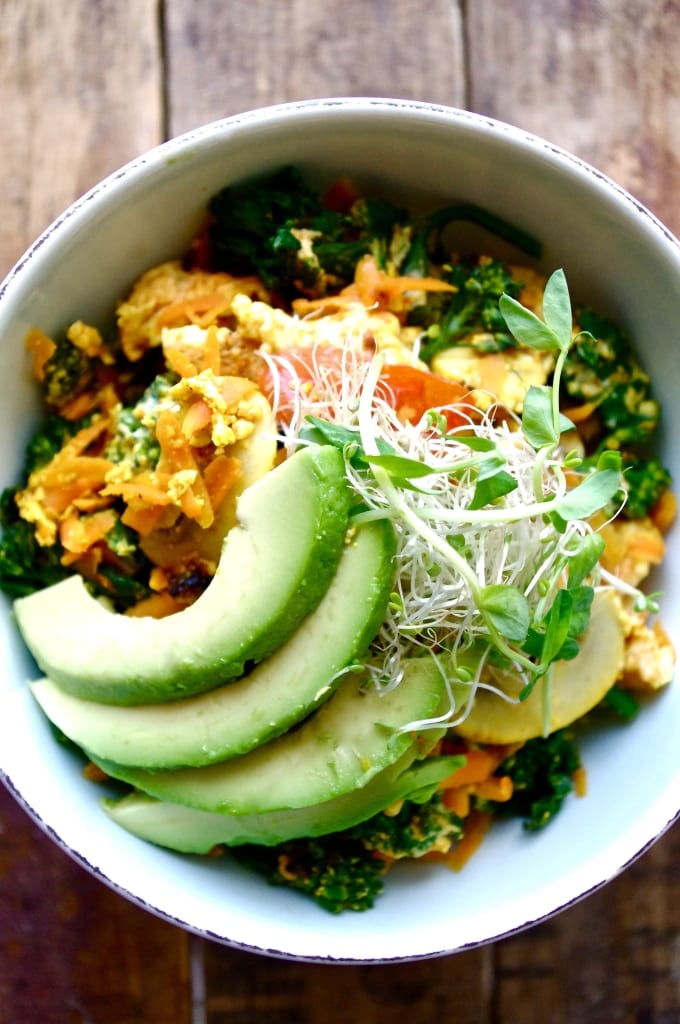 The original "Zen" dish was served on a plate with the egg scramble, a side of brown rice, and a side of black beans, topped with avocado and sprouts.
I decided to go with a "bowl" rather than a plate, and use protein-rich quinoa as the base. I'm a big fan of quinoa, I probably eat it every other day; breakfasts, lunches, dinners, I find a way to get quinoa in there!
Then comes tons of veggies! Broccolini, kale, tomatoes, shredded carrots, and mushrooms! The key ingredient in this bowl is curry powder, which adds such a great flavor to the veggies and eggs (or tofu!). I added garlic powder, onion powder, and paprika with the curry powder, then fresh lime to add some zing!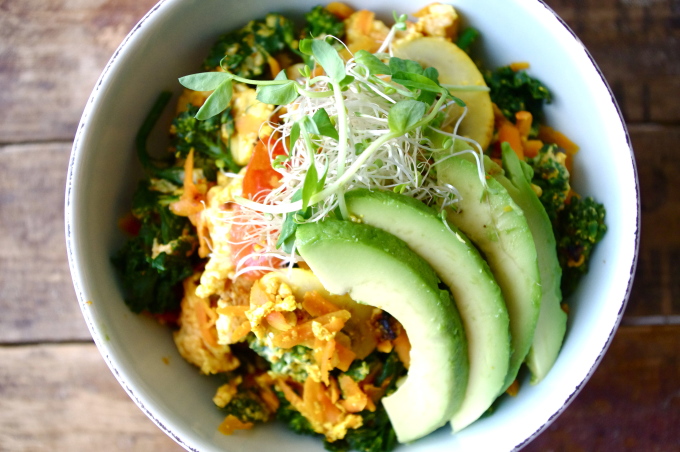 You could easily use diced onion and minced garlic in place of the powders, it was just what I had on hand, and definitely worked great!
I used my trusty wok to cook up the veggies, then while the wok is still nice and hot I added in the egg whites (or crumbled tofu for a vegan option!), another fantastic hit of protein, which cook up really quickly and meld together with the veggies and absorb the flavor from the spices and lime!
Vegans, you can most definitely substitute the egg whites for tofu! Just crumble up some firm tofu and toss it in the wok with the veggies, spices, and lime, and voila! You'll have something just as spectacular!
In the bowl goes all the deliciousness to top the quinoa. Then, to take it all to the next level, some sliced avocado which adds creaminess and healthy unsaturated fats, and sprouts for a little crunch!
aaaaah…zen. A total state of focus that incorporates a togetherness of body and mind.
Really, what a perfect name for this dish. Not only will this dish make you feel amazing, nourish your body, and enlighten your tastebuds, it also put's you in a calm, happy, restful state with each and every bite.
Remember my "zen" moment last week as I enjoyed this delicious bowl on my front porch in the sun? Wonderful.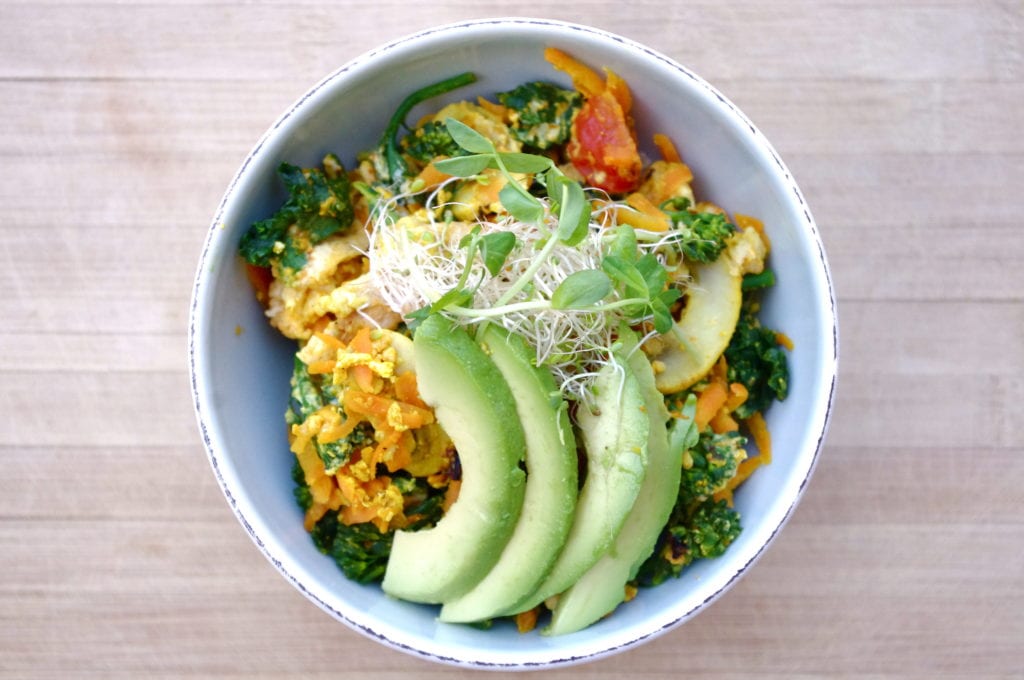 So.. moral of the story?
You need to try this Zen Quinoa Bowl!
The "Zen" Quinoa Bowl (gluten free & can be made vegan!)
Ingredients
6 egg whites or 100g extra firm tofu, crumbled
½ cup chopped broccolini or broccoli
¼ cup cherry tomatoes, halved
¼ cup mushrooms, sliced
1 cup kale, torn into pieces
½ cup carrot, grated
½ teaspoon yellow curry powder
¼ teaspoon garlic powder
¼ teaspoon onion powder
¼ teaspoon paprika
¼ teaspoon salt
⅛ teaspoon pepper
1 lime, halved
½ cup cooked quinoa
¼ avocado, sliced
¼ cup deli sprouts or micro-greens
Instructions
Heat a wok or saucepan at medium to high heat.
In a small bowl mix together the spices and salt and pepper.
When the wok/pan is nice and hot add in broccolini, carrot, and mushrooms and a splash of water, cook for 3-4 minutes until the vegetable become tender.
Reduce heat to medium and add in the kale and cherry tomatoes and spice mix, continue sauteing until the kale is wilted, add little splashes of water as needed so the vegetables do not stick or burn.
Squeeze in the juice of half a lime and pour in the egg whites. Allow the egg whites to sit for a minute until they begin to cook through, then scramble them together with the vegetables. (If you are using tofu just scramble with the vegetables until the tofu begins to brown slightly or heats through).
Once the eggs are cooked fully, transfer the mixture to a bowl with quinoa and top the quinoa.
Top the vegetable mixture with sliced avocado and sprouts, and garnish with another squeeze of lime and some additional salt and pepper if preferred.
Enjoy!
I hope this recipe makes your Monday just a little brighter!
Christal
Nutritionist in the Kitch