Thank you to everyone for your patience! I know it's been almost a week since my last post… but I have a very good reason.. I've been in IRELAND! 🙂
Ireland is absolutely amazing, such a beautiful country! Justin and I landed after a long overseas flight on Tuesday and we have been exploring the country ever since! We made our way around starting in Dublin, up to Monaghan to stay at the amazing Castle Leslie Estate, then off to the West Coast by Galway to see the famous Cliffs of Moher, then over to Kilkenny, and back up to Dublin! It's been an amazing week.
One thing that I have tried my best to do is eat healthy while traveling this wonderful country! I feel I did a pretty good job – made healthier choices, and modified some food when I could! Here are some pictures of our time in Ireland and the delicious and (mostly) healthy food I ate!!
This "Irish Breakfast" I had at this sweet little cafe –  I ordered the eggs scrambled rather than fried, got vegetables instead of sausage, and whole wheat toast instead of white! It was delicious!
This was the Temple Bar area of Dublin! Loved it, very lively! It had tons of great Irish Pubs and little narrow streets with cobblestone roads.
After Dublin we headed to Monaghan, and into this little town called Glaslough. Just outside of the town was Castle Leslie Estate, where we stayed for two wonderful nights – this place was magical!
Above, is a delicious dinner I had at the castle with roasted chicken on a bed of cabbage slaw and glazed carrots!
Breakfast one day at the Castle was scrumptious! Scrambled eggs, light and airy, wrapped in local Irish Smoked Salmon. The salmon was amazing – AMAZING!
A tasty lunch at the Castle was smoked chicken breast, tomato, and lettuce sandwiches on freshly baked whole wheat bread. It was served with a yummy cucumber, tomato salad, and a couple crispy house-made chips! The lunch was so big I could only eat half, Justin helped me with the rest!
Castle Leslie is big for Equestrian lovers – although we did not go on a trail ride (would have broke the budget!) we did go on a long walk around the estate!
After our lovely stay at Castle Leslie, we drove 4.5 hours on winding (scary!!) roads through the Irish countryside to make our way to the coast where the breathtaking Cliffs of Moher and O'Briens Tower (below) reside. This picture so does not do the cliffs justice! Absolutely amazing!
Along the drive there was so much to see – like the above picture – a beautiful castle ruin in the middle of a field!
Next we made our way to Kilkenny, Ireland. This is home of the famous Kilkenny Castle which you can see in the above picture. There is my hubby, that little spec in the middle! This castle was huge! We took a tour of the inside but weren't allowed to take any pictures! 🙁
Kilkenny was definitely one of my favorite places. I loved the vibe of the town, much more laid-back than Dublin, but still brimming with character! We went out for dinner to a place called Cafe Sol, the food was amazing!! I had a Caprese Salad to start, and then Falafel with Mediterranean Vegetables for my main. Delicious!
After Kilkenny we made our way back up to Dublin! I brought along the Irish Soda Bread that was given to us in our B&B in Kilkenny as this delicious bread was given to us with many meals! Irish Soda Bread is the recipe I chose to make before we left on our trip and you will see the recipe below!
I think my recipe does the traditional Irish Soda bread justice!
Now for the recipe….
My interpretation of classical soda bread uses whole wheat flour, oat bran, steel-cut oats, and low fat buttermilk, giving the bread a whopping 3.5g of fiber per slice! The low fat buttermilk cuts down on the fat, and the steel cut oats also make this bread higher in protein.
When I made this bread before we left on our trip, the smell filled the whole house, and was so warm and comforting! I still can't believe I baked bread.
I BAKE BREAD. What??
Seriously, this whole baking thing is still new to me, and it's taken me by surprise how much I actually enjoy it!!
I am also a huge smoked salmon fan – the taste and texture of the delicate salmon.. MMmmmm I love it! Salmon is also a fantastic source of essential fatty acids and protein. The light salmon works perfectly with the hearty bread and the spcicy horseradish sauce – using light mayonnaise, horseradish, and dijon mustard – adds that perfect amount of tang!
Well we are off to the Netherlands (Amsterdam) for the next portion to our trip! I hope you have enjoyed this little update and the recipe!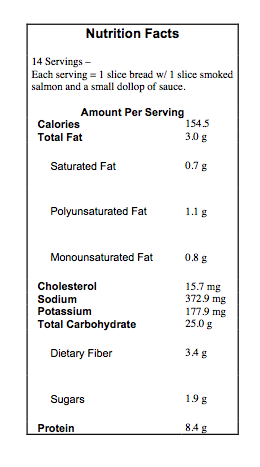 Stay tuned for another travel update and a delectable Dutch recipe!
A Taste of Ireland & an Irish Soda Bread Recipe
Ingredients
Bread
Cooking spray
2½ cups whole-wheat flour
½ cup all-purpose flour
½ cup steel-cut oats
2 tablespoons coconut sugar
1 tablespoon oat bran
1 teaspoon baking soda
1 teaspoon baking powder
½ teaspoon salt
2 cups low-fat buttermilk
1 large egg, lightly beaten
Topping
7oz smoked salmon (lox)
¼ cup light mayonnaise
1 tablespoon dijon mustard
1 tablespoon prepared horseradish
1 tablespoon flat leaf parsley, chopped
dill to garnish
Instructions
Preheat oven to 325 degrees and coat a 9x5 inch pan with cooking spray.
Combine all dry ingredients (for the bread) into a bowl and mix well.
In a separate bowl, lightly beat the egg and stir in the buttermilk.
Combine the buttermilk mixture with the flour mixture, and stir until just combined (do not overwork).
Spoon the mixture into the pan and sprinkle the top of the bread mixture with some more steel cut oats.
Bake for about 1 hour or until a toothpick comes out clean.
Allow bread to cool completely on a cooking rack. Slice into 14 slices.
For the sauce, combine the mayonnaise, mustard, horseradish, and parsley in a bowl, whisk together.
Take one slice of bread, top slice of smoked salmon, and top with a small dollop of sauce, garnish with a sprig of dill.
Enjoy!
Christal