Wow! Amsterdam. What an amazing city! It's hard to even describe Amsterdam, but one word to sum it up would have to be diverse. There's a completely different feel in every area of the city, and each area is only a short bike ride away from the other.
We had such a great time here. Justin and I met up with two of our great friends and we all rented a little flat at the top of 5 flights of stairs in a skinny little canal building. No wonder all the Dutch are in shape, all those stairs and all that biking!
My leg and butt muscles are seriously sore. I'm not used to the sheer amount of biking we did over the last few days, but it was the absolute best way to see the city!
I loved the casual feel of Amsterdam. Cafe's and restaurants on every corner, squares where people can be found lounging around all day, the relaxed atmosphere even though the city is brimming with people!
Close to our flat, I found this amazing organic grocery store called MRQT. I went there at least 6 times in the 3 days we were here. No joke, it was amazing. Every day I walked/biked over there and picked up a delicious sandwich, salad, freshly squeezed juice, or other delicious organic snack. I even found some amazing muesli to have for breakfast everyday!
The markets in Amsterdam were wonderful. Clothes, jewelry, shoes, knick-knacks, and fresh market food with aged cheeses, seafood, veggies and fruits, everything I could ever want! I could get lost in these markets for hours!
Not only could fresh local food be found in the markets, but also in wonderful little shops everywhere – we went to a fromagerie, butcher shop, fruit/veggie shop! Seriously, I love this city!
Mmmm.. freshly baked bread and Dutch cheese. Delicious. I may have eaten a bit too much of this, my goal of not gaining a pound on this trip might be shot, I'm not sure though – I have still been eating healthy with lots of fresh salads, tasty sandwiches on whole wheat, chickpeas, quinoa, and tons of water!
Did I say I love Amsterdam? I will be back!
Gee! This post is getting long! Enough blabbering from me already. Here is the Dutch inspired recipe I made to honor our little stop in the Netherlands…
This is a delicious meal that uses traditional Dutch ingredients that combine perfectly!
The "Bruine Bonen Salade" or brown bean salad is a wonderful side that is filling, flavorful, and full of nutrients, and the lemony chicken is moist, light, and a perfect accompaniment with the brown bean salad.
This meal is very easy to put together, and it is high in protein and fiber, and also low in fat! The entire meal comes in under 400 calories which is great too (The nutritional info includes a 4oz lemony chicken breast, 1/2 cup fresh spinach, and about 2/3 cup of the brown bean salad)!
A Taste of Amsterdam & Lemony Chicken with "Bruine Bonen Salade"
Ingredients
1 tsp coarse mustard (I used Dijon)
2 tbsp extra virgin olive oil, divided
1 tbsp red wine vinegar
1 clove garlic, minced
1 cup brown beans (pinto), rinsed and drained
¼ red onion, finely diced
1 tbsp chopped fresh flat-leaf parsley
Sea salt & freshly ground black pepper
1 lemon, finely sliced
4 skinless chicken breast fillets
Instructions
For the bean salad, whisk the mustard, 1 tbsp olive oil, vinegar and minced garlic together in a small bowl until combined.
Place the brown beans, sliced red onion and herbs in a salad bowl.
Add the dressing and toss. Season with salt & pepper. Refridgerate while preparing Lemony Chicken.
Combine the lemon and 1 tbsp olive oil in a bowl. Add the chicken, coat with the marinade and then leave to stand in the fridge for at least 1 hour. Season the fillets with salt and pepper.
Preheat the oven to 400 degrees.
Heat a large heavy-based non-stick frying pan on medium-high until you can feel a good heat rising. Add the chicken breasts and pan-fry for a few minutes on each side until browned.
Place the chicken in a dish in the oven and bake for 20 minutes or until cooked through.
Once cooked, set the chicken to rest on a cutting board for a couple of minutes before slicing on the diagonal.
Serve on a bed of fresh spinach with the brown bean salad.
Enjoy!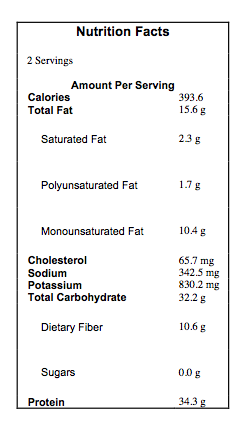 We had an absolutely amazing time here in Amsterdam – now it's off to Austria! Stay tuned for another travel post and a delicious Austrian recipe made healthy…. I bet you can guess what it might be… something that rhymes with noodle!
Christal
Nutritionist in the Kitch