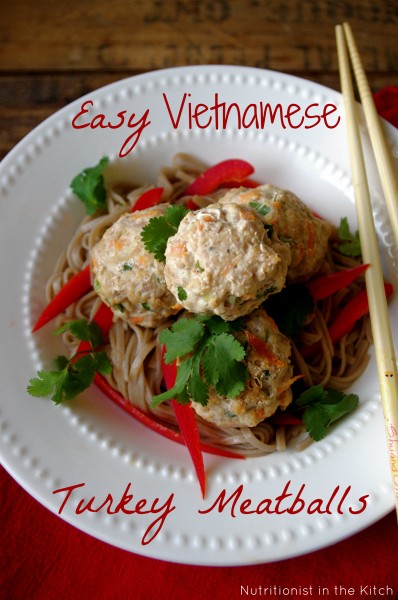 Some days it's just a "meatball-kinda-day"!
The other day was one of those days for me! I can't say I eat meatballs very often… actually it's probably been since the Turkey Ricotta Meatballs I made last summer since I've had them, but every now and then I get a mad meatball craving, and because I eat red meat only once in a blue moon, I always tend to go for turkey meatballs as my meatball of choice!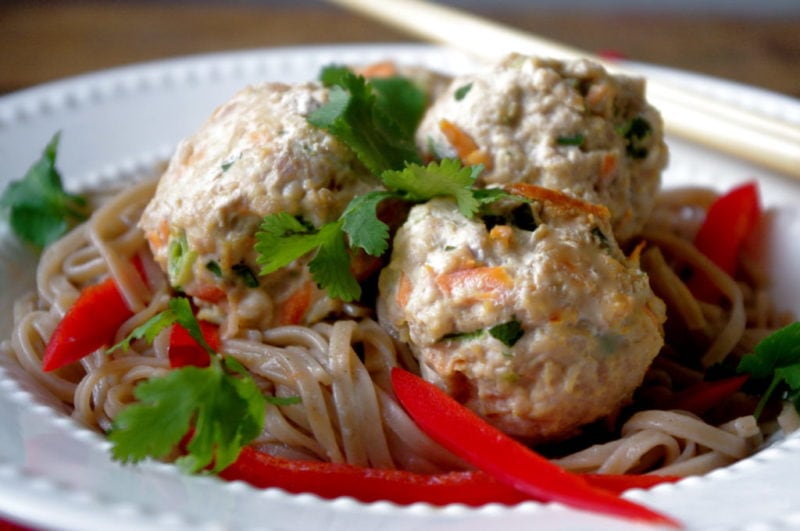 I wanted to whip up a batch of meatballs that were very low carb (at the time I was still in my 12-week fit challenge, so I had to be mindful of my overall carb intake) that would still taste delicious, moist, and stick together!
I decided to peruse the internet for some inspiration and I came across these delicious turkey meatballs from Gluten Free Goddess! I loved her idea, and put a few twists and tweaks and 'Voila!' these Easy Vietnamese Turkey Meatballs came to be!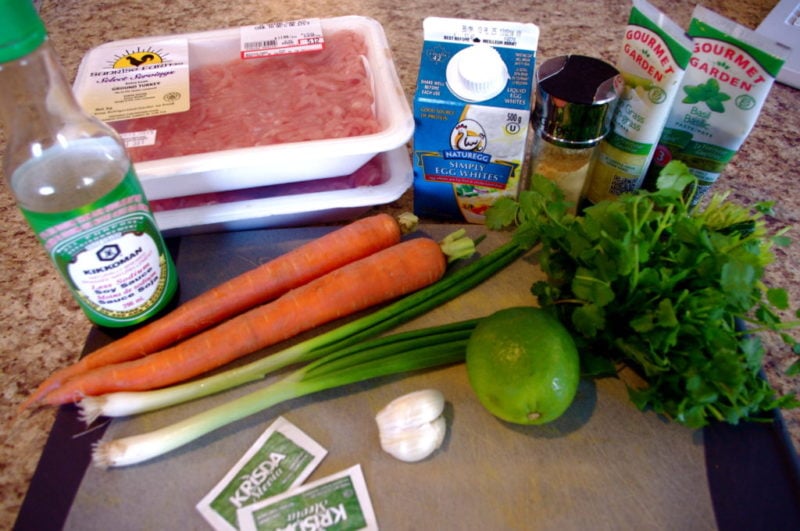 For some reason I've always considered making meatballs a tedoius task, but these little guys came together in no-time! Hence the "easy" in the title!
I am a huge, huge, huge fan of Vietnamese/Thai/Southeast Asian flavors so these meatballs definitely tickled my fancy! The carrot, green onion, cilantro, garlic, lime, and ginger all lent to one amazing combined flavor!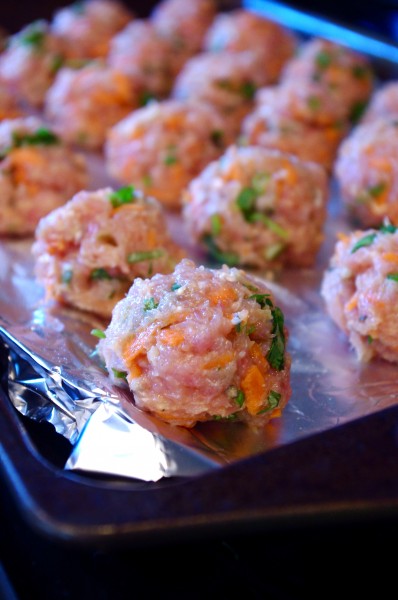 In my meatballs I used soy sauce, but for those needing a gluten free option, wheat-free tamari is the best choice.. or even molasses, as the Gluten Free Goddess uses in her recipe!
These meatballs are definitely "clean eating" friendly! They combine fresh, whole ingredients, and provide a fantastic amount of protein to your day! A whopping 46g of protein in 5 of these tasty meatballs!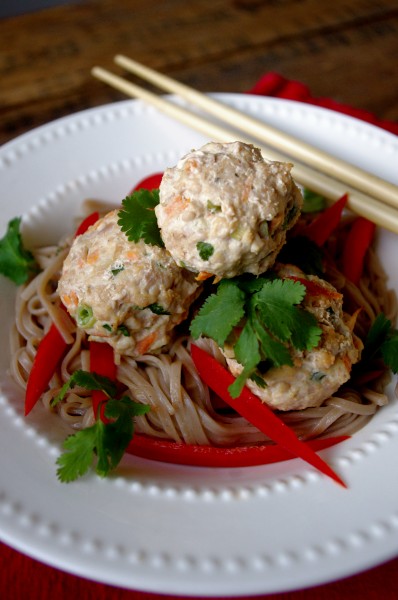 Not only are they high in protein, they are very low in fat, and lower in carbs, so you don't have to worry about a carb overload if you combine them with a healthy complex carbohydrate like brown rice, soba noodles (my personal fave), or even on a whole grain sub bun for a Vietnamese meatball sub…
Mmmm, yes, that thought crossed my mind a few times while making these!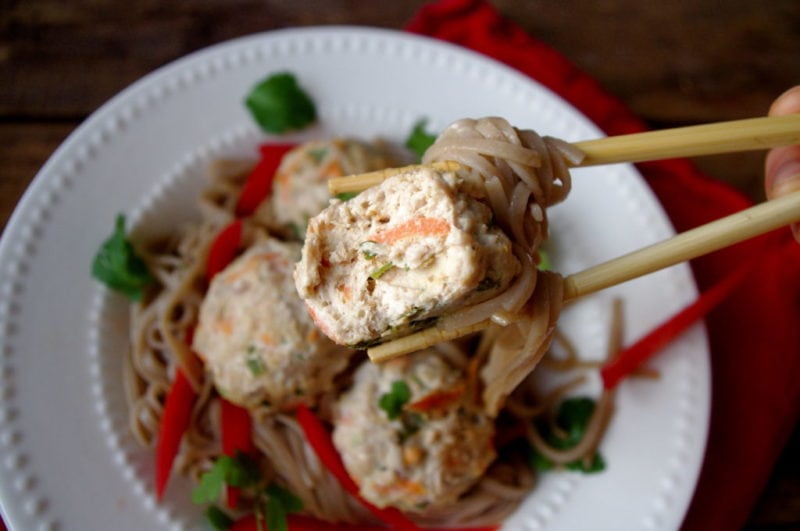 This recipe makes quite the batch, so I enjoyed these meatballs for leftovers for a couple days to follow. One day I threw them on some salad greens, and another day tossed them with some rice and veggies – they were perfect leftovers and I looked forward to them each day!
I will definitely be making another batch again soon!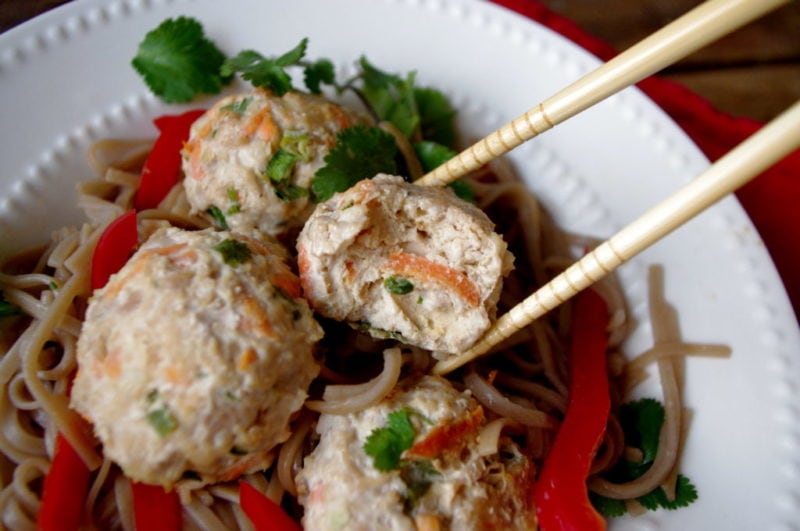 What kind of meatballs are your favorite? Beef, turkey, chicken, meat-less? I'd love to hear about them! 
Easy Vietnamese Turkey Meatballs (with gluten free option!)
Ingredients
900g extra lean ground turkey
3 egg whites
2 green onions, diced fine
2 medium large carrot, shredded
2 cloves garlic, minced
1 teaspoon grated fresh ginger, or ½ teaspoon ground ginger
2 tablespoons fresh chopped parsley
2 tablespoons fresh chopped mint leaves
2 tablespoons fresh chopped cilantro leaves
Juice from 1 fresh medium lime
1-2 tablespoon soy sauce or wheat-free tamari sauce (for gluten free)
2 packets stevia or 1 tablespoon raw agave or raw honey
Sea salt and ground pepper, to taste
Instructions
Preheat the oven to 350ºF. Grease a baking sheet.
In a large mixing bowl, break apart and blend the ground turkey.
Add in the egg whites, spring onion, carrot, garlic, ginger, and herbs. Mix just until blended.
Add in the fresh lime juice, soy sauce (or wheat-free tamari), stevia (or agave/honey). Mix again. Season with salt and pepper.
Form 25 meatballs using the palms of your hands to roll. They should be roughly the size of a golf ball.
Place the meatballs on the lined baking sheet as you roll them.
Bake the meatballs for about 20 to 30 minutes until no longer pink inside or at an internal temperature of 165 degrees.
Serve immediately with noodles, rice, veggies, on a sandwich, etc. be creative! 🙂
Nutritional Information
Serving size:
per 5 meatballs
Calories:
233 calories
Fat:
2g
Carbohydrates:
8g
Sugar:
2g
Protein:
46g
*recipe adapted from Gluten Free Goddess
Enjoy!
Christal
Nutritionist in the Kitch