Yay! The first few days of the challenge have gone wonderfully thus far! Justin and I made a big grocery trip this week and stocked up on everything we needed. I'll admit, the bill was pretty hefty BUT this food will last us at least a month, and we will save money on NOT eating out! It's shocking how quickly eating out at restaurants here and there adds up, and not to mention it isn't the healthiest!
Our kitchen is packed with the essentials; Vegetables and fruits galore, egg whites, cottage cheese, lean meats, Greek yogurt, whole grains, nuts, beans, fish, natural protein powder, and a whole lotta Tupperware! The fridge has never looked so good!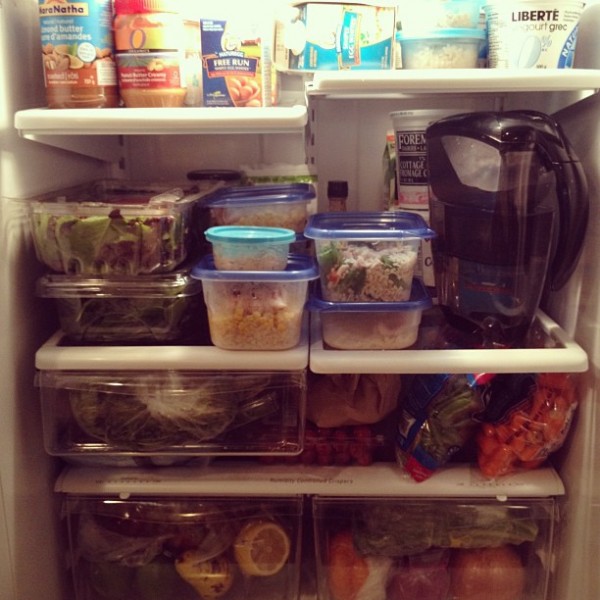 This recipe is something I decided to make for my "Meal Five" option. I have six seperate meals to consume each day. Two of those meals are protein shakes – which I can actually get somewhat creative with (I will be posting some shakes in the future), and the other four meals are a mix of whole grains, proteins, vegetables, and fruits, with a mix of healthy fat sources.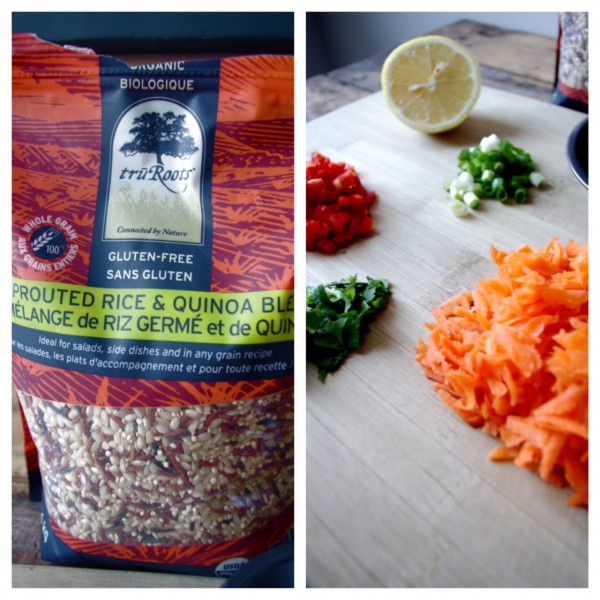 Here is my "Meal Five" breakdown:
1. A portion of a selection of whole grains (I chose the quinoa & sprouted rice blend – I found this at Costco and am in love! The brand is Tru Roots and it contains the same amount of calories as a regular portion of quinoa, but the mix of brown rice, quinoa, and wild rice adds so much taste and texture!)
2. A portion of a selection of protein sources (I chose prawns)
3. A tablespoon of healthy fats (I chose extra virgin olive oil)
4. A cup of vegetables (I chose carrots, bell pepper, green onion)
5. "Flavor Enhancers"  (Now, the tricky part is making it taste delicious without adding any more fat or sugar! I can use spices and herbs, so that is how I will be "enhancing" most of my meals! Herbs and spices are great because they are very low in calories and do not contain any added fat or sugar, but they work wonderfully to add flavor to meals!) – I chose a Moroccan inspired blend of spices for this dish – see the recipe!)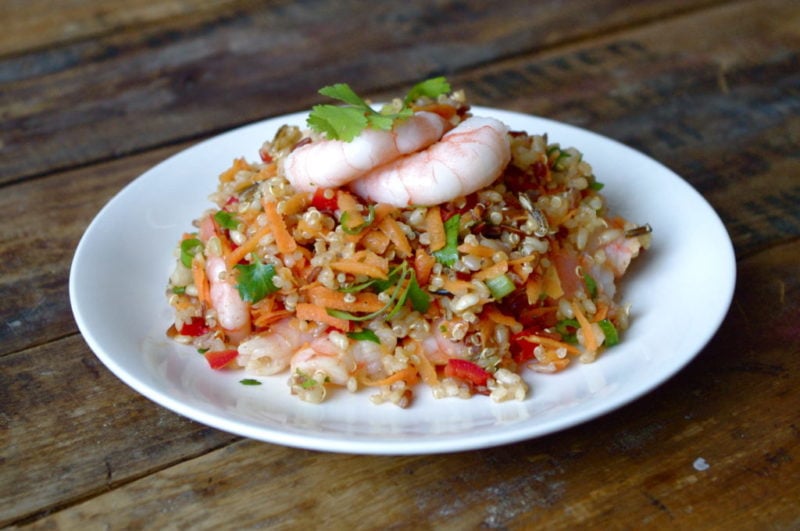 By sticking to my portioned macronutrients then using spices and herbs to flavor the dish, I was able to come up with this amazing salad! This salad is hearty enough to stand in for dinner, or you could easily have it for lunch as well! The flavors are robust and the combination of all the different textures makes this salad interesting and delicious!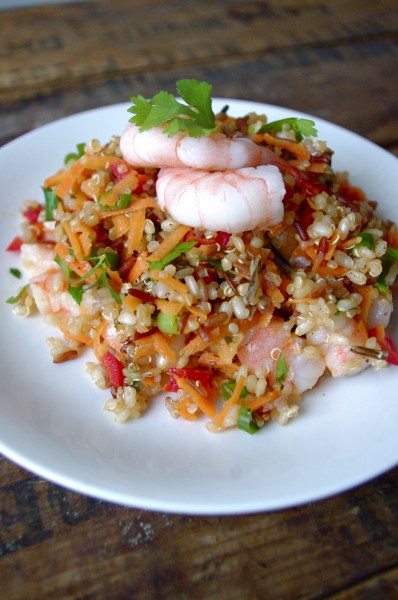 This salad is proof that healthy eating – even as part of a pretty intense body transformation challenge – does NOT have to be boring. Long gone are the days of a plain chicken breast covered in hot sauce, dipped in mustard, with a side of steamed broccoli!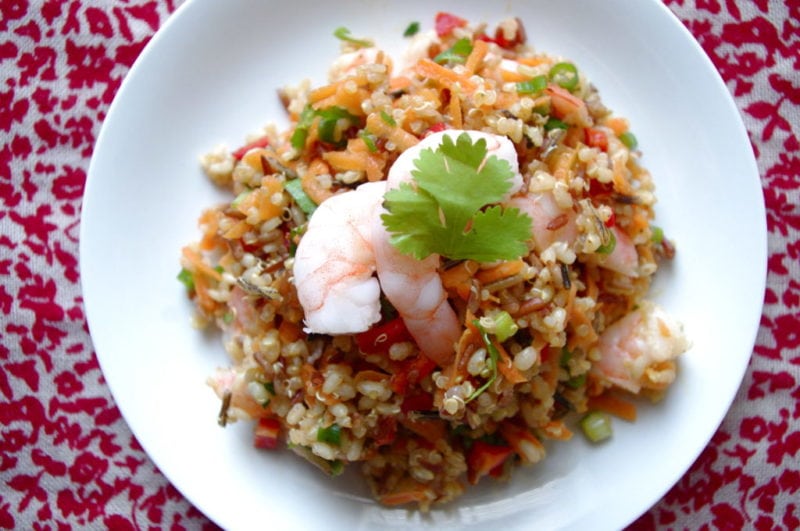 I will continue to brainstorm and search for inspiration throughout this challenge to come up with delicious recipes like this one, that fit into my tailored nutrition plan but don't leave me saying "wahh wahh waahhhhh" (insert 'boring' noise).

Moroccan Spiced Sprouted Grain & Prawn Salad
Ingredients
12 tiger prawns, or shrimp of your choice
½ cup quinoa & rice blend (OR use just quinoa or just rice)
1 cup water (OR you can use chicken or vegetable broth)
1 teaspoon cumin
½ teaspoon ground ginger
½ teaspoon cardamom
¼ teaspoon cinnamon
juice from ½ lemon, or more to taste
1 tablespoons extra virgin olive oil
1 large carrot, shredded
1 red bell pepper, chopped
1 green onion, thinly sliced
2 tbsp cilantro, chopped
Optional: Add honey to the dressing to add a taste of sweetness, or add some dried cranberries, raisins, or dried currants to the mix!
Instructions
Cook the quinoa rice blend with the water or broth in your rice cooker, or on the stove top according to package directions. When finished, set aside.
In a small bowl whisk together the lemon juice and olive oil, and stir in the the cumin, ginger, cardamom and cinnamon.
Steam the shrimp until fully cooked, set aside to cool. Once cooled dice the shrimp.
Place the cooked quinoa rice blend in a bowl, add the chopped vegetables and cilantro, and the chopped shrimp.
Pour the dressing into the bowl and mix to combine all the ingredients well.
Serve heated or cold, it's up to you!
Enjoy!
Nutritional Information
Serving size:
½ of total recipe
Calories:
318.7kcal
Saturated fat:
1.1g
Unsaturated fat:
5.7g
Carbohydrates:
41.7g
Sugar:
5.9g
Fiber:
5.8g
Protein:
17.2g
*Recipe adapted from
Cooking Weekends 
Until next time!
Christal
Nutritionist in the Kitch