Yay!! Two very exciting things!
1. New blog design is up and running!! I will be putting together a post to talk about all the new additions to the blog! 🙂
2. This is my first guest post by another wonderful blogger on Nutritionist in the Kitch, and by one of my favorite bloggers too! Deryn from Running on Real Food! 
Deryn and I connected as we were both beginning the adventure of starting a food blog, and I've loved following her and watching her blog grow as she entices her readers with delicious vegan recipes! She is a super inspiring gal who lives a healthy and active life in Vancouver!
So, without further adieu… Deryn, take it away!
I am so thrilled to be posting here on Nutritionist in the Kitch today! Christal has been a constant source of healthy eating motivation to me ever since we crossed paths earlier this year.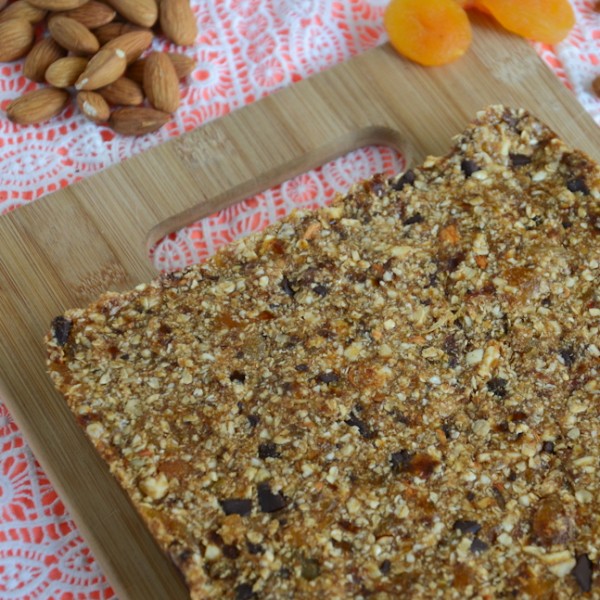 One thing about Christal's healthy eating habits that has always inspired me is her ability to maintain a healthy diet while on vacation, or just travelling in general. This is something I've always had a hard time with.  When Christal shared a blog post about her food prep for a road trip to BC, I was amazed at all the healthy meals and snacks she had packed away into coolers. There would be no unhealthy, gas station junk food for her! I believe one important factor to a eating a healthy, balanced diet it just that, preparation.  In come these No-Bake Apricot and Dark Chocolate Granola Bars! 
The great thing about these raw, no-bake bars is that they can be individually wrapped and packed for a busy day on the road. Most days I'm out of the house for about 12 hours at a time, so if I don't have quick, healthy snacks on hand I can run into trouble. Ideally, I like to eat every 2-3 hours and if I go much longer than that, it's not pretty. If I let myself get too hungry it can also lead to overeating later in the day when my eyes would like to eat much more than my stomach does.
Having healthy, whole food snacks like these bars on hand is key to preventing overeating and poor food choices. They're also incredibly easy to make and you can easily exchange the apricot and dark chocolate for another addition of your choice. I recommend making a batch of these bars on the weekend and storing them in the fridge to enjoy as a balanced, nutritious snack all week long. They make an excellent breakfast to-go or quick snack any time of day.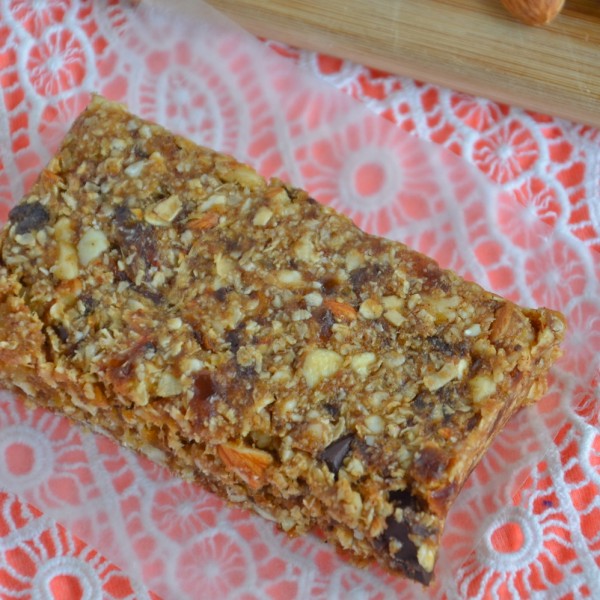 A very big thank you to Christal for having me here for a guest post today. I hope you all enjoy these simple, yet tasty granola bars.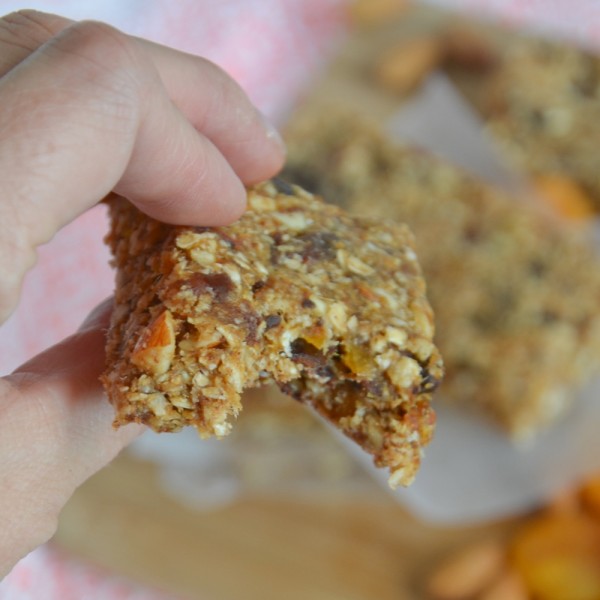 No Bake Apricot & Dark Chocolate Bars (vegan & can be gluten free!)
Instructions
Pulse the cashews and almonds in a food processor until roughly broken down. Remove and place in a bowl with the oats.
Add the dates into a food processor and process until they're broken down.
Remove and place into the bowl with the nuts and oats.
Add the cinnamon, sea salt, apricots and dark chocolate.
In a saucepan, heat the almond butter and maple syrup over low heat.
Pour into the bowl with the rest of the ingredients and mix well.
Line a 8x8 baking pan with wax paper or plastic wrap and press the mixture into the pan until it's flat and evenly distributed.
Place in the fridge for at least 60 minutes.
Remove from the fridge and chop into 8-10 bars.
Store in the fridge in an air-tight container.
Adapted from Minimalist Baker.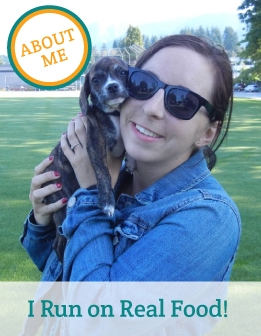 To learn more about Deryn, and for more delicious, healthy recipes, check out her blog Running On Real Food. On her blog you'll find simple, vegan recipes, fun workouts and tips on living a healthy lifestyle. By sharing her own experiences, Deryn aims to educate and empower others on their own journey to wellness. Deryn lives in Vancouver, BC with her husband and their two dogs.
Connect with Deryn:
Blog: http://www.runningonrealfood.com
Facebook: http://www.facebook.com/runningonrealfood
Instagram: http://www.instagram.com/runningonrealfood
Twitter: http://www.twitter.com/runonrealfood
Pinterest: http://www.pinterest.com/runonrealfood
Thanks to Deryn for this lovely guest post!
Have a fantastic weekend and I hope you enjoy the new blog look! 🙂 I'll be posting next week to talk about all the changes!
Christal
Nutritionist in the Kitch