hello…healthy dark chocolate bark!
It's been forever since I've made dark chocolate bark and I have no idea why, it's such a tasty and incredibly easy treat to make. There's literally no way to screw  up chocolate bark, ha! This is definitely one of those recipes where there's beauty in all the imperfections. It's messy, wonderfully unique, and every bite is a little different.
This Christmas season I haven't actually spent much time making festive treats like this bark because I've had a lot of other recipe creating on the go for the blog. But, among the few treats and desserts that I have made, this bark definitely stands out the most. It has to do with the combination of salted caramel, a creamy and rich peanut butter swirl, the gluten free pretzels, and a delicious, decadent layer of dark chocolate. Ooooo yes, come to mama!!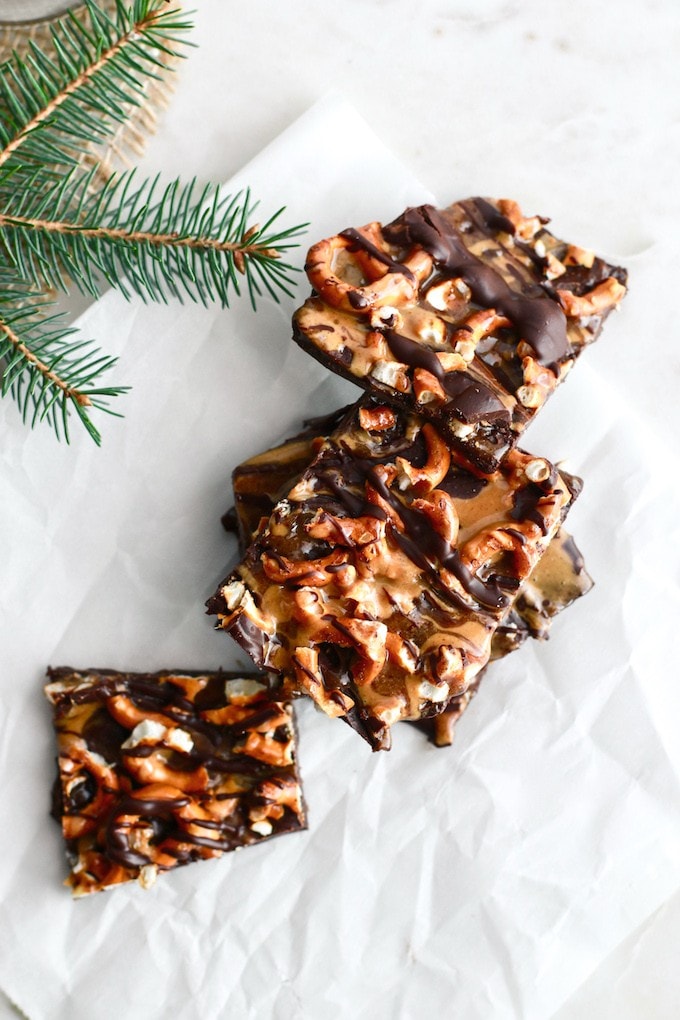 A while back I made Pinch of Yum's 5-minute magic vegan caramel sauce to drizzle over my heathy pear and apple crisp recipe and I loved how easy the caramel was to make. I decided that the caramel sauce would be the perfect addition to a Christmas dark chocolate bark. The caramel sauce is actually a simple combination of almond butter, maple syrup, and almond milk which is mind boggling when you see how easily the ingredients transform into a thick, sweet, shiny caramel sauce. It's healthy, free of refined sugars and contains healthy fats, vitamins, and minerals. Not sure how often you can say that about a caramel sauce! 
Along with the caramel I whipped up a very simple peanut butter sauce to drizzle and swirl among the dark chocolate and caramel. The combination of these three flavours is oh…my…gosh. So freakin' good.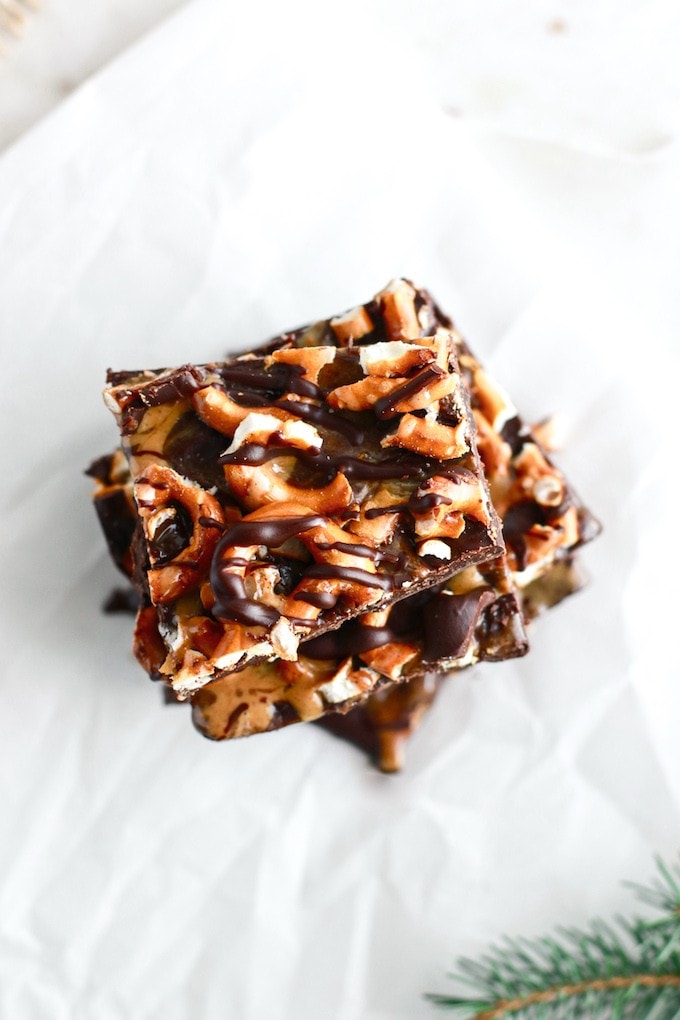 To add that perfect and necessary component of crunch to my dark chocolate bark I went with gluten free pretzels! The pretzels bring the bark up to a whole other level of yum and the mild, salty flavour of the pretzels blends wonderfully with the sweet caramel, decadent chocolate, and smooth peanut butter. 
I remember years ago at a work Christmas party a colleague of mine made a chocolate bark that had plain salted potato chips in it and I could't get enough! The combo of sweet and salty just hit the spot so I knew that my magical little combo in this dark chocolate bark recipe would do just the same.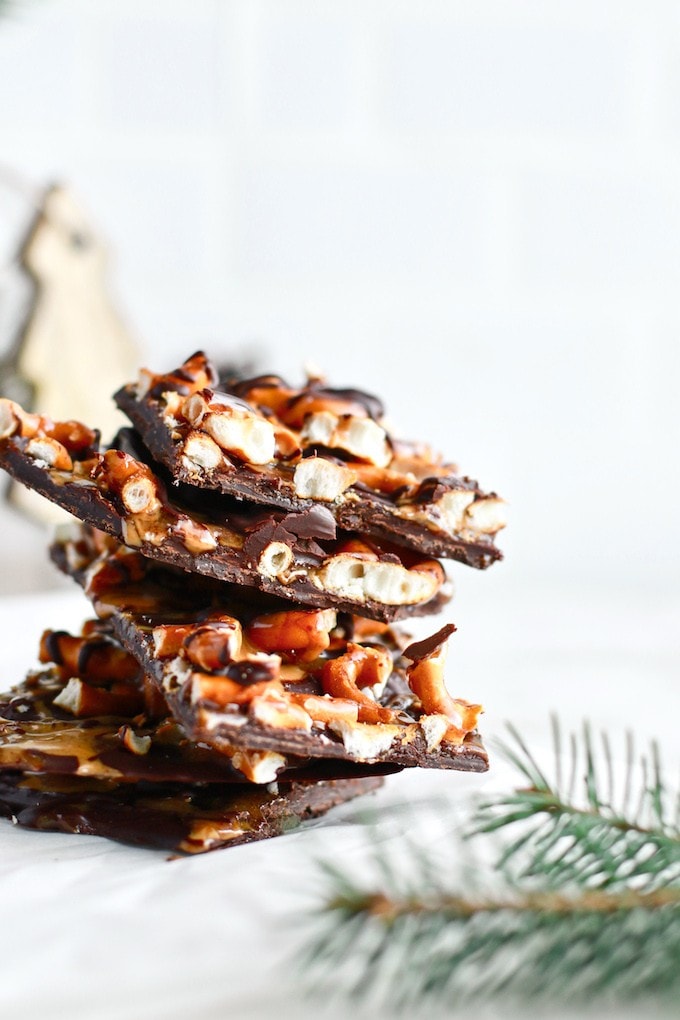 I try to give myself a lot of grace and rest over the holiday season as I find the months from September to December can be quite busy in the blogger world. It's part of the natural ebb and flow of the business, but by this time of year I'm usually feeling a little low on energy and oomph in general. The Christmas holidays provide the perfect refuge for me from the busyness of life and allows for lots of space and time to put my feet up, take naps, and sit back with a nice glass of wine and good company. 
What a better way to top that all off than a few hunks of sweet and salty dark chocolate bark.
Wine, good company, and healthier chocolate bark? Yep, I'll take that, and I'll share some too…!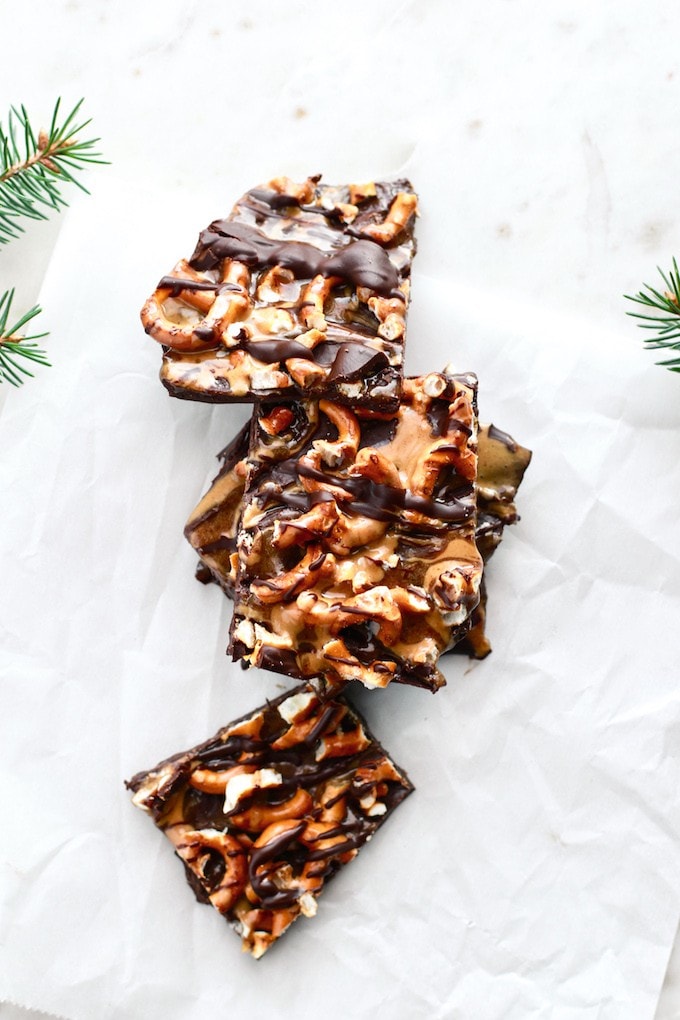 Do you have any special treats you are making to enjoy over the holidays? Will you have a chance to put your feet up and rest? Tell me about it in the comments at the end of the post! 

Healthy Dark Chocolate Bark with Salted Caramel, Peanut Butter and Pretzels
Healthy Dark Chocolate Bark with Salted Caramel, Peanut Butter and Pretzels Prep time: 2 hours 15 mins Total time: 2 hours 15 mins Serves: 8
Ingredients
Chocolate Layer:
1 cup dark chocolate chips (dairy free or vegan if needed)
1 tsp coconut oil
Caramel Layer:
pinch of sea salt (add when making caramel sauce)
Peanut Butter Layer:
3 tablespoons natural unsalted peanut butter, smooth
½ tablespoon coconut oil
Pretzels:
¾ cup gluten free pretzels (I use Glutino or Snyder's brand)
Instructions
Line a baking sheet with parchment paper.
In a small pot add the chocolate chips and coconut oil and warm over low heat until completely melted and smooth.
Spread a ¼ inch layer of the chocolate sauce evenly over the parchment paper and reserve 1 tablespoon of the chocolate sauce, set it aside.
Next make the 5-minute magic caramel sauce using Pinch of Yum's recipe linked in the ingredients list but cut her recipe in ½ as you won't need the whole amount.
Drizzle half of the caramel sauce over the chocolate layer and using a knife, swirl the caramel into the chocolate, reserving half of the caramel sauce, set it aside.
Next create the peanut butter sauce by adding the peanut butter and coconut oil to a small pot over low heat and stir until completely smooth (it will be slightly runny)
Drizzle half of the peanut butter sauce over the chocolate and caramel layer and using a knife swirl the peanut butter sauce into the chocolate and caramel, reserve half of the peanut butter sauce and set it aside.
Place the pretzels in a small ziplock bag and loosely crush into smaller pieces.
Sprinkle the crushed pretzels over the bark and press them down slightly so that the pretzel pieces stick to the chocolate/caramel/peanut butter layer.
Drizzle the remaining chocolate, caramel, and peanut butter sauce over the pretzels.
Place the pan in the freezer and freeze the bark for a minimum of 2 hours.
Once frozen, break the bark into smaller pieces or cut into segments and serve!
Store remaining bark in a Tupperware container in the freezer between layers of parchment paper.
Be sure to pin the photo below to save this delicious dark chocolate bark recipe for later and of course, share the love!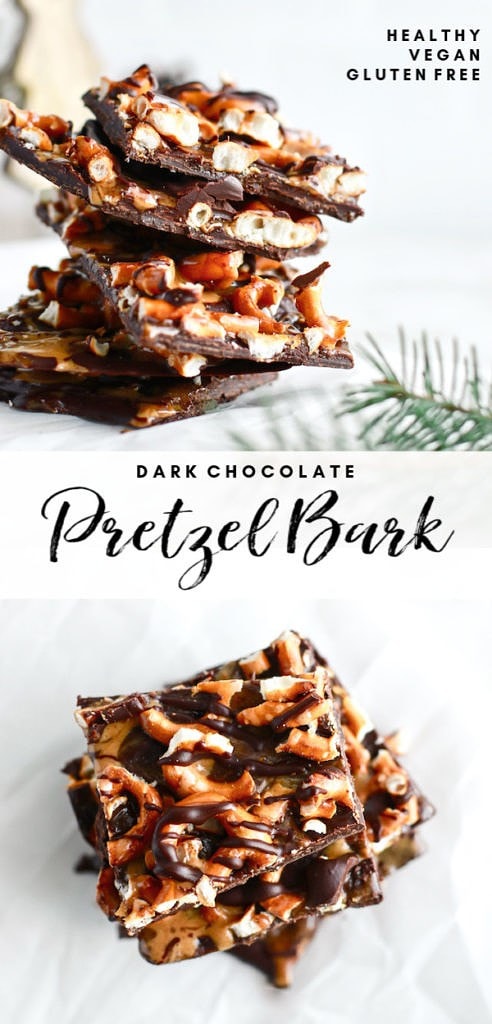 Have a wonderful Sunday!
Christal // NITK