Who doesn't love Turtles?
I'm not referring to the cute little reptiles that most people love because they are just so darn cute and have little old man faces. What I'm talking about is the good old gimme-some-of-those "Mmm..I love Turtles" (cue commercial song) turtles.
Unfortunately, the ingredients in these famed Turtles are not the greatest in quality. They are made with a whole lot of refined sugars, modified ingredients, and artificial flavours. To have them once in a while, not a huge deal, but I like to enjoy Turtles NOW all the way up until the New Year! I mean, I've got to stretch out this season and all of it's delicious delights as much as possible. 
So of course my solution was to make my own healthier version of Turtles that are just as delicious, enjoyable, and easy to pop-in-yo-mouth!
Hello revamped and much healthier ingredients list: Pitted dates, raw pecans, and wonderfully rich and decadent 70% dark chocolate.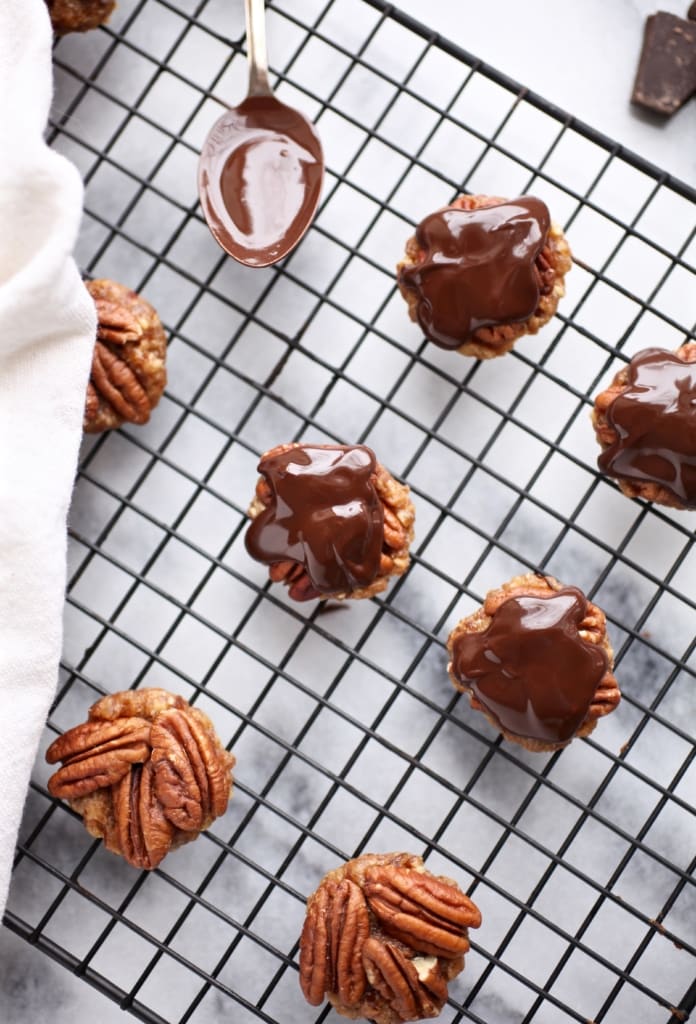 The dates work perfectly as a caramel stand-in with their sweet, sticky, and rich taste and texture, and the dark chocolate brings in antioxidant and a decadent flavour, then the pecans add in a nice dose of healthy omega-rich fats, magnesium, and manganese.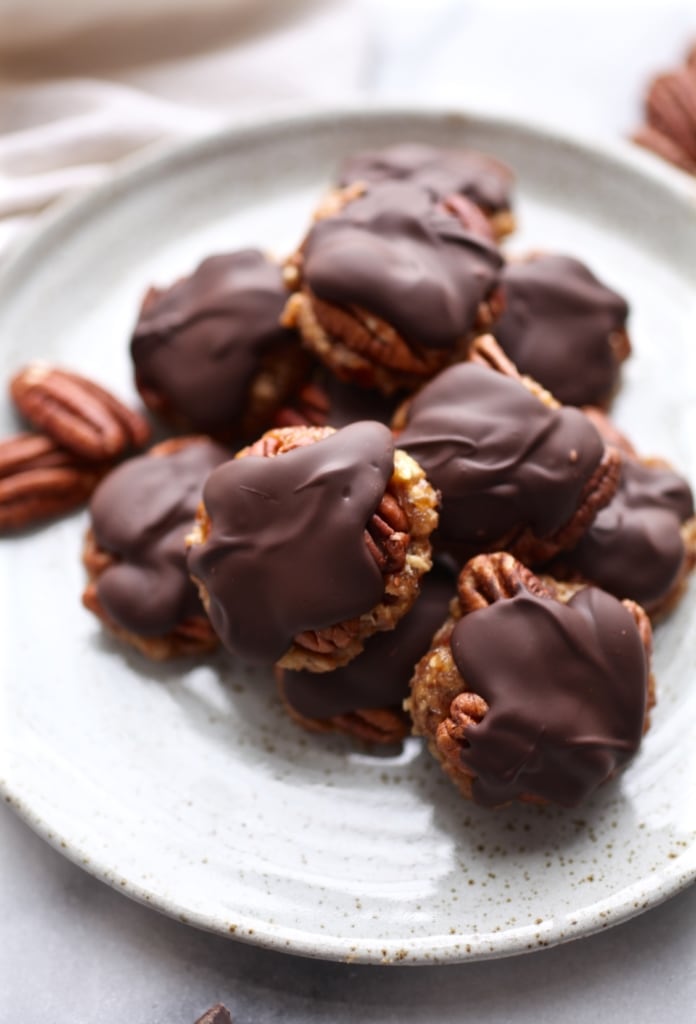 I originally made these clean eating 'Turtles' to bring to a friends party  and they were definitely a hit! Everyone loved them and really couldn't believe how much these tasty little morsels really tasted like the original.
Another bonus is that you do not have to be a whiz in the kitchen to whip these up. With only three ingredients and an incredibly easy method, this recipe fits for the most novice of cooks in the kitchen. I actually think this would make a great treat to make with the kiddies and get them involved in making healthier treats to enjoy around the holidays.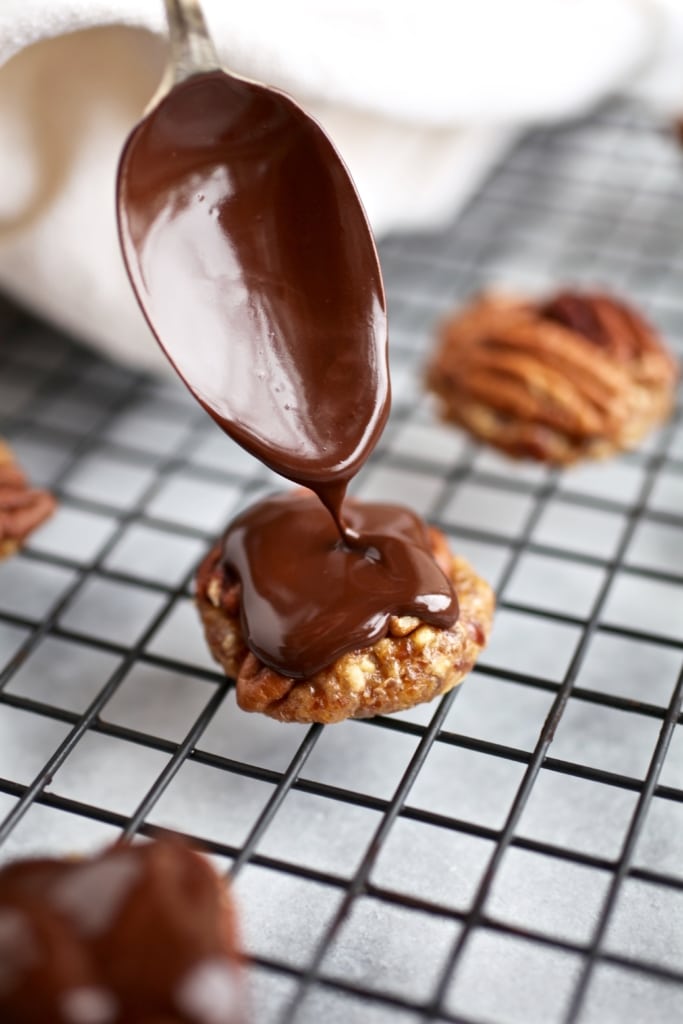 What's not to love?? Go make some "Turtles"! Then, pack a couple in your lunch this week, and have them as a little afternoon treat when you get that urge to go to the vending machine…you'll be much happier (and your body will thank you) that you enoyed one or two of these instead!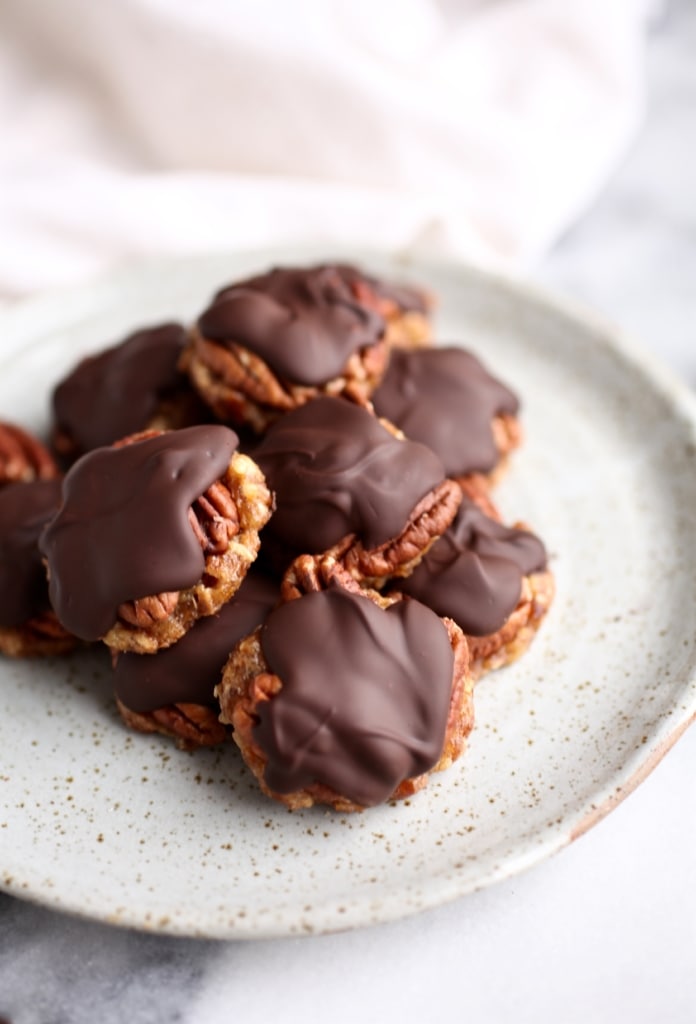 Healthier Dark Chocolate "Turtles" & The NITK Wellness Program LAUNCH DATE!
These turtles can be kept at room temperature, but the chocolate and date may soften and become sticky, so refrigerate to keep them at their best!
Ingredients
3½ oz dark chocolate (at least 70% cocoa, made with unrefined sweetener)
1 heaping cup pitted dates (if the dates are hard, soak them in hot water for 10 minutes, then drain before processing)
2 oz pecan halves (about 40-45 small halves)
Instructions
Process dates in a until they become a sticky and very thick jam-like consistency.
Roll the processed dates into 15 marble-sized balls using the palms of your hands (if your hands are slightly wet from washing the dates will not stick to your hands when rolling), place the balls on a lightly greased cookie sheet.
Press 2-3 pecan halves into the date balls and then place in the freezer for 10 minutes to set.
Heat a small saucepan over very low heat and add in the dark chocolate, stir continuously until melted into a smooth sauce. Remove from the heat.
Using a spoon, pour a small amount of chocolate sauce over each date/pecan mound. Repeat until each one is covered with the chocolate. The chocolate sauce will harden quickly becoming a shell over the date/pecan mounds.
Place in turtles in the freezer to set for at least 10 more minutes.
Keep turtles cold (in the fridge is fine) until ready to serve.
Enjoy!
Have a lovely weekend!
Christal // Nutrition in the Kitch