I have been getting a lot of requests for slow cooker recipes lately – I can see why too! They are easy peasy, make the house smell marvellous, and they are DELICIOUS!
What's not to love?!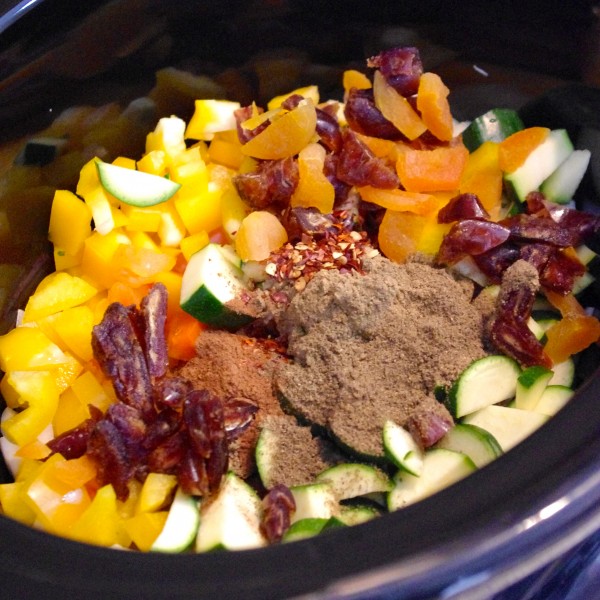 I can't take full credit for this recipe however, as it was inspired by my lovely receptionist Patty! She brought in this delicious concoction one day for lunch, and just the smell made my mouth water. I marched over to the staff kitchen from my office and begged for a bite!
This called this delicious concoction "Tagine" (or Tajine) – "a North African stew of spiced meat and vegetables prepared by slow cooking in a shallow earthenware cooking dish with a tall, conical lid." (thanks wikipedia). I believe it's named after the actual dish it is cooked in… called a Tagine.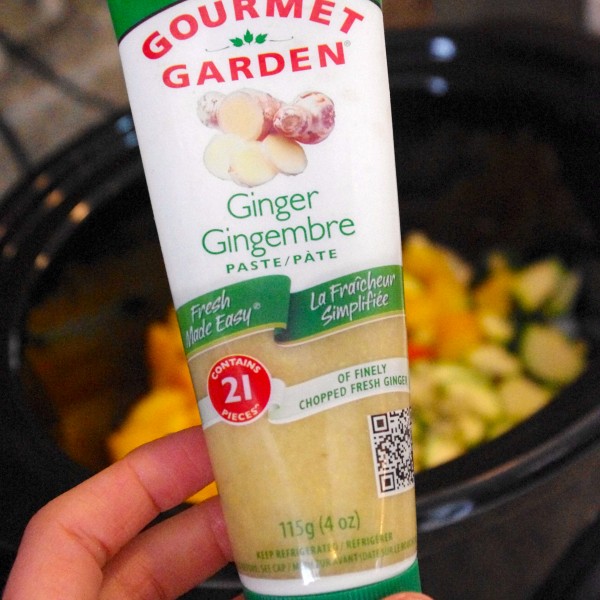 Now, I don't have a Tagine at home (my next planned purchase), so I figured my slow cooker would suffice. Patty jotted down the recipe for me, and I took it home to put a NITK spin on it!
The original recipe called for some different veggies, but I just used what I had in my fridge – onions, pepper, and zucchini! I also chose to use dates and apricots rather than just apricots, and I used my fave Gourmet Garden Ginger paste, instead of a minced piece of ginger – either will do!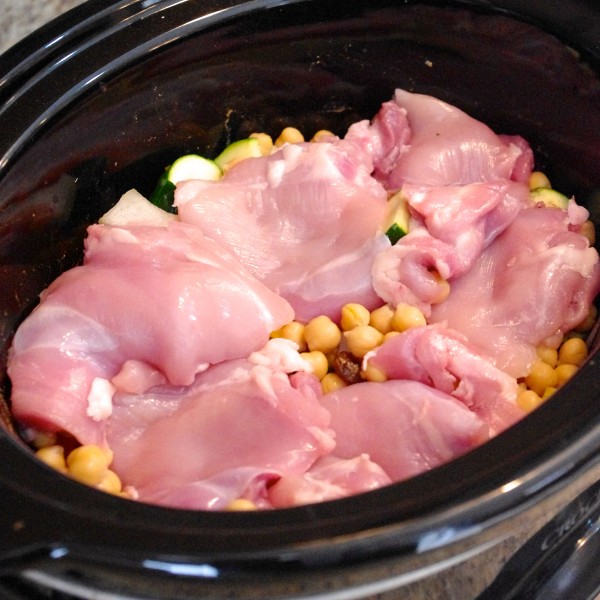 Her recipe called for chicken drums and thighs, but I only had thighs, so that's what I used, and instead of browning the meat first, I just threw it in raw to let the slow cooker do the work. (Patty made hers in a pot on the stovetop)
The result…?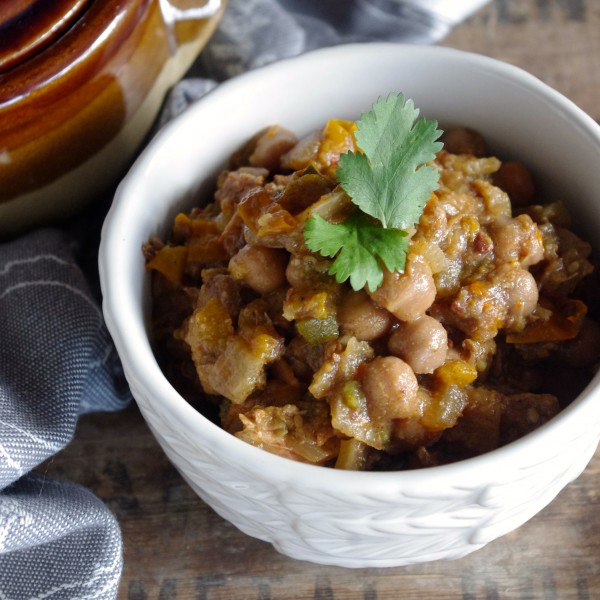 Sweet, slightly spicy, aromatic, rich, rustic, beautiful flavor in a bowl.
Seriously, when I say this is my favourite slow cooker recipe yet, I aint' lyin'!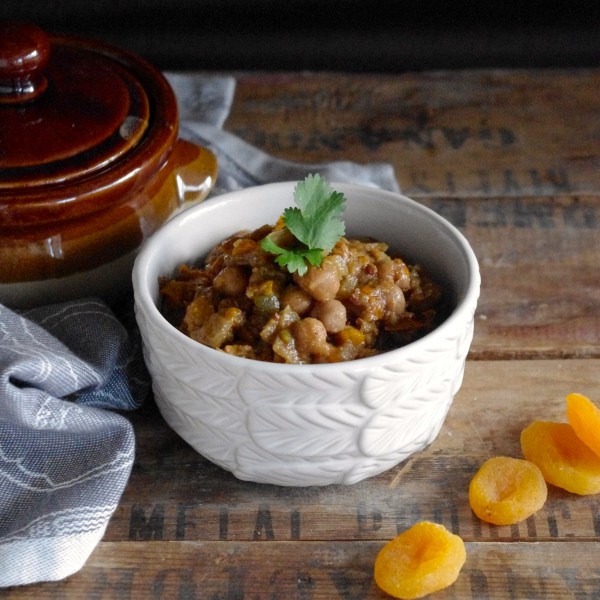 This TAGINE is MEAN!
Yep, I'm a nerd. I know! 🙂
Also, this dish is definitely healthy with tons of veggies, fibre, fats, protein, natural sugars –  it pretty much hits every macronutrient out of the park!

Slow Cooker Chicken & Chickpea Tagine (GF and a Vegan Option!)
Ingredients
6-8 chicken thighs (boneless, skinless) or omit for vegan option
1 medium onion, diced
2 bell peppers, diced
1 zucchini, diced
2 cloves garlic, minced
1 tablespoon ginger puree, or 1" piece ginger (peeled & minced)
1 teaspoon coriander
1 teaspoon cumin
1 teaspoon cinnamon
1 teaspoon red chilli flakes
2 cups chicken or vegetable broth
½ cup dried apricots, chopped
½ cup dried dates, chopped
1 tablespoon raw honey (omit for strict vegan)
1 15oz can chickpeas (drained and rinsed) (use 2 cans for vegan option to make a larger batch and add extra protein!)
¼ tsp salt
¼ tsp pepper
¼ cup chopped cilantro (optional, for garnish)
Instructions
Layer the onions, peppers, zucchini, and chickpeas in the slow cooker.
Add in the garlic, spices, honey, and dried fruit.
Pour in the broth, and give a little stir to combine.
Place the raw chicken thighs over the vegetable mixture.
Cover and cook on low for 6-8 hours.
Garnish with cilantro and enjoy!
Have you ever tried Tagine??
What's your veggie and meat combo of choice?? 
Have a WONDERFUL weekend!
P.S. Thanks to the latest Facebook fans that helped bring my page up to over 7,000 likes! I'm floored! 🙂 SO cool! 
P.P.S. My life is taking a few different (and exciting) turns over the next couple months which will thankfully leave me with more time to dedicate back to the blog – I've missed my more regular creations and posts and I'm happy to get back with it more regularly! 
Christal
Nutritionist in the Kitch