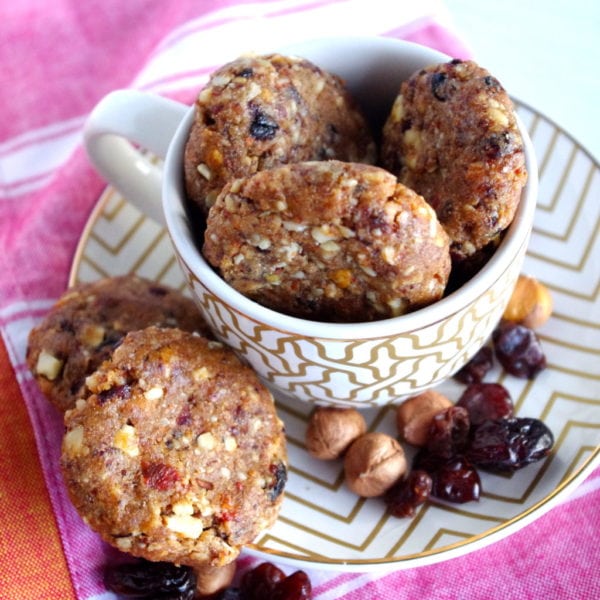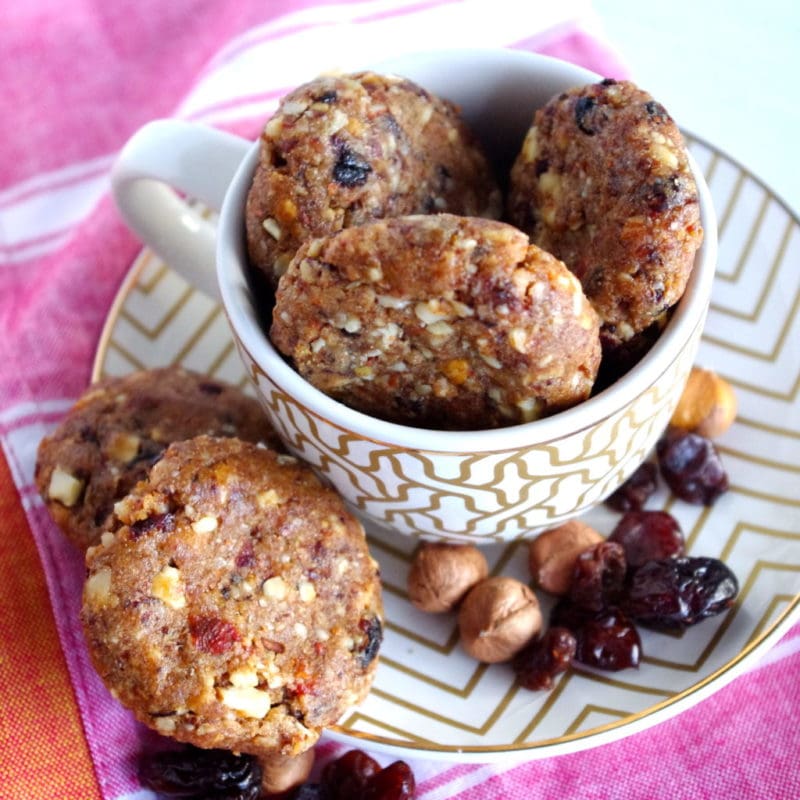 So according to some of the fantastic NITK Facebook followers, a cookie obsession is totally OK. Which is good because I'd say I have one!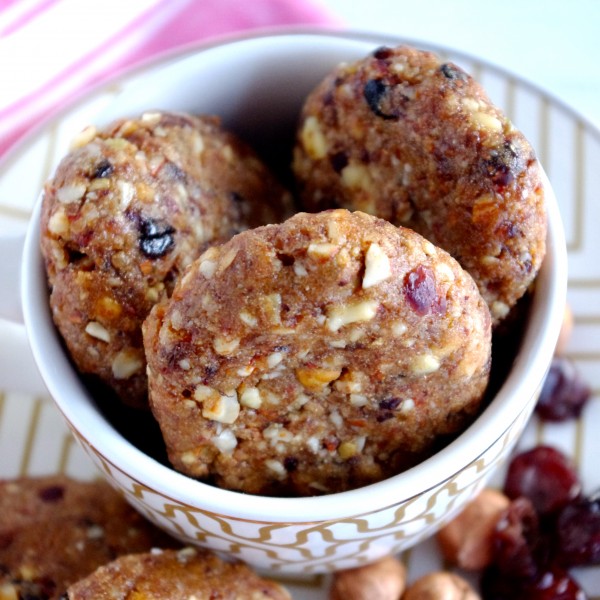 Luckily, my cookie obsession is limited to healthy, delicious, guilt-free cookies! YAY!
Not to say I don't love a good Fudge-O now and then (oh my, when was the last time you had a Fudge-O?! seriously delicious), but if I'm going to make my cookie eating a daily thing, it's gotta be healthy, wholesome, made with all-natural, yummy ingredients, like these Vanilla, Hazelnut & Superberry Energy Cookies!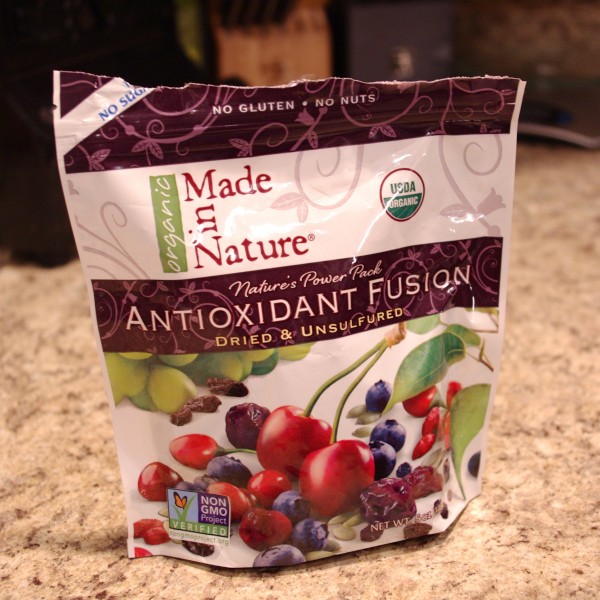 K, I know, I don't think "superberry" is a word…. I made it up, but it seemed fitting, so we can pretend.
These delights are made with only 5 main ingredients including this Made in Nature Antioxidant Fusion Blend , a dried fruit (superberry ;)) blend with blueberries, goji berries, cherries, and raisins, NO added sugars (thank you, thank you!) and no GMO ingredients!
The other ingredients? Simply, raw hazelnuts and almonds, some Parnoosh pitted dates, my fave North Coast Naturals vanilla whey (optional, see recipe!), a little bit of unsweetened almond milk,and pure vanilla extract!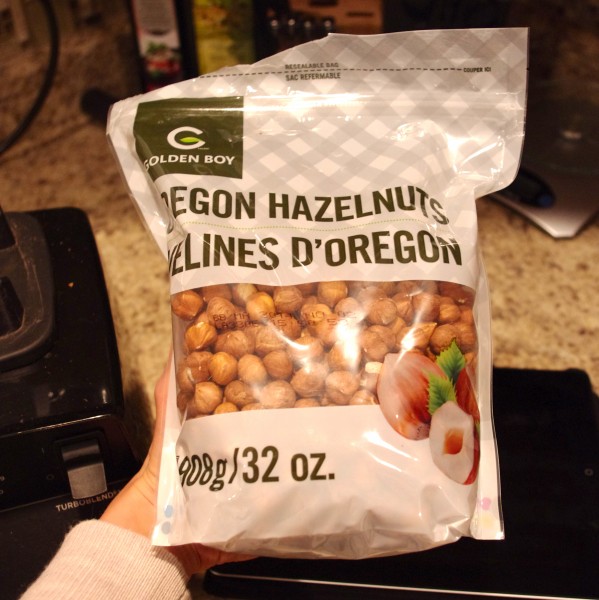 See-ya-later hydrogenated oils, enriched flours, and refined sugars!!
These cookies are termed "energy" cookies because they pack a nice punch! Energy loaded carbohydrates from the antioxidant-rich berries and the naturally sweet dates give that perfect little afternoon pick-me-up or nice amount of pre-workout pep!
The protein comes from the raw nuts and the vanilla whey isolate which blends in ever so nicely! The healthy fats from the nuts and the little bit of fibre make these little cookies surprisingly filling too!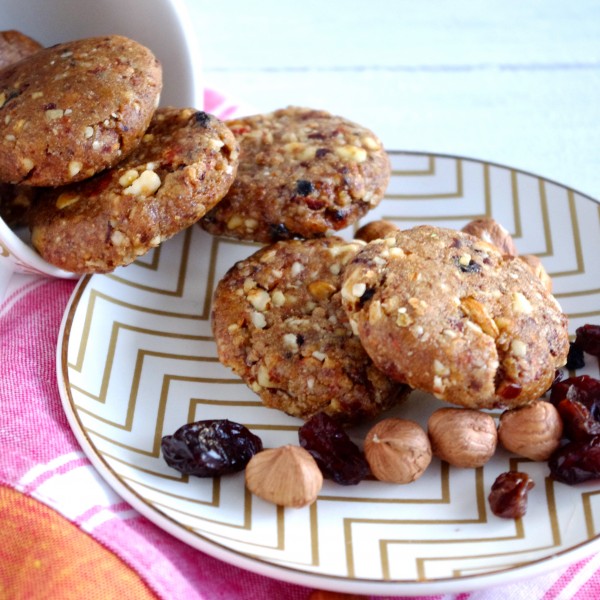 These cookies could easily be turned a little more festive with the use of dried cranberries instead of the berry blend!
Cranberry, Vanilla, Hazelnut Energy Cookies… I like the sounds of that… maybe my next energy creation?!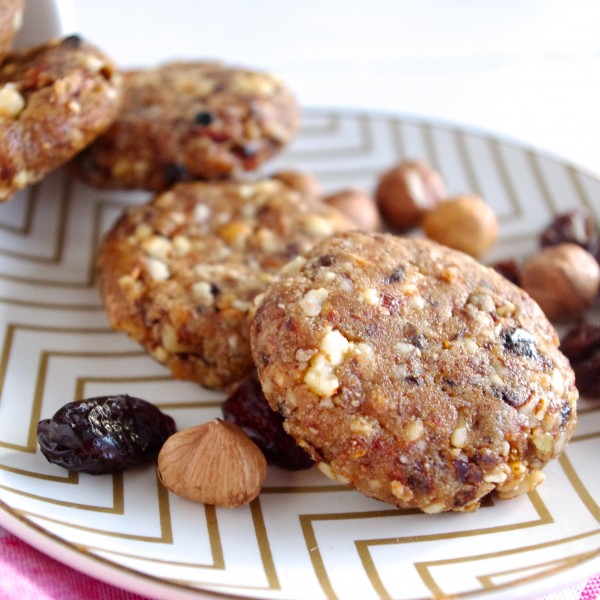 I kind of wondered if everyone would be sick of these energy cookies/bars/balls/bites by now… but then I thought… "who could every get sick of these delicious little things?! Silly me!".
You love them too… right?!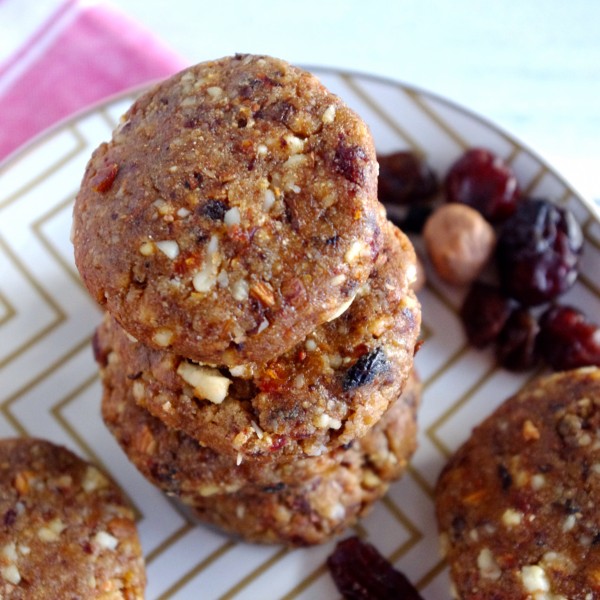 I've got a freezer stocked with energy cookies, energy bars, energy truffles, and energy balls.
As you can image… I've got a lot of energy!
It's December after all, and that means Christmas shopping, and that alone (if you've ever been to West Edmonton Mall, during Christmas season, on a weekend… ) requires some mighty strong energy… and a glass of wine or two 😉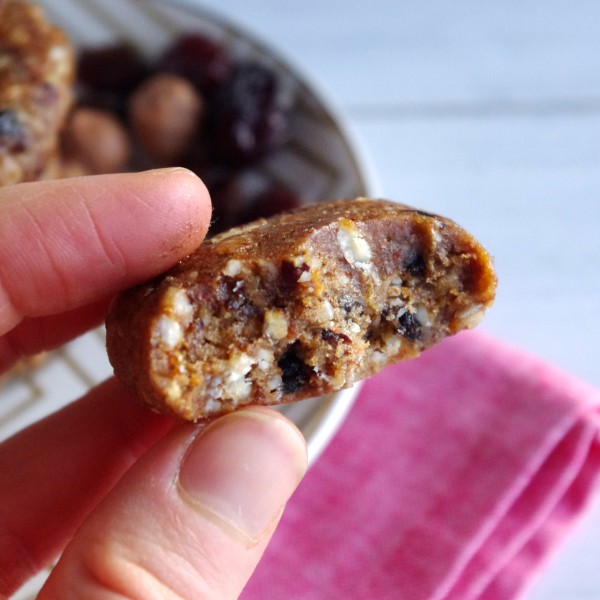 Vanilla, Hazelnut & Superberry Energy Cookies (GF, can be Vegan!)
Ingredients
½ cup raw hazelnuts
½ cup raw almonds
¾ cup dried berry mix (I used Made In Nature Antioxidant Fusion - a blend of unsweetened tart cherries, blueberries, goji berries, cranberries and raisins)
¾ cup pitted dates (soaked and drained if they are too hard to blend easily)
1 scoop vanilla protein powder (I used North Coast Naturals, use a vegan variety for vegan, or if you choose to omit all together, sub with ¼ cup gluten free rolled oats)
2 tablespoons unsweetened almond milk
1 tsp pure vanilla extract
Instructions
Add all ingredients to a blender or food processor and blend/process until well incorporated.(you may leave larger chunks of nuts and berries if you prefer, or blend to a smooth consistency!)
With clean, wet hands, roll batter into small 1" balls and place on a baking sheet with parchment paper.
Press each ball down into a cookie shape.
Make 16 cookies.
Place in the freezer to set for 1 hour.
Enjoy!
Store in the fridge or freezer for longer shelf life!
Nutritional Information
Serving size:
1 cookie
Calories:
98 kcal
Fat:
5g
Carbohydrates:
10g
Sugar:
7g
Fiber:
2g
Protein:
4g
Have a wonderful Wednesday!
 P.S. I haven't completely abandoned my WIAW posts – I do plan on posting one soon.. I've just been taking a bit of a mental break – I'll explain it all in the next WIAW 🙂 Until then… I hope cookies suffice!
Christal
Nutritionist in the Kitch