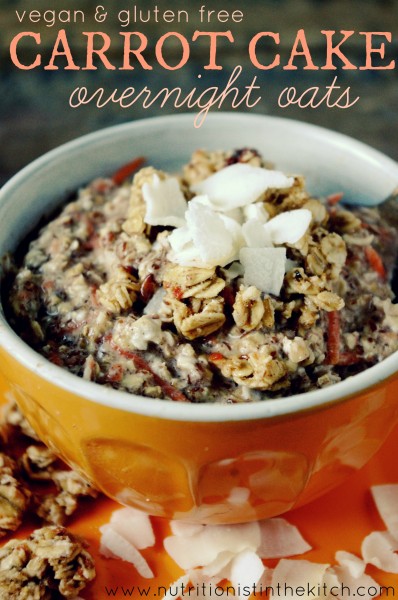 Isn't 'carrot cake' such a funny concept? A vegetable…made into a dessert! Sounds kind of weird, but we all know…. IT'S SO DARN YUMMY!
I don't really think it's the carrots that make it so yummy – more so the fluffy flour, sweet sugar, crushed pineapple, shredded coconut, aromatic spices, and dreamy cream cheese topping…the carrots are just kind of there, and it WORKS!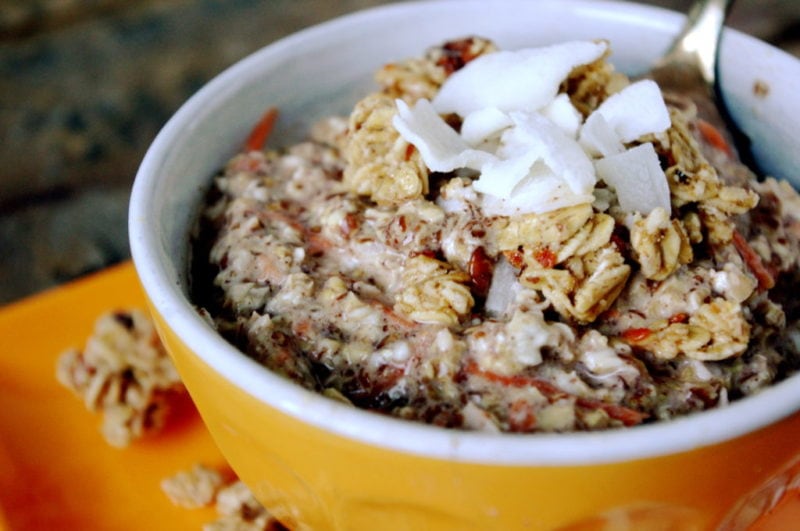 This overnight oats recipe, embodies the flavors of carrot cake, but sans the flour, sugar, cream cheese, and instead the spices, shredded carrots, and coconut come together with healthy oats, flaxseed, and stevia (or pure maple syrup!).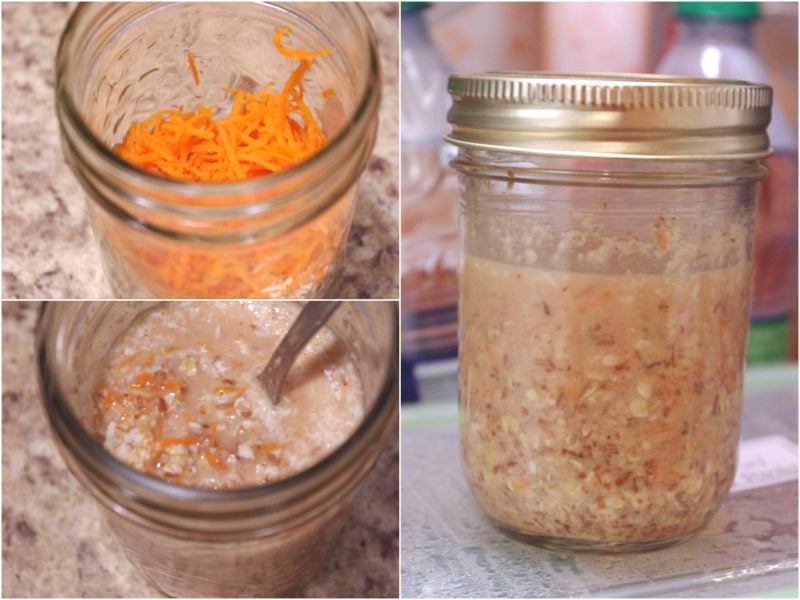 Overnight oats are such a great concept! I really got into the idea a while back when I made my Fruit-Filled, Protein-Packed Quinoa Overnight Oats.
I just love the idea of mixing a bunch of delicious and healthy ingredients the night before and in the morning, just heat, and eat! 
Talk about quick – perfect for those non-morning people who wake up late and don't have the time to grab a bite before heading out the door!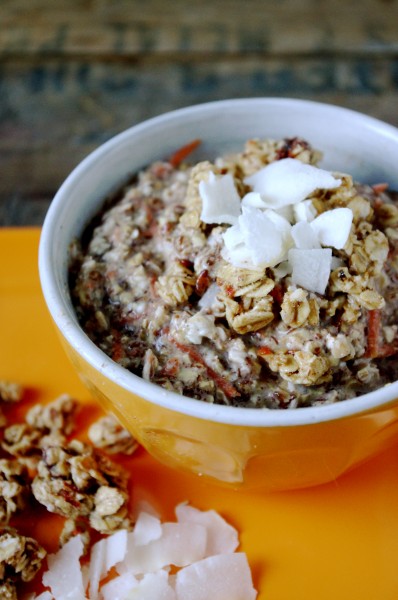 I was so happy how this version of overnight oats turned out! I wasn't sure it would be sweet enough, but it definitely was, and the flaxseed combined with the oats and almond milk made the mixture thick and 'creamy'!
It felt like an indulgent dessert-like breakfast.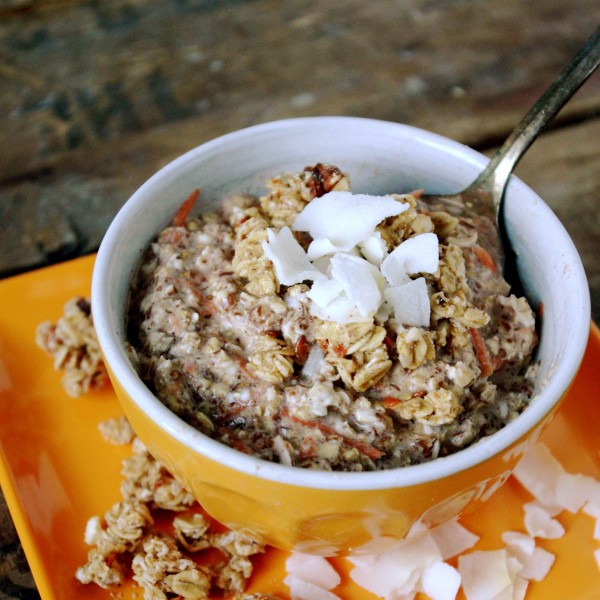 I'm totally into a little sweetness for breakfast so I was sold after the first bite! But for those of you who like the savory side of things, don't write this recipe off just yet – the aromatic spices and the carrots still lend a little savory to the mix, so you might just love this too!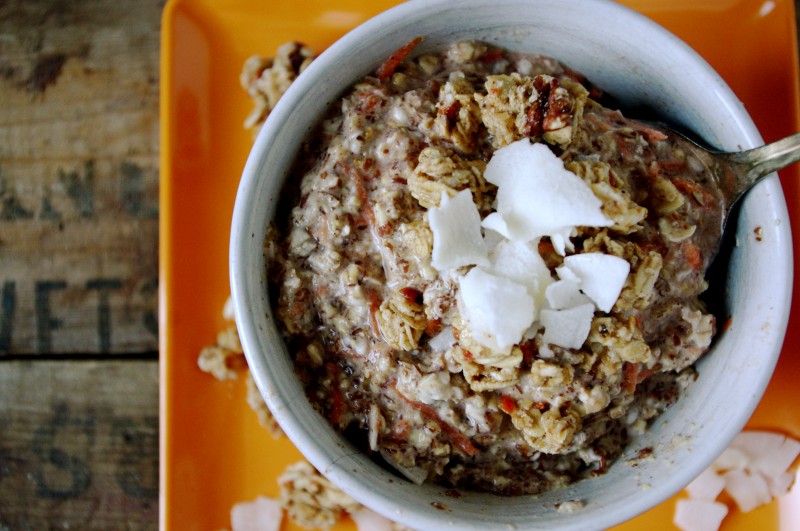 Mmmm… carrot cake for breakfast…. ok, maybe not exactly, but close enough for me!
Oh, and the biggest perk… this bowl of carrot cake oats has 9g of fiber!! Hello happy digestive system! 
What is your favorite version of overnight oats??
Check out this article on BuzzFeed which inspired me to make overnight oats again, and led me to a carrot cake muffin oats recipe by the talented Angela from Oh She Glows, which then inspired me to make THIS recipe!
Vegan & GF Carrot Cake Overnight Oats
Instructions
In a bowl combine all ingredients and mix well.
Cover and place in the refrigerator overnight.
In the morning, stir the mixture, and add in 1-2 tablespoons of almond milk or water.
Heat in the microwave or on the stovetop. (OR enjoy cold!)
Garnish with shredded coconut, raisins, nuts, a dash of cinnamon, and a drizzle of pure maple syrup!
Enjoy!
Notes
Nutritional facts based on recipe using stevia, with the addition of raisins and walnuts.
Nutritional Information
Calories:
242 kcal
Fat:
9g
Carbohydrates:
35g
Sugar:
6g
Fiber:
8g
Protein:
7g
 *Recipe inspired by Oh She Glows
Christal
Nutritionist in the Kitch