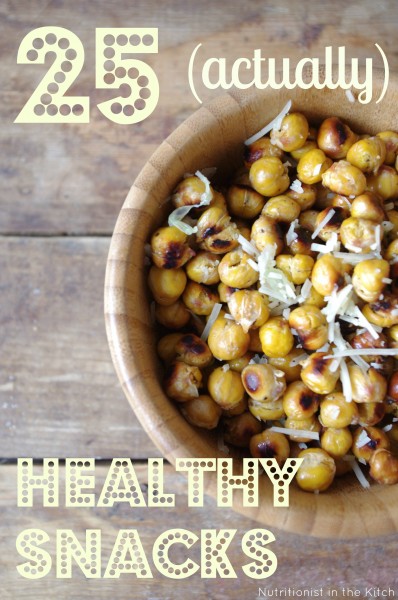 I'm get so peeved when I see all these "healthy snacks" lists on the internet that have graham crackers, fat-free pudding, deli meat, and packaged granola bars on them!!!
Since when are processed squares made with enriched wheat flour, sugar, soybean oil, little pudding cups of sugar and modified cornstarch, and tubes of smooshed together meat parts filled with sugar, nitrates, and caramel color considered "healthy" ?!?!? Oh, and not to mention the packaged granola bars that are pretty much chocolate bars with a few oats smashed into them.
Low fat, low calorie, low whatever-the-slogan-on-the-package-says… does not always equal healthy… it usually equals "chemical 'poop' storm" which I saw so eloquently worded in a picture once.
So, enough with my rant, I have compiled a list of what I truly believe to be 25 actually healthy snacks (and most of these take less than 5 minutes to make)!
Some of these are just things you can find at the grocery store, some are recipes from yours truly, or other bloggers, or brands I truly stand behind.
The List (in no particular order!) 
1. Dry-Roasted Nuts & Seeds (take these to the next level and toss them with different herbs and spices such as chili powder, cinnamon, curry powder, dill, etc.)
2. Easy Guacamole (mash together avocado with fresh lime juice, a dash of salt, and a dash of cumin) served with Brown Rice Crackers*, Seed Crackers, Raw Veggies, or Organic Non-GMO Corn Tortilla Chips (in moderation ;))
4. One Medjool Date stuffed with Natural Almond/Peanut/Sun butter (Sunflower Seed Butter is great for those with nut allergies)
5. Olive Oil Tuna Salad (mix 1 can tuna with 1 tsp Olive oil, 1 tsp Lemon Juice, 1/2 tsp Fresh Dill, and a dash of s & p) served with Brown Rice Crackers, Mary's Gone Crackers, Raw Veggies, or Whole Grain Pita Bread*.
6. Sweet & Spicy Coconut Oil Popcorn (air-popped popcorn, not bagged) tossed with melted coconut oil (just a tiny bit) and a sprinkle of cinnamon, salt, stevia, and chili powder
7. Unsweetened Applesauce (preferably homemade, –> here <– is a great recipe!)
9. Brown Rice Cakes* with Natural Nut Butter of choice or Sun Butter
10. Steamed Edamame Beans with Sea Salt
11. Hard Boiled Eggs (free range/organic is preferred)
12. Chia Seed Pudding (->here<- is an amazing recipe!)
13. Simple Greek Salad (toss together olives, cherry tomatoes, cucumber, bell pepper, and a drizzle of olive oil, squeeze  of lemon juice, and dash of dried oregano, salt, and pepper)
14. Fresh Homemade Salsa with Organic Non-GMO Corn Tortilla Chips
15. Celery Sticks & Natural Nut Butter or Sun Butter
17. Plain 0% Fat Greek Yogurt (preferably organic) with Fresh Berries and a Drizzle of Raw Honey
18. Plain 1% Cottage Cheese (preferably organic) with Diced Apple and a sprinkle of Cinnamon & Stevia
19. Homemade Hummus with Raw Veggies or Whole Grain Pita Bread ( ->here<- is a link with 9 different delicious easy hummus recipes!)
21. Banana 'Soft Serve' (for when you have a hankering for ice cream) (add in other fruits, nut butters, raw cocoa powder, or shredded unsweetened coconut to take it up a notch!)
22. Homemade 'Larabars' or Energy Bars/Balls (use a combination of unsweetened dried fruits, nuts, seeds, coconut, cocoa powder, nut butters, …here are some examples; Banana Bread Energy Bars, Apricot & Cashew Energy Bars, PB & J Energy Bars)
23. Fresh Fruit Salad (toss together whichever fresh fruit you desire) and top with Toasted Unsweetened Shredded Coconut
(*I prefer Lundberg brand Brown Rice Cakes, for Brown Rice Crackers look for a simple unflavored variety, with less than 5 ingredients (and NO trans fats!!), for Whole Grain Pita Bread, see if you can find any at a local bakery, make your own, or stick with a brand like Ezekiel which uses whole ingredients!) 
… I could totally keep going… there may be a 'Part 2' to this post in the future!
Seriously, the options are endless, there are SO many healthy, whole foods, unrefined, unprocessed, clean eating snack options out there – there really is no need to reach for the "fat-free pudding" or "chex mix"!
I hope you have enjoyed going through my list!
What are your favorite (actually) healthy go-to snack options?! I'd love to hear about them! 🙂 
Christal
Nutritionist in the Kitch
Oh.. P.S. .. Friday's Giveaway is still on until tomorrow night, so if you haven't entered yet, go do – the prize is awesome! 🙂