Ok, so I'm going to be totally honest here… these are nothing less than amazing. 
I planned a little visit with a pal of mine, Nicole (and her amazingly cute little babe Kira), and we decided to turn it into a little treat making date! We were talking about different flavors for energy bars/balls/bites as we all know I have quite a few on the blog already (see recipe page under snacks!).  
She had mentioned a Pina Colada flavoured bar (which you better believe will be made during our next date!), and I told her about this chocolate cherry flavor I had been brainstorming… BUT I had one problem. After looking. and searching, and scouring the city, I could not find dried cherries that weren't chock-full of added sugars! BOO! 
I refused to wreck some beautiful naturally sweet energy bars with sugar laden dried fruit, so I was yet to make this chocolate cherry flavor I was dreaming of. That was, until the day before our date, just randomly at a local small grocery store (bless you Wild Earth Foods) I found them! Just dried cherries, and a little sunflower oil!
Success!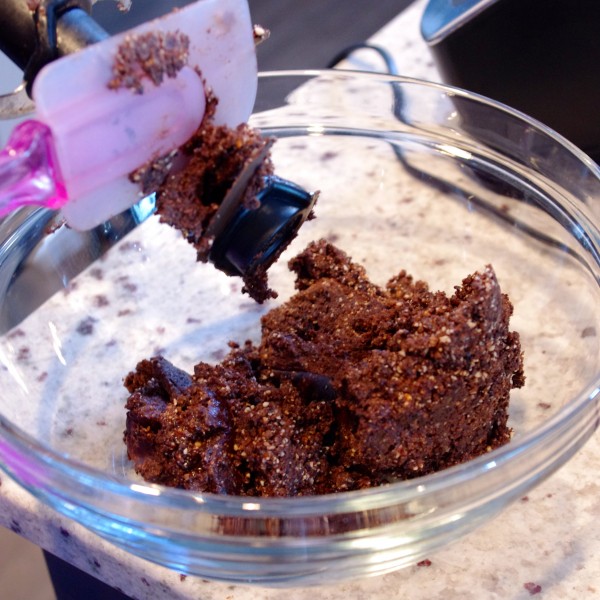 So… to make a long story a little shorter, we decided to make the chocolate cherry flavor energy balls… then roll them in cocoa powder and turn them into TRUFFLES! 
Rich, chocolaty, cherry-filled, naturally sweet, and oh-so-sinful-tasting-but-not-actually-sinful truffles!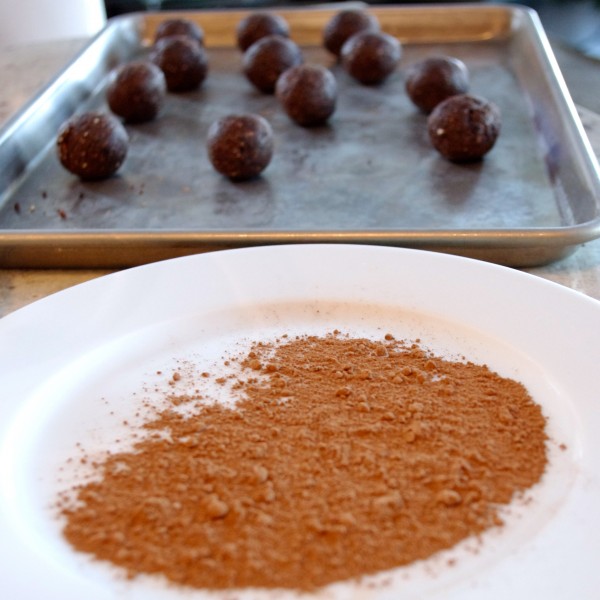 Call me an oddball… but making these little energy bites/balls/bars is one of my favourite things to do in the Kitch! They are SO easy, and in the end you have a product that tastes like it should have taken A LOT more effort!
Really, the food processor/blender does all the work!
I was actually really impressed with my friends Ninja blender for taking on the task of making these truffles and it did a great job… I'm totally biased to my Vitamix, but that little Ninja held it's own for sure!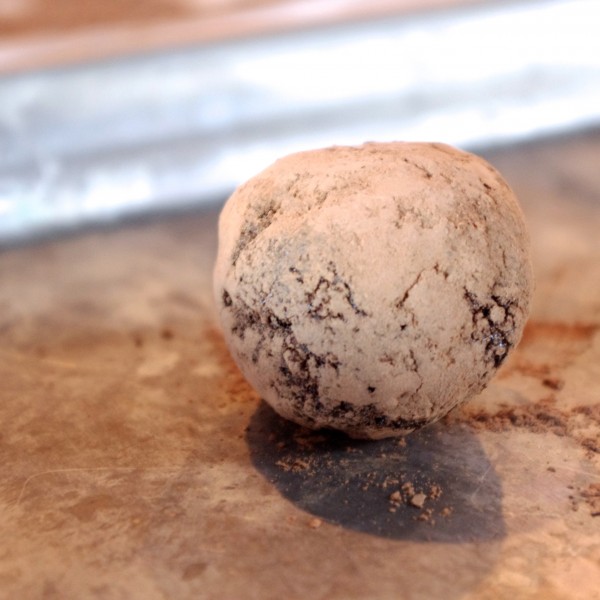 We rolled the finished cherry chocolate truffles in Camino raw cocoa powder just to make a light coating that would intensify the chocolate flavor…all with a very watchful eye. Baby Kira was right in the kitchen with us making sure we did everything up to her standards!
We measured out all the ingredients and made 15 delightfully delicious truffles that came in at… get this, only 90 calories a pop!
90 calories!!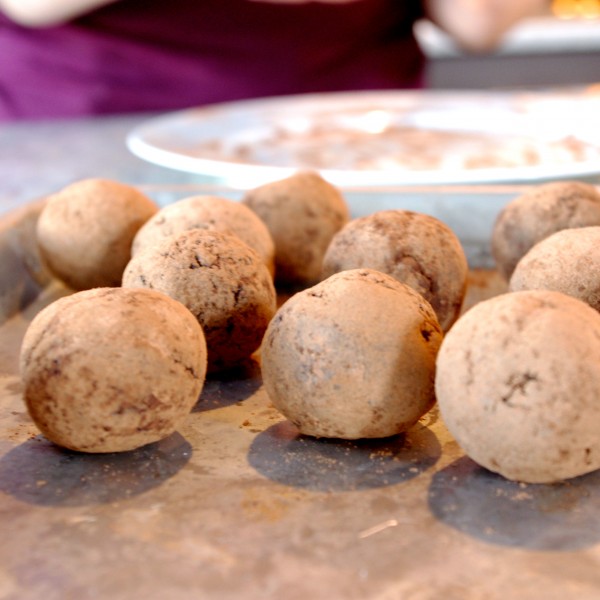 Because we used chocolate protein powder in the mix (North Coast Naturals Chocolate Isolate – clean and delicious!) the macros for these yummy truffles turned out nice and balanced!
12g of carbs, 5g of protein, and 2.5g of fats!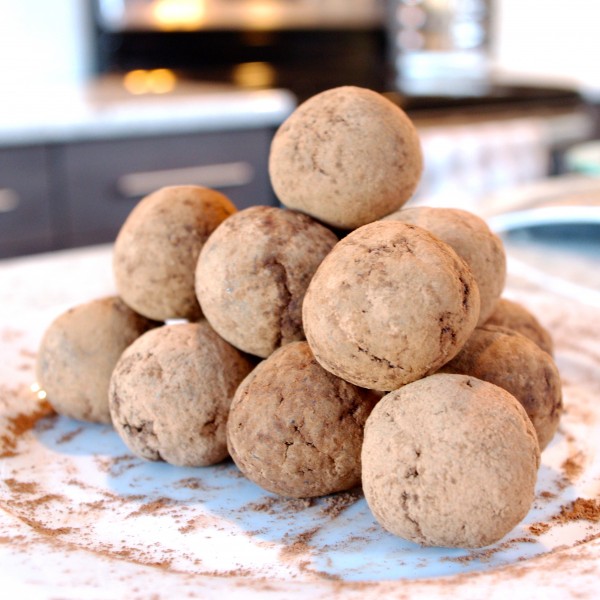 I thought for sure after trying one that I'd be reaching for the second, but both of us were pleasantly surprised at how rich and filling just one truffle was!
We split the batch and I was on my merry way, truffles in tow! 
I don't know how I did it… but I managed to make the whole drive home (in rush hour traffic) without reaching for another one – after all I wanted to save my second for an evening snack!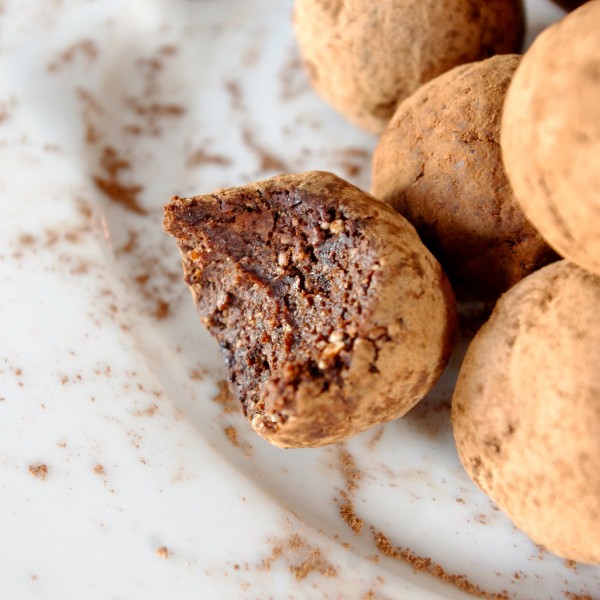 These truffles are PERFECT for gifting!
They don't get too soft at room temperature (although for a longer shelf-life I would keep them refrigerated!), so they would be great put into little treat bags and wrapped with a ribbon and given to co-workers, friends, or family as a little Christmas gift!
Yep, I'm totally doing this.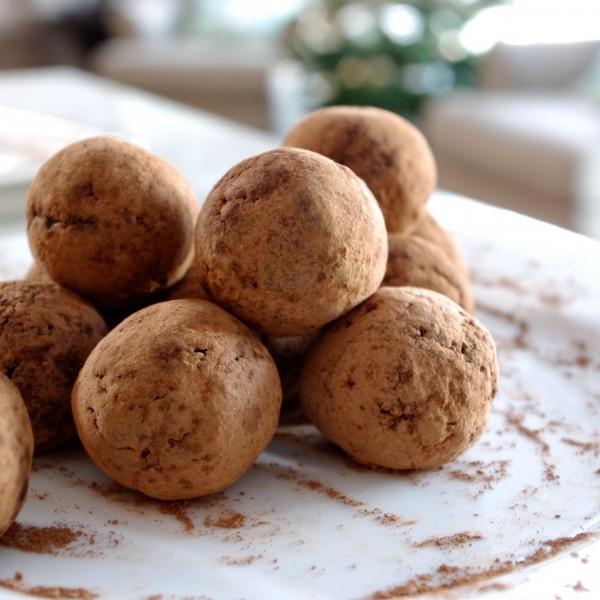 Double Chocolate Cherry Protein Truffles (gluten free & can be vegan too!)
Instructions
In a food processor or high speed blender (such as a Vitamix, Blendtec, or Ninja) add 2 tablespoons raw cocoa, protein powder, and almonds.
Blend for 30 seconds.
Add in dates, cherries, and almond milk.
Blend again until the mixture is well combined (you may have to do this in batches, or stop every 20 seconds or so to scrape the sides of the blender/processor).
Once you have a well combines sticky mass of batter, move the truffle batter into a large bowl.
Scoop out 35g portions of batter (or about 2 tablespoon size) and roll into a ball with the palm of your hands. Should make 15 balls.
On a large plate, spread out 2 teaspoons of cocoa powder.
Lightly roll each truffle ball into the cocoa powder to coat.
Place the truffles in the refrigerator or freezer to store.
Enjoy!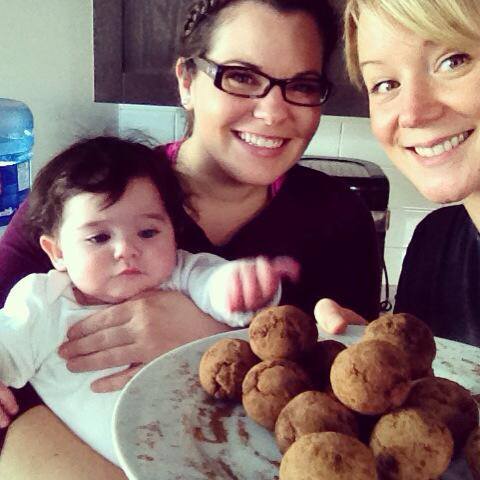 So…if you didn't already have plans for the weekend… you do now…TRUFFLE MAKING!
Have a wonderful weekend!
Christal // NITK