I've been meaning to revamp this healthy protein power cookie recipe for a long, long time and am so happy I can finally tick it off my to-do list. I actually first posted these cookies in 2013… I still can't believe that NITK will be 6 years old this August! They have been a favourite of mine for ages and the recipe was first inspired by a local grocery store here in Edmonton that makes the coveted "Cosmic Cookie".
Like those Cosmic Cookies, my version is loaded with sunflower seeds, pumpkin seeds,  unsweetened coconut, flax seeds, raisins, nut butter, and dark chocolate chips but they also contain more superfood additions! Rich, aromatic cocoa powder, mineral-packed hemp seeds, and protein-rich collagen peptides are also in the mix. Everything works together to make some pretty amazing treats.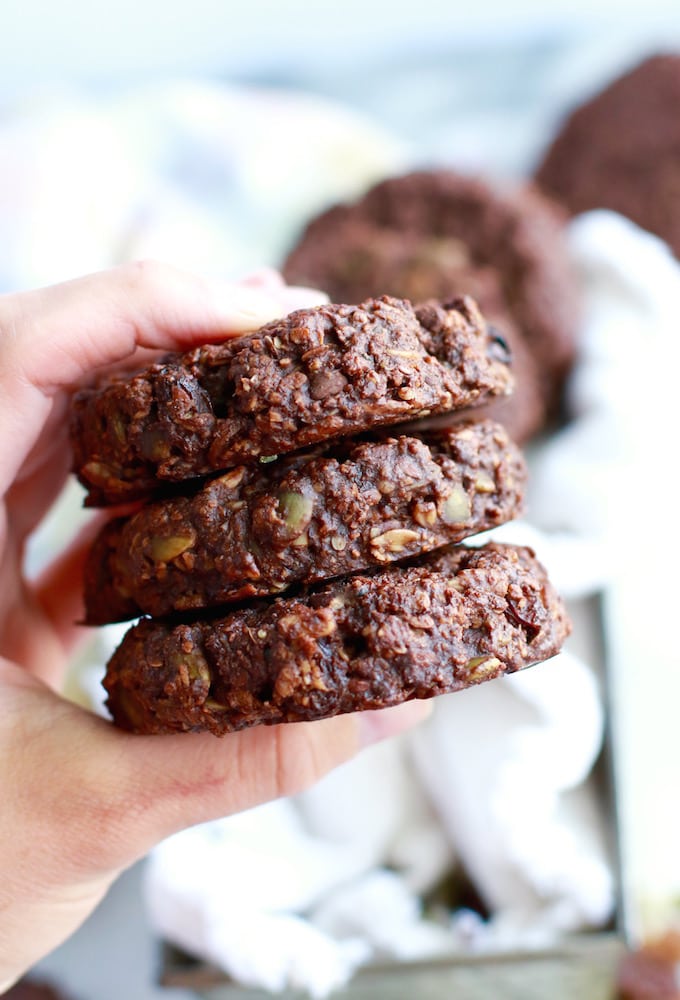 I've taken out the "cosmic" and named my cookies "power cookies" because they really do pack a punch… and quite a few calories (ha!). This is why I do recommend to enjoy these cookies in moderation, one (…ok, maybe two) cookie is seriously filling and will definitely power you up for a workout, busy day, or monumental to-do list.
I legitimately felt like I had fuel pumping through my legs the other day when I ate one of these cookies and then took Hemsley for a nice brisk walk in her stroller…and I don't drink coffee, so I know I couldn't attribute my extra energy to any caffeine, I swear it was the P O W E R cookie!!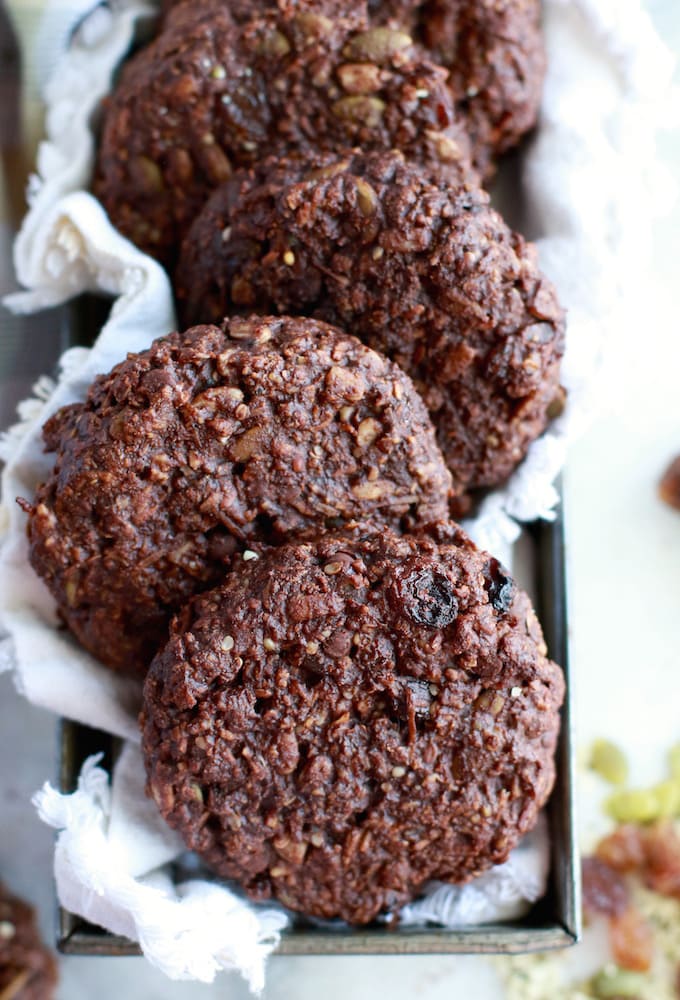 Oats and oat flour make these cookies fibre-rich and naturally gluten-free and wonderfully chewy and soft. They really are packed to the brim with healthy goodness and have amazing flavour and texture. 
If you are vegan or vegetarian, a simple swap of the collagen peptides for a plant-based protein powder will do the trick, but I love that either way (collagen or plant-based) these cookies are well balanced with a mix of complex carbohydrates, healthy fats, and protein!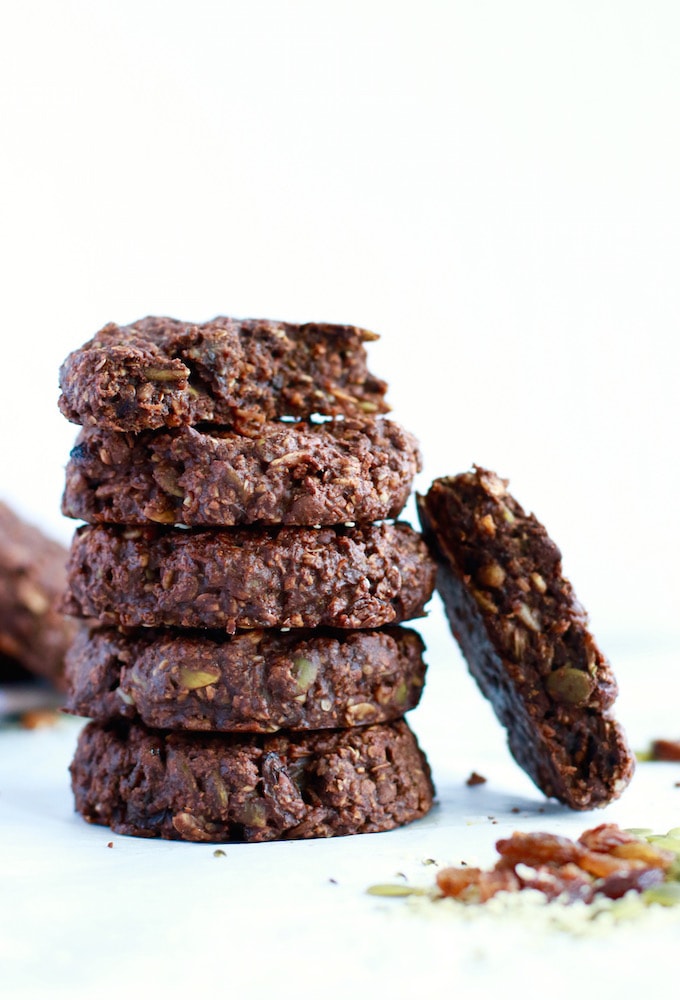 Summer is in full swing and for us this means a lot of days spent outside, on-the-go, biking, hiking, running, and soaking up the sunshine so these Chocolate Protein Power Cookies are the perfect, healthy snack/treat to have in-tow for a boost of energy and nourishment along the way.
I hope you'll make a batch to enjoy too! 

Chocolate Protein Power Cookies
Ingredients
2¼ cups quick oats
1¼ cups oat flour
¼ cup cocoa powder
½ cup collagen peptides powder (or a chocolate vegan protein powder)
1 cup sunflower seeds
¾ cup pumpkin seeds
¼ cup whole flax seeds
2 tablespoons hemp seeds
¾ cup coconut palm sugar
1 tablespoon ground cinnamon
¾ cup sultana raisins
¼ cup water
2 tablespoons blackstrap molasses
2 tablespoons natural nut butter of choice (or sunflower seed butter if you need nut free)
⅓ cup avocado oil
1 cup unsweetened almond milk
Instructions
Preheat oven to 350 degrees.
Line two baking pans with parchment paper.
In a large bowl combine all of the dry ingredients.
In a separate large bowl combine the wet ingredients.
Add the wet ingredients to the dry ingredients and mix until just combined, you'll need to use some muscle for this!
Portion the cookie dough using a rounded ¼ cup measuring cup and place each cookie onto the lined baking tray, you should make 1½ dozen cookies total.
Gently flatten the cookies before baking.
Bake for 20 minutes or until lightly browned on the bottom
Let the cookies cool completely...if you can 🙂
Nutritional Information
Serving size:
1 cookie
Calories:
260 kcal
Fat:
13g
Carbohydrates:
28g
Sugar:
12g
Fiber:
4g
Protein:
10g
*Recipe adapted from Planet Organic Cosmic Cookie 
Have a beautiful Sunday!
Christal // NITK
This post was originally published in 2013 and has since been rewritten and rephotographed for relevancy and quality.