This easy, healthy smash cake recipe is the perfect healthy alternative for baby's first birthday. Packed with secretly healthy ingredients like banana and applesauce and topped with a delicious homemade frosting, this healthy smash cake is a wonderful dairy-free, gluten-free and low sugar treat.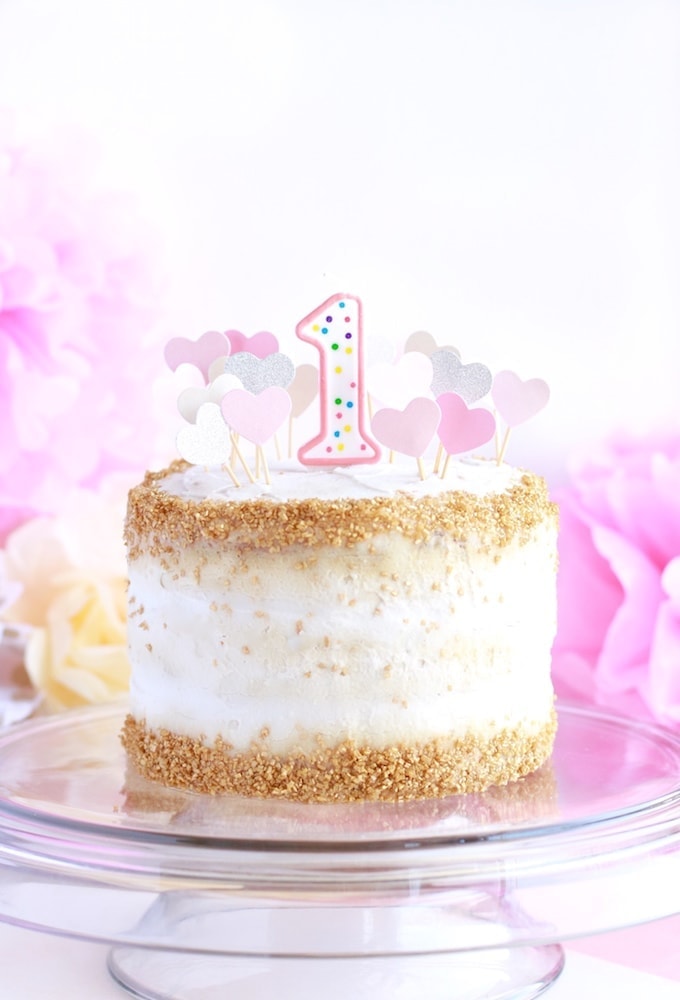 Healthy 1st Birthday Smash Cake!
This healthy smash cake recipe post is about three weeks late. Ha! Let's just call it #momlife, or maybe #mombrain might be a better term! You also might be surprised to see me posting on a Thursday. I don't ususually post on Thursdays, or any day other than Sunday, but I've been craving change and this post is extra special so it deserves it's own special day!
On May 3rd our sweet girl Hemsley Ann turned 1! To celebrate we had an intimate gathering with family and had Hemsley smash her very own cake. I had seen "smash cake" photography on Pinterest and I loved the idea and while I am by no means a talented baker or cake maker, I decided to put myself to the challenge and see if I could create a healthier and still super cute smash cake for miss Hemsley.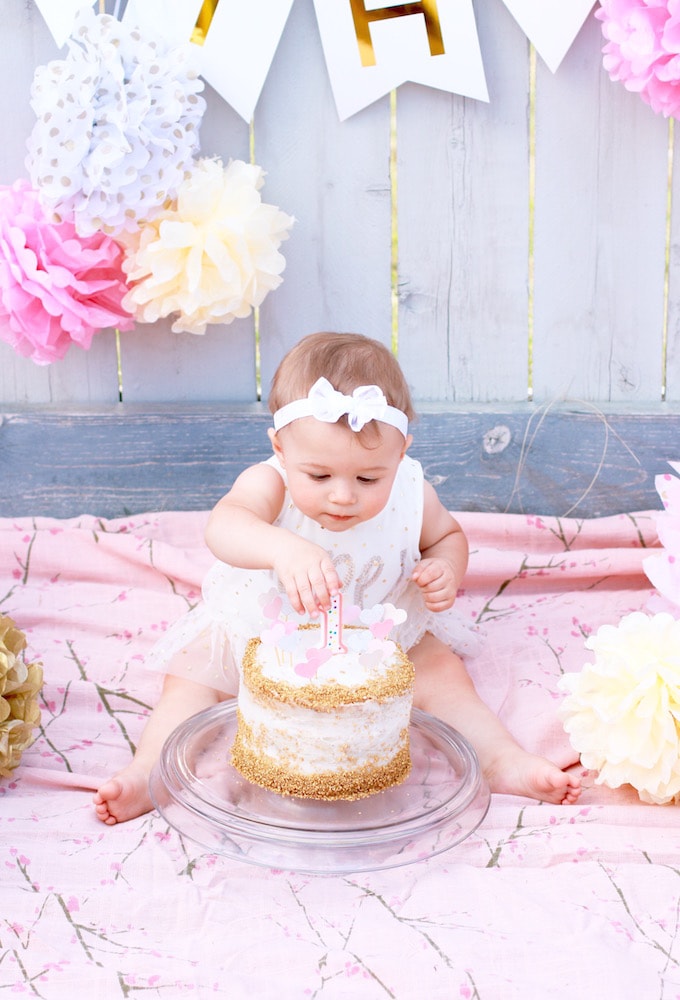 What is a Smash Cake?
A "smash cake" is essentially a cake you bake for your little one on their first birthday that nobody really gets to enjoy but them because not only do they get to eat it, they get to "smash" into it as a one year old might do when plopped in front of a big delicious cake! Usually they smash it with their hands (or feet…or both!) and go to town taking large mouthfuls of cake while all the guests stand around watching the hilarity and the cuteness ensue!
One of my favourite cookbooks geared towards babies and children is It All Begins With Food by Leah Garrard-Cole (the founder of Love Child Organics) as it contains tons of healthy recipes from when baby starts solids to snacks and meals for toddlers and bigger kids. In the cookbook there are also special occasion recipes including a first birthday smash cake.
I used Leah's recipe to inspire my own first birthday cake creation and I'm super happy with how it turned out. As you'll see by the photos…Hemsley was a fan too!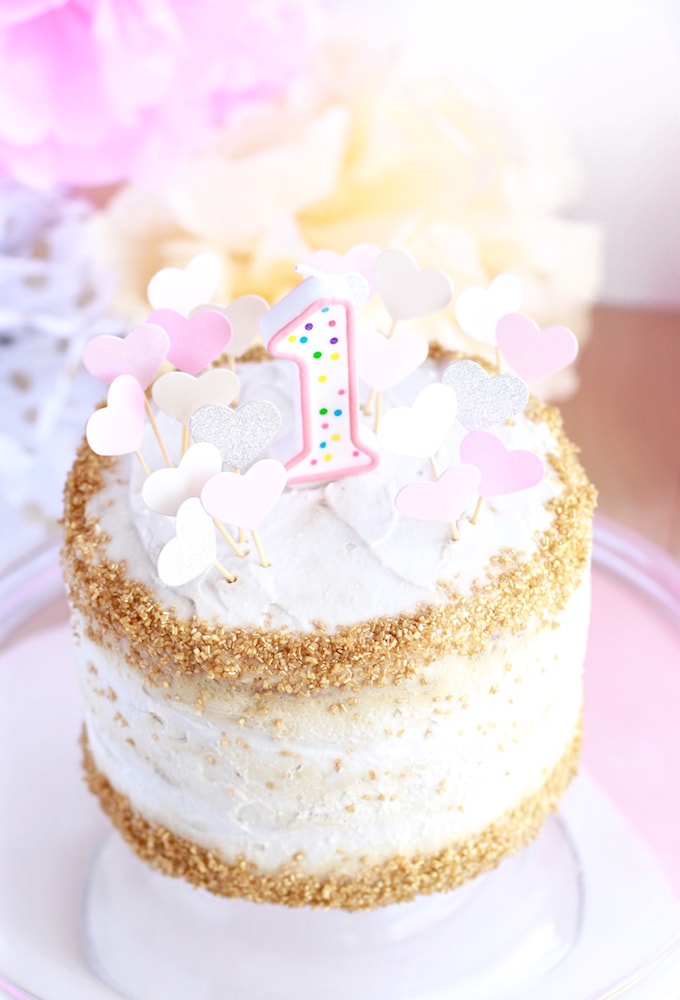 How To Make a Healthy Smash Cake:
Because I'm a nutritionist it's in my blood to make things healthier naturally, ha! I truly can't help it! A smash cake can really be any flavour and contain any ingredients, so a healthy smash cake will obviously contain healthier ingredients. While this smash cake does contain sugar, it's unrefined coconut palm sugar and there's not a lot of it.
The cake is sweet, but not too sweet, and also has hidden fruits and vegetables. I also decided to make the cake completely gluten and dairy free so that I could enjoy a slice too (in the case any of it was salvageable after Hemsley had made her way through it!). Here's the process!
Prepare frosting ahead of time and chill.
Prepare batter mixing together the dry ingredients in one bowl.
Blend wet ingredients in a blender to get it all nice and smooth.
Pour wet mixture into dry mixture.
Divide between two cake pans.
Bake until toothpick pulls clean and cool completely!
Layer the cake between frosting and decorate as desired!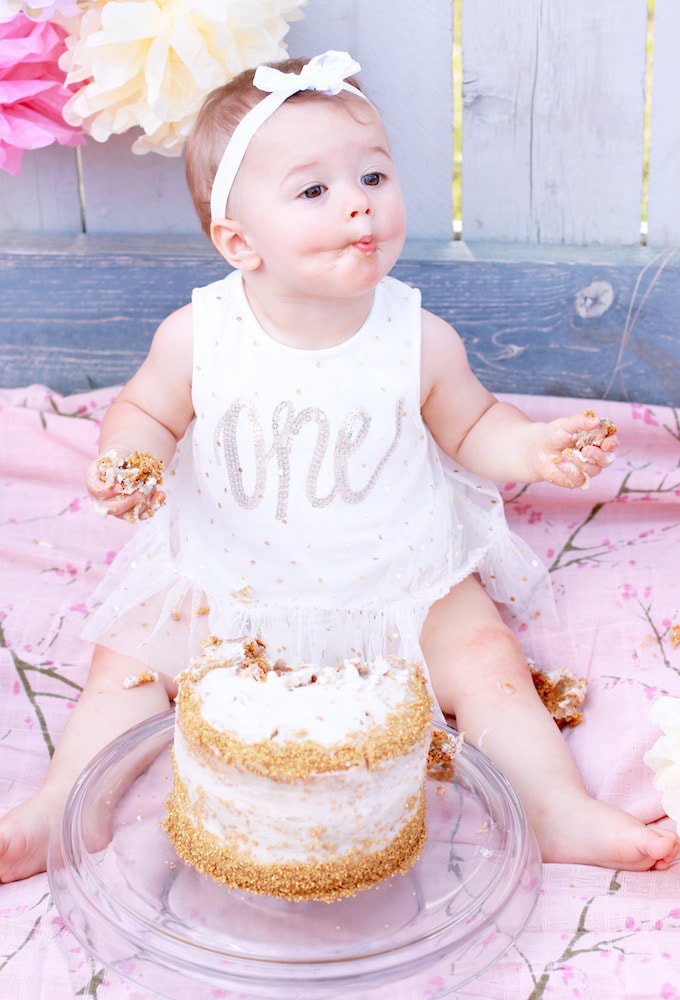 Healthy Smash Cake Ingredients:
To make this smash cake healthier I swapped out a lot of regular cake ingredients for unrefined, gluten free, and dairy free ingredients. I'm doing my best to use a food philosophy with Hemsley that reflects my own; embracing balance, honouring our bodies and paying attention to how food makes us feel, while also enjoying indulgent foods in moderation. Here are the main ingredients I used:
Gluten free flour (1 to 1 baking flour – Bob's Red Mill brand)
Banana
Applesauce
Carrot
Almond Milk (unsweetened)

Coconut Palm Sugar

Olive Oil

Eggs

Vanilla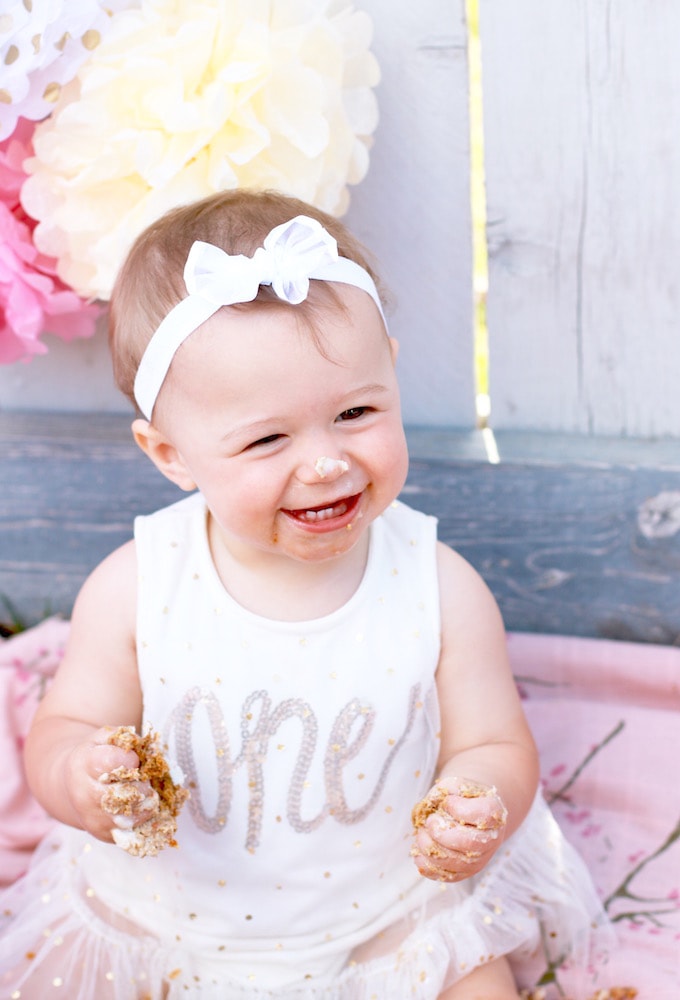 Smash Cake Frosting Ingredients:
To make the frosting I stuck with icing sugar to get a great consistency!
Coconut Milk

Organic Icing Sugar

(for the frosting)
Vanilla
Optional Decoration:
Gold Sprinkles (found at most baking bulk stores, or in the baking section at the grocery store)
Watching Hemsley first cautiously poke at her smash cake then slowly but surely start "smashing" into it, taking handfuls and eating bites while also trying to share with all of us, was beyond cute. My heart. This sweet baby girl is so filled with joy, curiosity, love for others, and spunk, I have moments where I still shake my head in disbelief that she's really ours.
Wow. Babies are truly spectacular and the growth that occurs in the first year of their lives is nothing short of miraculous. I am in awe at Hemsley's resiliency, her ability to adapt and learn, and to see week-by-week the little person she is becoming.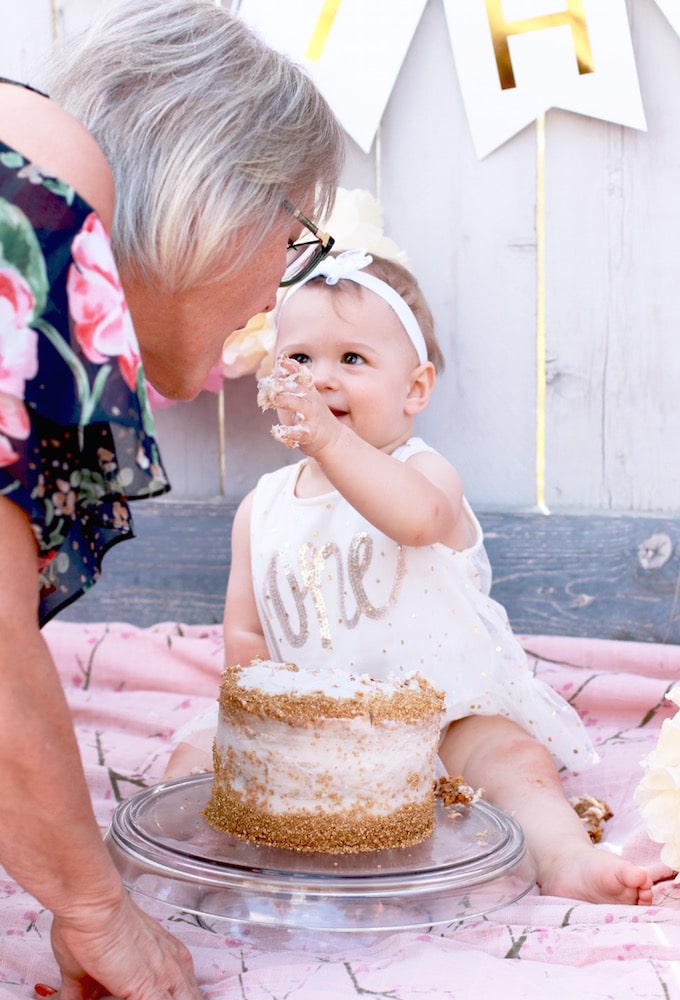 How Many Layers Do You Need For a Smash Cake?
When it comes to layers, you can do as many as you want but I recommend at least 2 as this gives the cake the height it needs for great pictures and of course, optimal smashing! I used two cake layers in my healthy smash cake with frosting in between the layers and I think I could have easily gone with three layers for even more height!
What size of smash cake pan should I use?
If you are planning to make a homemade smash cake of your own, one question many people often ask is which size of pan is best. For this smash cake, I used a 6-inch round cake pan, but you could easily use different sized pan and make a 4-inch or 5-inch smash cake too just keep in mind if you use a smaller sized pan you will need to adjust your baking time slightly!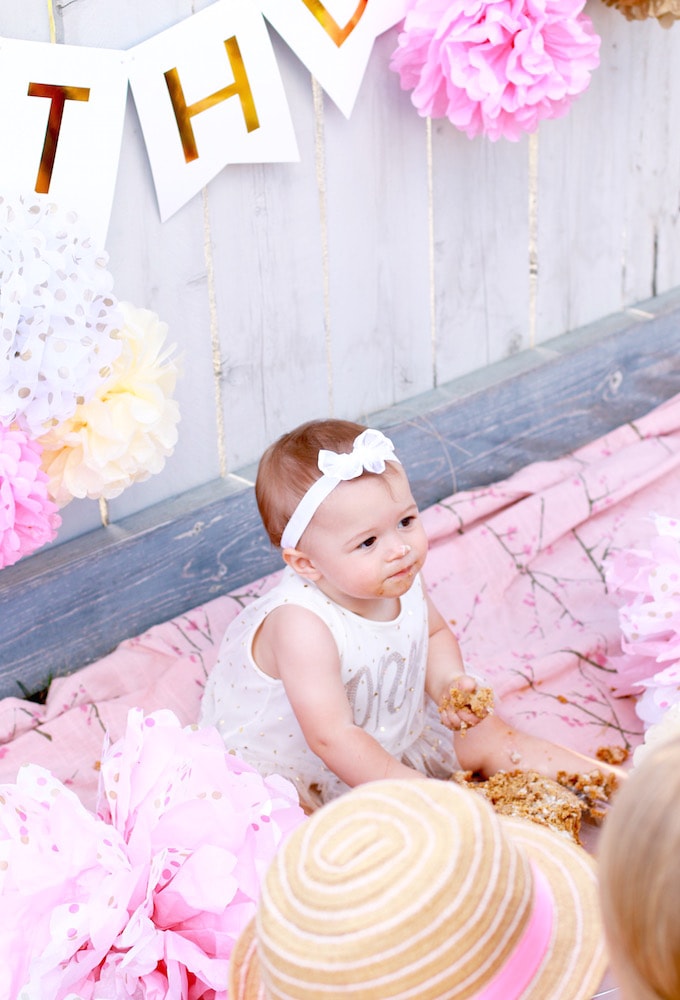 I hope you have enjoyed all of this cuteness and education on making the best healthy smash cake for your little one!
P.S. I was actually able to salvage a little piece of the smash cake for myself and it really was delicious. A little like carrot cake, a little like banana bread, and a lot like birthday cake all-in-one!
Be sure to pin the photo below the recipe to save this one for later!
Pin me!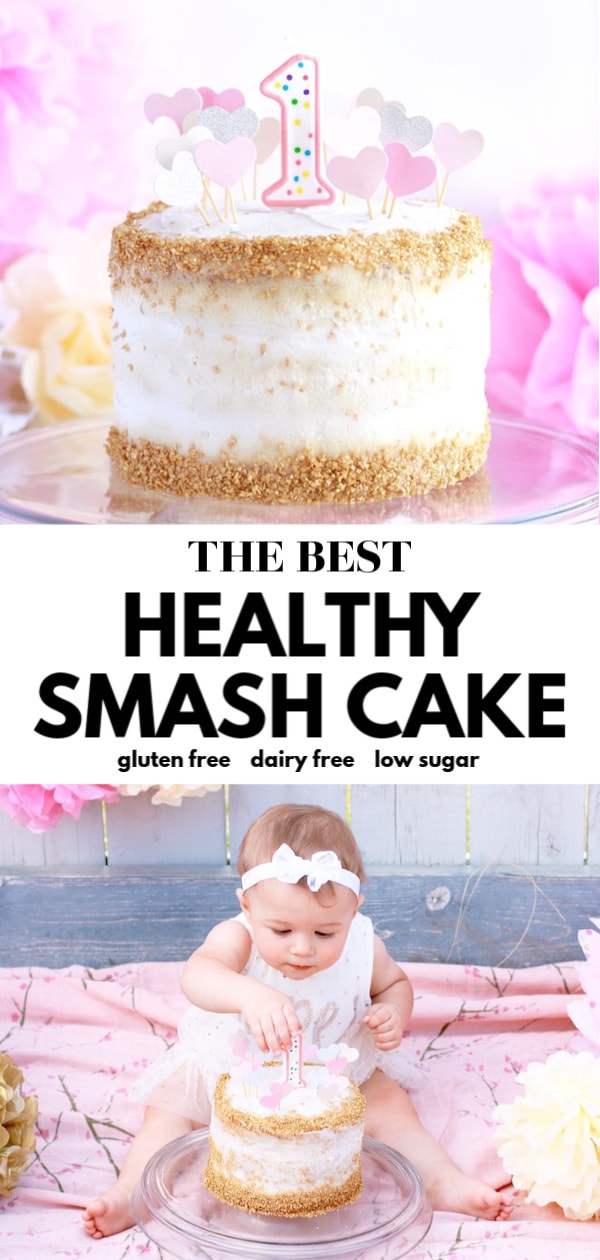 Christal // NITK