These healthy and easy vegetable smoothies taste amazing (not like dirt, lol!), are made with whole foods, nourish the body, are vegan, and can be enjoyed any time of day for a refreshing meal or snack.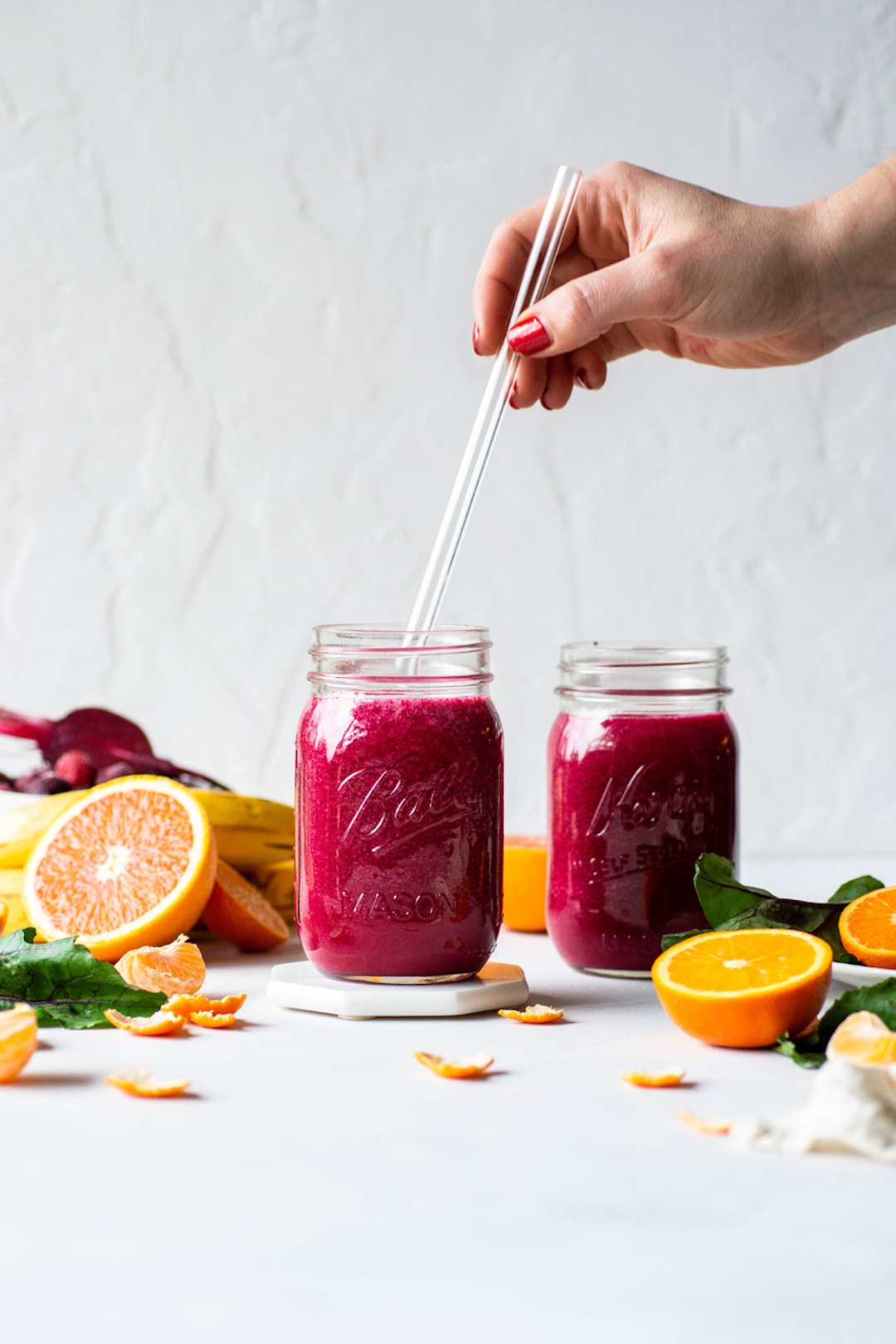 photo by Nyssa's Kitchen
Vegetable Smoothies For a Refreshing Change
When it comes to smoothies we often think fruit forward. Usually they are made with a base of bananas or berries and blended with nut milks, nut butter, and other tasty ingredients. Sometimes a change is nice and that's why these 8 vegetable smoothies are definitely worth a try.
These smoothies are vegetable focused and while they do contain some added fruits, it's the vegetable goodness that really shines. The vegetables also bring in a great dose of added vitamins, minerals, antioxidants, fibre, and enzymes.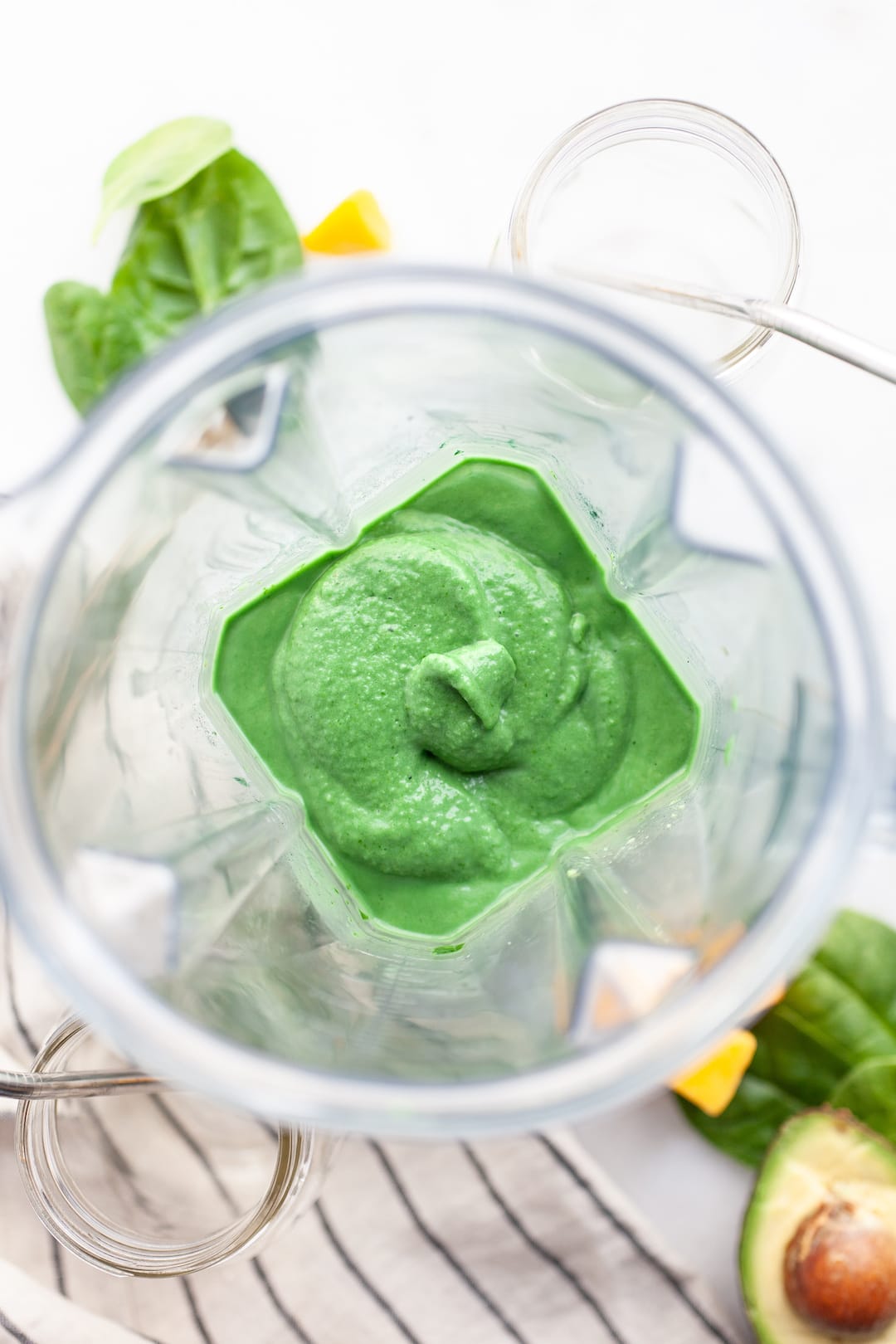 What vegetables are good in a smoothie?
If you want to experiment with adding vegetables to your go-to smoothies, you can try adding any of the following. The vegetables listed below are relatively subtle in flavour and blend well with fruits and other ingredients without changing the texture or taste too much.
Spinach

(fresh or frozen)

Carrot

Zucchini

(almost tasteless!)

Cauliflower

(also very mild tasting)

Cucumber

(adds a great refreshing flavour and goes well with berries)

Sweet potato

(steamed and cooled)
Beets

Pumpkin

(steamed or roasted and cooled, canned works as well)

The Smoothie Recipes
These 8 smoothies are perfect for picky eaters or little ones who are more likely to turn up their noses to veggies. Blended with other delicious ingredients your little one will be none the wiser!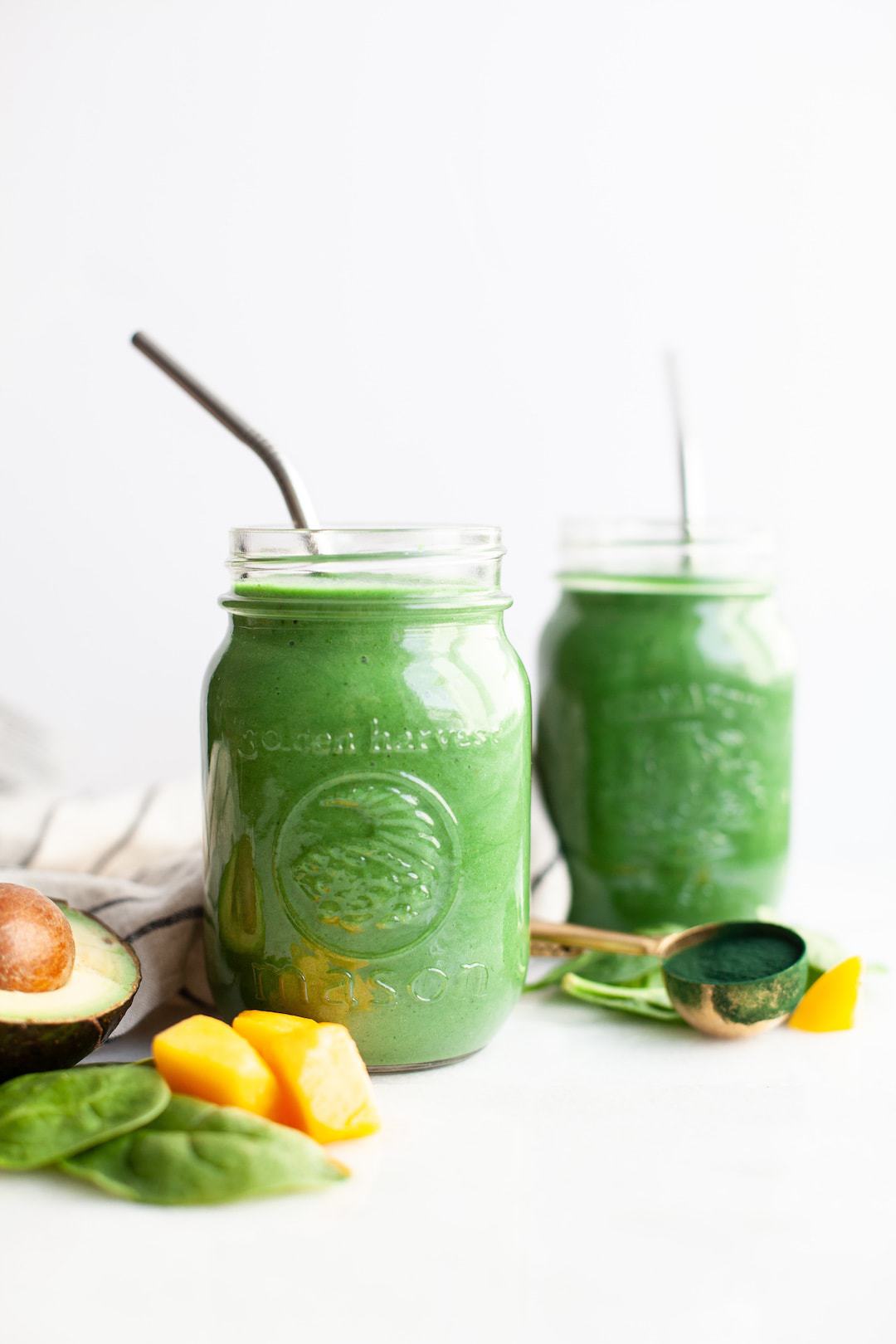 Best Green Spirulina Smoothie from NITK
This delicious green smoothie contains a healthy dose of spinach along with some fruits and spirulina for a delicious and refreshing snack.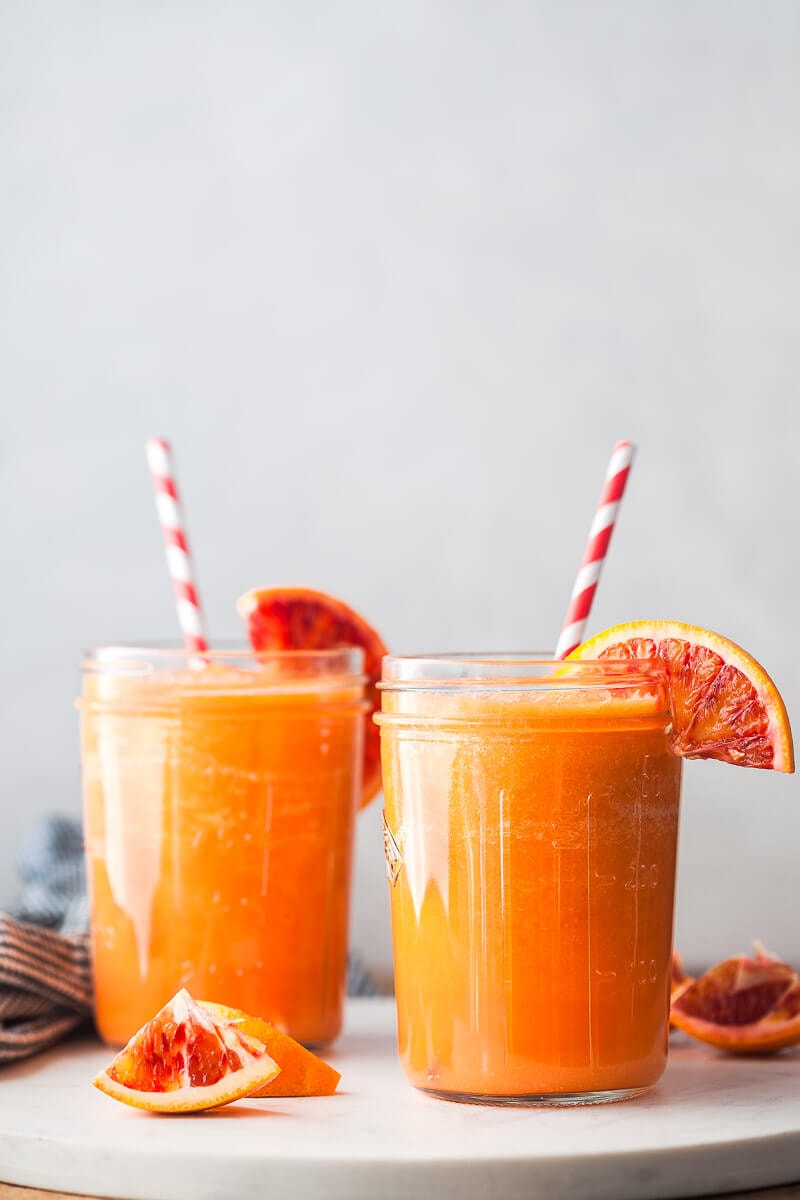 Apple Carrot Orange Smoothies from Vibrant Plate
These vegan vegetable smoothies are loaded with carrots lending to their vibrant orange hue. Along with carrot is orange, apple, ginger, turmeric, and a touch of cayenne pepper!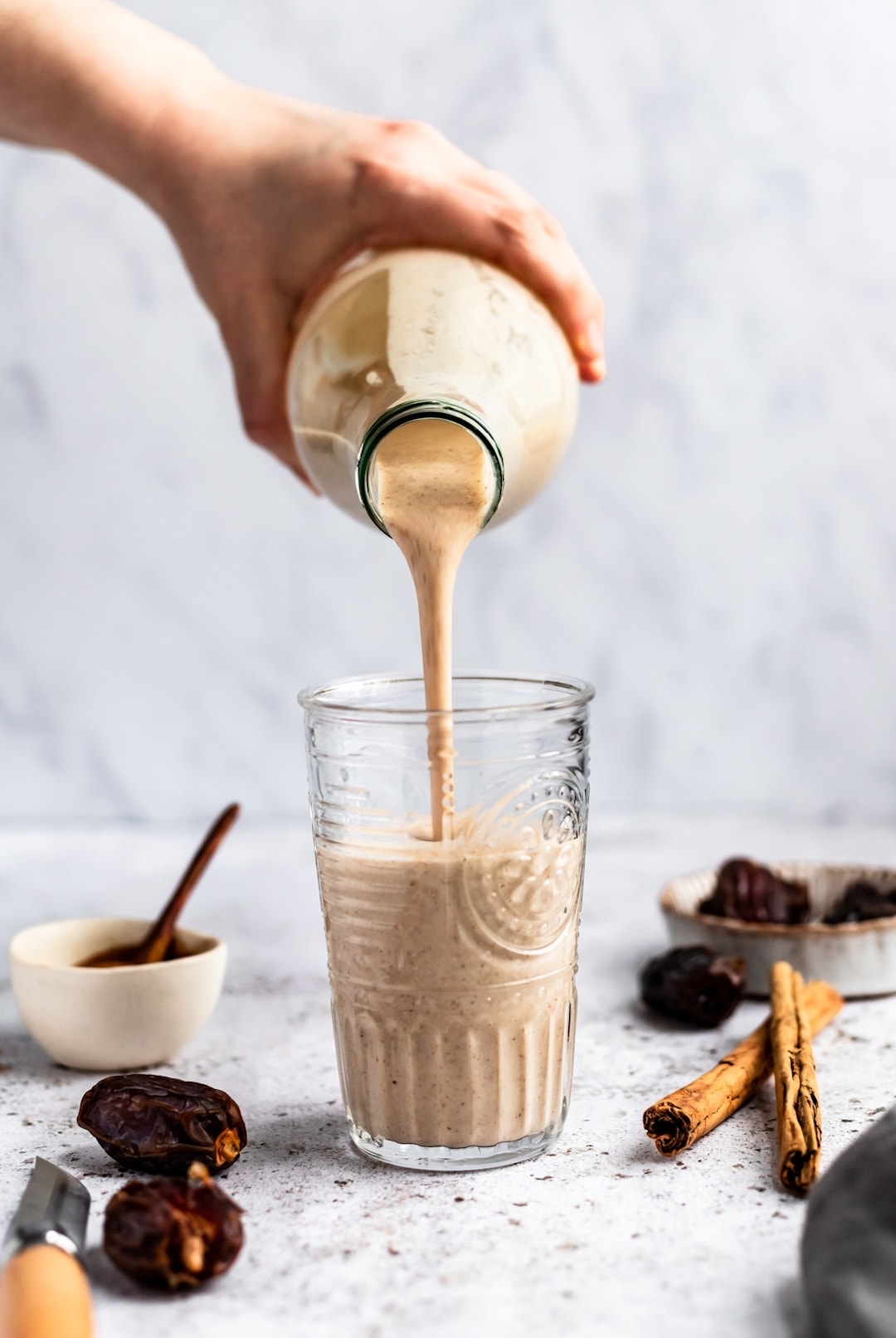 Snickerdoodle Smoothie (with cauliflower) from Ambitious Kitchen
This sweet and creamy smoothie secretly contains a healthy dose of cauliflower, but you'd never know it!! The cauliflower is mixed with tahini, dates, vanilla, and cinnamon creating an amazing snickerdoodle flavour.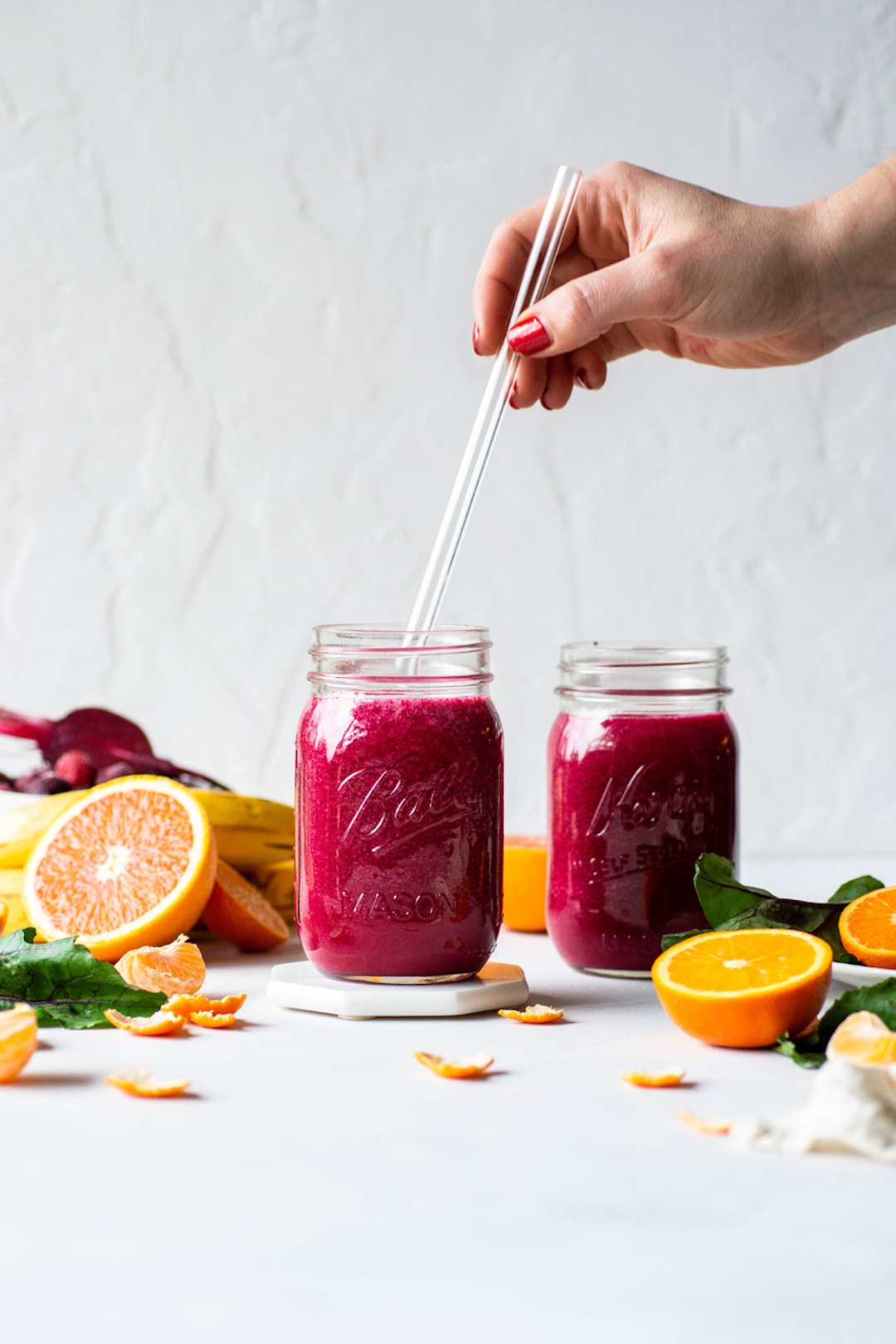 Beet and Berry Smoothies from Nyssa's Kitchen
These vibrant vegetable smoothies get their gorgeous color and a hit of antioxidants from beets! The beets are blended with berries, banana, and orange for an incredible combination you'll want again and again.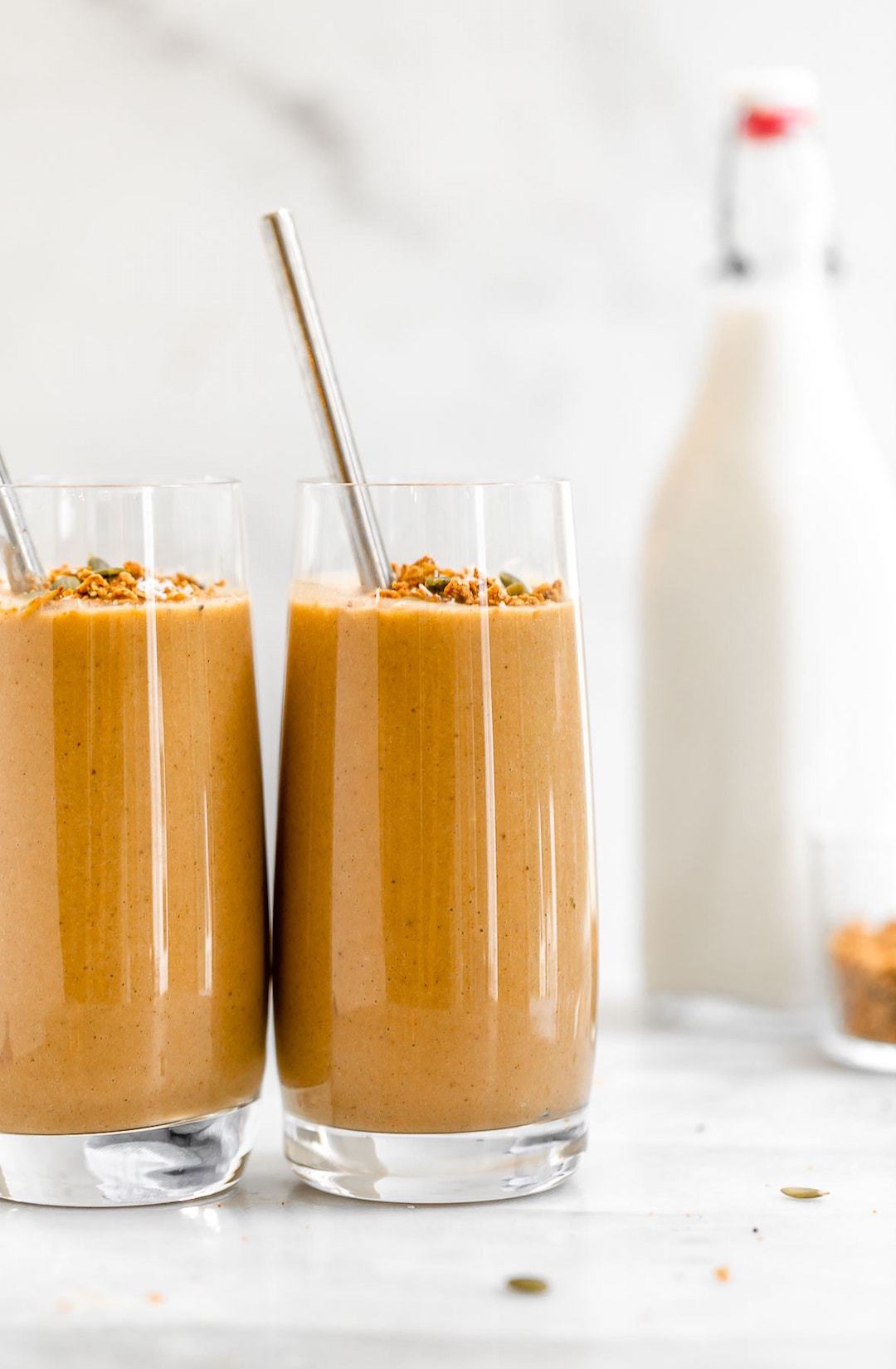 Sweet Potato Smoothie from Eat With Clarity
This creamy and delicious smoothie tastes a whole lot like pie, is made in just minutes, and is packed with fibre and healthy fats. This will be your new favorite way to enjoy sweet potatoes!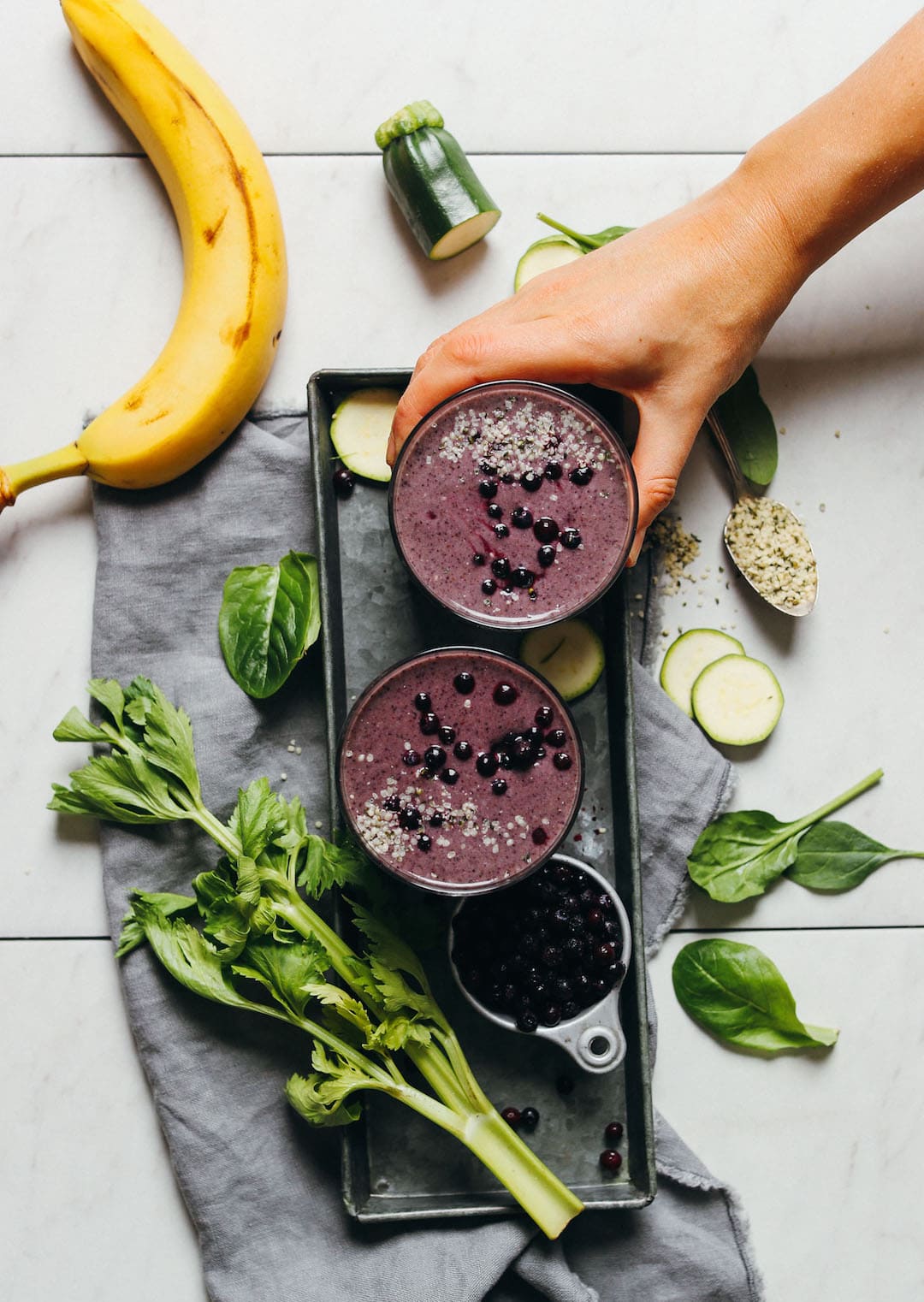 Creamy Zucchini Blueberry Smoothie from Minimalist Baker
This vegetable smoothie is packed with zucchini, spinach, celery, along with blueberries and banana. It packs a nutritious punch as it contains a ton of vitamins, minerals, and fibre!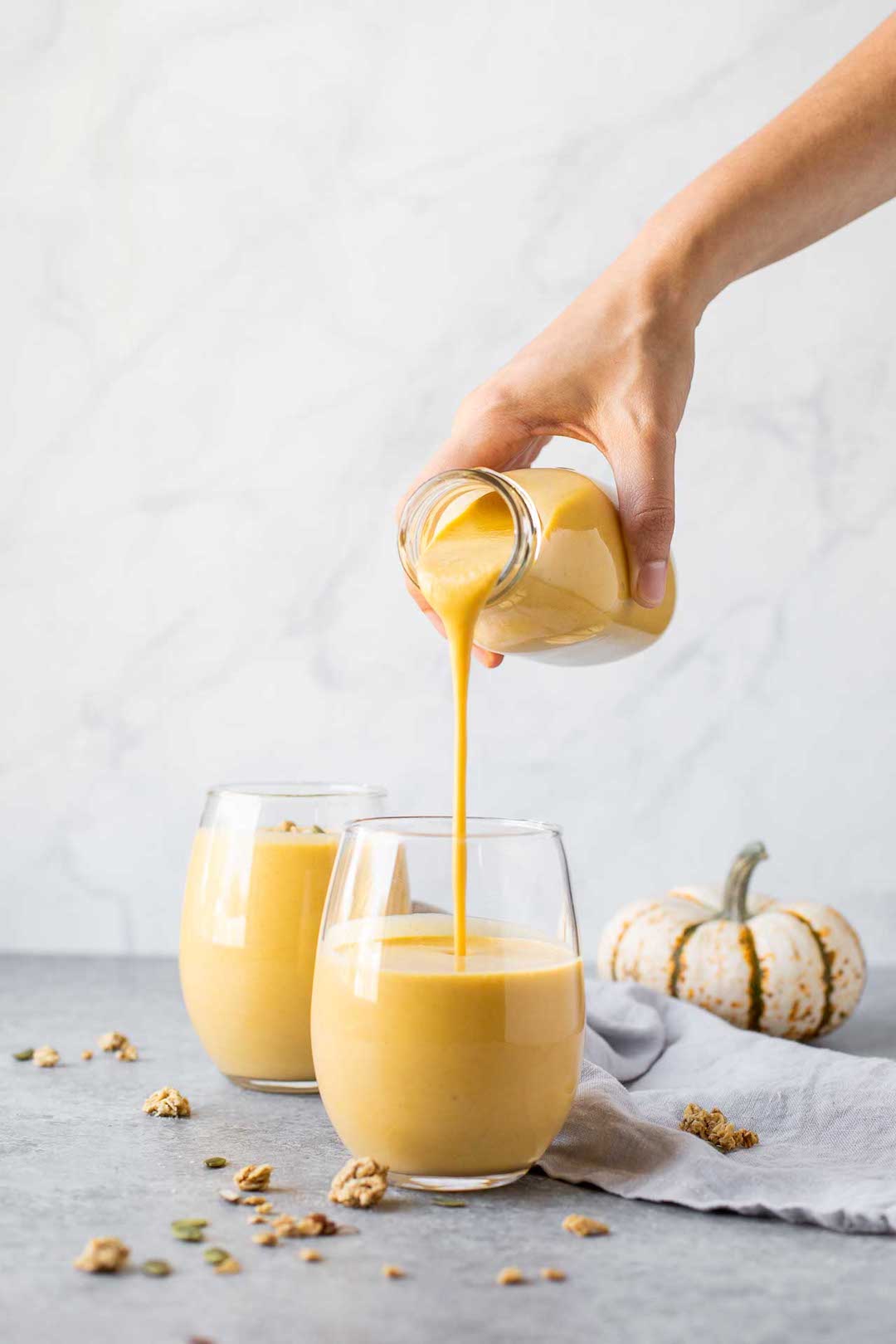 Pumpkin Smoothie from Jar of Lemons
This creamy vegetable smoothie is based around pumpkin, which is packed with vitamins A, C, and E and fibre. Combined with banana and yogurt (use coconut yogurt for dairy free/vegan) it's sweet, satisfying, and perfect for cooler days.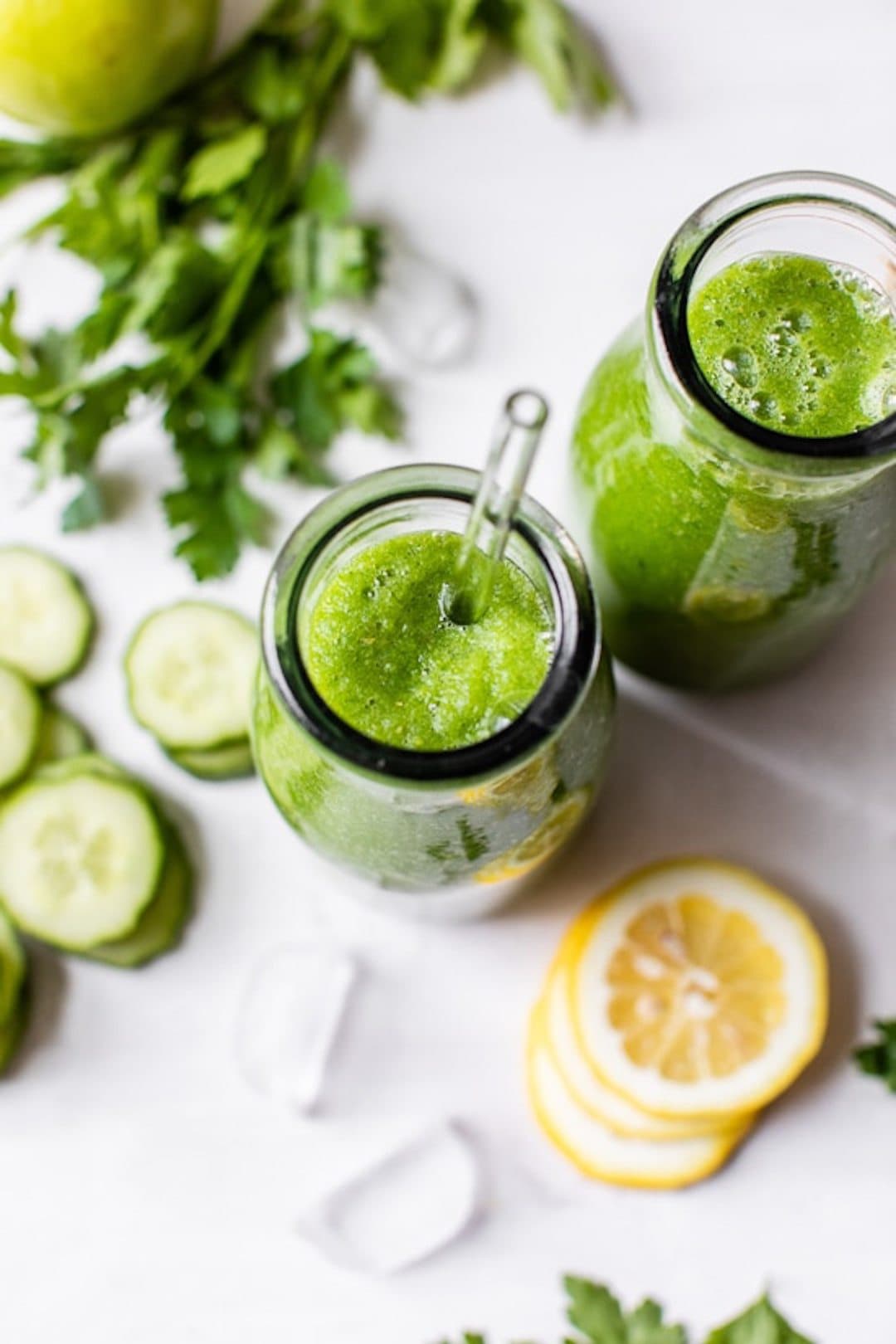 Green Apple Cucumber Smoothie from Skinny Taste
This refreshing smoothie combines cool cucumber with apple, lemon, and ginger for a super hydrating, subtly sweet drink that is perfect for a hot summer day or to wake you up in the morning.
If you haven't yet tried a vegetable smoothie or don't usually add veggies to the mix when you make a smoothie, be sure to give one (or a few) of these recipes a try.
Was there a smoothie you saw on this list that piqued your interest? Tell me about it in the comments and be sure to pin the photo below to save this roundup for later!
Pin me!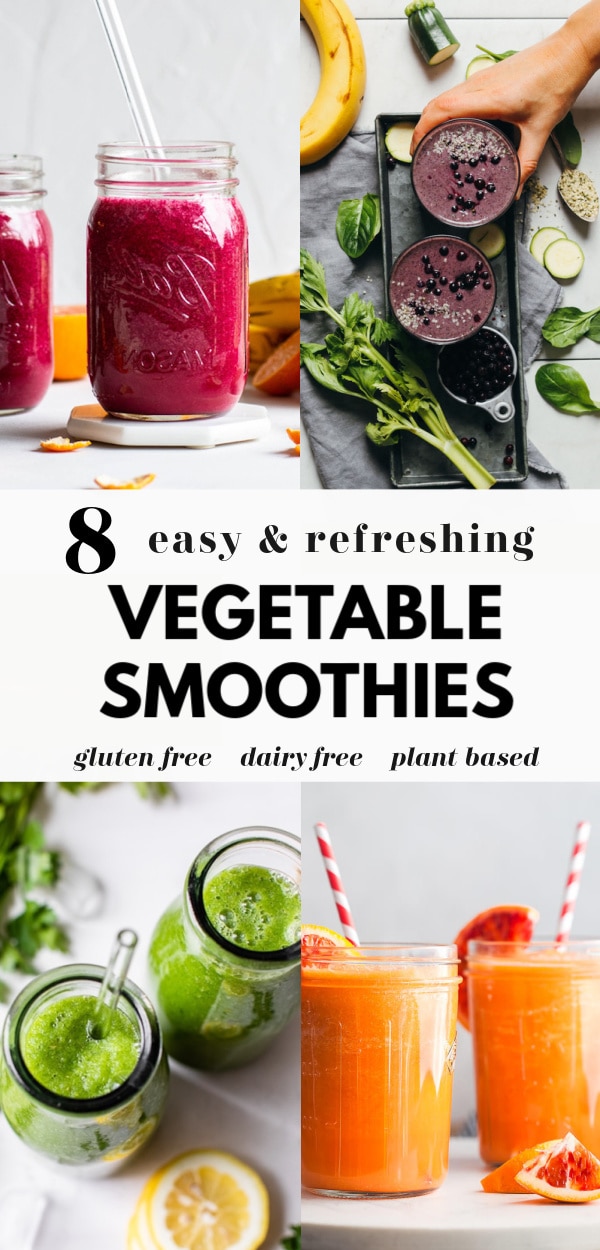 Have a great day!
Christal // NITK