This tasty watermelon banana smoothie is packed with fibre, it's simple and easy to make, and totally delicious. Not to mention it's dairy free, and vegan too!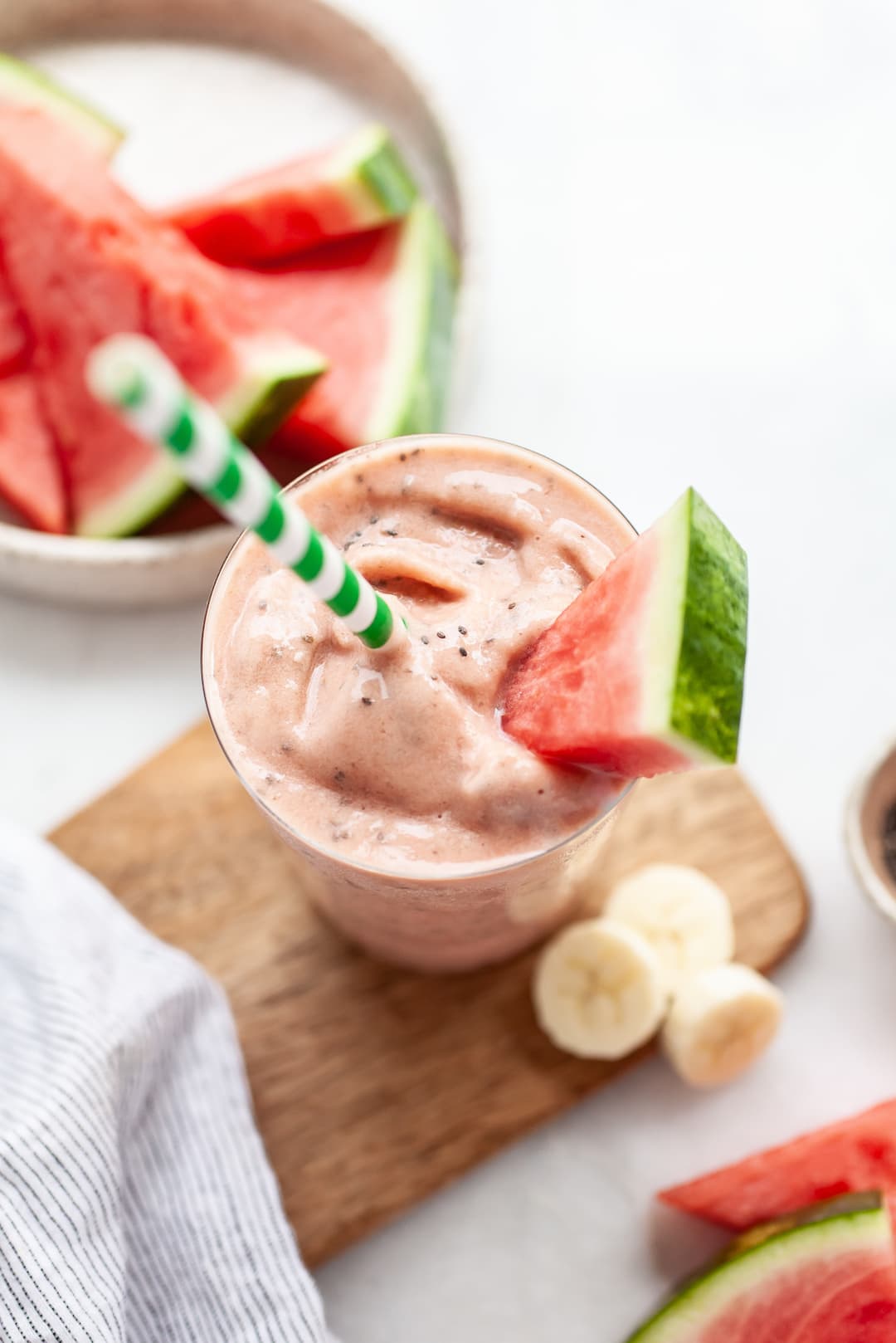 A Creamy Watermelon Banana Smoothie
When it comes to watermelon there are so many ways to enjoy this delicious fruit. In salads (fruit salad or a more savoury salad with mint and feta), skewered, grilled even, and of course blended in a smoothie. You can also make healthy watermelon slushies at home or homemade no-churn watermelon ice cream.
The watermelon flavor in this watermelon banana smoothie really shines, and there's no guessing what's in it when you have the first sip! It's light, refreshing, fruity, juicy, and all things wonderful that watermelon is. I bought some watermelon a while back, chopped it up and threw it in my freezer for an occasion just like this… "smoothie making time"!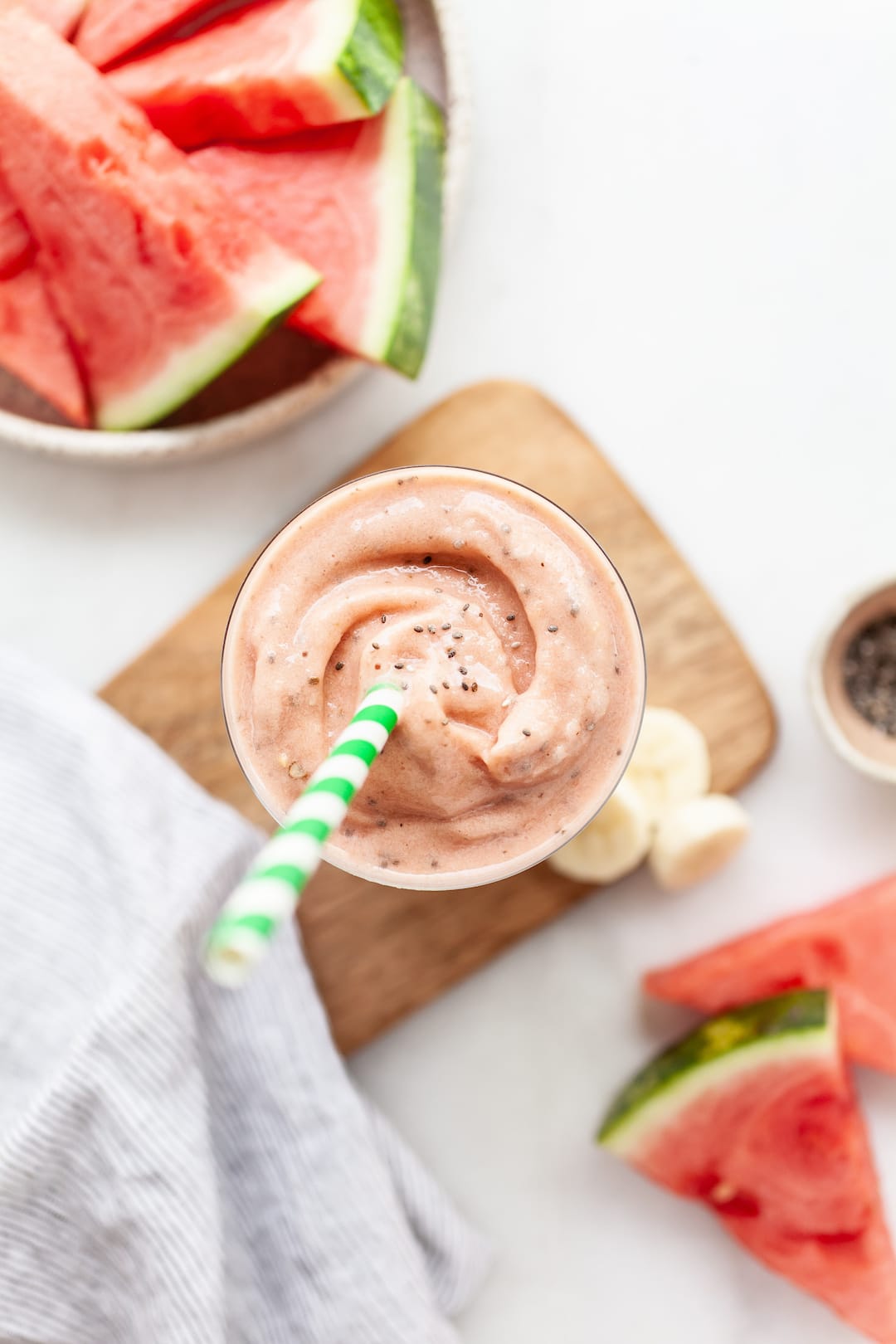 Is banana and watermelon a good combination?
You bet! Banana when frozen is naturally creamy and relatively subtle in flavour which allows the watermelon to really shine in this smoothie. The sweetness of the banana is not too intense either which is great to balance out the natural sweetness in watermelon.
Watermelon is mainly water (as the name suggests) so on it's own blended it doesn't create a rich, creamy smoothie consistency which is why the two, watermelon and banana, go so great together!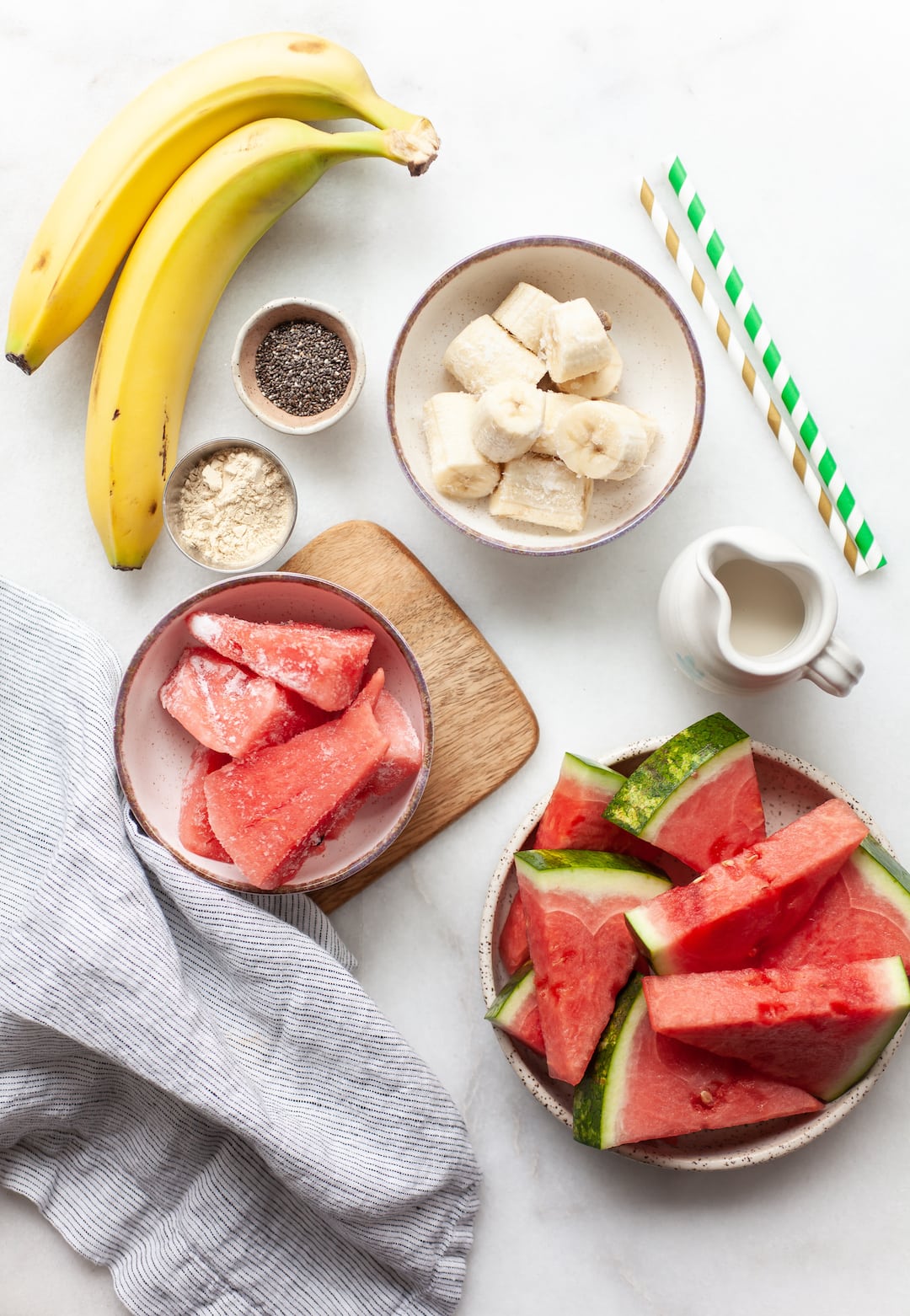 Ingredients in a Watermelon Banana Smoothie
To make this super simple and delicious smoothie you only need a handful of healthy ingredients. You can also add in some extras for added nutrition, fibre, and protein. Here's what you'll need:
Watermelon (fresh or frozen)
Banana (frozen)
Vanilla protein powder of choice (or collagen peptides for flavourless)
Chia seeds
Unsweetened vanilla almond milk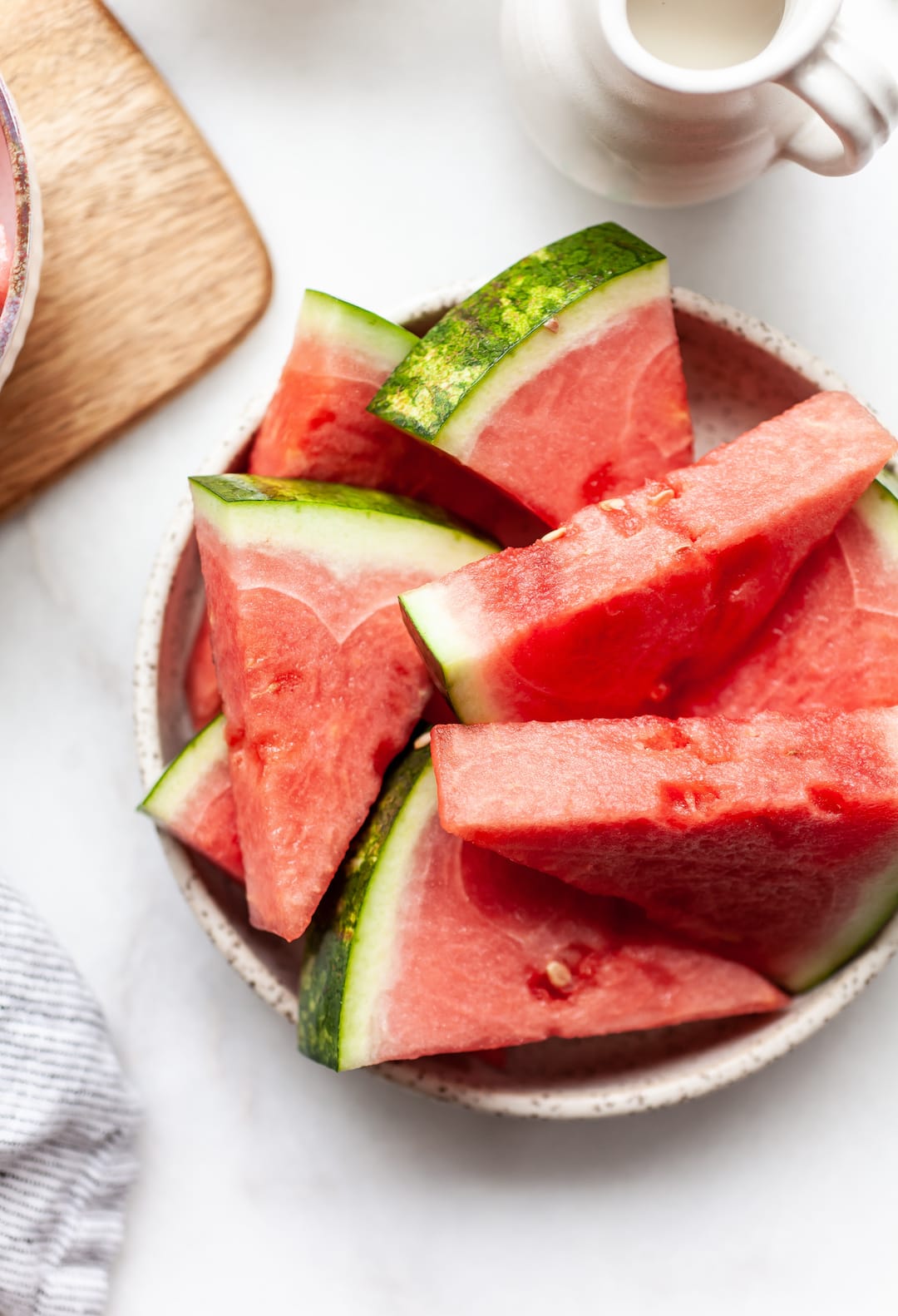 What's the benefit of eating watermelon?
Watermelon is a fantastic, refreshing fruit that has tons of health benefits as it's packed with nutrients and very hydrating. According to Healthline there are lots of benefits of watermelon including the following:
Watermelon helps keep you hydrated as it has an incredibly high water content!
It's a great source of Vitamin C, Vitamin A, and B vitamins.
It contains lycopene which is a compound that can help combat cancer and other diseases.
It has natural anti-inflammatory properties.
It can boost digestion because of it's water content and it also contains fibre.
The added ingredients in this watermelon banana smoothie also bring in their own nutrients including potassium from banana, fibre and omega fats from the chia seeds, and protein from the protein powder which makes this smoothie also nicely balanced when it comes to macronutrients (proteins, fats, carbohydrates).
Should I use fresh or frozen watermelon for this smoothie?
You can actually use either. While I recommend you use frozen banana to create that necessary smoothie creaminess, you can go with fresh watermelon and the smoothie will have a slightly thinner consistency, or freeze chunks of watermelon ahead of time to give the smoothie a much thicker consistency.
I like my smoothies on the thicker side, so I chose to freeze the watermelon and ended up with a great texture, but if you haven't had a chance to freeze any watermelon, or want to skip that step, you'll still get a great result!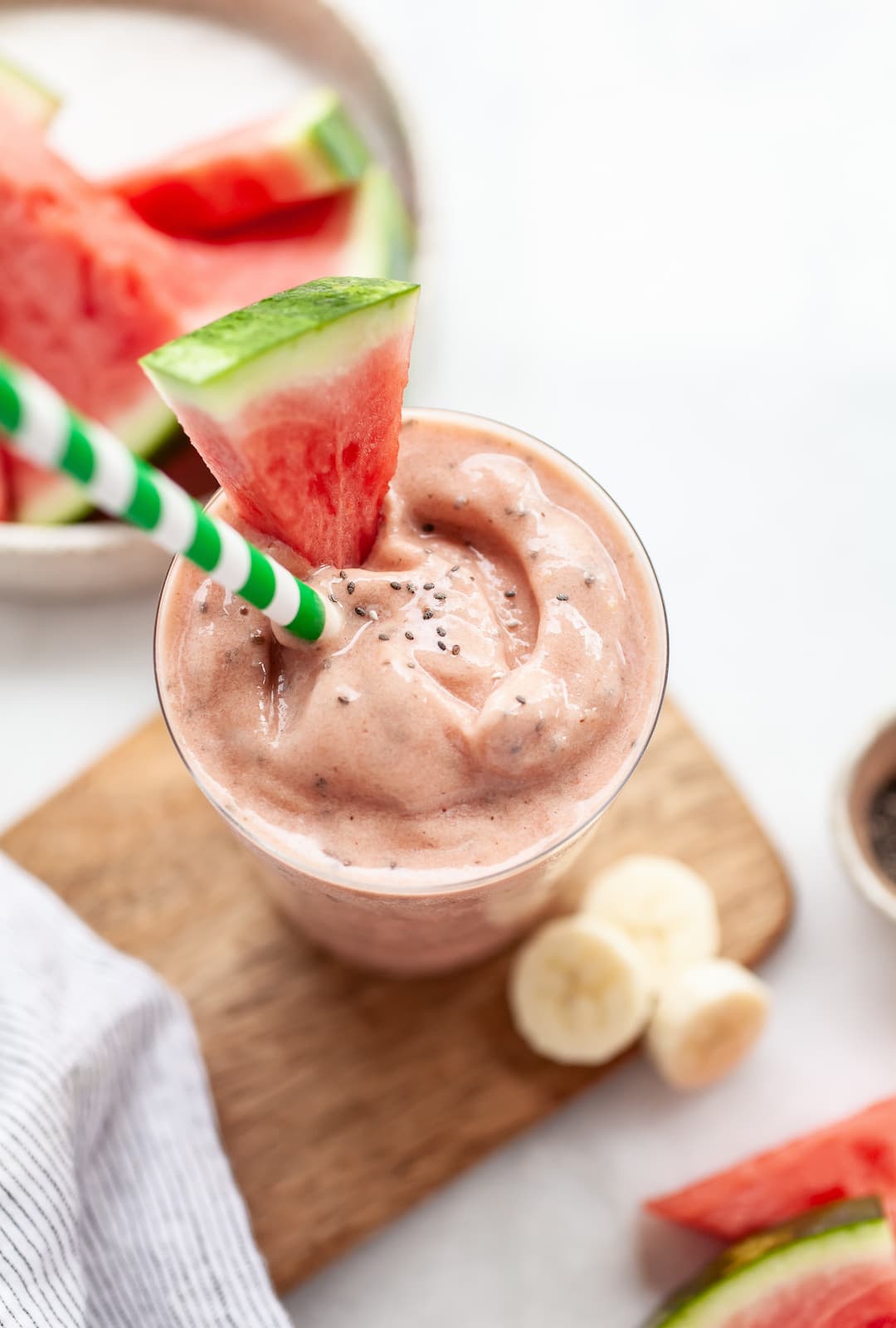 Protein Powder Options:
For this smoothie I used vanilla plant-based protein powder, which adds a nice amount of protein and some natural sweetness to the smoothie. You can choose from several options including:
vegan vanilla protein powder

whey-based vanilla protein powder (although this is not dairy free or vegan)

unflavoured collagen peptides
Collagen peptides are sources from marine or bovine so this would also make the smoothie not vegan but still be dairy free.Whichever option you prefer is fine, I just recommend you do not omit the protein powder as the protein will help to balance the carbohydrates and natural sugars that come from the watermelon and banana in this smoothie.
What is your favorite way to enjoy watermelon? Do you like it "straight up" or mixed into a smoothie or other recipe? Tell me about it in the comments and be sure to pin the photo below the recipe to save this one for later!
Pin me!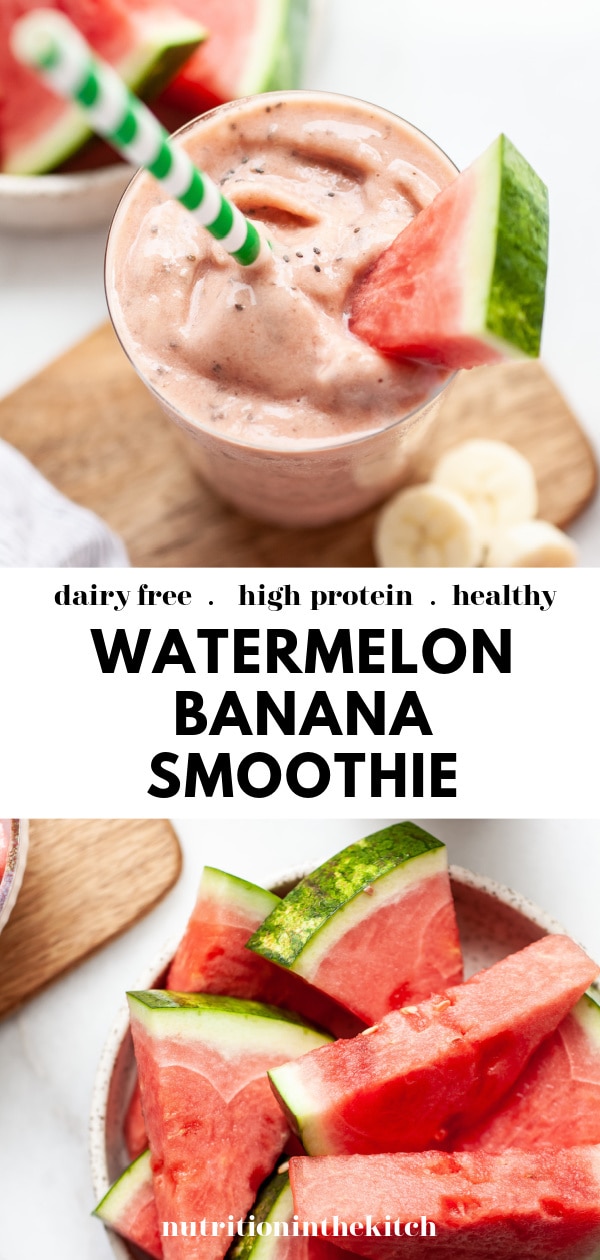 More Summer Inspired Recipes You'll Love:
Christal // NITK