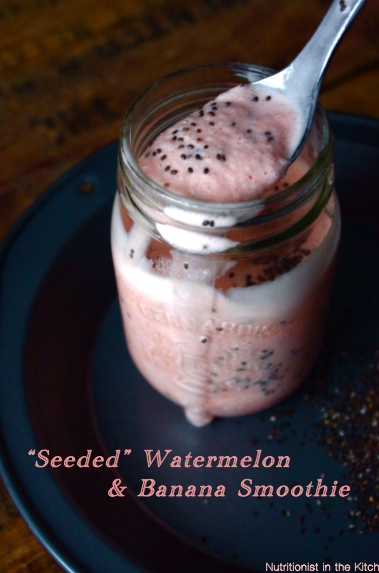 Yup, you guessed it, it's another variation of my favorite "Meal 4" on our 12-week fit challenge diet plan!! I LOVE THIS MEAL – seriously I am shocked at how many ways I have made a protein smoothie thus far – the different fruit combinations, and adding different healthy fat sources, mix it with frozen banana and chocolate or vanilla protein powder, and yep, it's perfection in a glass (or jar, I love my little mason jars)… with a spoon of course, I don't have my smoothies any other way!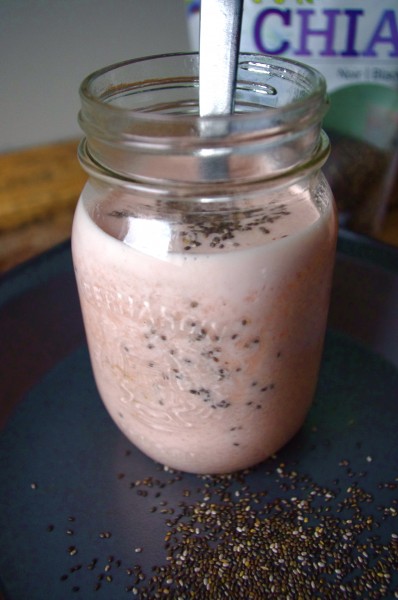 The watermelon flavor in this smoothie comes through very strong, and there's no guessing what's in it when you have the first taste! It's light, refreshing, fruity, juicy, and all things wonderful that watermelon is! I bought some watermelon a while back, chopped it up and threw it in my freezer for an occasion just like this – "smoothie makin' time"!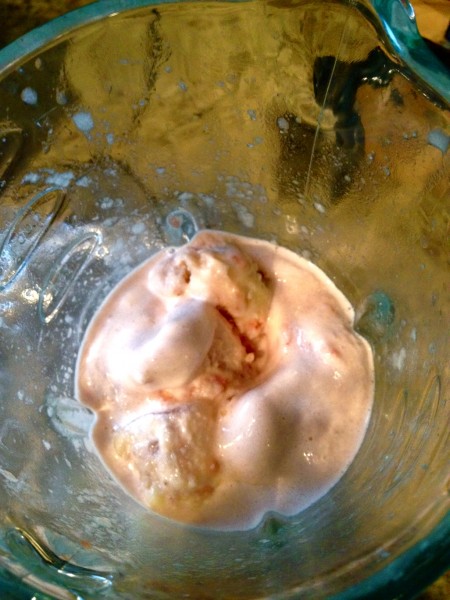 Now, the fun part. The watermelon I had bought was seedless, and well, nobody really like to eat watermelon seeds, BUT to play around with the idea of "watermelon seeds", I mixed about 2 teaspoons of black chia seeds into the smoothie! Mixed in with the light pink hue of the smoothie, the chia seeds look like little watermelon seeds, so cute!! (Yes, I just referred to a smoothie as cute…)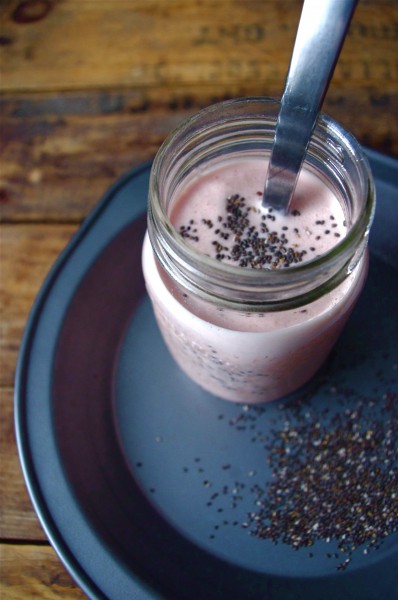 The chia seeds add in healthy omega fatty acids to the smoothie and they also make it even better for digestion – chia seeds are an awesome digestive supporting food! Because chia seeds don't have a very strong taste, they didn't change the overall taste of the smoothie, and I liked the change in texture that they added too!
I used my favorite North Coast Naturals vanilla protein powder (not an affiliate, I just really love this product), which added protein and some sweetness to the smoothie! This is always a fantastic post-workout snack! If you don't have protein powder, or prefer not to use it, you can easily make this smoothie without it! Just use some extra frozen banana!

"Seeded" Watermelon & Banana Smoothie
Ingredients
½ banana, frozen works best (I cut my banana into chunks and freeze ahead)
¾ cup seedless watermelon, frozen or fresh
1 scoop Vanilla protein powder (optional, if omitting use extra fruit)
2 teaspoons black chia seeds
4 large ice cubes
water (I use about ¼-1/2 cup depending on consistency desired) OR you could use unsweetened almond milk as well!
Instructions
Place everything but the chia seeds into a blender, and blend until smooth.
Pour into a large glass and stir in the chia seeds!
Enjoy!
Nutritional Information
Calories:
235 kcal
Fat:
3.9g
Carbohydrates:
23.4g
Sugar:
13.7g
Fiber:
5.1g
Protein:
28.7g
Have a wonderful weekend!
Christal
Nutritionist in the Kitch