This blueberry avocado smoothie is so simple, quick, and easy to make. It's gluten free, dairy free, plant based and loaded with healthy beautifying omega-rich fats!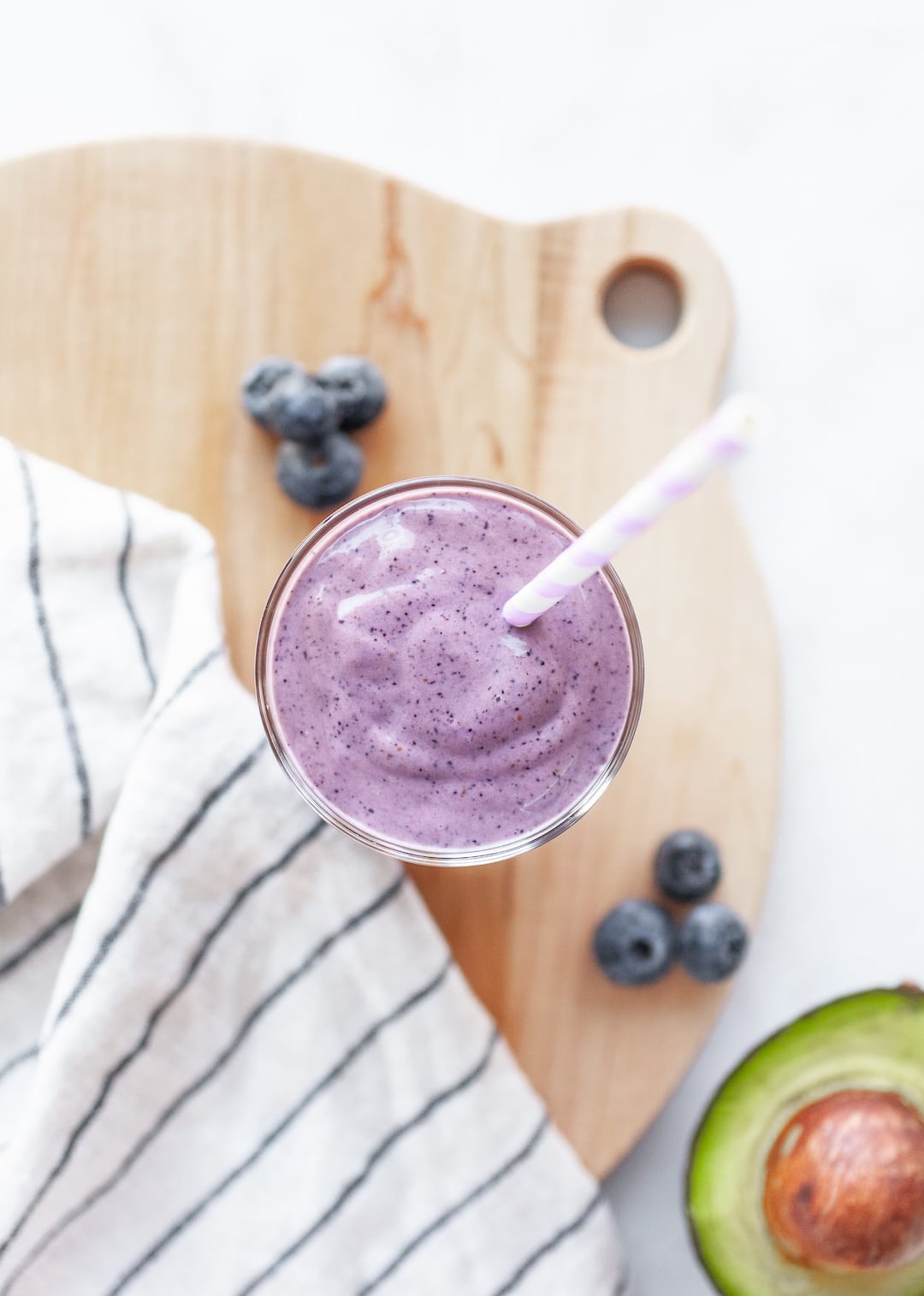 The Dreamiest Blueberry Avocado Smoothie
When it comes to the world of smoothies, the sky's the limit!
We've come a long, long way from the typical strawberry banana smoothie I used to always get at Orange Julius as a kid (anyone else a huge fan of those??). Nowadays I consider myself a master at making delicious homemade smoothies that aren't sugar bombs, but are nutritionally balanced with a mix of whole food ingredients containing all of the macronutrients (fats, carbs, and proteins) and loads of micronutrients (vitamins and minerals).
This blueberry avocado smoothie is filling, refreshing, and contains a nice blend of healthy omega-rich fats, protein power, energizing carbohydrates, and filling fibre. The avocado is the secret to this smoothie's dreamy, creamy texture and it's barely noticeable in taste.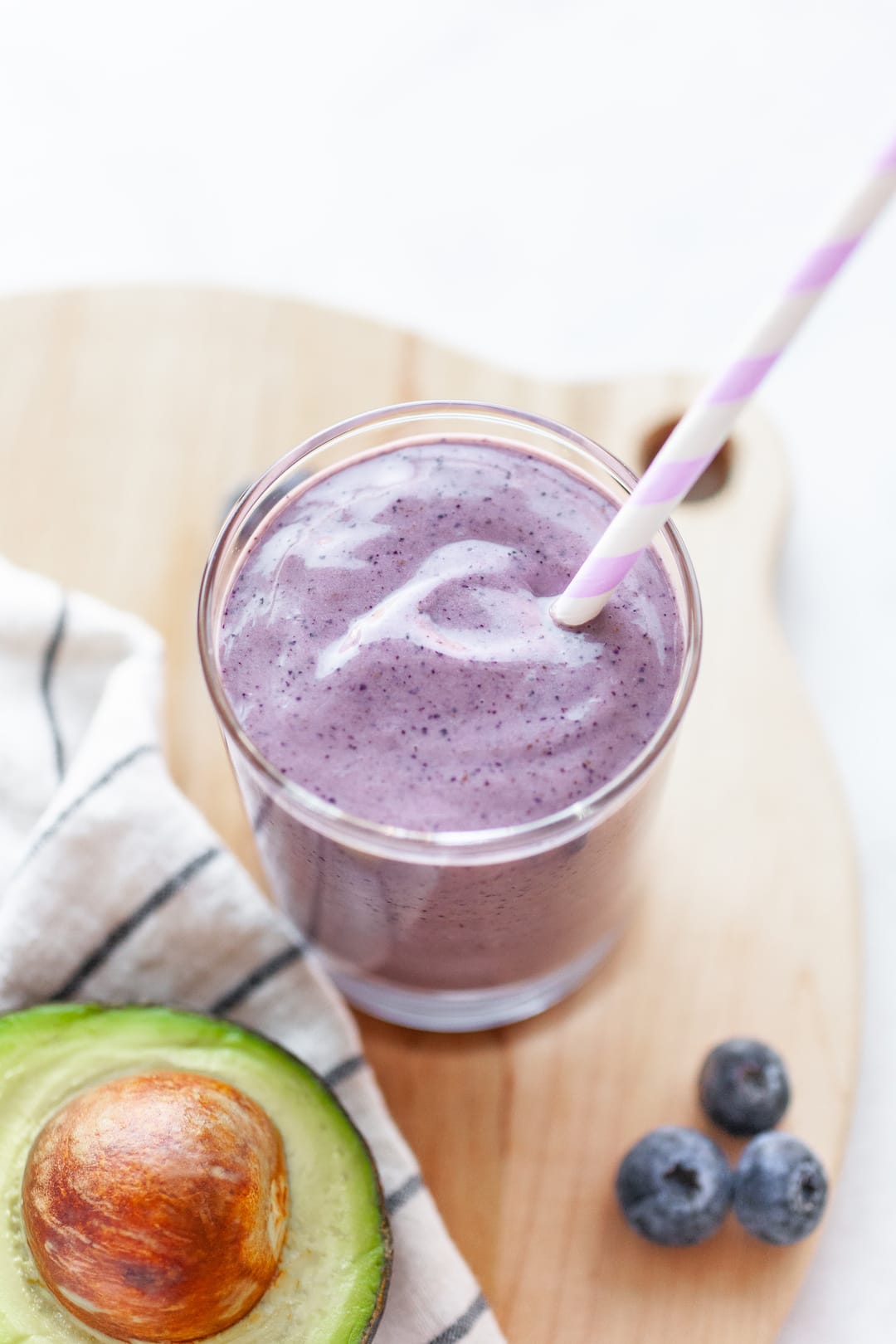 Using Avocado in Smoothies
Avocado hasn't always been considered a common smoothie ingredient but it's a fantastic addition to almost any smoothie as it's virtually tasteless and brings in such a great, rich, creamy texture. When it comes to using avocado in smoothies, I recommend going with 1/4 of an avocado per serving of smoothie as to not overwhelm the smoothie but add just the right dose of green, avocado goodness.
Avocado goes especially well with fruit-filled or chocolatey smoothies as the texture and flavours blends wonderfully with these ingredients.
What Part of the Avocado Should You Use?
When adding avocado to smoothies use only the soft green flesh and discard the thick, leathery skin and the pit. The pit could definitely do some damage to the blades so be sure to remove the pit before adding the avocado to your blender!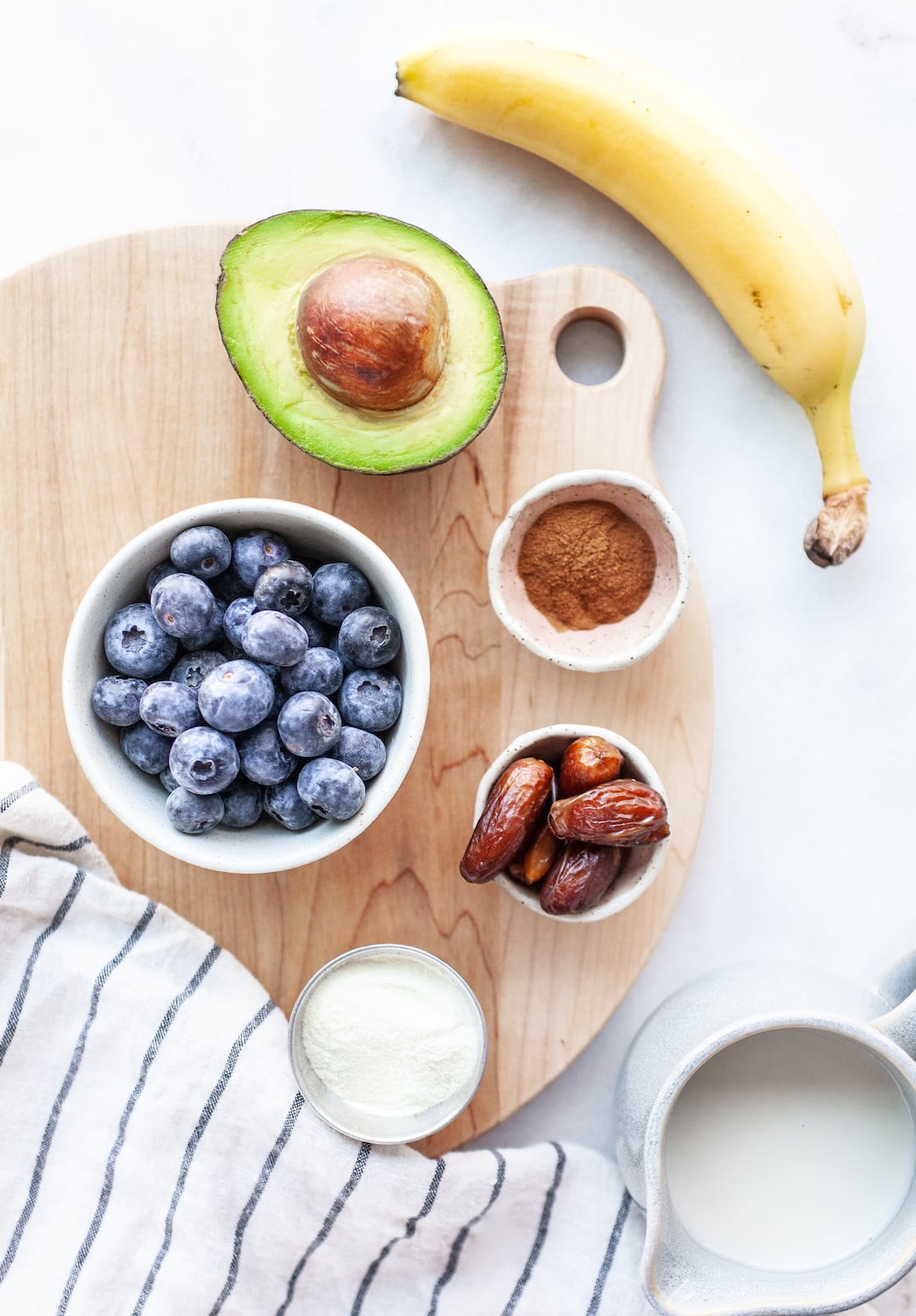 Health Benefits of Blueberries & Avocado
Blueberry and avocado are both considered superfoods.
superfood:
a nutrient-rich food considered to be especially beneficial for health and well-being.
They each have incredible health benefits and can be enjoyed in so many ways. Here are just some of the health benefits of each:
Avocado Health Benefits:
Contains potassium which helps reduce blood pressure and support overall heart health.

Contains unsaturated fats with anti-inflammatory properties and benefits for skin, brain, and heart health.

Is a great source of fibre which helps improve digestion, detoxification, and supports heart health.

Can help improve cholesterol levels.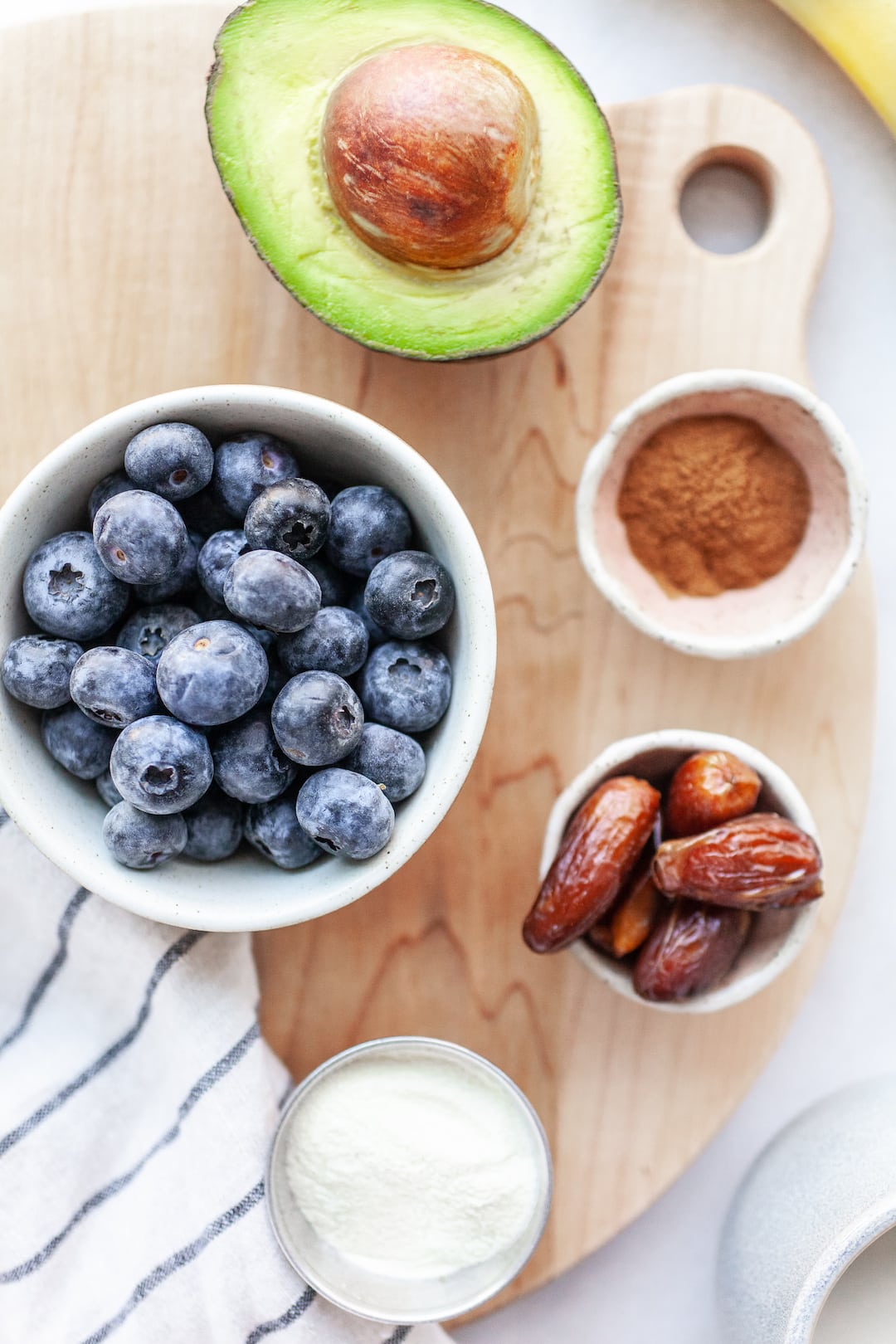 Blueberry Health Benefits:
Are a great source of antioxidants that help against disease and with cancer prevention.

Regular blueberry consumption has been linked to lower blood pressure.

Contain antioxidants that support brain health and function.

Are naturally high in water and fibre content which supports good digestive function.
(source)
Blueberry Avocado Smoothie Ingredients
To make this delicious and healthy smoothie you need only 7 ingredients! These whole-food, natural ingredients bring in sweetness (but not too much!), creaminess, a little tartness, and a touch of earthy flavour.
Here's what you'll need:
Blueberries

(fresh or frozen)

Avocado

(ripe)

Banana

(frozen)

Pitted dates

Cinnamon

Vanilla almond milk

(unsweetened)

Vanilla plant protein powder or unflavoured collagen peptides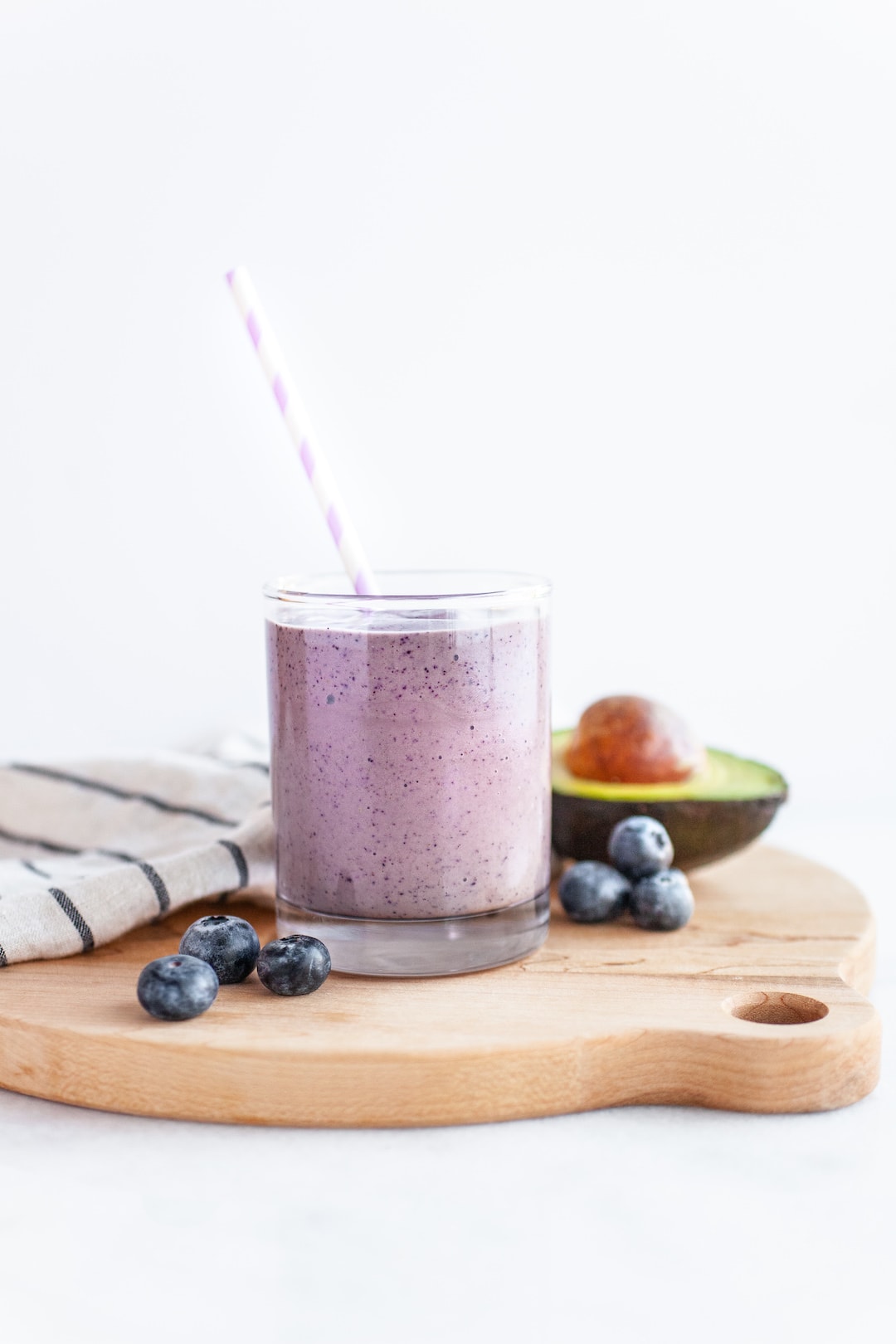 The protein powder in this smoothie is optional but I highly recommend adding it. The protein helps to make the smoothie more filling, balances the natural sugars from the fruit and dates, and brings in all the benefits that protein does, making this smoothie a well-rounded, well-balanced meal or snack.
Have you ever made or tried a smoothie with avocado? Tell me about it in the comments and be sure to pin the photo below the recipe to save this one for later.
Pin me!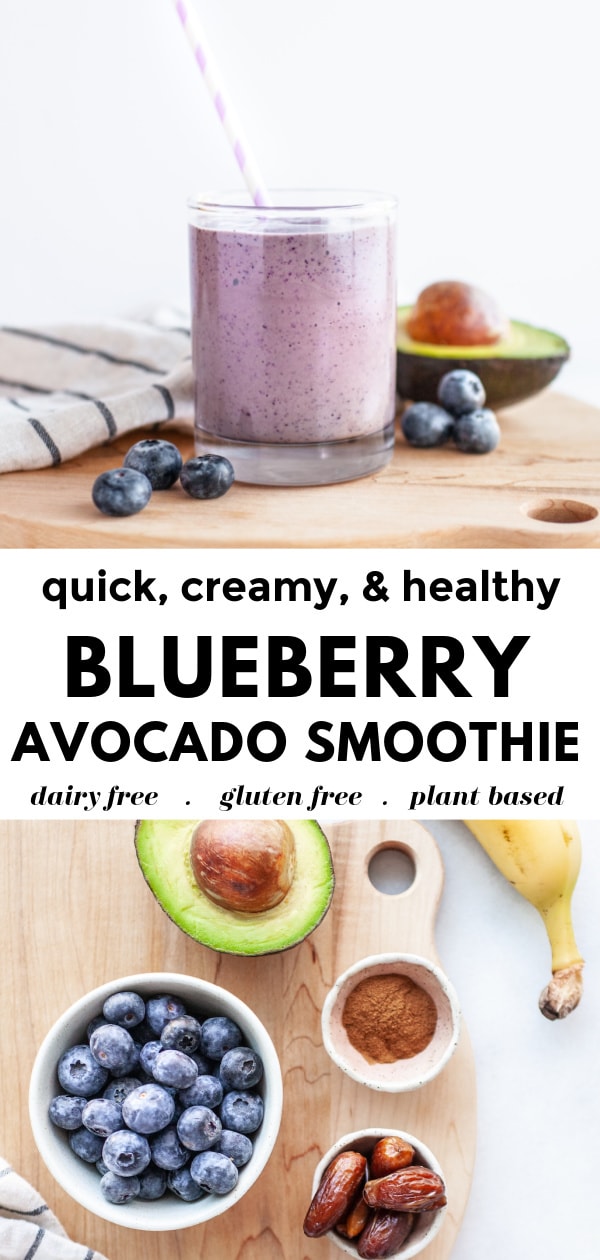 More Healthy Smoothie Recipes To Try:
Fresh Lemon Ginger Detoxifying Smoothie
Banana Almond Butter Date Smoothie Recipe
Have a wonderful day!
Christal // NITK