This post was originally published in January of 2015 and has been rephotographed and revamped for relevancy and quality.
It's here…twenty-eighteen. Did you check out my most recent post on 5 ways to improve your life and health this year? I'd love for you to join me as I target these 5 areas of my life too!
I enjoyed my fair share of sweets, treats, and rich, delicious meals over the holiday break, so my body has sure been craving some light, refreshing, detoxifying food. This is one of my favourite smoothies and it definitely fits the bill when it comes to helping the body with it's detoxification process.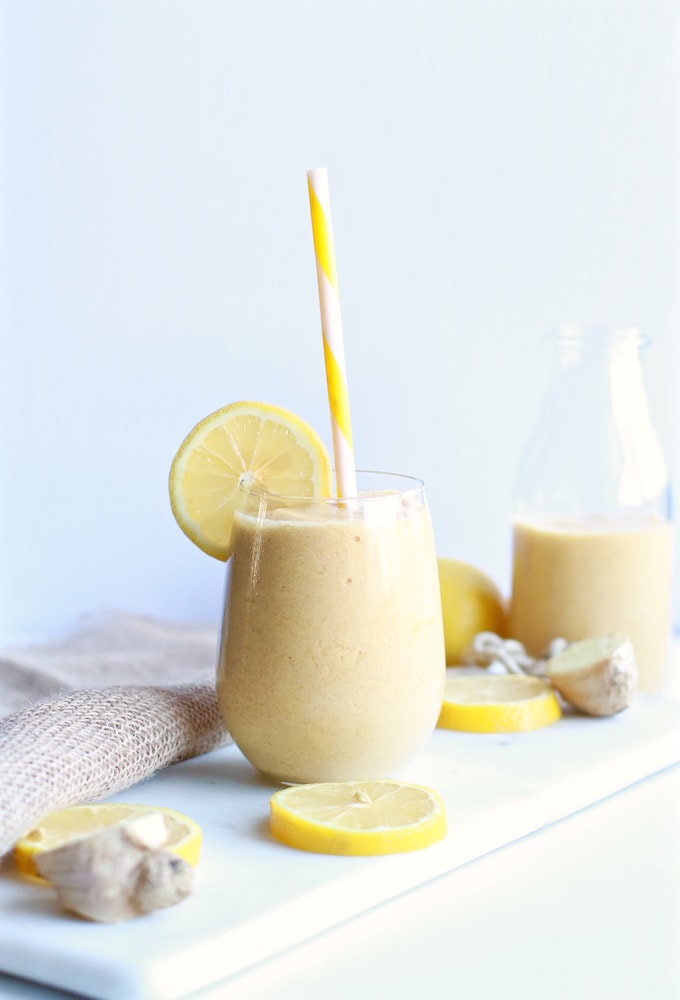 Both lemon and ginger happen to be very detoxifying foods. Lovely lemons are loaded with Vitamin C which is great for health, but the kicker with lemons is that they naturally contain citric acid. This compound stimulates the saliva glands to produce more saliva. When we produce more saliva, we also produce more digestive enzymes. Those specific digestive enzymes help our bodies break down foods better which promotes improved digestion, and in-turn, helps to cleanse the body!
There are also powerful antioxidants found in lemons including one antioxidant in particular called d-limonene. This powerful compound stimulates the liver to produce more enzymes that aid in the natural detoxification process of the liver.
Nifty, eh?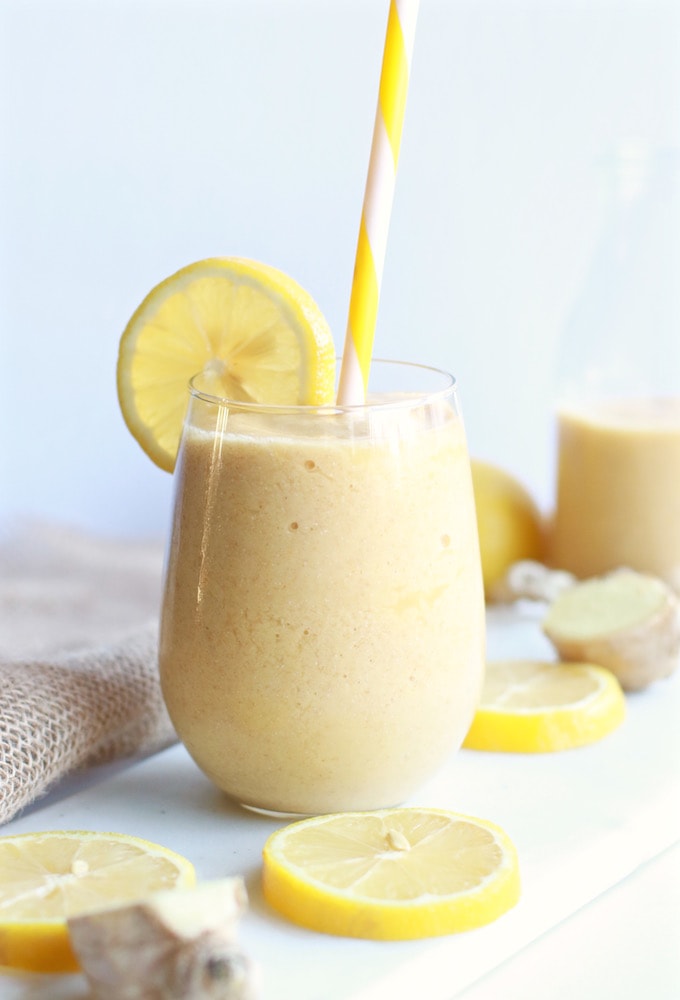 In this smoothie, ginger becomes the perfect compliment to lemon as it also promotes detoxification through natural compounds found in ginger called gingerols and shoals. These funny sounding compounds promote detoxification by speeding up the movement of food through the digestive system. Combine ginger and lemon and you've got a detoxification powerhouse! 
To make the lemony deliciousness shine through in this smoothie, I avoided adding banana and instead I used frozen peach, pineapple, and mango. These more subtle fruits add natural sweetness without overshadowing the lemon and ginger flavours.
The last key "detoxifying" ingredient I use in this tasty New Years inspired smoothie is chia seeds which add healthy fats and fibre to aid in cleansing the digestive system.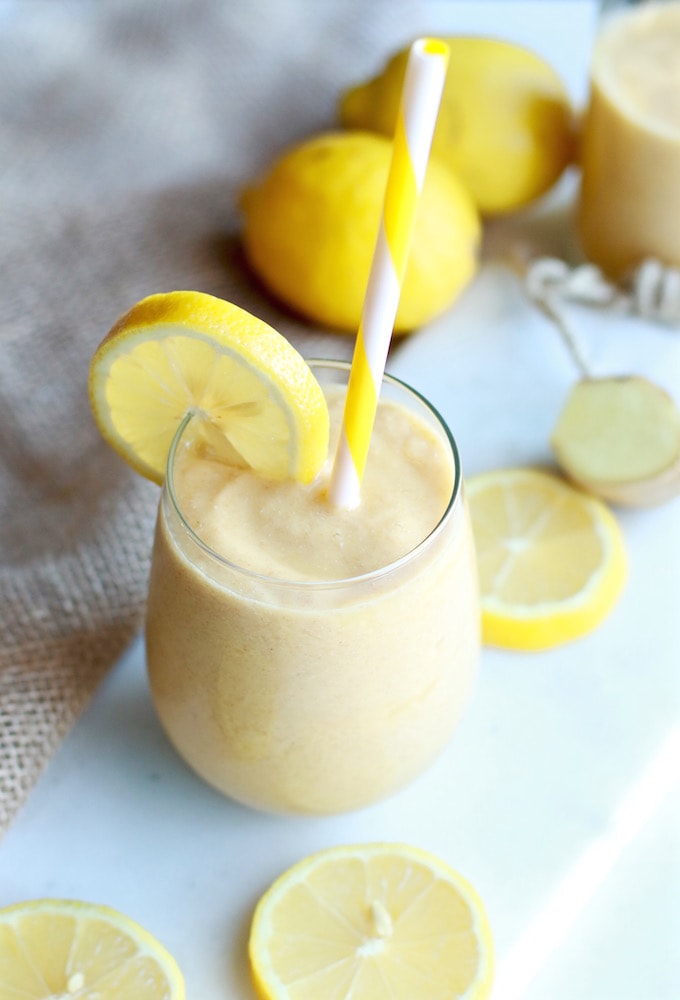 I'm not sure if you are on the smoothie train already, but if you are you definitely need to give this simple, healthy, super detoxifying smoothie a try and give yourself just another tasty reason to enjoy a perfect, fresh start to the New Year!

Fresh Lemon Ginger Detoxifying Smoothie
Ingredients
1½ cups mixed frozen peach, pineapple, and mango
juice of 1 whole, large lemon
2 tablespoons white chia seeds
¾ cup unsweetened almond or coconut milk (carton, not canned)
1 tablespoon freshly grated ginger
1 tablespoon pure honey (if preferred, for added sweetness and to cut the tartness of the lemon)
2 tablespoons collagen peptides or protein powder of choice (optional, but it's recommended to add protein for blood sugar stabilization)
Instructions
Add all ingredients to a high speed and blend until completely smooth.
Enjoy immediately!
Christal // NITK