This post was made in collaboration with iHerb. 
Well, dare I say it…the end of summer is officially upon us (cue dramatic soap opera music). I know, I know, why would I bring that up?? Because these three detox smoothies are going to be your best end-of-summer friend! Surprisingly we always tend to think that the Christmas season is usually the one that sets us back in our health goals as it's full of baking, big meals, and cheer, but it's actually summertime, basically three months straight of Hot-Weather-Christmas (without the gifts). There's barbecue gatherings, camping, late night patio drinks, cold crisp brews, chips, dip, s'mores, more s'mores, and all the rest that comes with the season that actually makes the biggest dent!
Now don't get me wrong, I definitely don't advocate for deprivation or restriction at any time of the year, but that being said, I usually feel myself by the end of summer that I need a little reset to my system and it's definitely time to reign things in. Around this time I'll typically start cutting down on alcoholic beverages, chips, and ice cream treats and bring in more water, smaller portions, and delicious detox smoothies like these!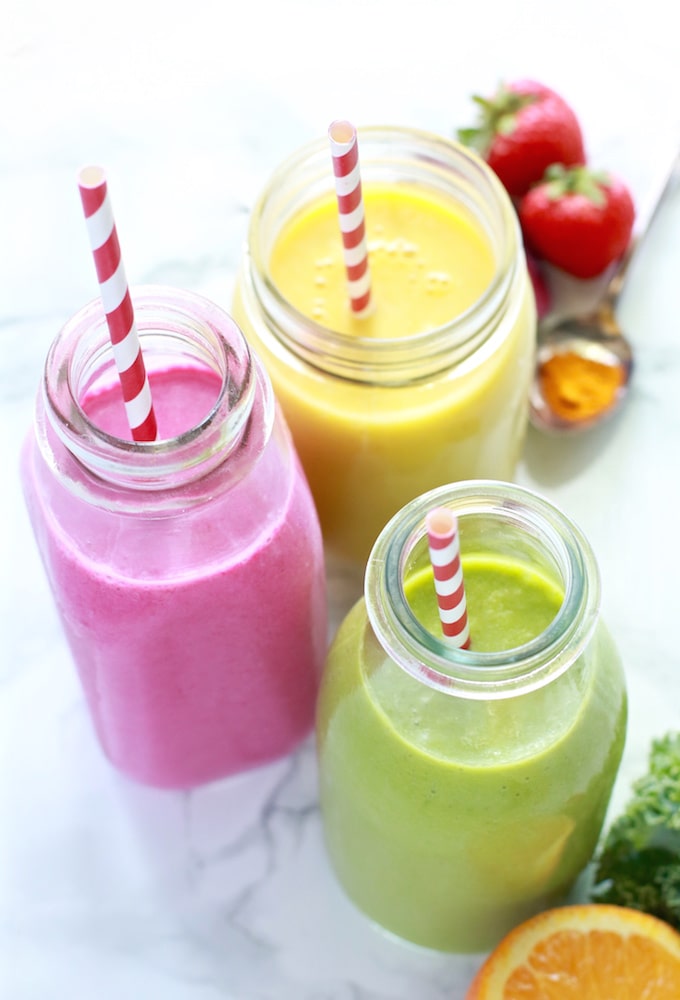 I've talked about "detoxing" on the blog before and I want to clarify before continuing that I use the word not to encourage anything extreme but rather encourage adding naturally detoxifying whole foods and ingredients to your every day routine to support your body's natural detox systems (the liver, skin, digestive system) which "detox" your body efficiently when not bogged down by poor diet and/or stress.
It's amazing how well our bodies actually do this "detox" thing naturally, but it's always nice especially after a period of eating not-so-great, to bring in reinforcements.
My choice reinforcements: leafy greens, cucumber, beets, lemon, fibre, collagen, coconut oil, and MCT oil.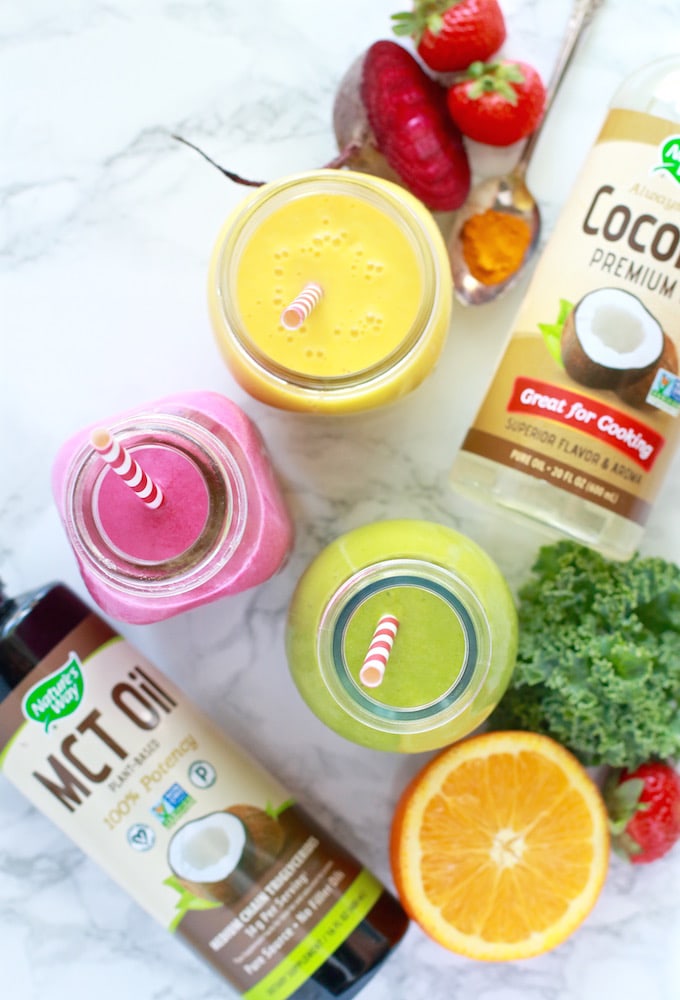 In these tasty detox smoothies I used Nature's Way premium coconut oil and MCT oil from iHerb which work great as they both blend perfectly with the other ingredients. Did you know coconut oil and MCT oil have a plethora of health benefits??
Coconut oil contains natural compounds that kill bacteria, viruses, fungi and parasites. It functions as a powerful antioxidant protecting the body against destructive free radicals that are often caused by toxins, and the compounds in coconut oil can also be used by the body as a great source of fuel to stimulate metabolism. When metabolism in the body increases so does the natural process of detoxification, this can also stimulate the immune system making it more efficient.
MCT oil (short for medium chain triglycerides oil) sourced from coconut oil has all of the same benefits as it is the compound found most concentrated in coconut oil, roughly 65% of the fats found in coconut oil are MCT's. Some individuals choose MCT oil over coconut oil as they find it easier to digest and that it is more concentrated in beneficial MCT's.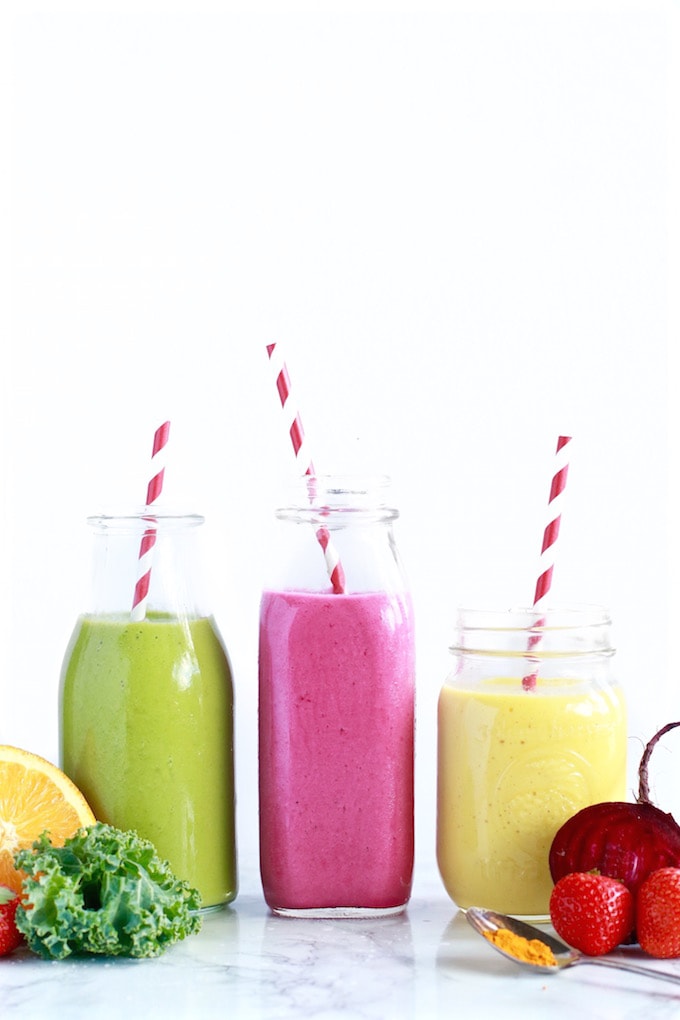 For each of these detox smoothies you can use either Coconut Oil or MCT Oil or even a mixture of both! Aside from the beneficial oils, the smoothies contain some other detoxifying powerhouses; beets, known to contain a number of nutrients that aid in cleansing and detoxifying, lemon, which stimulates digestion and enzyme production, kale, a great source of fibre and antioxidants, and collagen powder (hydrolyzed collagen) which contains glycine, an amino acid the liver uses in the detoxification process.
The three detox smoothies each use the same "base" of banana, pineapple, collagen, Nature's Way coconut or MCT oil, and almond milk or coconut water. Once you've added your base ingredients to the blender you simply add in the special ingredients that makes each one come into their own. For the Beautifying Beet I added in strawberries, beet, and vanilla, for the Citrus Glow I added in orange, lemon, and turmeric, and vanilla, and for the Green Goddess I added in kale, cucumber, and spirulina!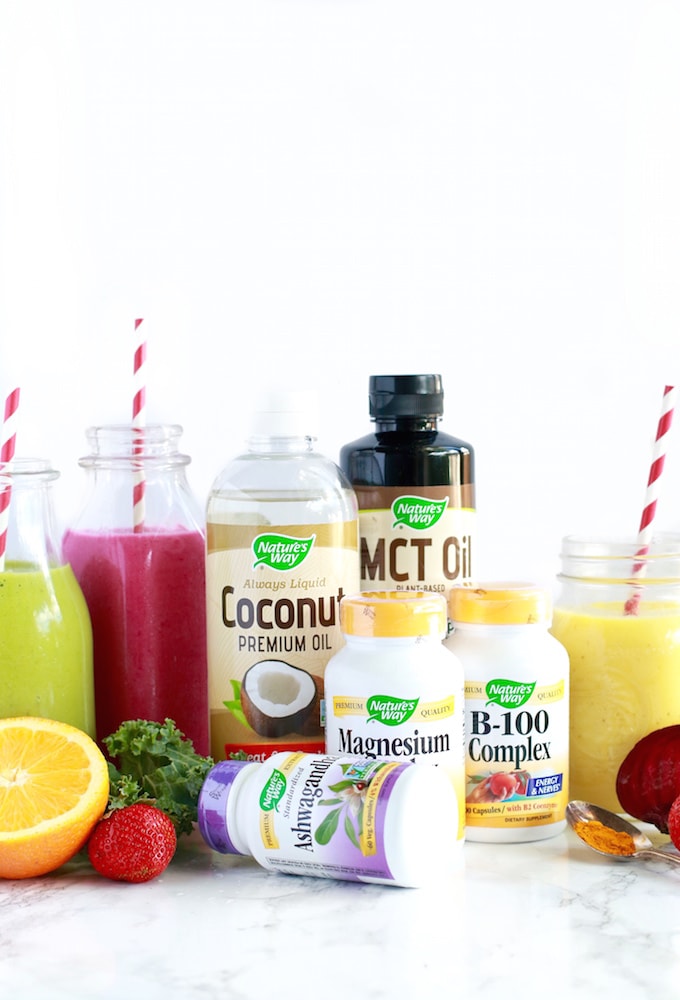 Each smoothie has it's own distinct flavour, detoxifying benefits, and is incredibly refreshing. A perfect way to do a little end-of-summer reset!
If you haven't used coconut or MCT oil before this is a great way to try them out. Nature's Way makes great quality oils and they also have a vast line of natural supplements including vitamins like B-100 Complex, minerals like Magnesium Complex, and adaptogens like Ashwagandha (which is great for stress by the way). I got these all from iHerb which carries over 400 Nature's Way products and ships to more than 160 countries. I've bragged about iHerb on the blog before and for good reason, it's an awesome, convenient, easy-to-use online health store where I order tons of products I love but can't find locally.
If you want a discount on your Nature's Way products or if you are new to iHerb and want an additional $5 off of your order (order must be minimum $40) simply follow this link!
So, which delicious detox smoothie are you going to try first?? Tell me in the comments below! 

3 Delicious Detox Smoothies
Ingredients
Smoothie Base:
½ frozen banana
½ cup frozen pineapple
1-2 scoops collagen peptides
1 tablespoon Nature's Way liquid coconut oil or MCT oil
¾ cup unsweetened almond milk or coconut water
Add Ins:
Beautifying Beet:
½ cup frozen strawberries
1 small beet (about the size of a golf ball or smaller), peeled
½ tsp pure vanilla extract
Citrus Glow:
1 navel orange, peeled
1 tablespoon fresh lemon juice
⅛ tsp ground turmeric
½ tsp pure vanilla extract
Green Goddess:
1 cup chopped fresh kale
2" chunk of cucumber
⅛ tsp spirulina powder (optional)
1 tsp honey (optional, for sweetness)
Instructions
In a blender add in all of the smoothie base ingredients (see notes).
Next, add in the specific ingredients to the flavour of smoothie you are making (Beautifying Beet, Citrus Glow, or Green Goddess).
Blend until smooth.
Enjoy!
Notes
If you are not using a liquid coconut oil, and your coconut oil is hard at room temperature, melt it first and then add it in slowly through the top opening of the blender while the ingredients are blending. This will prevent the coconut oil from hardening and clumping.
Be sure to pin the photo below to save these summer detox smoothie recipes for later!
Pin me!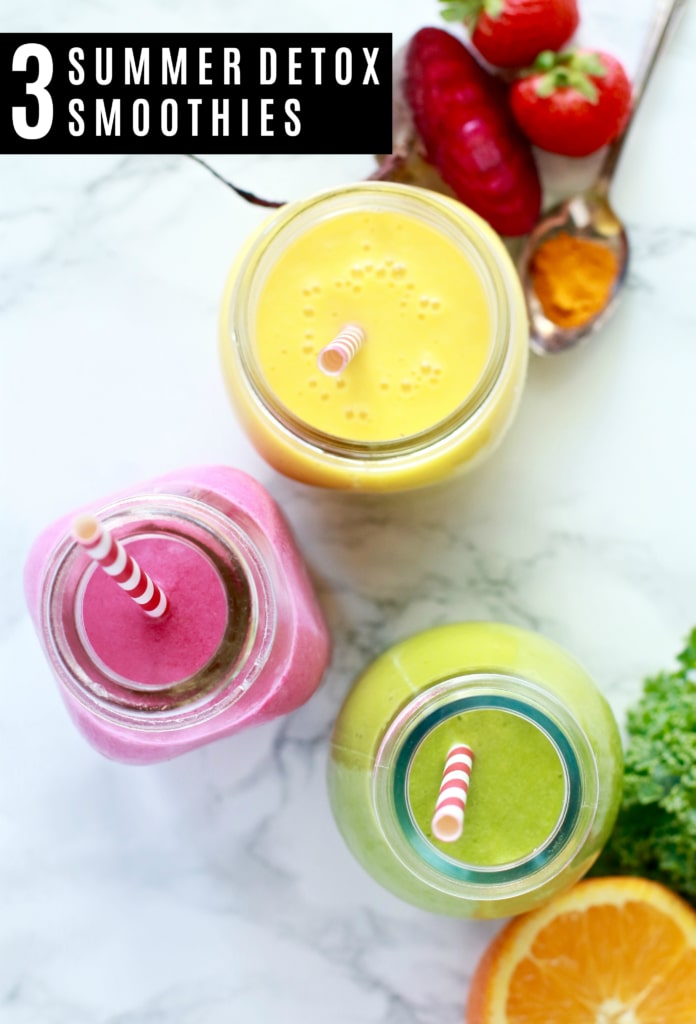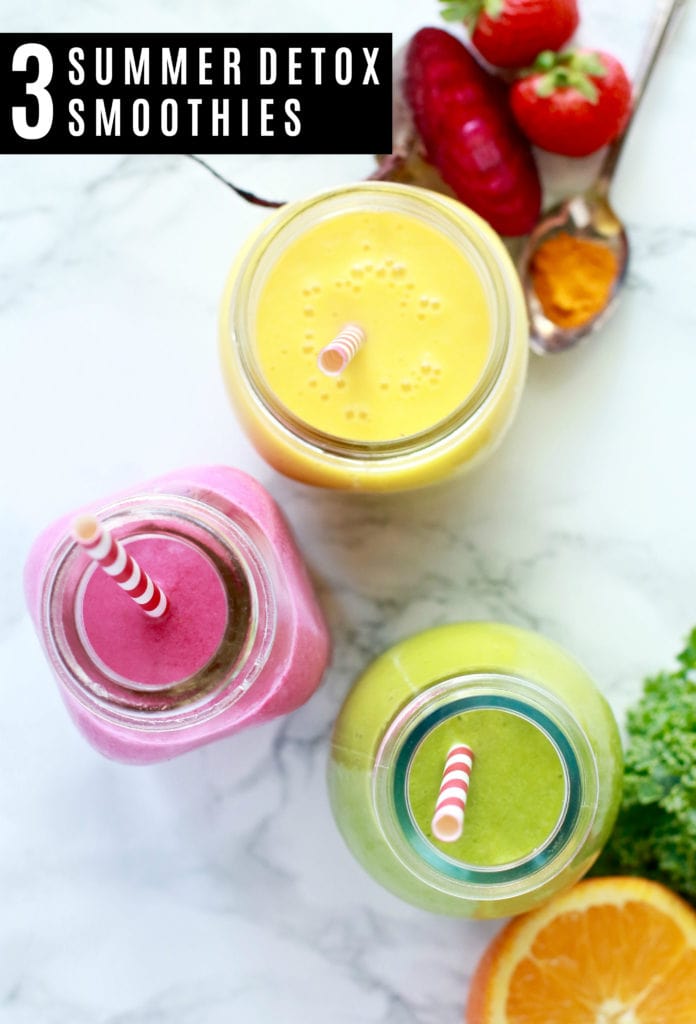 Have a wonderful Sunday and happy blending,
Christal // NITK