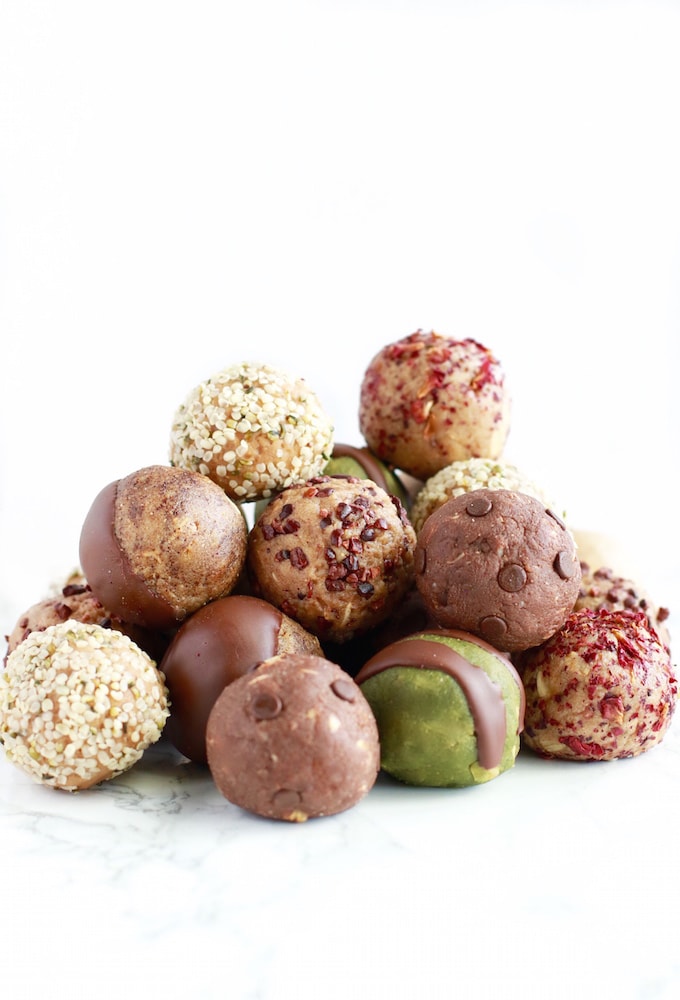 First things first. This post is part of an amazing giveaway I'm hosting over on Instagram! Be sure to read the details at the end of the post to find out what you can win and how to enter!
I'm not going to lie, I had a lot of fun during the creation of this post. I mean, just take a look at the photo above, it's pretty much art am I right?? To me food really is a form of art, and when I get to create amazingly delicious pieces of art and use all sorts of fun, superfood "sprinkles" and add-ins, I'm one happy girl.
The best part is that making these fun, bright, delicious and super healthy energy balls was actually a piece of cake! You see I like to make art, but I also like things to be quick and easy in the Kitch. Complicated and time-consuming? No thanks. 
All of these special variations are made from one simple 5-ingredient recipe for my cookie-dough energy balls. Almond flour, oats, cashew butter, pure maple syrup, and coconut oil are the only 5 main ingredients you need to make these tasty, surprisingly filling, balls with a perfect cookie-dough consistency. I also like to add in a pinch of salt and a few drops of vanilla to the mix for extra flavour but those are definitely optional.
Energy balls have long been my go-to for quick, healthy snacking, and after publishing my own Energy Balls cookbook I'm pretty confident to say I'm an energy ball connoisseur! These tasty snacks are portable, fun-to-make, and feel like a sweet treat even though they are made with nourishing whole foods.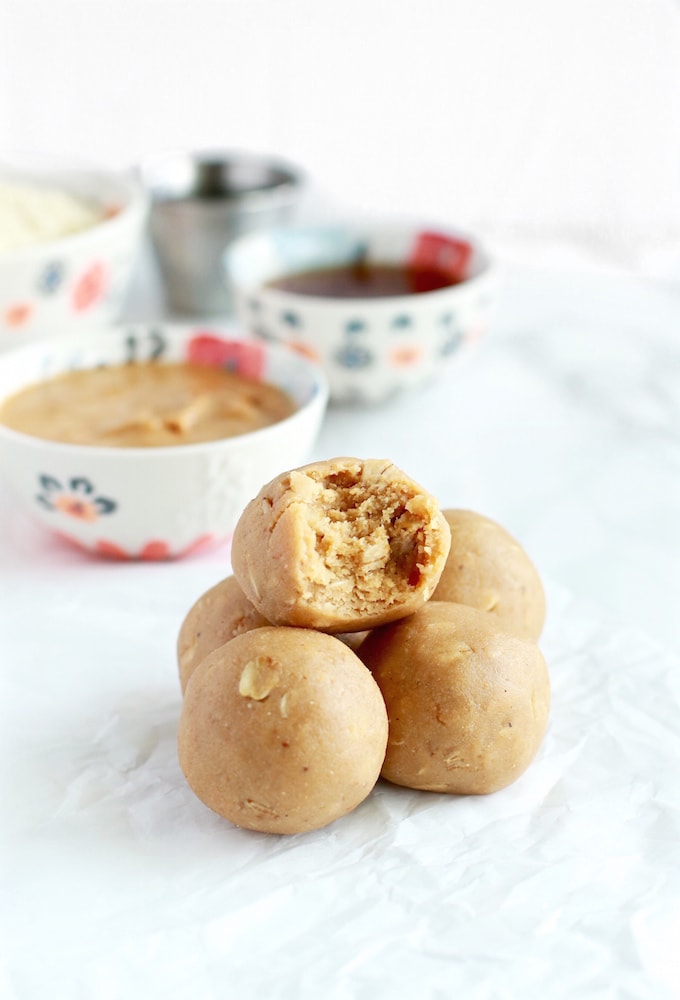 I'm so excited to show you how to take basic snacks like my cookie-dough energy balls (or smoothie, cookies, or homemade granola bars for example) and BOOST them 4-ways with simple swaps and awesome add-ins that bring in extra nutrition, protein, energy, and antioxidants.
To take my cookie-dough balls from basic to boosted I teamed up with Raw Elements, an incredible Canadian-owned online store with a huge selection of the best whole food, plant based, organic superfoods available. They carry everything from natural protein powders, to green superfoods, to chocolate delights, to paleo-friendly products.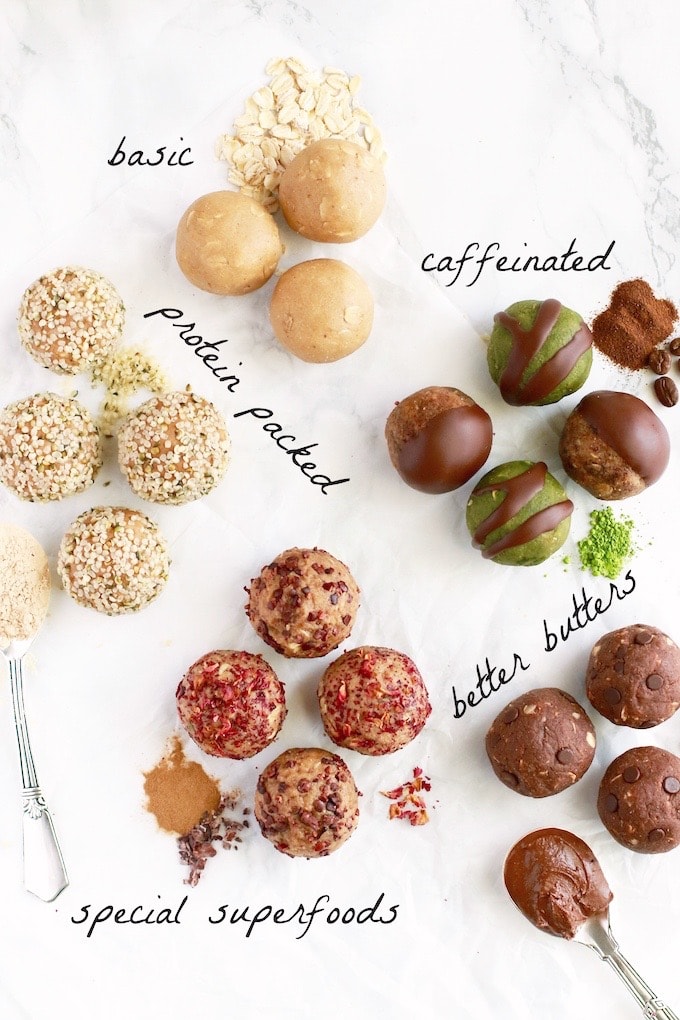 When it comes to boosting your snacks, in this case, these simple cookie-dough energy balls, it really doesn't need to be complicated. Even just one superfood add-in is enough! Below are 4 great ways to bring in a special boost to take your snack to the next level:
Boost #1 // Protein-Packed: Adding in some protein powder or other ingredients that are naturally high in protein like hemp seeds, chia seeds or nuts is a great way to amp up the nutritional value of your snack, promote blood sugar balance, and help you feel full for longer. To my basic cookie-dough energy ball recipe I simply added in 2 scoops of Sunwarrior natural protein powder and 1 tablespoon of Planet Hemp hemp seeds, then I rolled the balls in more hemp seeds for a pretty and protein-packed coating.
Boost #2 // Caffeinated: Energy balls obviously are named for the natural energy boost they give the body, but sometimes we need a whole lot of energy and a basic energy ball or snack isn't going to cut it (and all the mamas with little ones nodded in agreement, can I get an amen!). A super easy way to add in a caffeine boost to a regular snack like a smoothie, or these basic energy balls is with 1/2-1 tablespoon of Matcha Green Tea Powder (I used the My Matcha Life brand), 1 tsp of instant coffee (I used a packet of Four Sigmatics Adaptogen Coffee Mix), or if you can't handle caffeine, you can use 1 tablespoon of Dandy Blend, a great herbal mix that provides the taste and boost that coffee offers, but is naturally caffeine-free.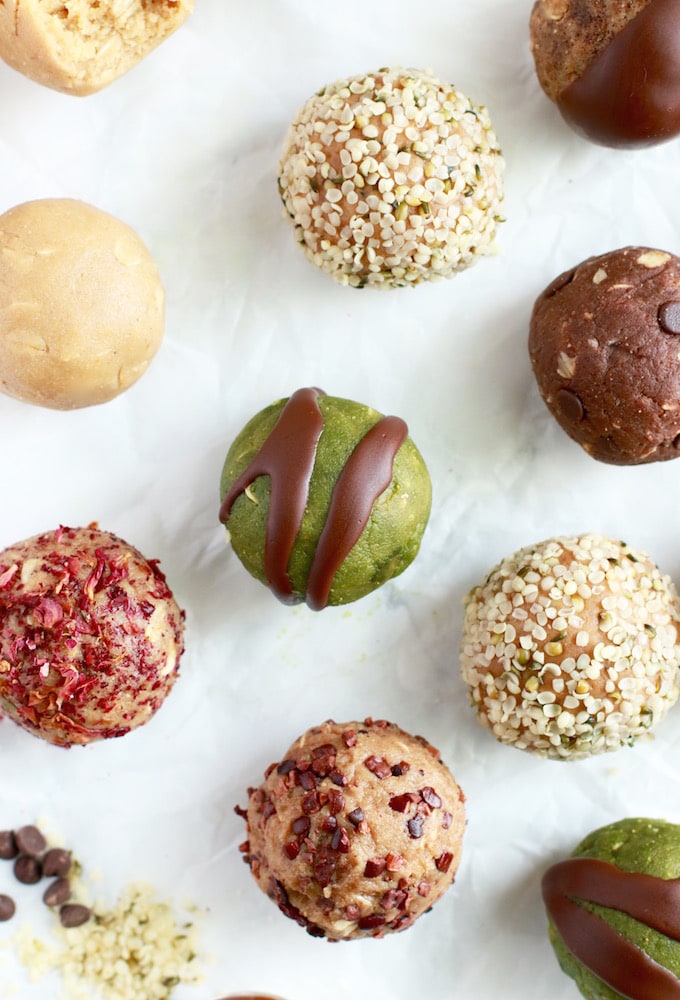 Boost #3 // Better Butters: In my basic recipe for the cookie-dough energy balls I use cashew butter which is a great, healthy option and can be swapped out for almond butter or even peanut butter, but how about a better butter for a boost? Wow, that's a lot of B's. Simply swap out the plain nut butter for a boosted artisanal nut butter like Rawtella a raw chocolate hazelnut spread, or Jem Cinnamon Maca Almond Butter. If you have a different snack you want to boost like a smoothie, simply add in a tablespoon of a better butter, or smear some on an apple, or a granola bar and enjoy!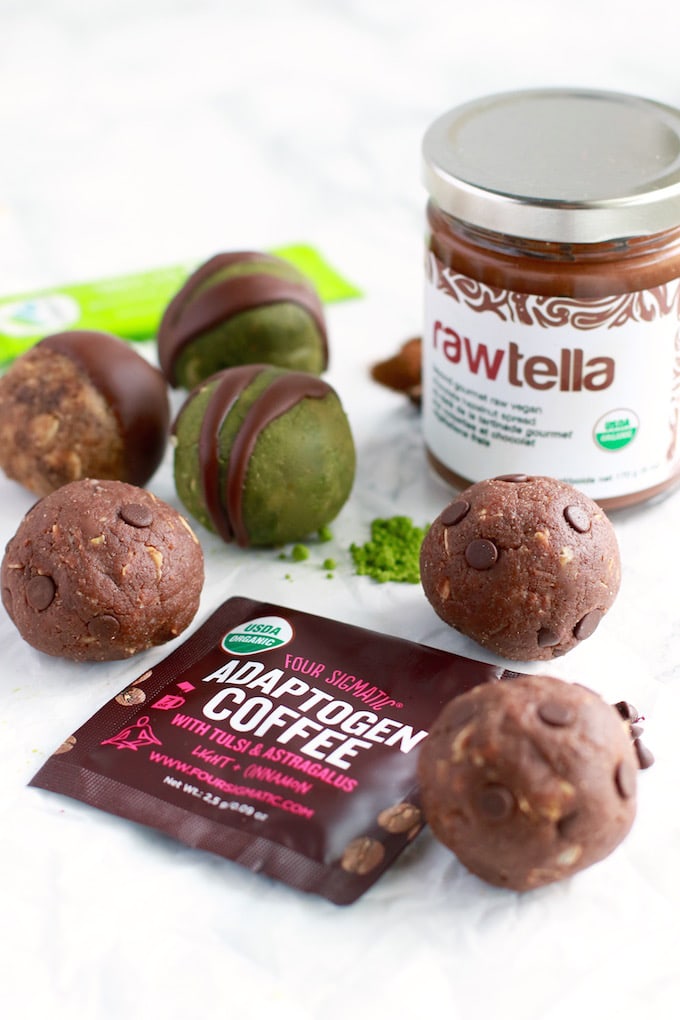 Boost #4 // Special Superfoods: I think I saved the best for last. There's just so many amazing superfood options available now (you can find tons on Raw Elements) that the sky is really the limit here. Whether you are whipping up homemade granola bars, a smoothie, cookies, energy balls, or even just enjoying some yogurt and fruit, superfood powders and blends can bring in a great boost of antioxidants, vitamins, and minerals. To my basic cookie-dough energy balls I added in a packet of Four Sigmatic's Reishi Mushroom Elixir Mix and then rolled the balls in cocao nibs and crushed dried rose petals. Pretty and packed with goodness!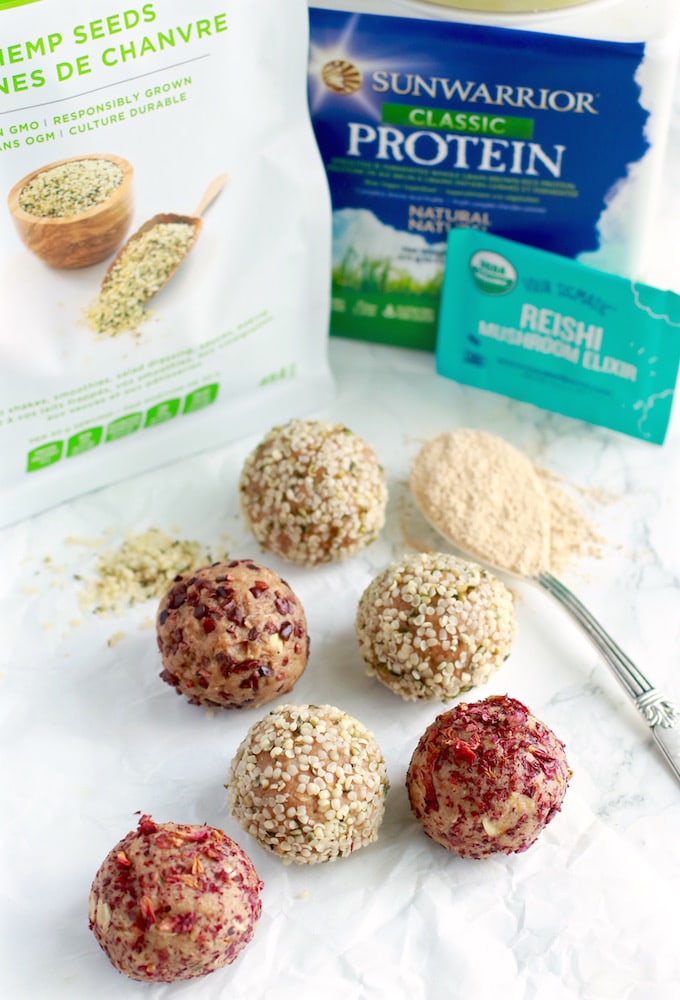 There you have it, four awesome ways to take your snacks from basic to boosted! I hope you are feeling inspired to give at least one of these boosts a try. Be sure to head over to Raw Elements and browse their plant based, organic superfoods and use my special code "NITK" to get 10% off of your first order.
Now for the giveaway! Raw Elements has gathered an awesome selection of their best products to give to one lucky reader, woo hoo! All you have to do is head over to my Instagram page and enter by commenting on the first photo in this blog post (remember that pretty piece of art??) where I'll explain all the details of the giveaway!

5-Ingredient Cookie-Dough Energy Balls...Boosted 4 Ways!
5-Ingredient Cookie-Dough Energy Balls...Boosted 4 Ways!
Ingredients
Cookie-Dough Energy Balls
1½ cups almond flour
¾ cup gluten-free rolled oats (pulse ¼ cup into flour)
¼ cup natural almond, cashew, or peanut butter
3 tablespoons melted coconut oil
3 tablespoons pure maple syrup (or raw honey)
PROTEIN PACKED:
2 scoops Sunwarrior Classic protein powder
2 tablespoons + 2 tablespoons hemp seeds (for rolling)
1 tablespoon pure maple syrup
CAFFEINATED:
1 tablespoon My Matcha Life matcha green tea powder or ½ tablespoon of ground coffee or 1 packet of Four Sigmatic coffee mix OR 1 tablespoon Dandy Blend
⅓ cup melted dark chocolate
BETTER BUTTERS:
swap out nut butter for a boosted nut butter like Rawtella, Jem butter, or another artisanal nut butter
⅓ cup dark chocolate chips
SPECIAL SUPERFOODS:
½-1 tablespoon superfood powder of choice -Four Sigmatic mushroom elixir of choice, maca powder, acai powder
2 tablespoons cocoa nibs or crushed rose petals
Instructions
Pusle or blend ¼ cup of the rolled oats in a food processor or blender until fine like a flour, then remove and add to a large bowl.
To the bowl add the almond flour, remaining whole rolled oats, and any dry ingredients you are using from the boosted options (ie. protein powder, hemp seeds, matcha powder, dandy blend, maca powder).
Stir the dry ingredients to combine.
Next, add in the nut butter (or boosted "better butter"), and the melted coconut oil, and pure maple syrup (if you are making the protein packed version you will need to add in an extra tablespoon of pure maple syrup for moisture).
Stir everything to combine until you have a cookie-dough batter consistency. The dough may be slightly crumbly but will stick together when rolling the balls.
At this time you can either just roll the batter into golf-ball sized balls using clean, slightly wet hands, or you can stir in the dark chocolate chips if making the "better butter" version.
Set each ball onto a large cookie sheet or plate and repeat until you have 12-14 balls total.
If making the "protein packed" or "special superfoods" version roll the balls in the hemp seeds, cocoa nibs, or rose petals to lightly coat.
If making the "caffeinated" version, dip the balls in the melted chocolate or drizzle with the melted chocolate.
Place the balls in the freezer to set for 30-minutes.
Enjoy!
Notes
Store energy balls in the fridge for up to 2 weeks, on the counter in an airtight container for up to 5 days, or in the freezer for up to 1 month.
3.5.3251
Don't forget to pin the photo below to save this recipe for later. 
Have an amazing Sunday, good luck with the giveaway, and happy boosting!
Christal // NITK


Disclaimer: This post was sponsored by Raw Elements but as always the thoughts and opinions are my own. Thank you for supporting the life and growth of Nutrition in the Kitch!