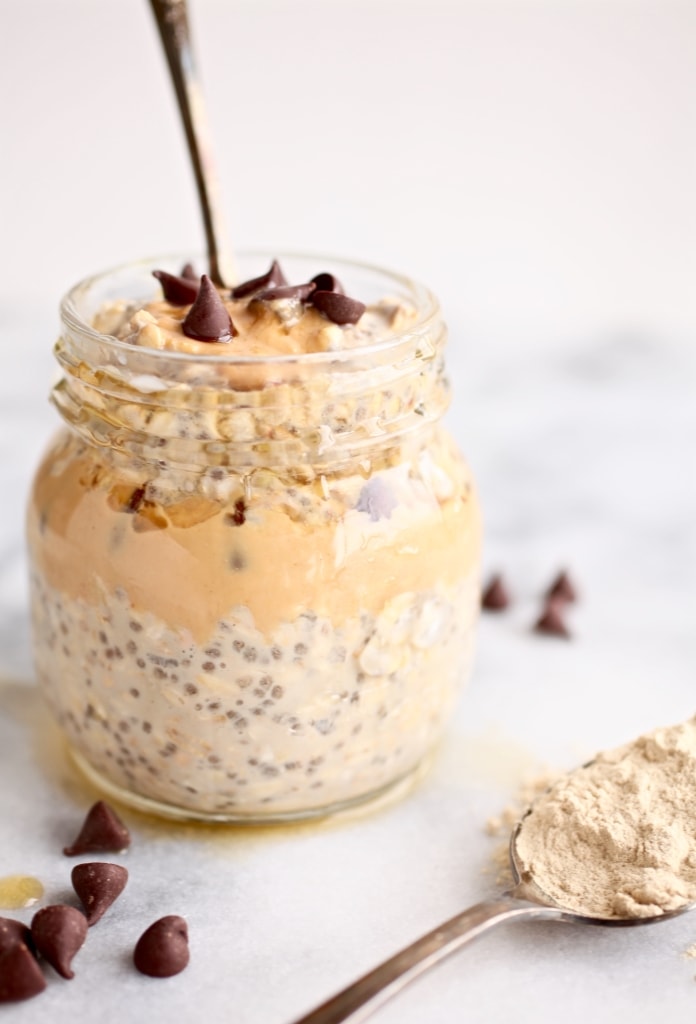 Do you have a memory of yourself as a child, sitting on the kitchen counter while your Mom (or Dad, older sibling, babysitter..etc.) whipped up a batch of chocolate chip cookies, and while the dough was still in the bowl, they let you lick the batter off of the spoon??
I totally do.
Best. Moment. Ever … well, as a kid, in that moment, it certainly was the best!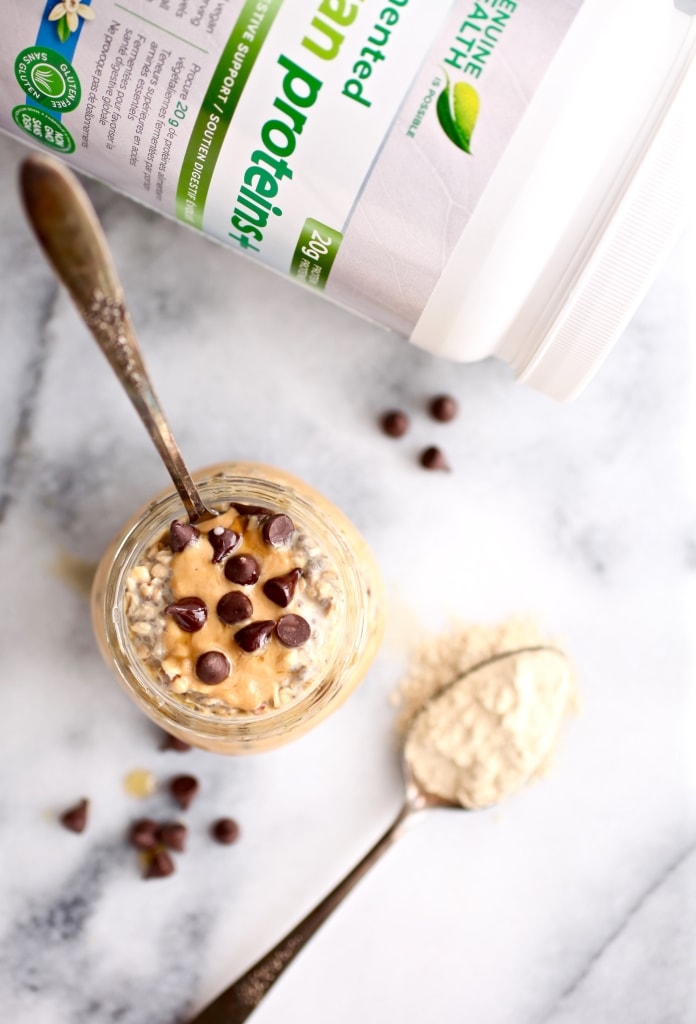 As an adult, I don't have moments like that as often…until the experience of eating this Cookie Dough Overnight Oatmeal for breakfast… it came pretty darn close.
The best thing about this moment versus the childhood one… it's healthy! (Oh, and no raw egg consumption with this one either. I can't imagine eating the raw cookie dough… with the raw eggs, was the best idea ever, but I survived, so all good right?!)
This easy Cookie Dough Overnight Oats recipe creates that delicious cookie dough taste and texture using healthy, protein-packed, fibre and omega-rich, unrefined, naturally sweet ingredients!
When it comes to breakfast, many people focus solely on the carbohydrates (oatmeal, muesli, toast, cereal, fruit, etc.).
Now, carbohydrates are not bad (in fact, they are essential in the diet) but it is always best to balance carbohydrates with healthy proteins and healthy fats at breakfast. This helps with blood sugar stabilization and it keeps you feeling full for more than just an hour after breakfast!
That is why I love overnight oats as it's very easy to incorporate protein and fats with the carbohydrate-heavy oats in a tasty, portable way!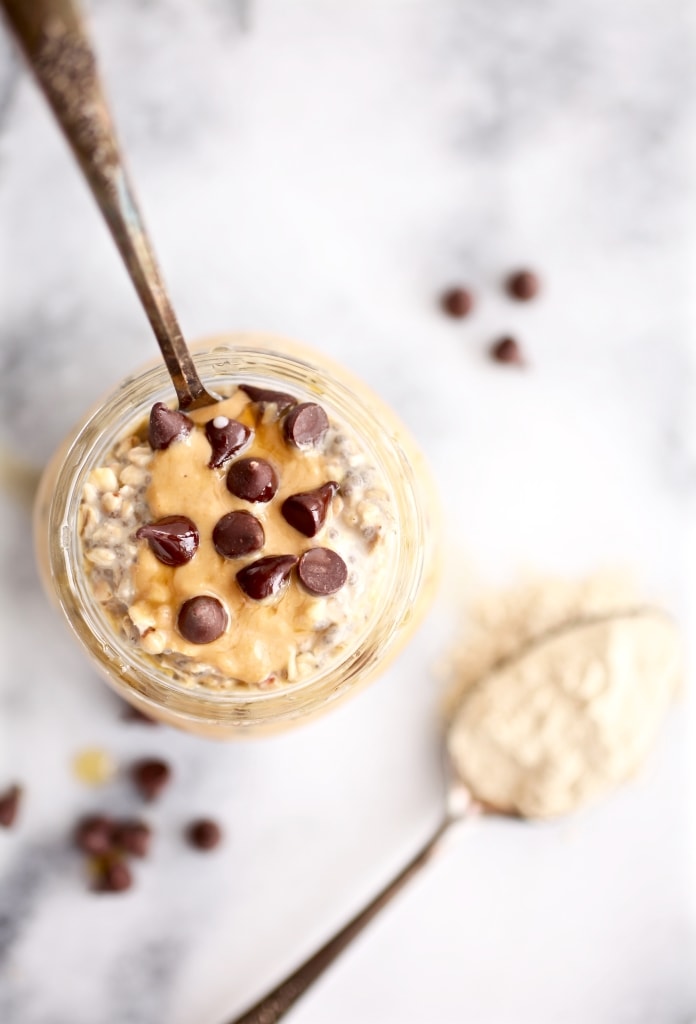 When it came to adding the protein to this recipe, I used Genuine Health fermented vegan proteins+ in vanilla. The vanilla protein flavour worked wonderfully with the oats, maple syrup, chia seeds, almond milk, and cashew butter to reproduce that cookie-dough taste. Also, a dairy-free protein powder was the ideal choice for me!
Many overnight oat recipes you'll see out on the web contain Greek Yogurt or Whey as the source of protein. If you don't have an issue with dairy consumption for lifestyle or health reasons then those might work just fine. I can't eat dairy because of an allergy and, even if I could, I think at this point I'd choose not to because dairy can be quite inflammatory.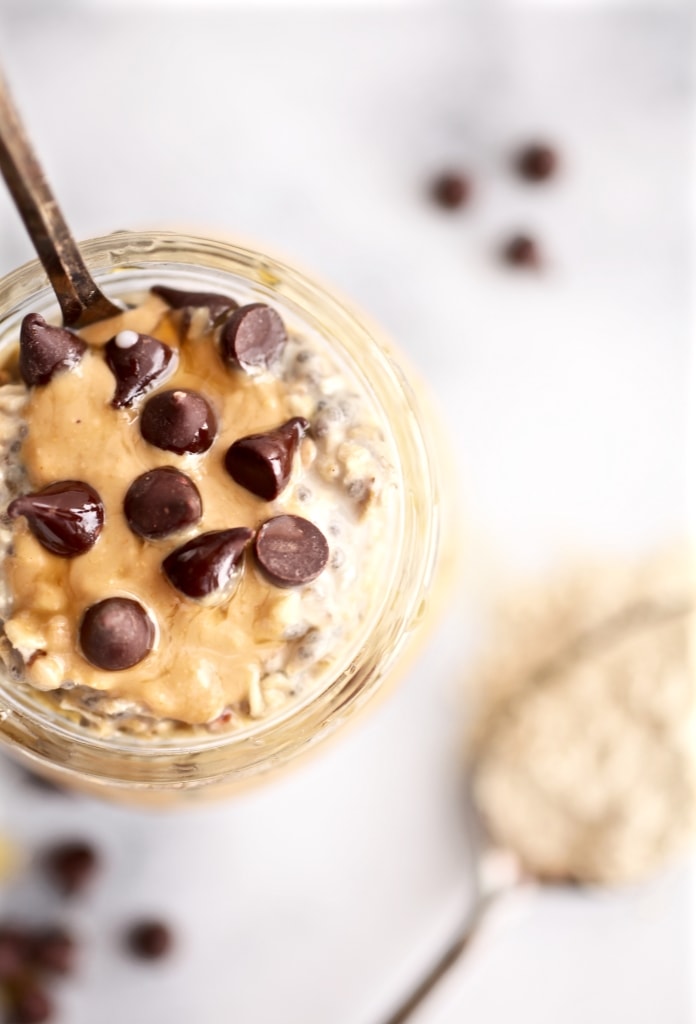 A big bonus with using a vegan protein powder is the reduced load on the digestive system as dairy proteins can be harder to digest and often cause gas and bloating whereas plant based protein is easier to digest.
The fermented aspect of Genuine Health's fermented vegan protein adds another bonus as the fermentation process removes anti-nutrients that are naturally occurring in plant-based protein sources which inhibit nutrient absorption in the body and are the cause of uncomfortable gas and bloating. In In other words…fermentation = better overall nutrient absorption and digestion!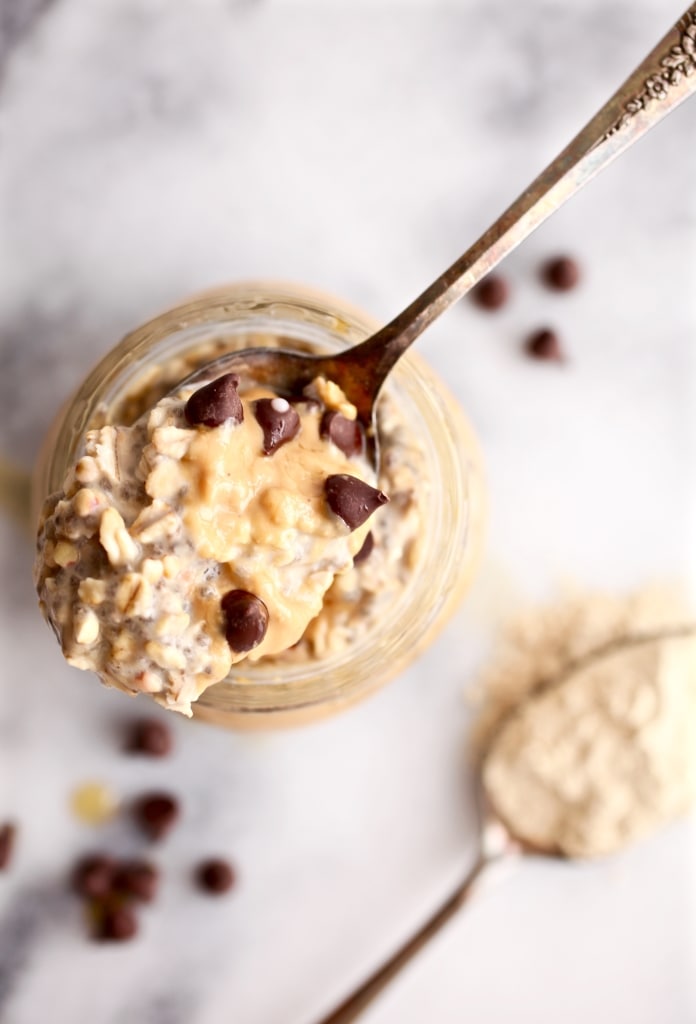 A protein-packed, healthy, tasty, digestive-boosting, easy-to-make cookie dough breakfast? Sounds too good to be true… but it's not!
Are you a fan of overnight oats? What do you add to your oats to make sure you are getting a nice balance of macronutrients in the mix? I'd love to hear about it in the comments below!
Have a wonderful Sunday!
I encourage you to take 10 minutes today to whip up a few servings of this recipe to enjoy throughout the week and see just how easy it is to get in a truly fast balanced breakfast!
Christal // NITK