This recipe was updated and rephotographed in December 2017 for relevancy and quality!
Christmas is only 2 weeks away, so I hope you've been getting your fill of gingerbread, peppermint, and all flavours that scream Christmas. We haven't actually had much "winter" yet here in YEG, which I honestly can't complain about, so baking in the house with the tree lights on and Christmas tunes playing is what really puts me into the festive mood!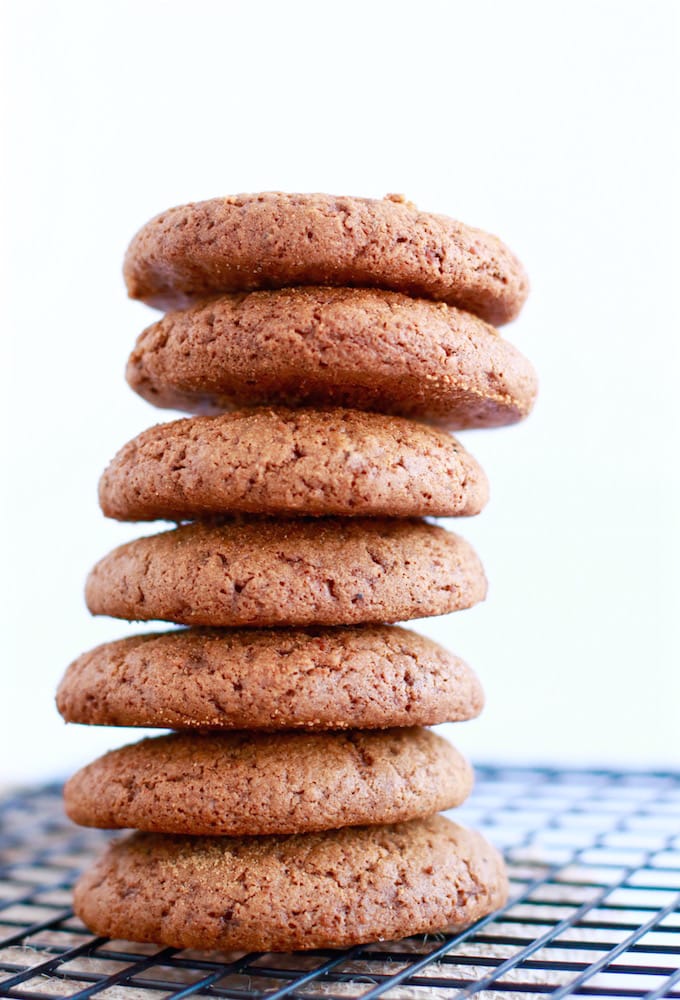 We had a family get together a couple weeks ago and my sister brought her famous gingersnap cookies in their white sugar, white flour, soft, chewy, glory! While she does make them dairy free (which means I can enjoy a couple!), they definitely aren't what I would consider "healthy"… and that's totally OK, everything doesn't have to be all healthy all the time, right?!
Her cookies got me thinking that I'd better get baking to update my healthier version of this amazing and festive cookie!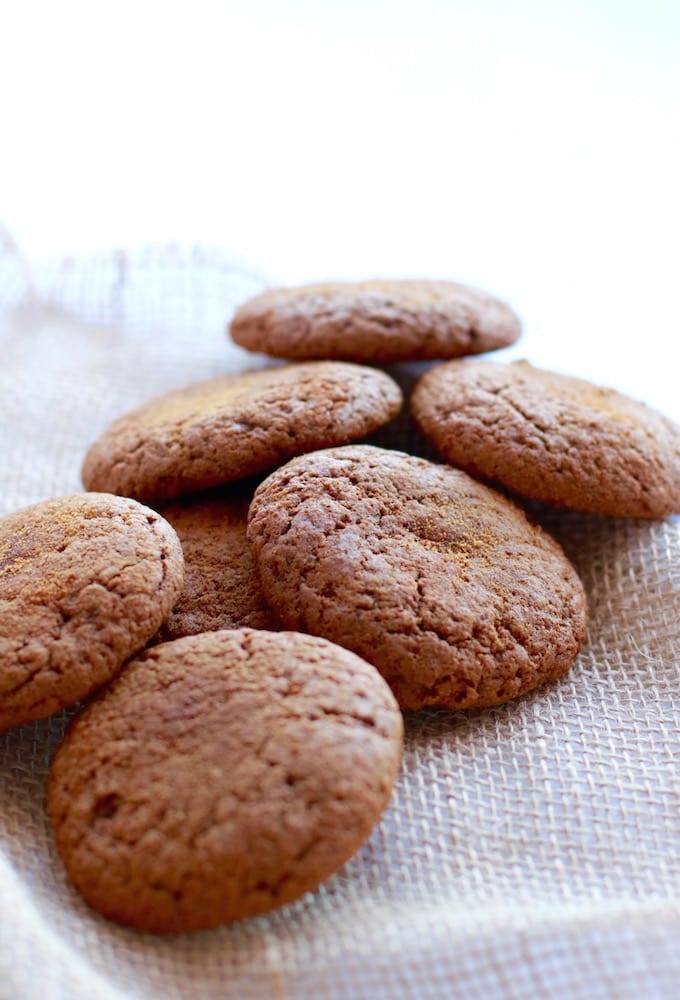 For my version I use Bob's Red Mill all-purpose "1 to 1" gluten-free flour instead of white flour which is a combination of garbanzo flour, potato flour, tapioca flour, fava bean flour, and sorghum flour.  All great, naturally gluten free flours!
I swapped the white sugar for coconut palm sugar, which is naturally unrefined and lower glycemic, as well as a tiny bit of pure maple syrup for that extra moisture and sweetness. Instead of butter I use a combination of vegan butter and coconut oil. A healthier, dairy free alternative combination.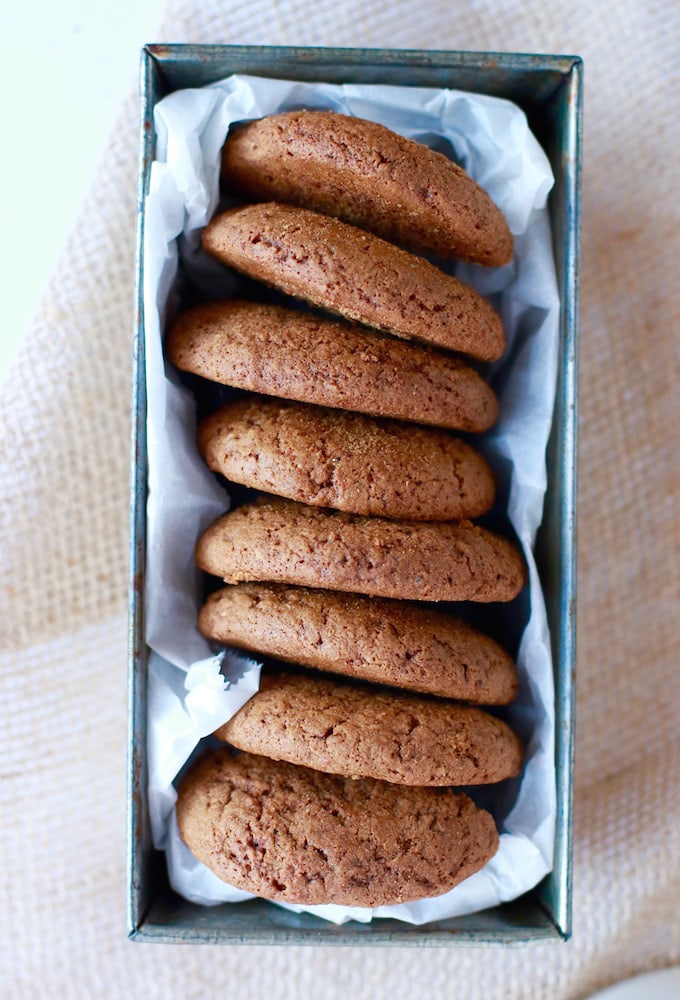 After those healthier swaps, I made sure to keep the "essentials"…ground ginger, cinnamon, and unsulphured organic molasses. If you didn't already know, molasses is actually an amazing source of minerals, particularly iron!
In this recipe I also give the option of adding in protein powder. While this does change the taste and texture slightly, the cookies still turn out deliciously and it's worth a try if you want to bring a little more balance into these sweet gingersnaps.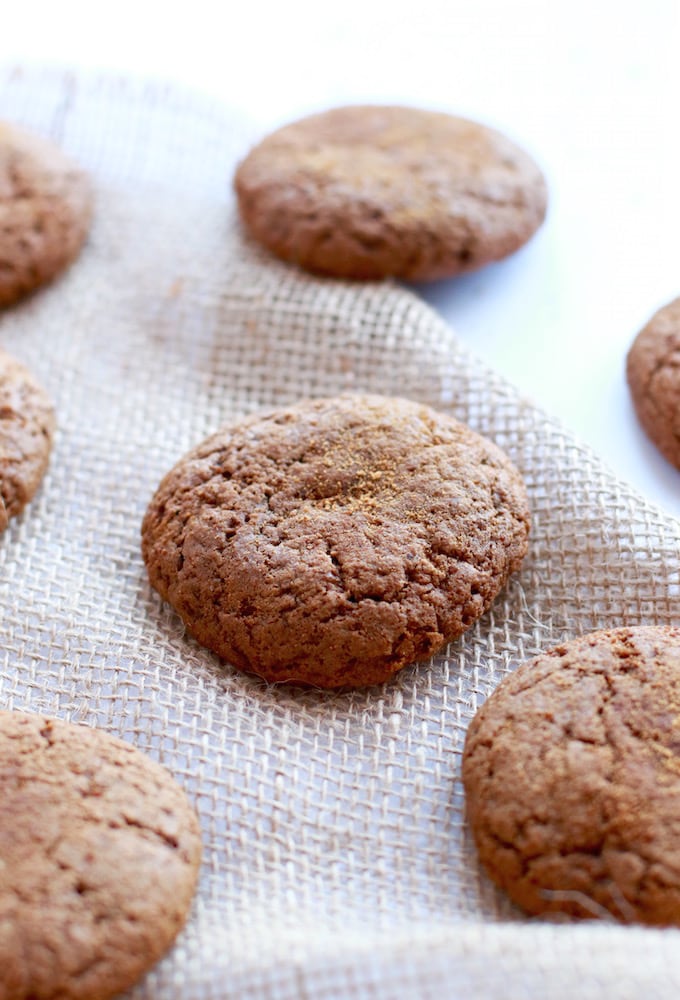 Right out of the oven these cookies are soft and chewy. If you store them in the fridge they become more on the "snappy" side of gingersnap, rather than soft and chewy, so if you want to keep the softness I would recommend storing in a tupperware at room temperature and consuming within a couple of days (you will also end up with a softer cookie if you forgo the protein powder and use just the gluten-free all purpose flour).
These cookies are a great little treat.. go ahead, have a few! 

Healthy Gingersnaps // Gluten & Dairy Free
Ingredients
1¼ cup gluten free all purpose flour (I use Bob's Red Mill brand)*
½ cup coconut palm sugar + 1 tablespoon for rolling
¾ tsp baking soda
¼ tsp salt
½ tablespoon ground ginger
1 egg
2 tablespoons unsulphured molasses
1 tablespoon pure maple syrup
¼ cup melted coconut oil or vegan butter
¼ tsp pure vanilla extract
Instructions
Preheat oven to 350 degrees.
In a bowl combine flour, ½ cup coconut sugar (reserve the additional tablespoon), baking soda, spices, and salt and mix well.
In a seperate bowl, whisk together the egg, molasses, pure maple syrup, coconut oil/vegan butter, and vanilla.
Pour the wet into the dry and stir to combine.
Cover the bowl and allow the cookie dough to chill in the fridge for 20-30 minutes.
Once the dough has chilled, line a baking sheet with parchment paper.
On a large plate spread the 1 tablespoon coconut palm sugar for rolling.
Roll the cookie dough into 12-14 balls using clean, slightly wet hands, then roll the cookie balls lightly in the 1 tablespoon coconut sugar, and place evenly on the cookie sheet, then press each cookie ball to flatten slightly.
Bake for 8 minutes.
Allow cookies to cool completely.
Enjoy!
Have a wonderful day!
Christal // NITK