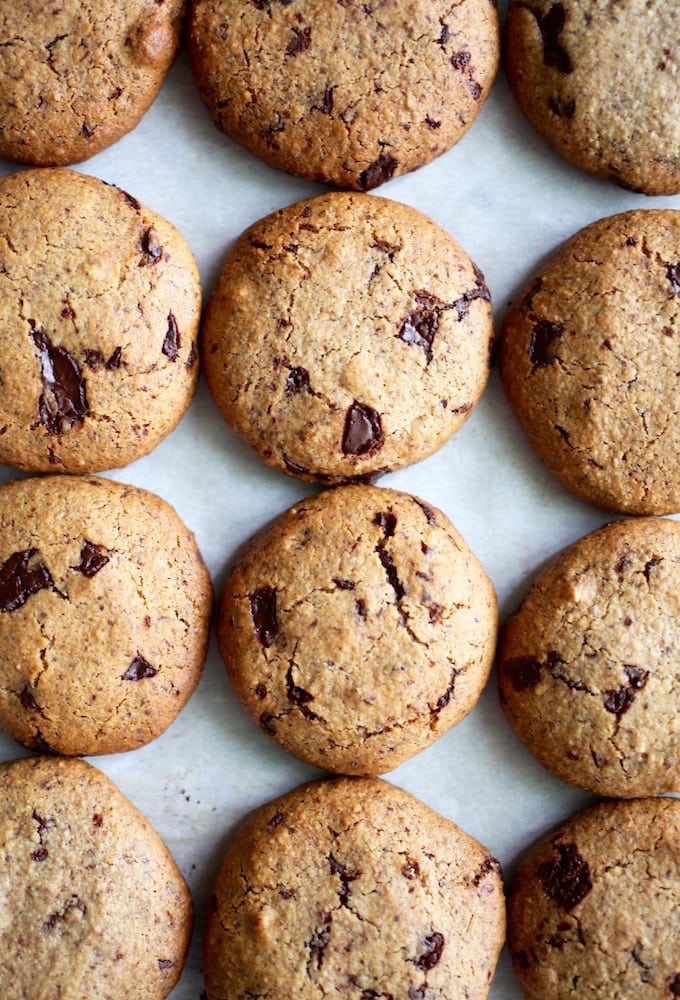 It's hard to believe it's coming up to the 4 year anniversary of Nutritionist in the Kitch. When I first started the blog (haha, I still have to chuckle at my first post) I had no idea it would one day become what it is now, a huge creative outlet, a provider of many opportunities, an avenue to meet some seriously amazing and talented individuals, and essentially…. a job!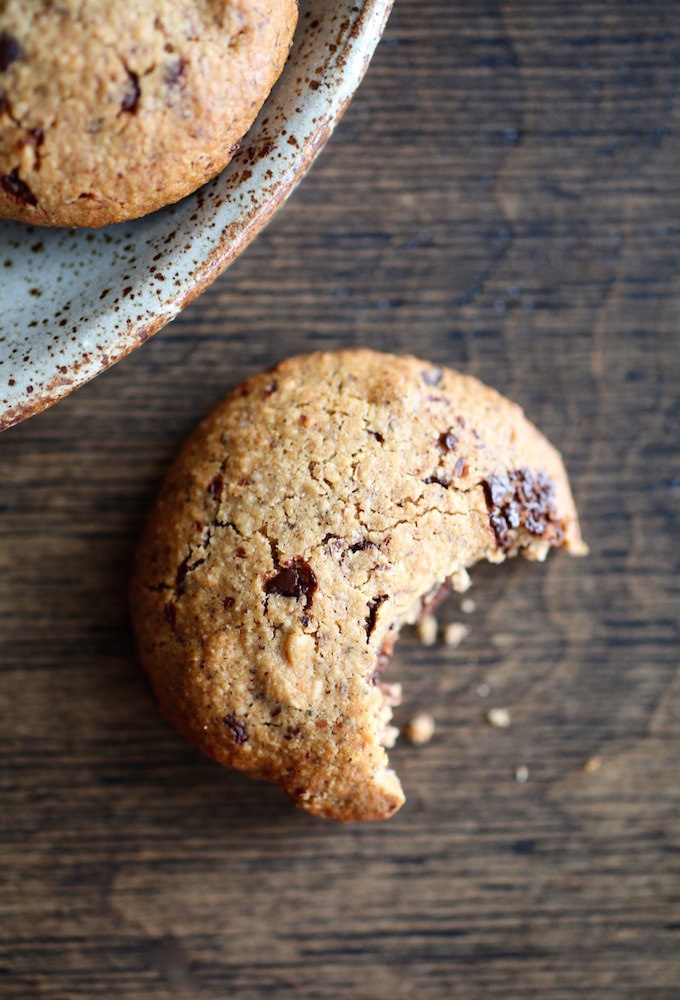 I can finally say I have come to terms with the fact that "blogger" is now part of my resume, and I love how it compliments and melds with my profession as a Nutritionist. The two have kind of become one and I'm loving the direction things are going!
That's not to say I don't have days where my eyeballs are so dry I can barely blink from staring at a screen for hours on end…. or days where I am a second away from throwing my computer on the road and driving over it multiple times with my car…. or even days where I want to (or actually do) cry over failed recipes, mean comments, rejected pitches, and loneliness… yep, it's had it's ups and downs. But, I've realized that it's all part of the gig and I wouldn't change it.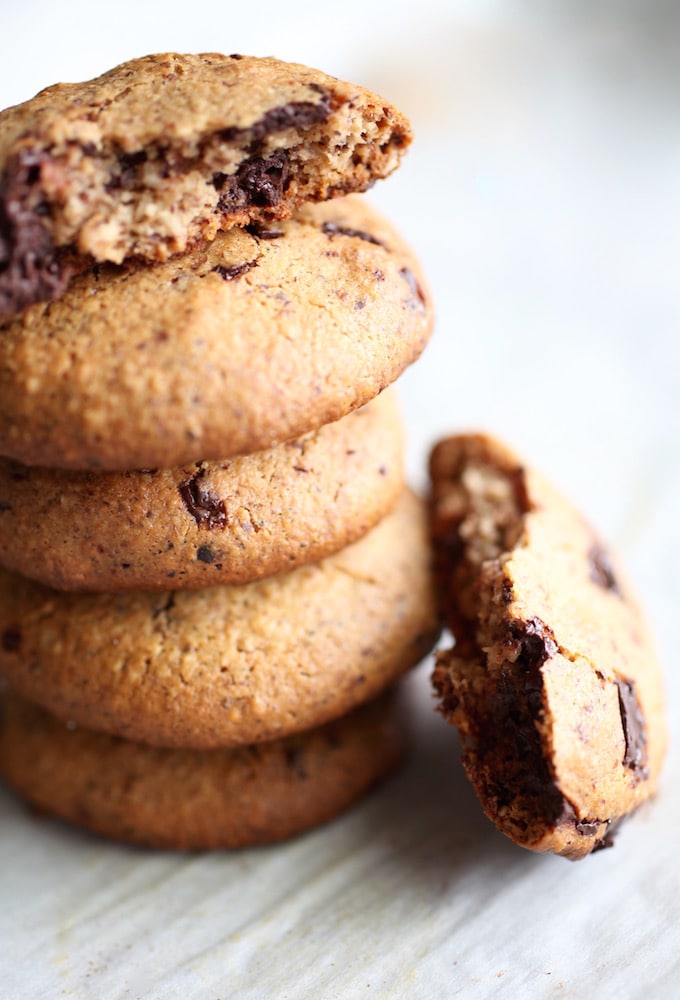 Speaking of amazingly talented individuals that I've gotten to know through this blogger world, the lovely Beth of Tasty Yummies was the person who inspired me to make these cookies, adapted from her recipe for Perfect Grain-Free Chocolate Chip Cookies. (oh, and you need to go follow her on Snapchat (tastyyummies) she's beyond funny and has the cutest pets ever!)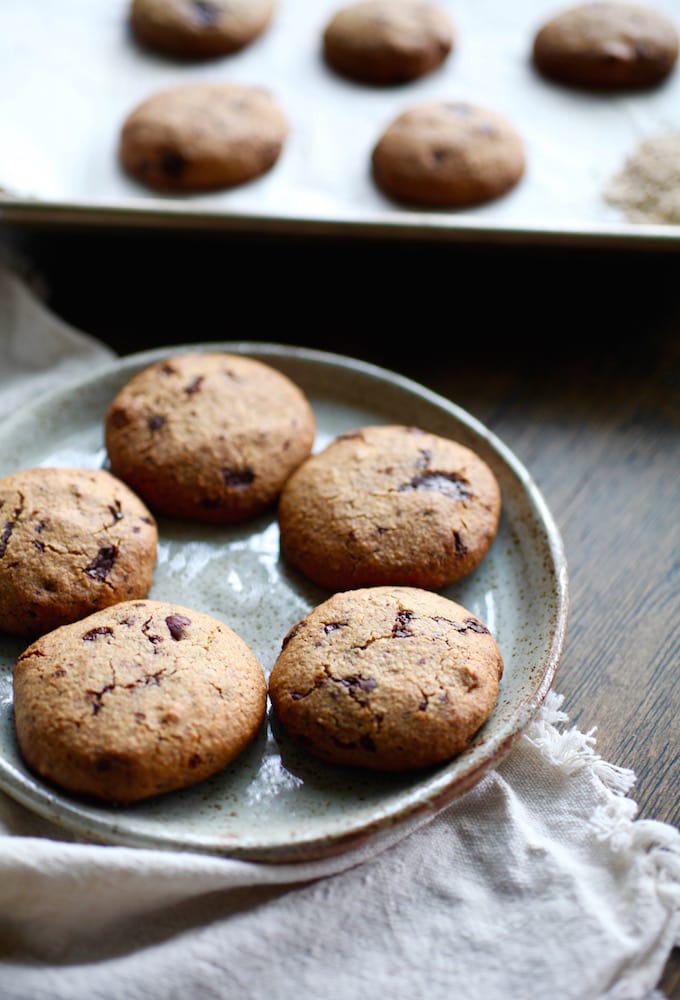 I needed to bring a dish for a monthly meeting I attend with a bunch of other Nutritionists so of course I wanted to make something healthy, delicious, quick, and easy. I had been wondering how I would put the hazelnut flour I had in my pantry to use and when I saw Beth's recipe the lightbulb went on!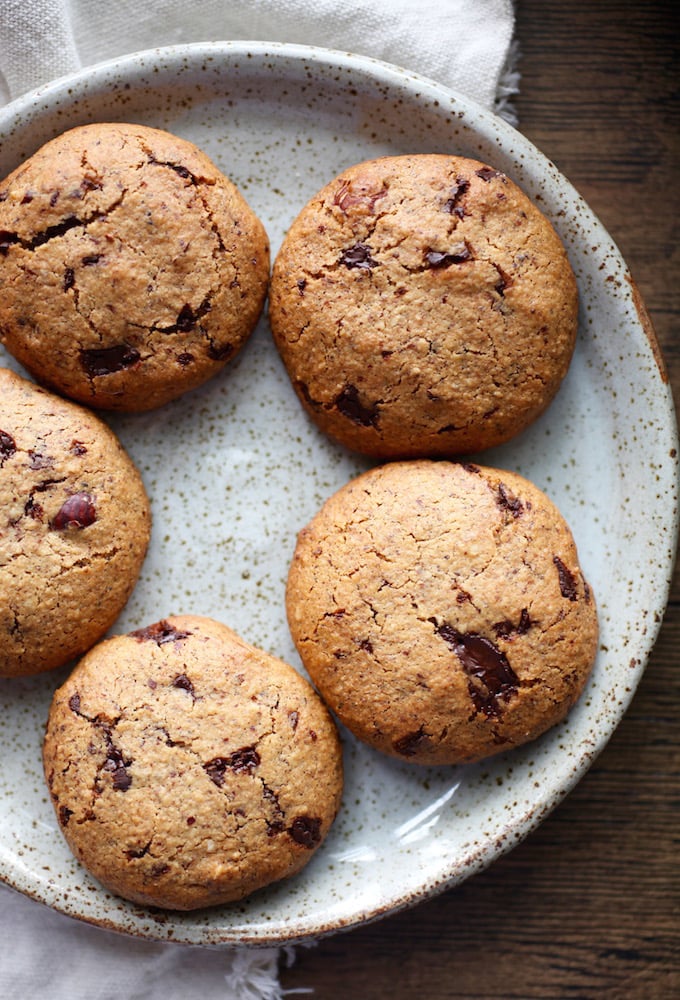 I've always enjoyed recipes using grain-free flours and I figured that hazelnut flour would act similarly to almond flour for these cookies, so I decided to test it out!
Hazelnut flour is rich in manganese, copper, vitamin E, and unsaturated fats, and fibre so it's filling and provides great nutrients. Combined with tapioca flour which acts as a binder in gluten-free baking, and raw coconut nectar for natural, unrefined sweetness that gives these cookies moisture and flavour, the cookies have a strong, but not overpowering hazelnut flavour that of course pairs wonderfully with dark chocolate.
I received great feedback when I brought these to the meeting and had one of the Nutritionists even say "Mmmm these cookies taste like Nutella!" …slightly soft, a little chewy, with a little bit of crunch, melty chocolate, and hazelnut…
Exactly what I was going for! 
This isn't the first time I've combined hazelnut and chocolate on the blog – remember these protein bars from way back when? Or this hazelnut chocolate granola? Needless to say, I'm a fan of the combo and was very pleased with how it turned out in these delicious cookies.
So, as the next NITK anniversary approaches and I reflect on the last 4 years of blogging, I'm happy to say that's it has been an awesome journey so far, and I'm very excited for what's on the horizon…did someone say "cookbook"? 
Stay tuned….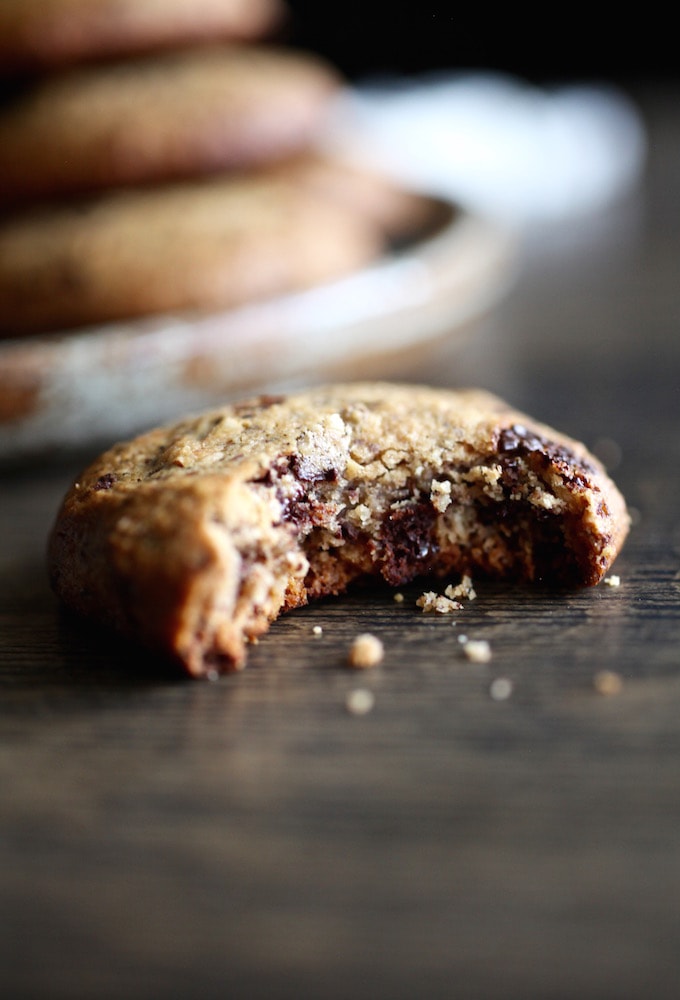 Have you ever made grain-free cookies? What's your flour of choice? I'd love to hear about it in the comments below! 

Hazelnut Chocolate-Chunk Cookies // Grain-Free + Vegan
Instructions
Preheat oven to 350 degrees.
Place parchment paper on a cookie sheet.
In a large bowl combine the hazelnut flour, tapioca, baking powder, salt and vanilla powder and mix well to combine.
In another bowl whisk together the coconut nectar and coconut oil until well combined (you can also give this a whirl in a small food processor or blender to get it well incorporated).
Add the wet mixture to the hazelnut flour mixture and stir until a thick batter is achieved.
Stir in the chopped dark chocolate.
Take golf-ball sized portions of the batter and place on the cookie sheet, pressing down to flatten to about ½" thickness (the cookies will widen a small amount during baking so leave about 1" between each cookie).
Make 15 cookies total.
Bake for 9-12 minutes until lightly browned.
Cool completely before removing from the pan.
Enjoy!
Recipe inspired by and adapted from Tasty Yummies
Christal
Nutritionist in the Kitch