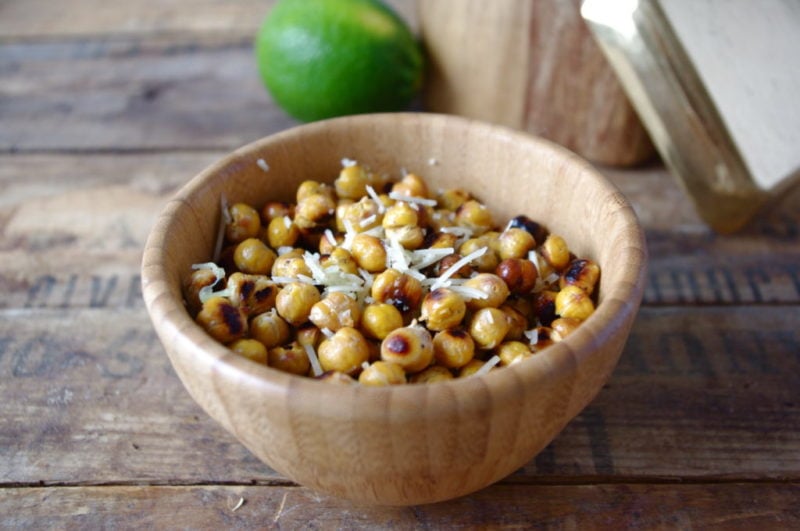 Ah, the weekend. Such a great time to get some housecleaning done, visit with family or friends, or just lay on the couch and do nothing (and not feel guilty about it!).
On the weekends I don't usually do a whole lot of extravagant cooking unless I am hosting a little get together. I like to take it easy in the kitchen making little snacks like this!
These little roasted chickpeas are a perfect weekend snack. They take a little longer in the oven but are so easy to put together and great to munch on while hanging around the house!
Chickpeas are a great source of soluble fiber and protein, and they are naturally fat-free! Chickpeas are also high in tryptophan, an amino acid that helps form serotonin, which is a hormone that helps regulate mood – so I consider chickpeas a "good mood food"!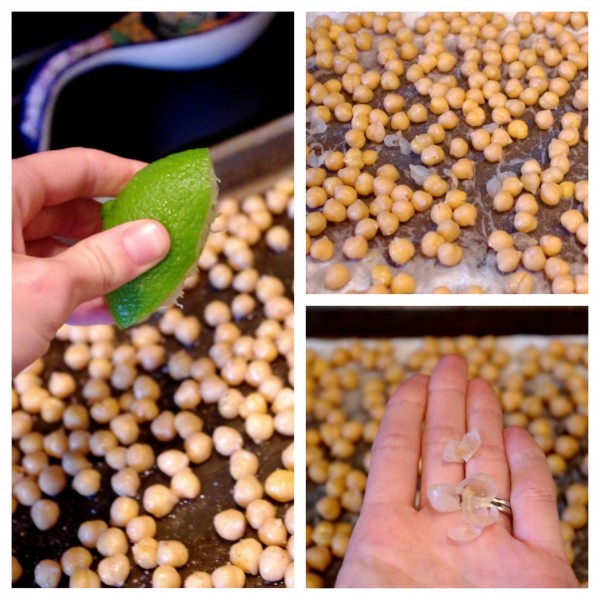 This recipe is easy as 1-2-3…
Rinse and drain the chickpeas.  Remove the skins.  Season as preferred and pop in the oven!
You don't necessarily have to remove the skins but I think they get crispier this way. It's really up to you though!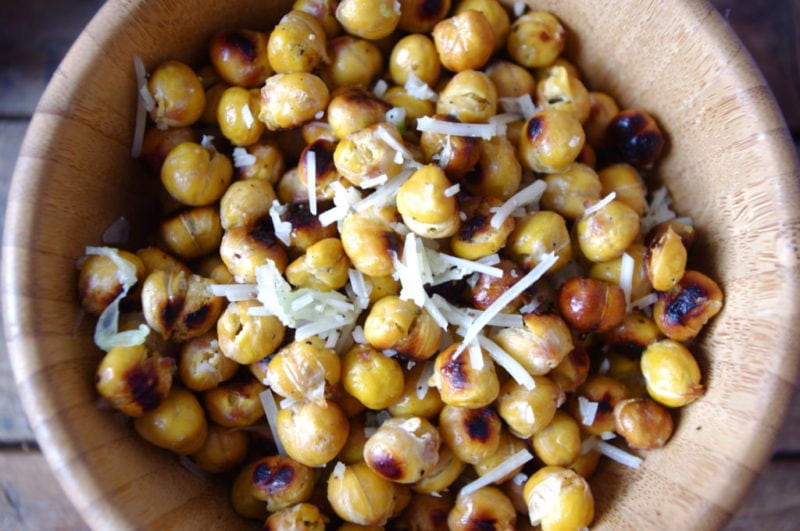 I chose to use fresh lime, black pepper, and parmesan for this batch. The flavors work very well together and give the chickpeas that salty goodness I like in a good "chip substitute"… which these do very well as I would say!
I used a little extra virgin olive oil (less than 1 Tbsp for the whole batch) to help them crisp up in the oven. You could also do the recipe with spices and no oil at all too as dry roasting works well for chickpeas and cuts out all the fat!
A great thing about this chickpea snack is that it is filling! A half-cup serving and you'll feel satisfied because of all the fiber in these little guys, so it's all you need. If you are a "give-me-crunchy-and-salty-things" person, these are a must try!
Enjoy!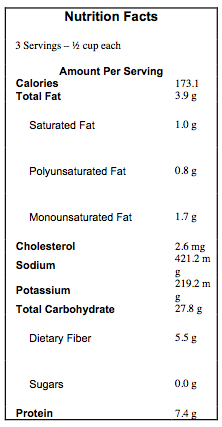 Roasted Lime & Black Pepper Chickpeas
Ingredients
3 cups canned chickpeas, drained and rinsed
1 lime halved
½ tsp black pepper
¼ cup parmesan cheese, grated
1 tsp olive oil
pinch of salt
Instructions
Preheat oven to 450 degrees.
Drain and rinse chickpeas. Place chickpeas over a sheet of paper towel, and with another paper towel rub the chickpeas dry and this will help remove the skins.
Place chickpeas on a baking sheet. Coat with olive oil and juice of half a lime.
Sprinkle with black pepper.
Bake for 30-40 minutes until browned and crunchy.
Once done, toss in a bowl with some lime zest, a small squeeze of lime juice and the parmesan cheese.
Enjoy!
Notes
These chickpeas are best enjoyed within a few hours as after time they lose their crunch!
Christal
Nutritionist in the Kitch