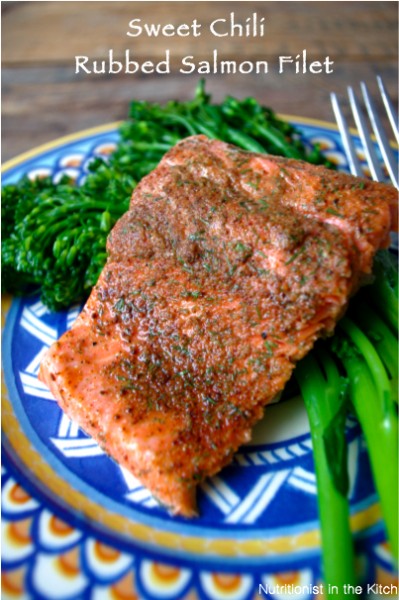 So I've eaten this meal for the last 3 nights in a row, no joke. It's that good. …and it's just so darn easy!!!
I have been experimenting so much lately with "enhancing" my food. For those who aren't familiar with that term, to me, it basically means to bring out the natural flavor and add flavor intensity without adding additional fat or calories! So this means using spices, herbs, or citrus even!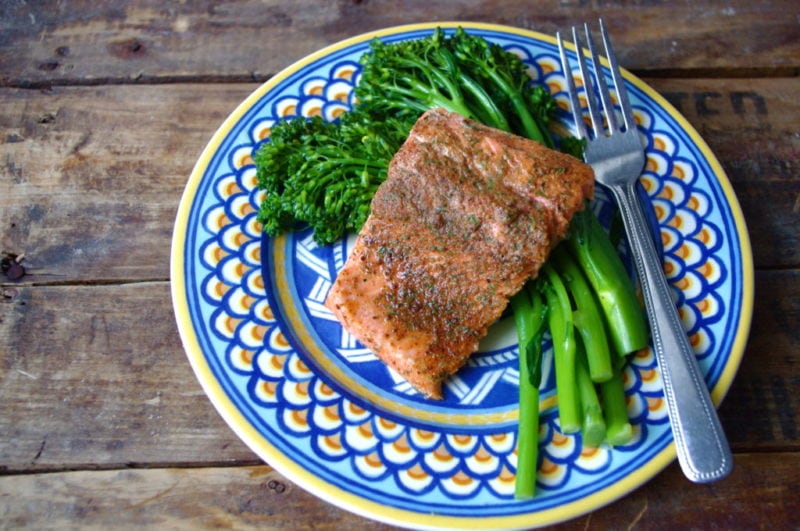 I've been using all kinds of spices – some I hadn't even heard of before (like…what the heck is "fenugreek"?!) I've pretty much attacked the spice aisle in all my favorite grocery stores and come up with some pretty amazing flavor combinations. This one though, has definitely been my favorite so far.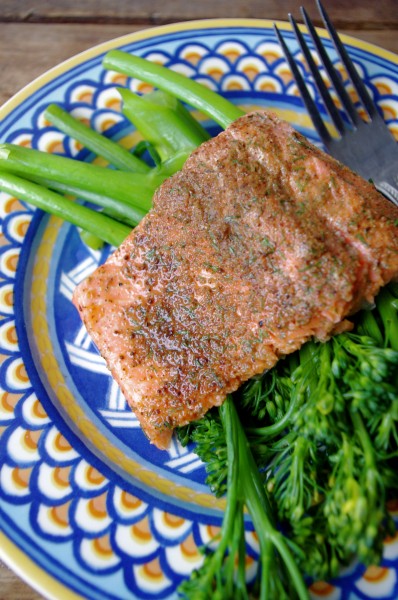 Salmon is great too when it comes to trying out different flavors – it's a very versatile fish, not to mention it's super healthy, full of essential fatty acids, and delicious! I love to make maple or ginger soy salmon, as you've seen in the past, but right now, while on this challenge, added sugars are a no-go, and that means even pure maple syrup. 🙁 So, I bet your thinking… "well how come this dish is called "Sweet" Chili Rubbed Salmon then??" …. I'll tell you the secret…
STEVIA! Yes, I used good ol' stevia to add the "sweet" to my chili rub! For those of you who don't like stevia because of the "aftertaste", which I have noticed before in some baking – I promise, you don't get that at all with this dish! Just a perfect little hint of sweet to go along with the spice of the chili powder!
Stevia is great! It is a leaf-extract obtained from a South American shrub that is naturally very sweet and works great as a natural sugar replacement as it has none of sugar's unhealthy drawbacks. It is also pretty much void of calories, and does not affect blood sugar levels.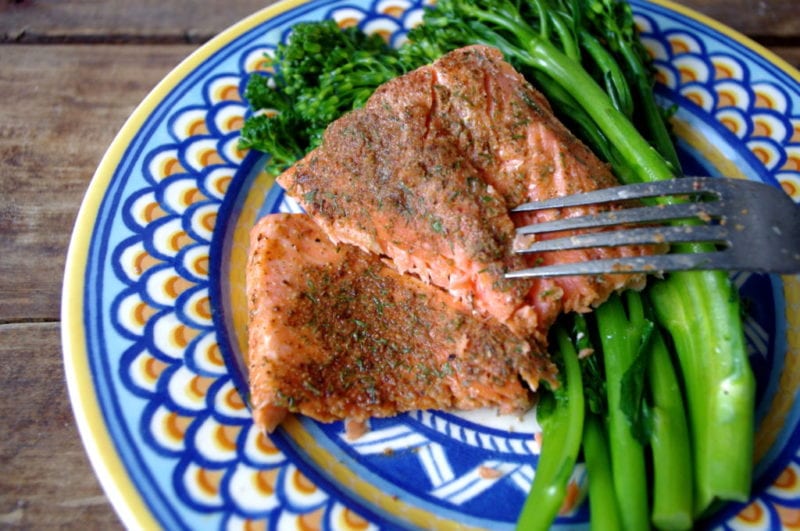 The mix of chili powder, garlic, onion, cumin, stevia, and dill (trust me on the dill) makes an amazing flavor combination that "enhances" the salmon wonderfully! I decided to serve it alongside some steamed broccolini (love the stuff!!), and had a small portion of my beloved Tru Roots quinoa rice blend!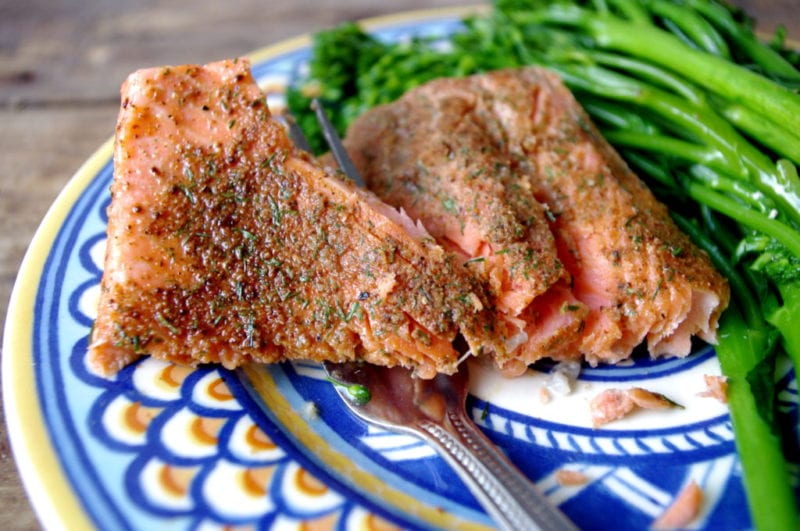 Less than 20-minutes from start to finish and you have an amazing, clean eating, wonderfully "enhanced", abso-friggen-lutely lip-smackin' delicious, veryyyy healthy, salmon dish!!
Yum!
Sweet Chili Rubbed Salmon Filets
Ingredients
4 - 5oz wild salmon filets
4 cups broccolini stems
2 cups cooked quinoa or rice, or whatever grain you wish!
1 tablespoon chili powder
1 tablespoon fresh dill (or 1 teaspoon dried dill)
1 teaspoon garlic powder
1 teaspoon ground cumin
½ teaspoon onion powder
1 teaspoon powdered stevia extract (I use Krisda brand stevia)
salt and pepper
1 lemon, cut into 4 wedges
Instructions
Preheat the oven to 400 degrees.
Mix the chili powder, dill, garlic powder, ground cumin, onion powder, and stevia in a small bowl.
Once combined, sprinkle the mixture evenly over each salmon filet - rub into the salmon with the back of a wet spoon until evenly distributed (or as much as possible!).
Sprinkle each filet with salt and pepper.
Cook in the oven on a baking pan covered in foil for 15 minutes or until just flaky.
While the salmon is cooking, steam the broccolini in a pan with a small amount of water, and season with salt and pepper.
When the salmon is cooked, squeeze a fresh wedge of lemon (or lime) over it, and enjoy!
Serve with quinoa, rice, or any other grain, or none at all!
Nutritional Information
Serving size:
1 Salmon Filet w/ 1 cup Broccolini & ½ cup rice/quinoa
Calories:
363kcal
Fat:
10.4g
Carbohydrates:
31.4g
Sugar:
2.6g
Fiber:
3.6g
Protein:
34.7g
Enjoy!
Christal
Nutritionist in the Kitch