*This recipe  has been rephotographed, updated, and revamped for quality and relevancy*
Years ago when I shared this post on the blog I had pulled the recipe from the Chef Micheal Smith Fast Flavors cookbook that I got when I went attended Christmas in November at the Jasper Park Lodge and MET HIM in person. He is a great presenter and I love his Fast Flavours cookbook and still years later I refer to it now and then for inspiration! I loved the idea of poaching salmon to soak up all the flavour and let me tell you, this method of cooking fish is awesome.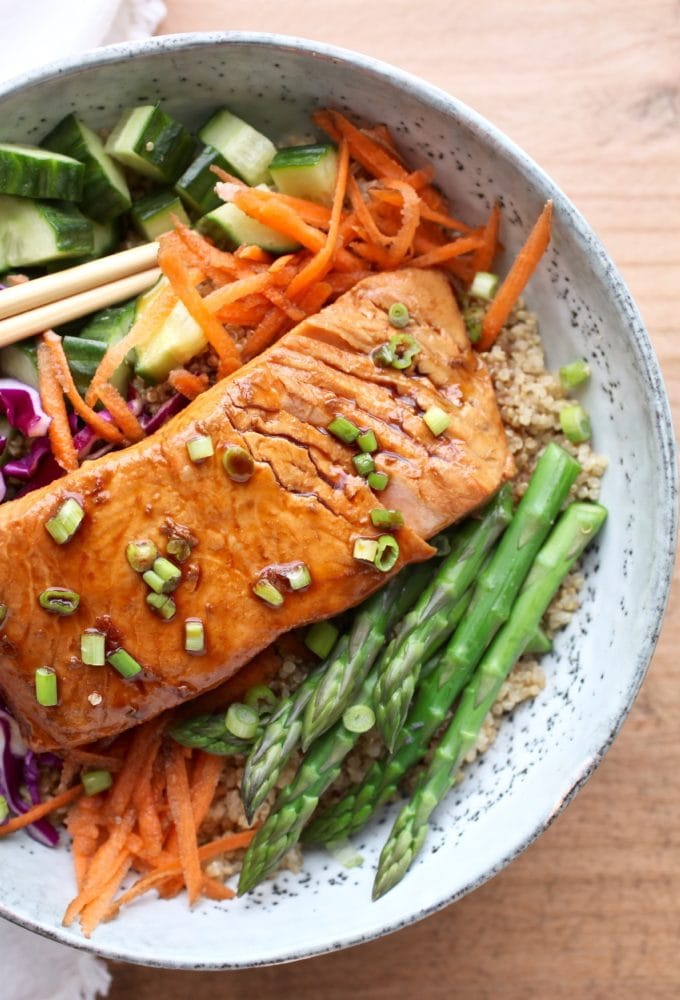 Not only does the salmon stay incredibly moist, it really takes on the flavour of whatever you are poaching it in. In this case, a delicious mixture of gluten-free soy sauce, ginger, and coconut palm sugar (my adaptations).
Salmon is a great protein and an amazing source of healthy omega fatty acids. Because it is such a naturally fatty (in all the good ways) fish, there really is no need to add any added fats in the form of oil when cooking. Along with the healthy fats, salmon is a great source of Vitamin D. In fact, just four ounces of wild salmon provides you a full day's recommended intake of the sunshine vitamin.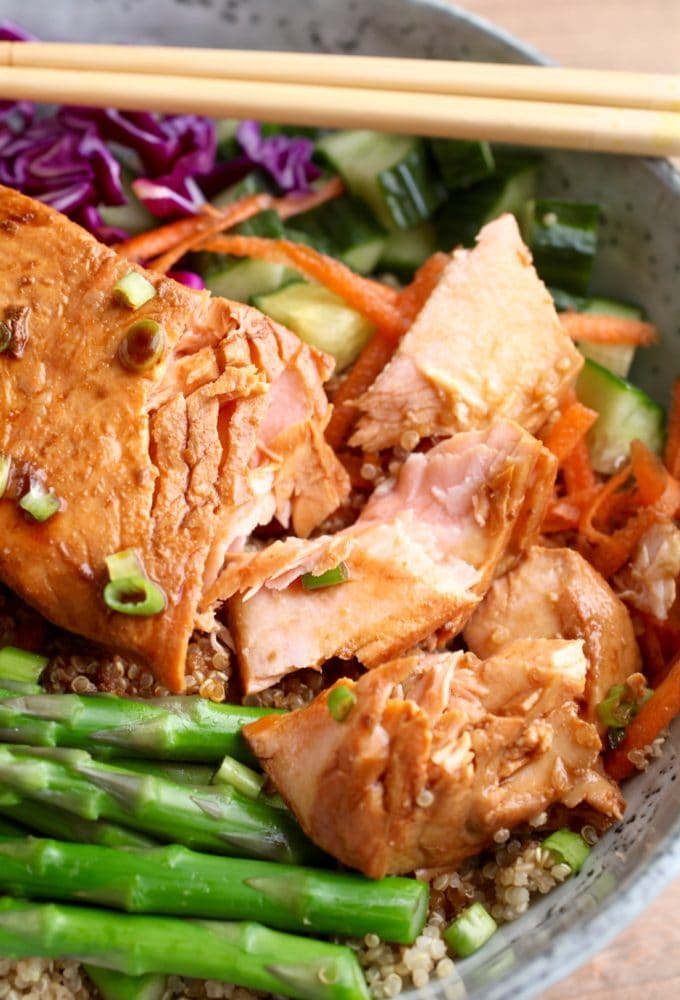 I eat a lot of fish and seafood in general and love to try different variations on salmon, trout, and a variety of white fish. Poaching seafood has become a go-to option for the hubby and I at home, and this meal has really become a staple in our house. It's quick, easy, filling, bright, healthy, and just awesome.
To make a whole meal, I combined the ginger soy poached salmon with cooked quinoa and a ton of veggies. The dish becomes a bowl of goodness combining the savoury poached salmon with crunchy raw and lightly steamed nutrient-dense vegetables, and a filling fibre-rich bed of quinoa. The best part, this meal comes together in less than 30-minutes and is literally fool proof!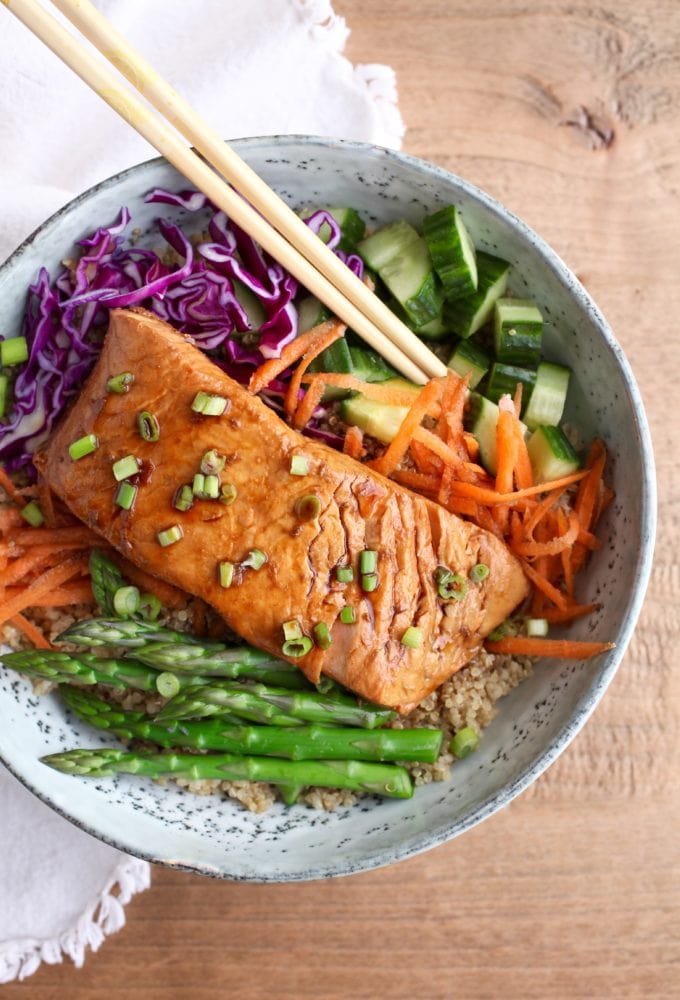 Are you a fan of the poaching method? What foods do you cook this way regularly? I'd love to read about it in the comments below! 

Ginger Soy Poached Salmon Bowl
Recipe adapted from Chef Michael Smith Fast Flavours Cookbook
Ingredients
1 cup water
¼ cup gluten-free soy sauce
2 tablespoons coconut palm sugar
2 tablespoons grated ginger
½ teaspoon of your favorite hot sauce
4 4oz fresh salmon fillets
4 green onions, thinly sliced
1½ cups dry quinoa
3 cups water (for quinoa)
20 spears of asparagus
½ cup diced cucumber
½ cup shredded carrot
½ cup thinly sliced red cabbage
Instructions
Get the quinoa started in a rice cooker or on the stovetop. Follow directions on package for quinoa.
Meanwhile poach the salmon. Match your favorite heavy skillet with a tight fitting lid.
Pour the water, soy sauce, coconut sugar, hot sauce, and ginger together in the skillet.
Bring to a vigorous simmer over high heat, then lower to a slow, steady simmer. Nestle the salmon fillets in the mixture and cover the pan. Let simmer for 5 minutes then gently flip the salmon fillets.
Cover and simmer until cooked through, about 4-5 more minutes.
Steam the asparagus for 4-5 minutes, and slice/chop the carrot, cucumber, and cabbage.
Divide the quinoa and cooked asparagus, raw carrot, cucumber, and cabbage among 4 bowls. Position the salmon on each pile of quinoa and veggies, and spoon the sauce over evenly. Sprinkle with green onion to garnish.
Enjoy!
Nutritional Information
Serving size:
1 salmon fillet, with ¾ cup brown rice, 5 spears asparagus & sauce
Calories:
405 kcal
Fat:
10.9g
Saturated fat:
1.8g
Unsaturated fat:
6.9g
Carbohydrates:
41.8g
Sugar:
3.4g
Fiber:
4.2g
Protein:
34.7g
Have a lovely Sunday!
Christal // NITK