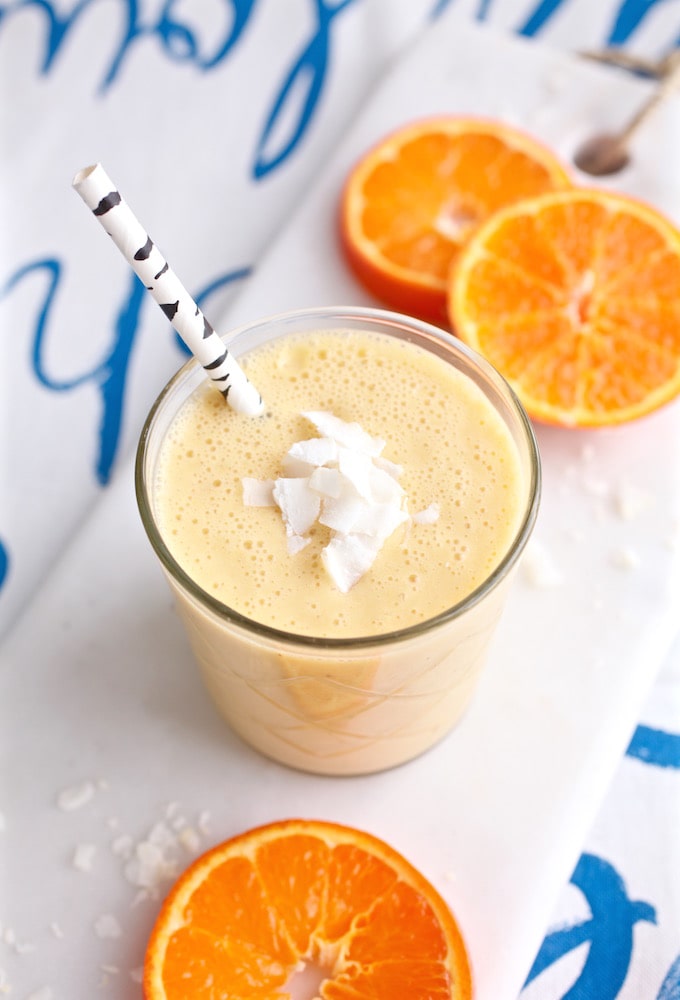 A few months ago I came up with this tasty smoothie recipe and shared about it on my Instagram stories as I made it probably every morning for a good two weeks! I had several people ask me to share the recipe so it's finally here, and ladies and gents…it's so simple, super yummy, and seriously rich in nutrients! 
When I was a kid I would frequent the local mall and made it a common occurrence to stop by the Orange Julius to pick up a sweet orange smoothie. Little did I know those sweet orange smoothies were so sweet for a reason…86g of sugar per pop! Now, I haven't been able to track down the ingredients lists but I would take a good guess that all that sugar isn't coming just from oranges.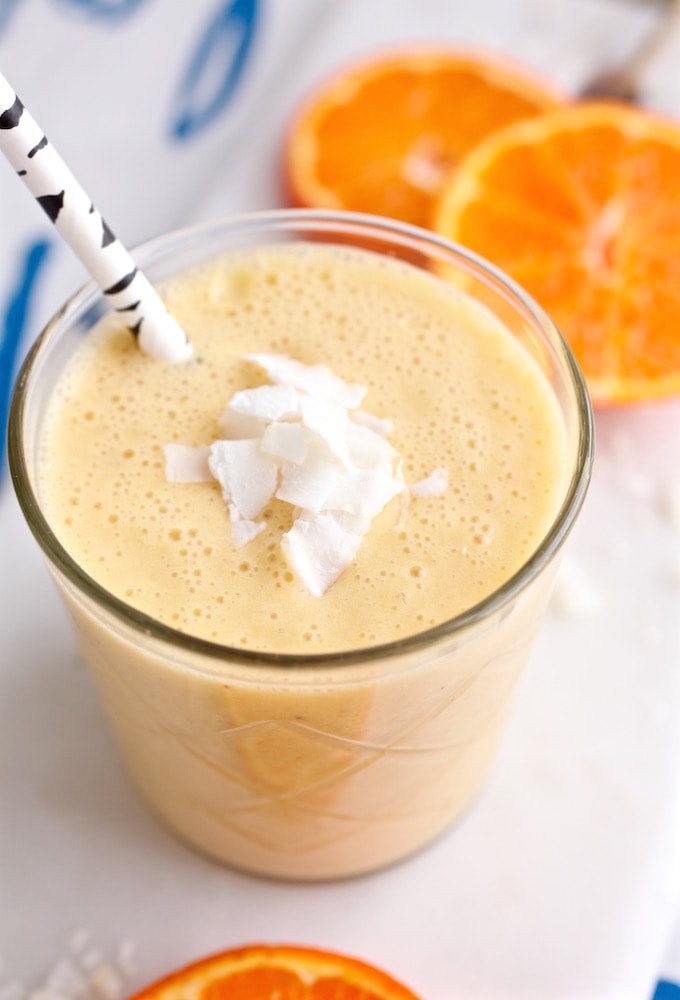 One thing I've always made sure of when making meal plans for clients, creating smoothie recipes for the blog, or just making a smoothie for myself at home, is to include not just fruit in my smoothies, but balance out those natural fruit sugars with proteins and healthy fats. Fruits are not unhealthy by any means, as there are a plethora of nutrients in fruits and the sugars come in the form of fructose which releases half as fast into the blood stream compared to glucose/refined sugars.
That being said, an excess of fruit sugars on their own can cause digestive issues for some individuals and can still negatively impact blood sugar levels. Consuming healthy fats and proteins along with those carbohydrate rich foods helps to slow the release of sugars into the blood stream even more, and of course brings in the additional nutritional benefits of protein and fat!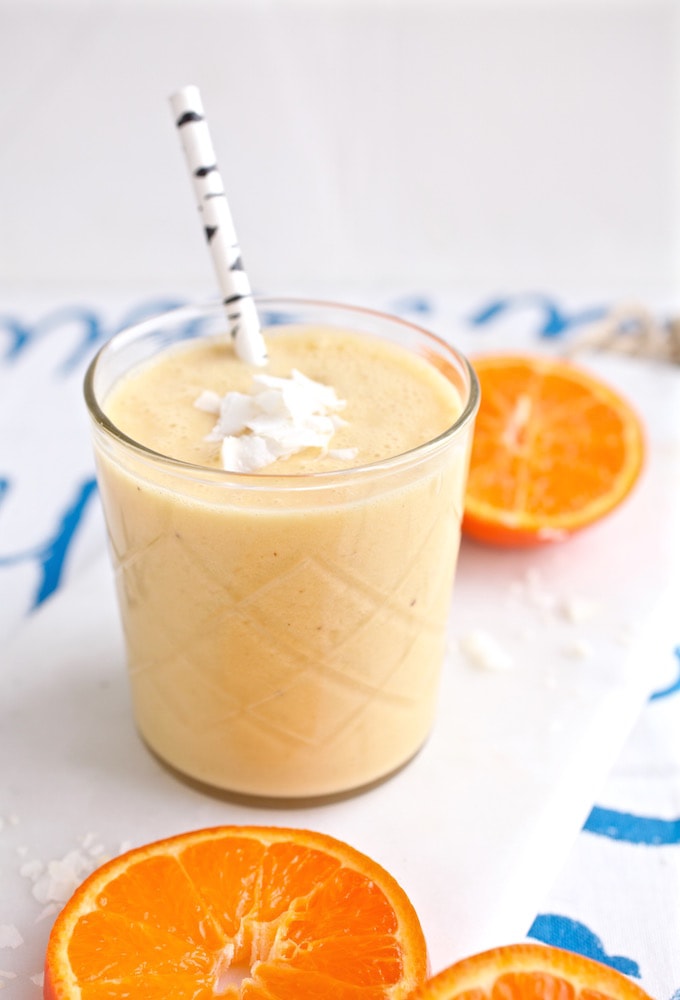 While this delicious "creamsicle" smoothie tastes a whole lot like an Orange Julius classic orange smoothie, it's much lower in sugars (only 25g of natural fruit sugars), and contains a nice balance of protein and healthy fats for optimal absorption and blood sugar stabilization.
Ok, enough with my geeky nutrition talk (sometimes I just can't help myself!)…this smoothie is a must-try if you are a fan of clementines, tangerines, mandarins, or any of the lovely variations belonging to the orange family. It's distinctly orange tasting with hints of banana, very rich and creamy, and perfectly sweet.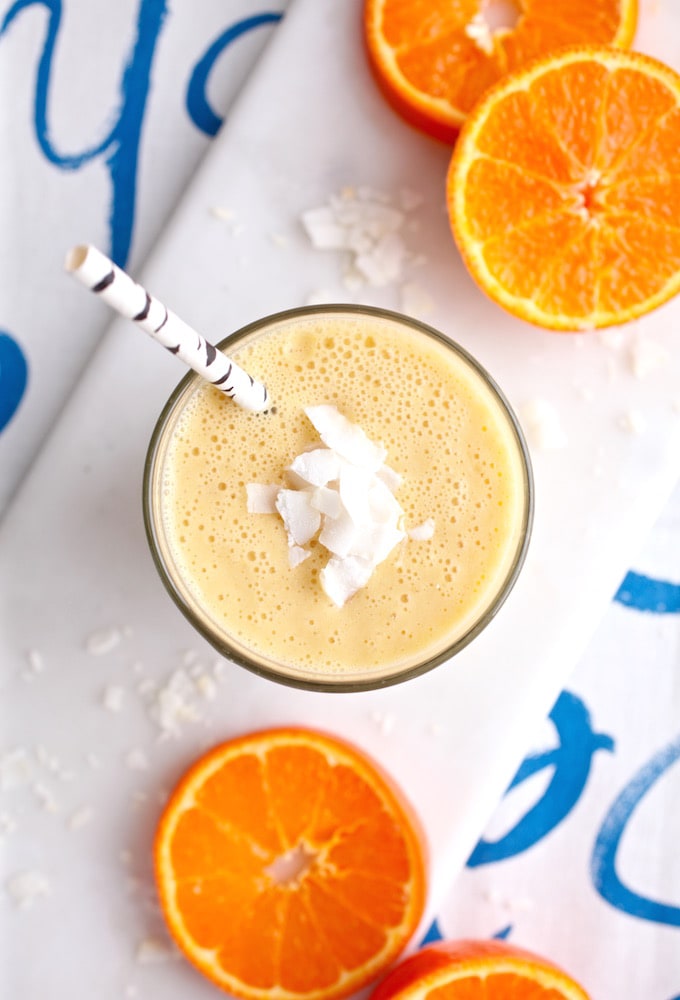 With winter well on it's way out of here and Spring coming into full bloom, this smoothie makes the perfect lightened up breakfast, snack, or treat to enjoy in the day. Feel free to play around with different orange variations by swapping out the tangerine for other options like clementine, mandarin, blood orange, valencia, cara cara, or even grapefruit.
Are there any smoothies you have been making to ring in Spring? I'd love to read about them in the comments below!  
Also, Happy Easter! Easter is a big one for me as a Christian, and really, just a girl who loves Jesus with all her heart. I'm so thankful for what Easter represents and I am filled with gratitude at the thought of the sacrifice made at the cross so many years ago. For those of you who celebrate Easter along with me, have a wonderful long weekend and I encourage you to take a moment today to reflect on the His amazing grace and unconditional love.

Tasty Tangerine Creamsicle Smoothie
Ingredients
1 small banana (6"), frozen
1 tangerine, peeled
½ cup unsweetened almond milk
¼ cup natural orange juice (no sugar added or fresh squeezed)
1-2 scoops (20g) collagen protein or 1 scoop (30g) your favourite protein powder of choice (I used Vital Proteins collagen peptides as it is completely unflavoured and undetectable in the smoothie, but you could also use a natural vanilla protein powder)
¼ tsp pure vanilla extract or 3 drops of vanilla stevia (I recommend Sweet Leaf Vanilla Creme stevia)
2 teaspoons omega fatty acid oil (optional, I use Genestra Orange Super EFA Oil, you can use a fish oil or plant-based oil, or none at all!)
4-5 ice cubes
1 tablespoon unsweetened coconut flakes or shredded coconut
Instructions
Add all ingredients to a blender except for the coconut flakes and blend until thick and smooth.
Pour into a glass and garnish with the coconut flakes.
Enjoy!
Nutritional Information
Calories:
348 kcal
Fat:
15g
Carbohydrates:
40g
Sugar:
25g
Fiber:
5g
Protein:
21g
Have a lovely Sunday!
Christal / NITK