Don't you just love it when the stars align and great things happen?! 
Last week I attended an event I had been invited to, put on by Catelli to introduce their Healthy Harvest Ancient Grains Pasta! The event was also being hosted by Food Network Canada's amazing Chef Lynn Crawford!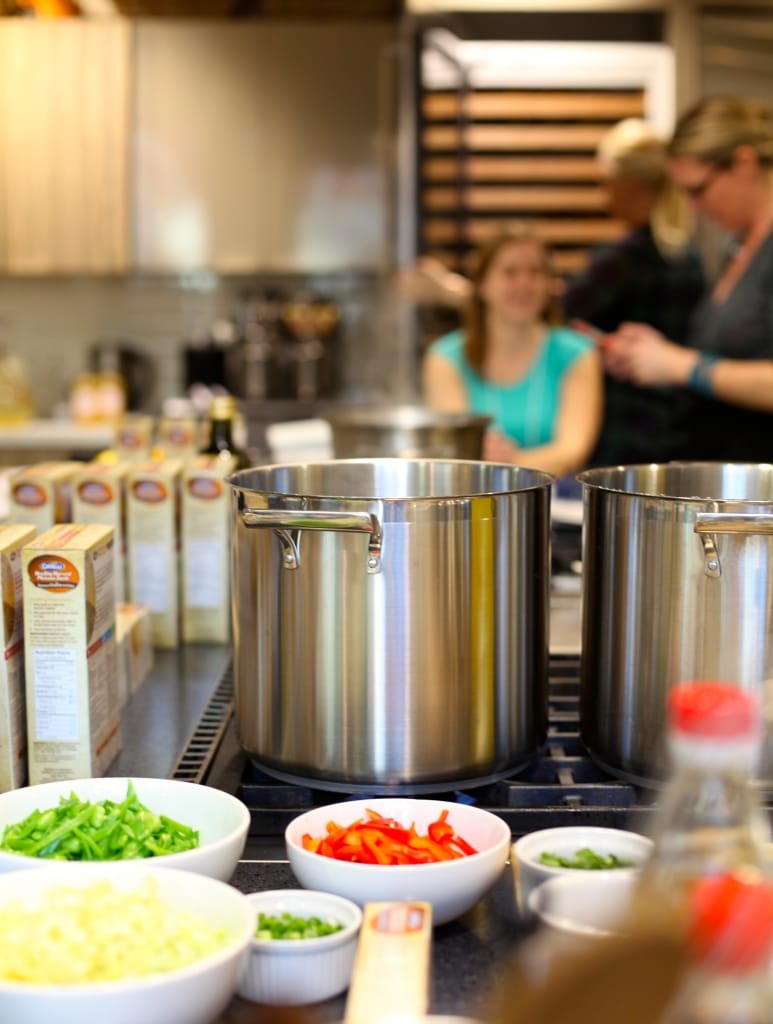 I've been a fan of Chef Lynn since I first began watching Restaurant Makeover years ago so I was very excited to attend! The event was held at the Get Cooking Kitchen in Edmonton and it was a fantastic space for the cooking class. I highly recommend anyone in the Edmonton area check out the Get Cooking website and book in for one of their many classes. The group was a fair size and all of us were eager to get cooking with Chef Lynn!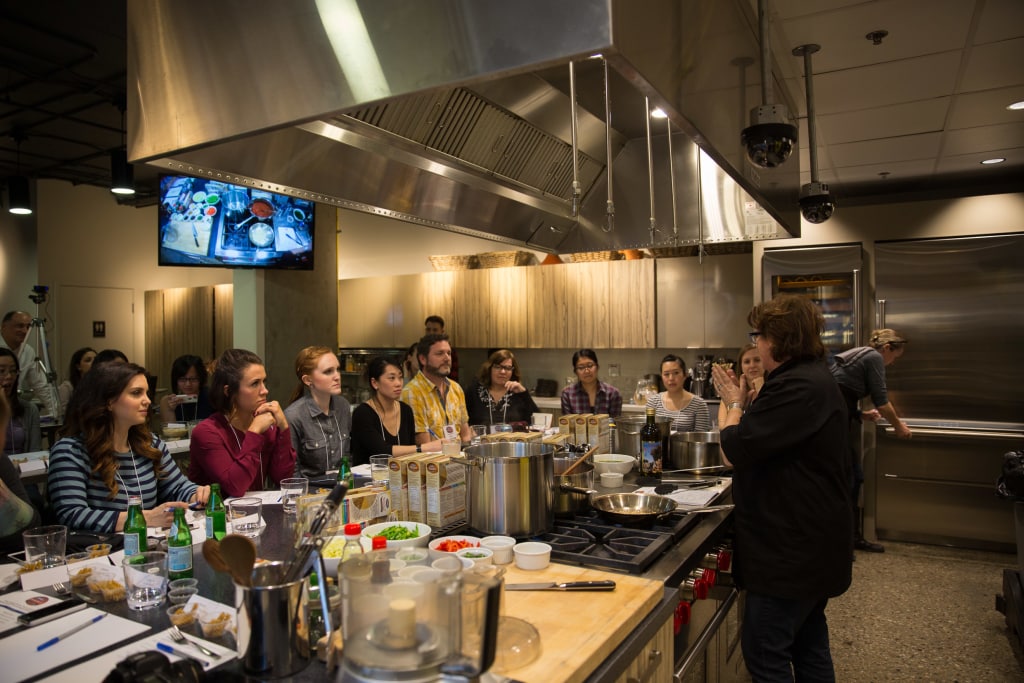 I have to say she was exactly as I expected in person; friendly, outgoing, vivacious, and incredibly personable, she made us all feel instantly comfortable in the kitchen! The way she spoke made her passion for food undeniably evident. I am always so inspired to see people who have turned their passion into their craft and have become so incredibly successful at it!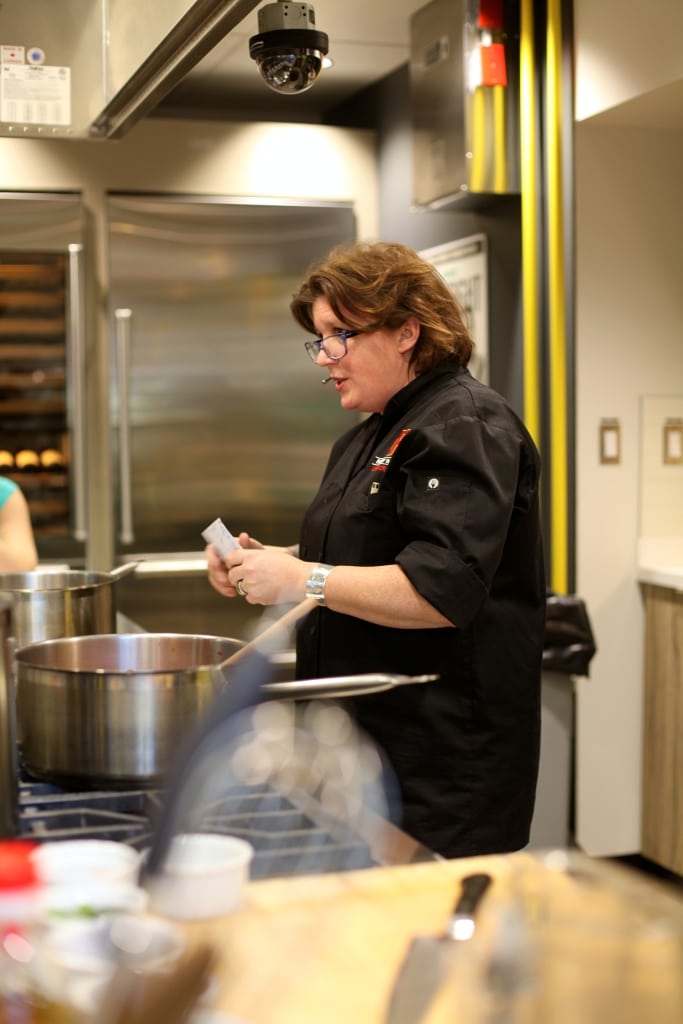 I listened intently to everything she had to say about cooking pasta to perfection and the nutritional benefits of the ancient grains used in Catelli's new line of Healthy Harvest products!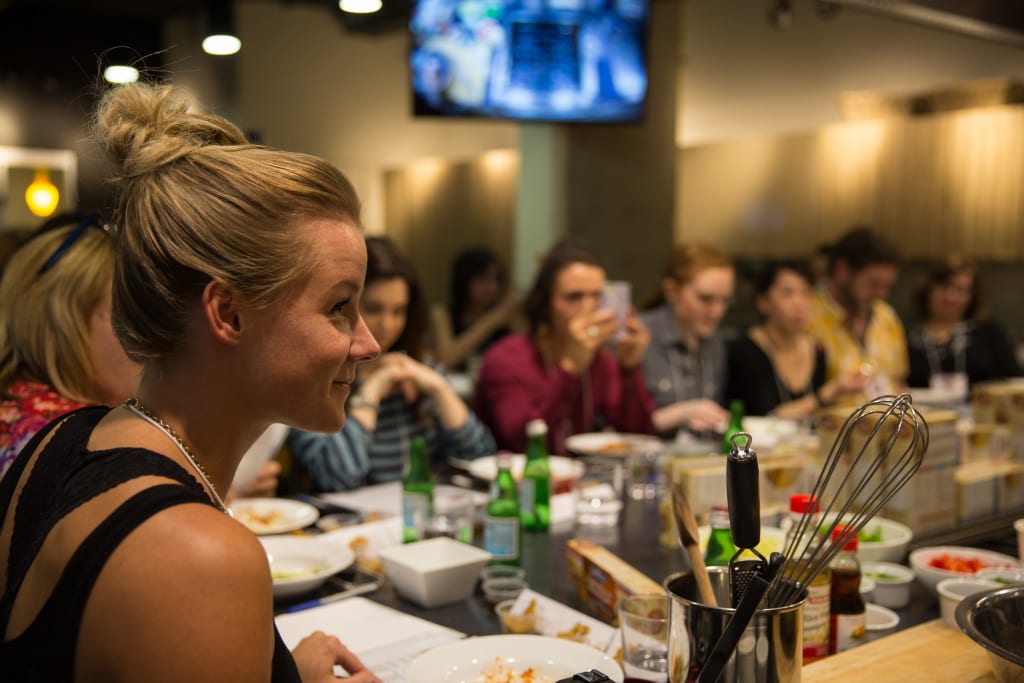 Catelli Ancient Grains Healthy Harvest is made from simple, healthy ingredients, all of which might I add are totally GMO free, which is great to know when it comes to grain products. Being free of genetically modified ingredients made me respect how Catelli has stepped up their game and is hearing loud and clear what consumers have to say!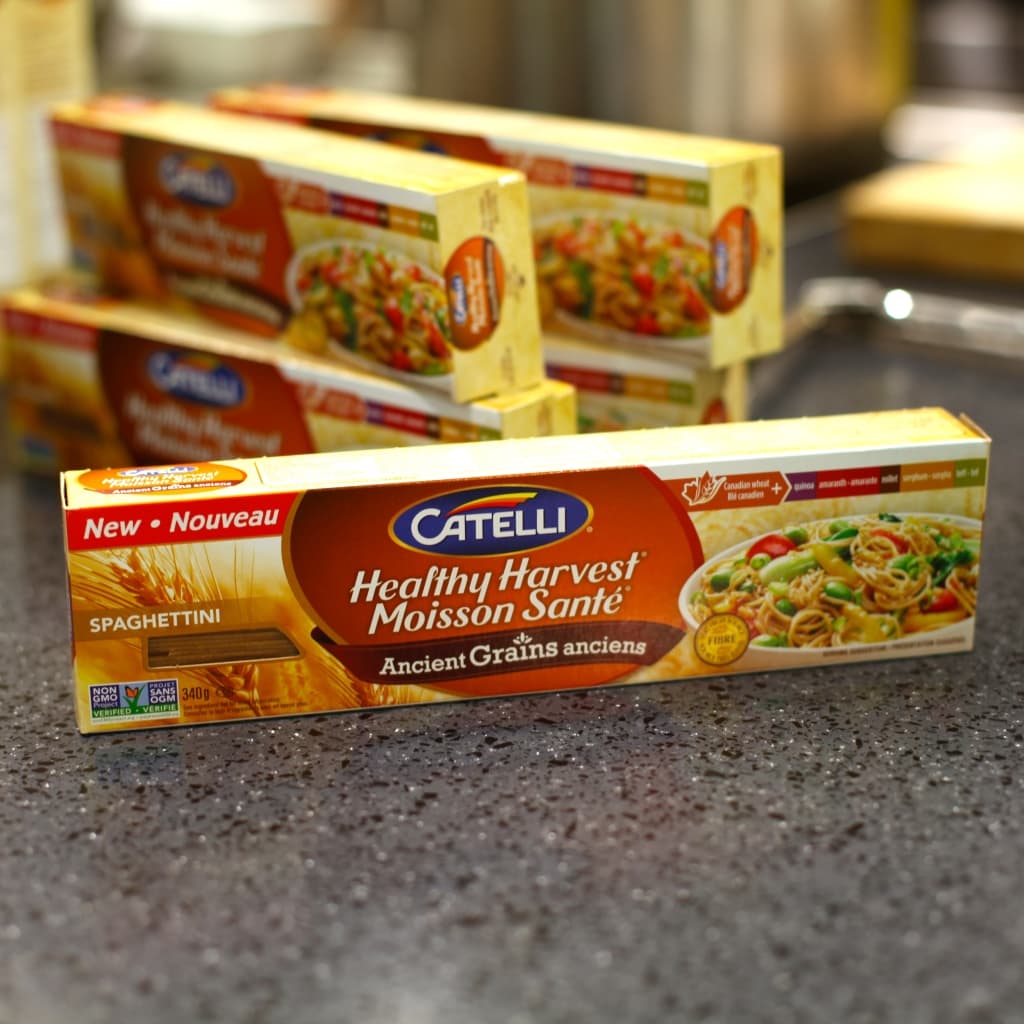 The pasta combines Canadian whole wheat with five Ancient Grains; Quinoa, Amaranth, Millet, Sorghum, and Teff.
Most of us are very familiar with quinoa as a power grain and if you are a regular NITK reader you know that I have used it in MANY of my recipes, but the others like Sorghum and Teff aren't so commonly heard of! I've used them in gluten free flour mixes but I've yet to cook with them on their own, so I was interested to learn more about each grain.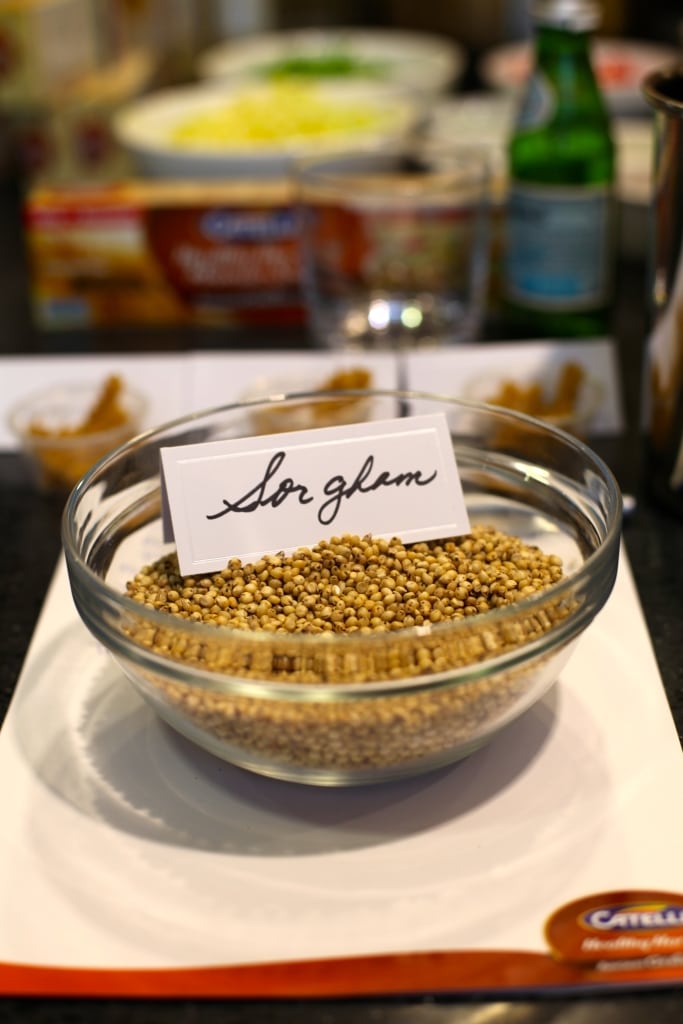 Chef Lynn also demonstrated a fantastic way to make pop-sorghum very similarly to making popcorn! I'm definitely going to be testing this out on my own at home!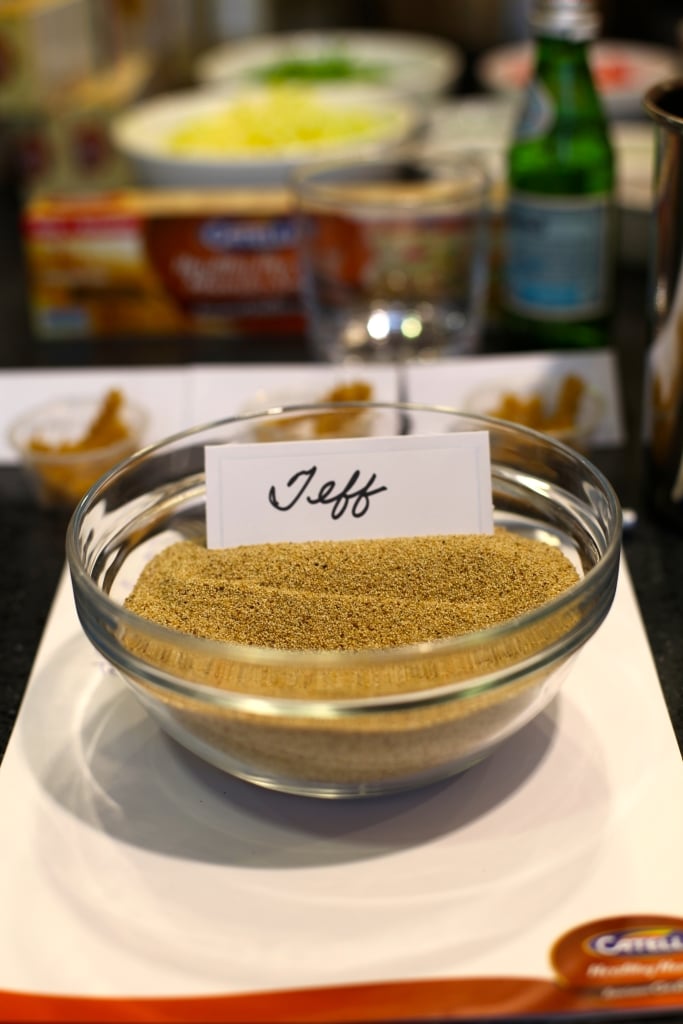 Ancient grains like these have been around for centuries and they all have their individual benefits but as a whole they are generally higher in protein, bursting with B vitamins, loaded with fibre, and are well digested by the body.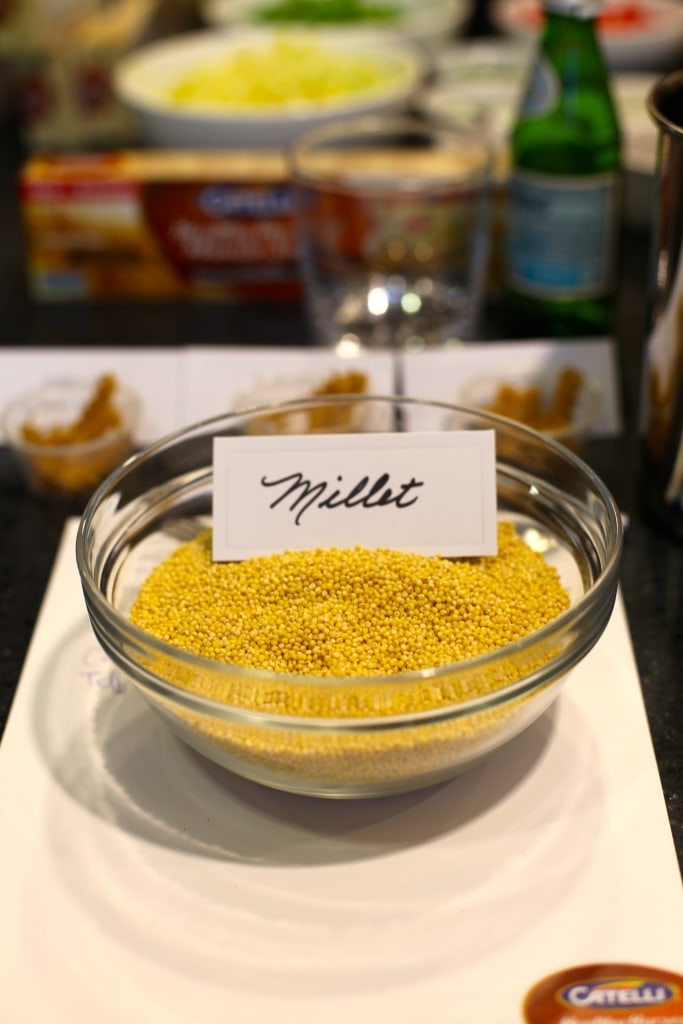 Many of the ancient grains are also naturally gluten free including the five Ancient Grains in the Healthy Harvest pasta. Although this particular pasta isn't gluten free because of the wheat, for those without any sensitivities to gluten or grains, it's a great product to use instead of white or simply whole wheat pasta in terms of nutrient value and digestibility!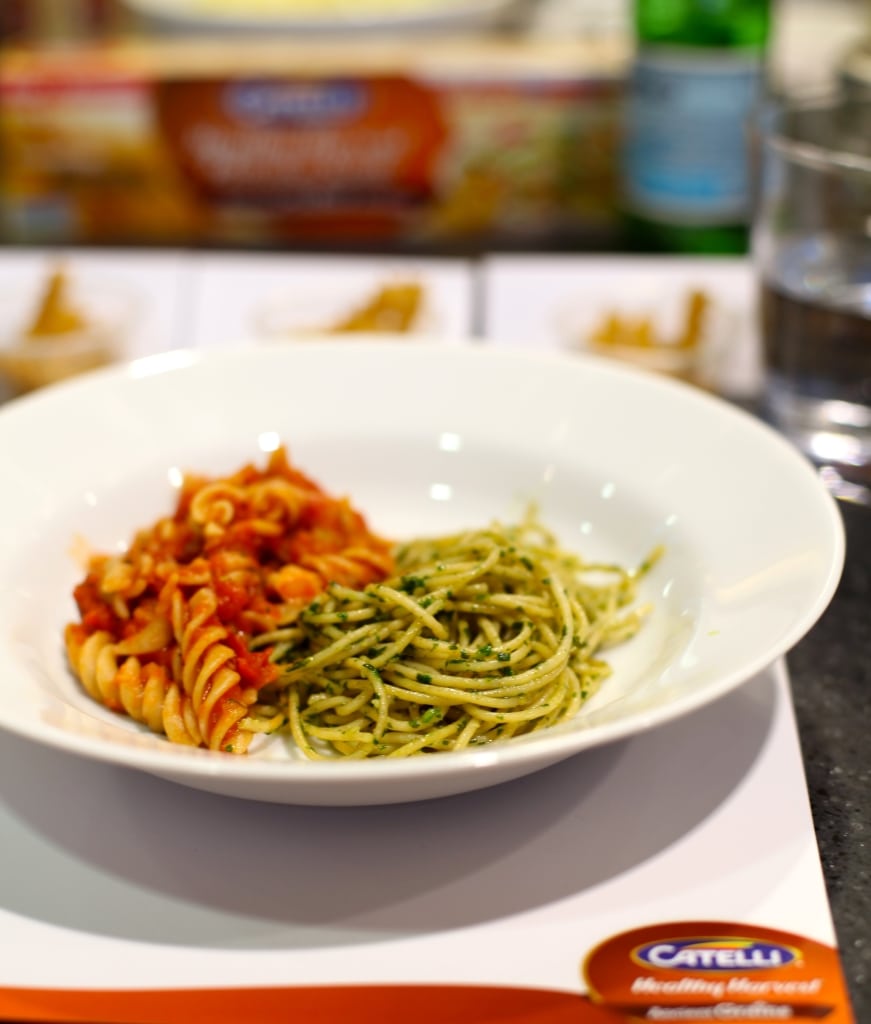 Using the pasta, Chef Lynn cooked us up a batch of pesto spaghetti and marinara rotini, both of which were incredibly simple and delicious, just my style!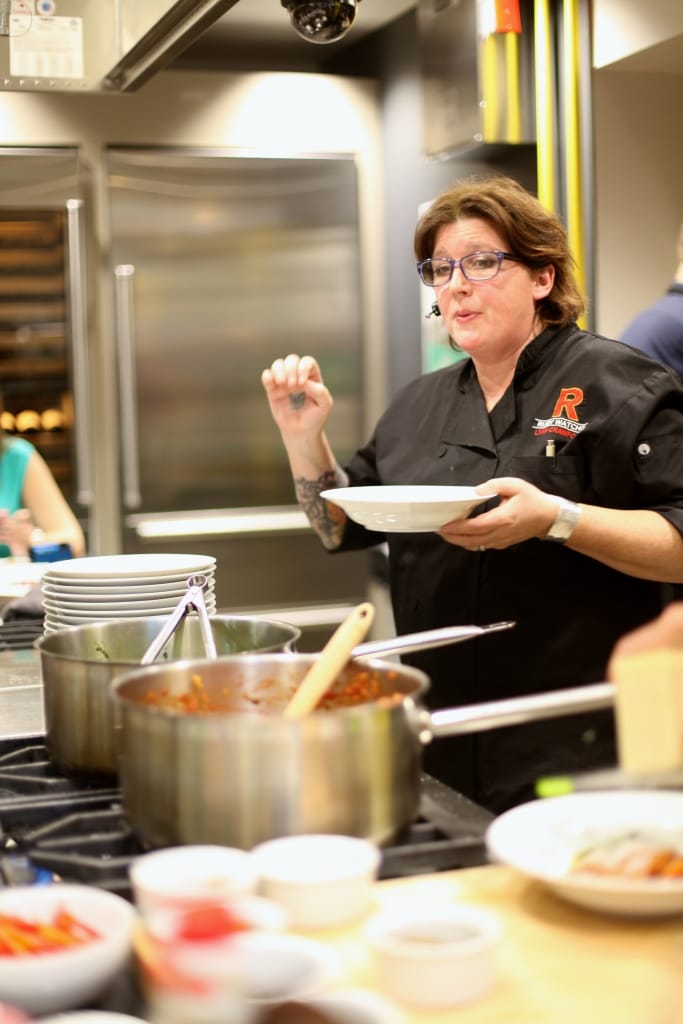 So back to the stars aligning, not only was I super excited to be at the event, but I also happened to seat myself right at the front of the room and was asked to come up and give Chef Lynn a hand for a portion of the night. Because Chef Lynn has quite the sense of humour, I ended up dancing to Taylor Swifts "Shake It Off" while shaking a jar of the Ginger Wasabi Dressing to be used for the next recipe creation!
We also pretended I was on Chopped Canada (a Food Network show in which Chef Lynn is a participating judge) and I had to plate the Chilled Noodle Salad for presentation and "judging" in a set time limit!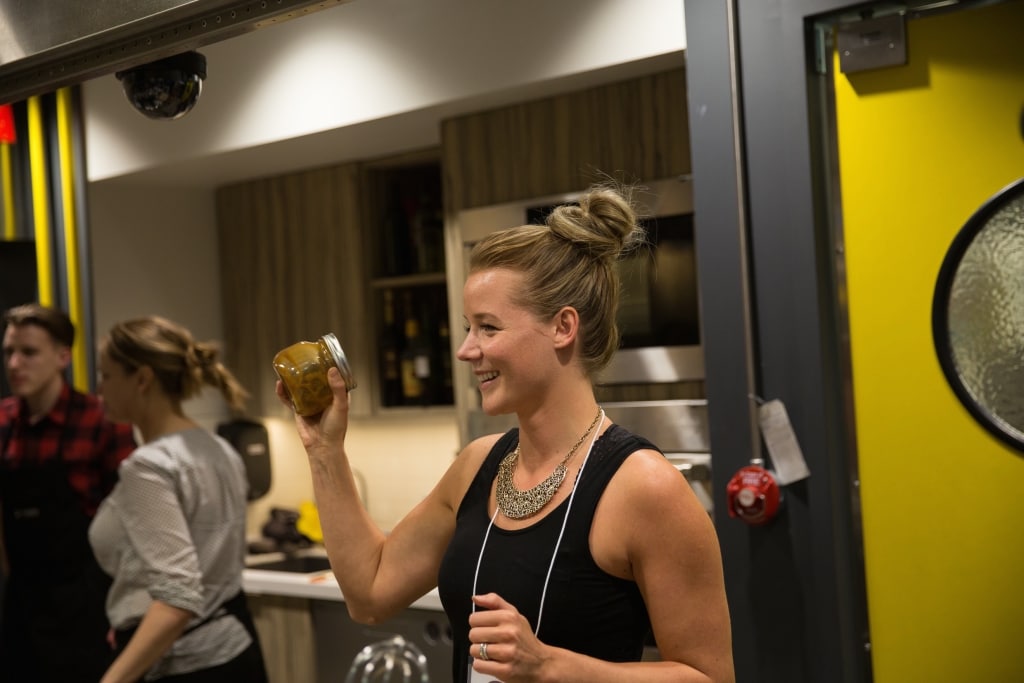 The pressure was on as the room and Chef Lynn watched me scramble to get the salad on each plate with a nice presentation and deliver them to the "judges" (more attendees in the room).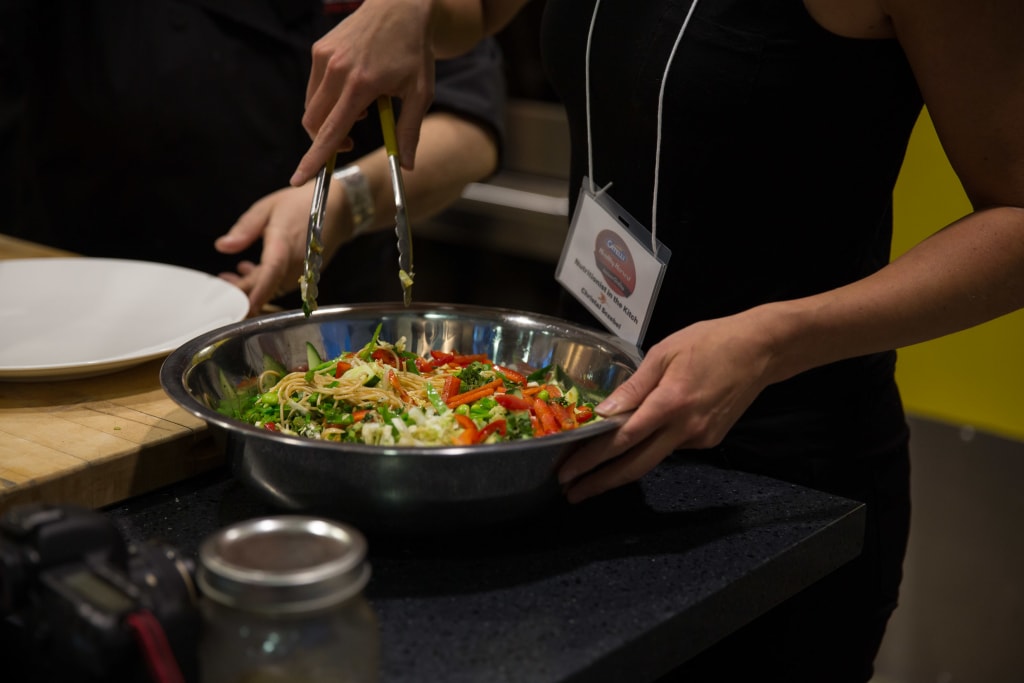 Down to the last second I delivered my plated Chilled Noodle Salad and Chef Lynn made sure to taste and judge the creation!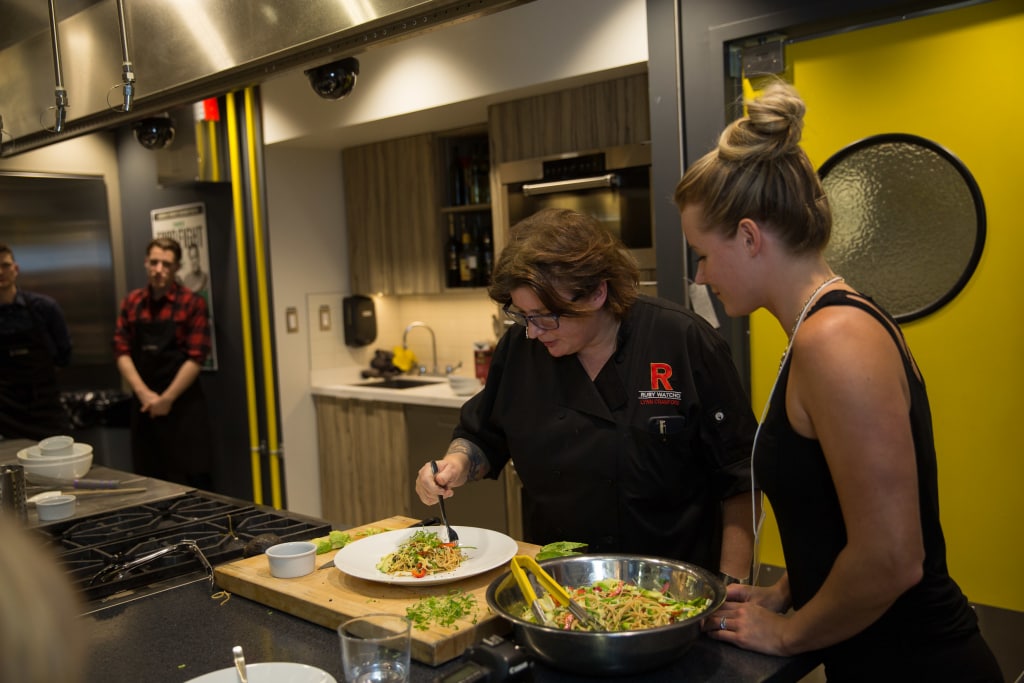 It was a ton of fun and we joked (or not?!) about me being on the next season of Chopped Canada! Ha, I guess we shall see what the future has in store…hehe! You can also check out a couple videos of this on the Nutrition in the Kitch Facebook page.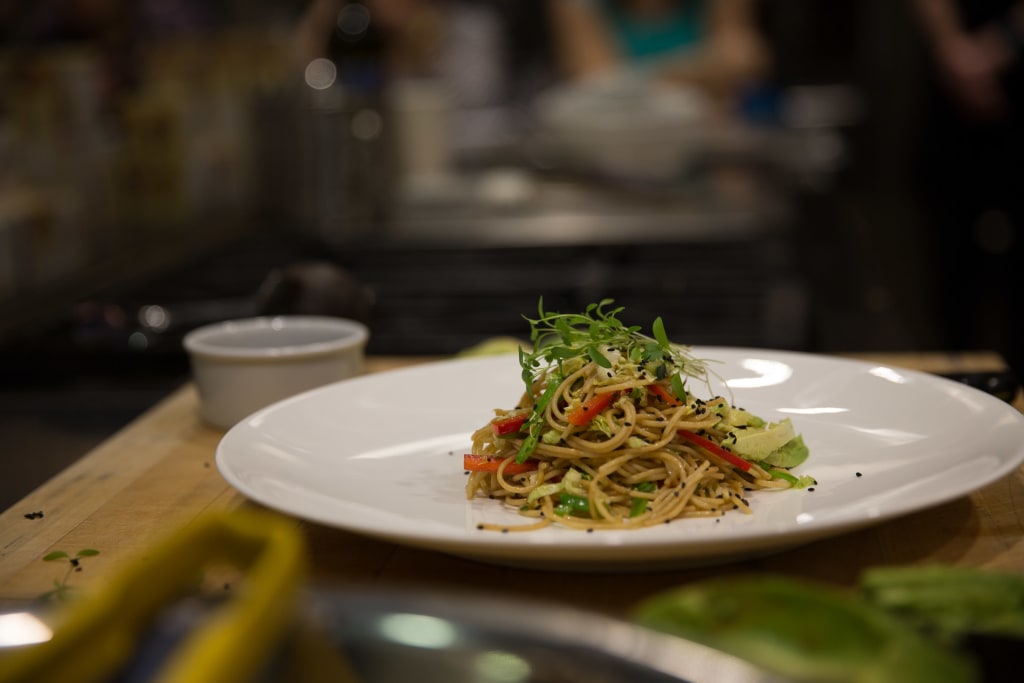 For the last portion of the evening we all divided into groups and made our own Chilled Noodle Salad with Ginger Wasabi Dressing to photograph, taste, and take home to share with our loved ones!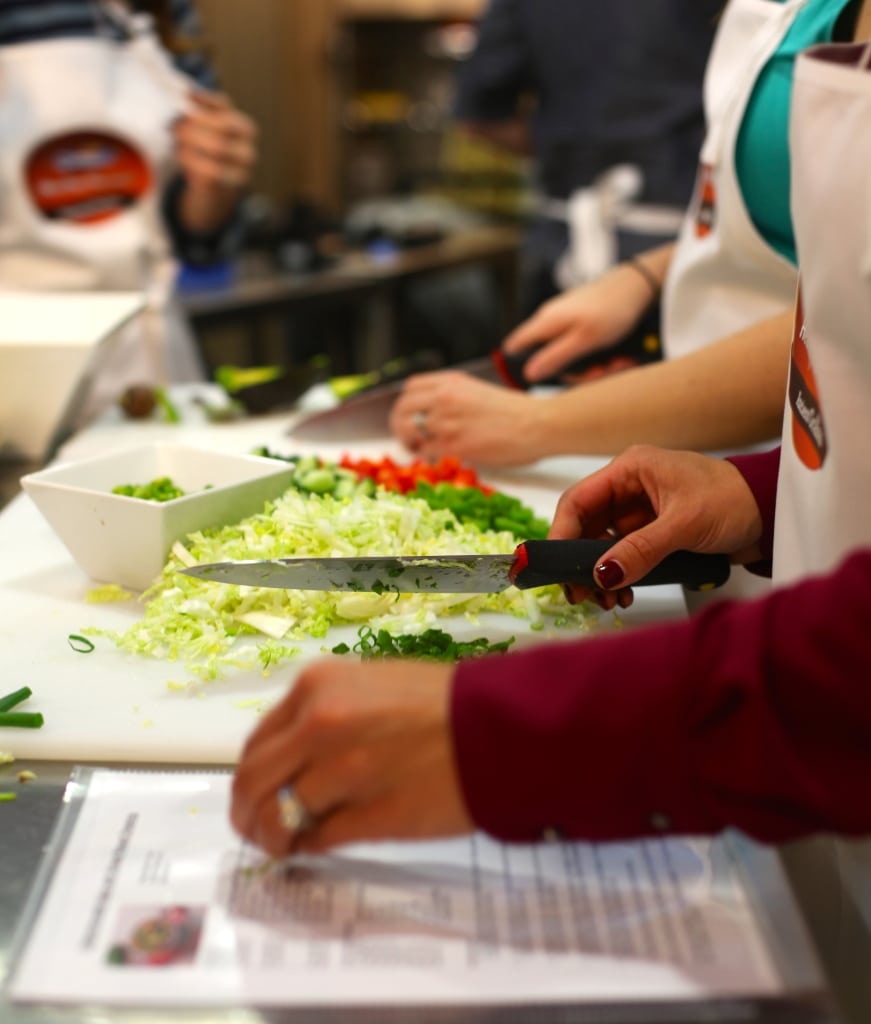 I loved the combination of bright, fresh ingredients, and how everything worked so well to create different textures!
It's always nice to remember that pasta doesn't have to equal a "warm" dish! The Healthy Harvest Ancient Grain spaghetti tasted fantastic chilled and combined with the raw, fresh vegetables and light tangy Ginger Wasabi Dressing!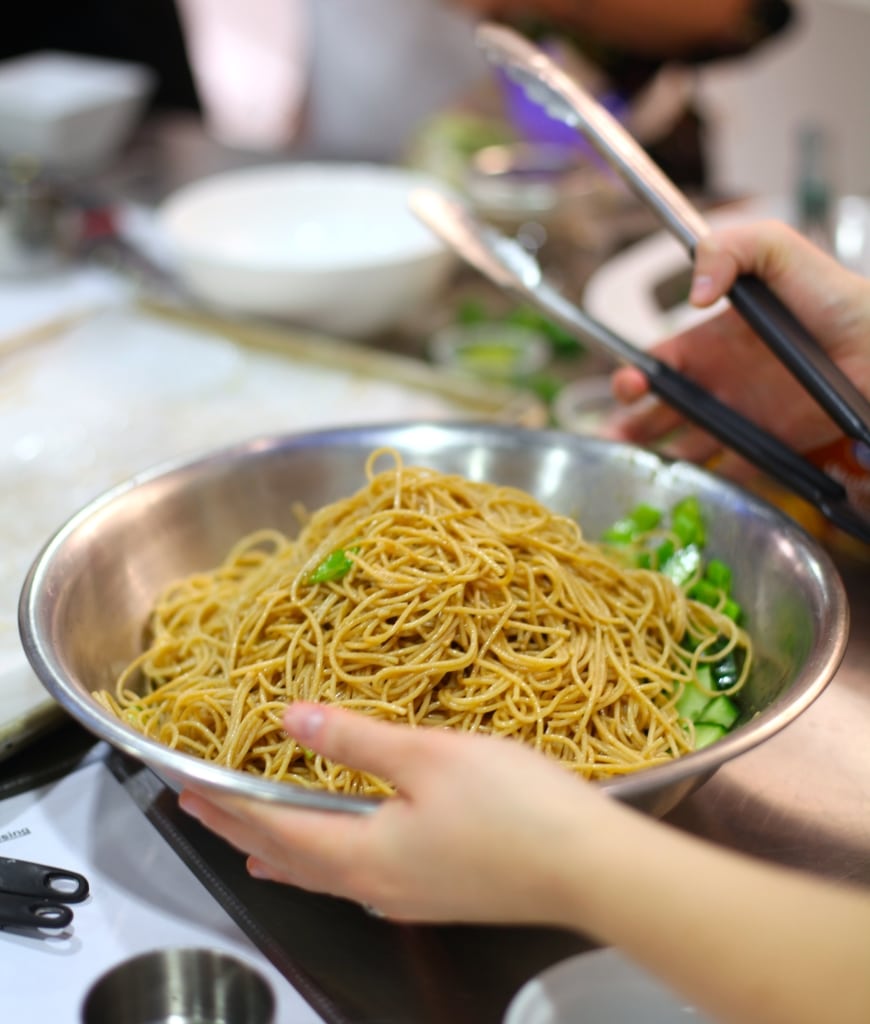 Our table was meticulous with our presentation and we all stood back to marvel at our masterpiece at the end! The final test was taking a bite and it was delicious!
Usually I have a tendency to put a NITK twist on most of the recipes I see or try but this recipe, aside from a tiny substitution of using coconut palm sugar or honey instead of brown sugar (to eliminate the refined sugars) I wouldn't change at all!
Fresh, simple, tasty, and nutritious, it was too good not to share!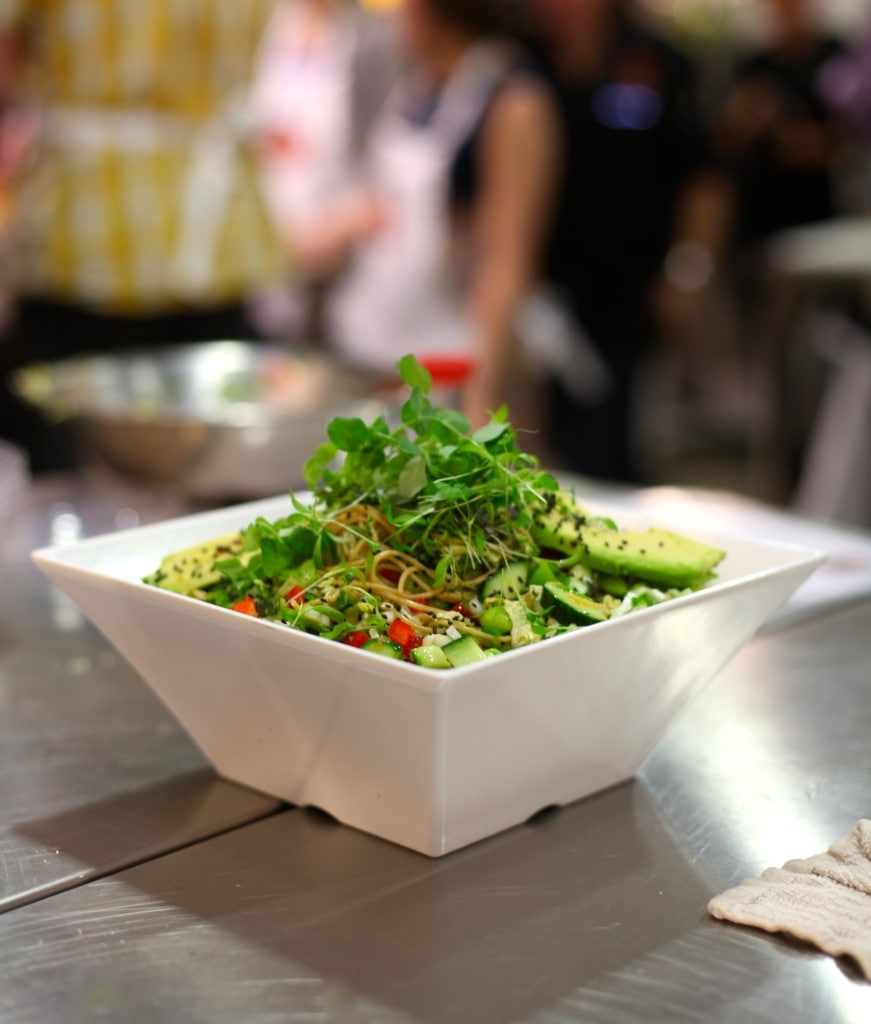 Overall the night was even better than I expected and I made a new friend (… oh yea, Chef Lynn and I are totally Facebook Friends now…lol!) 

Chilled Noodle Salad with Ginger Wasabi Dressing
Ingredients
1 pkg Catelli® Healthy Harvest® Ancient Grains Spaghettini
2 cups snow peas, thinly sliced diagonally
1 cup shelled edamame
1 small English cucumber
2 cups napa cabbage, finely shredded
1 cup red pepper, cut into matchsticks
3 green onions, thinly sliced
1 ripe avocado, sliced
¼ cup cilantro leaves
2 tbsp black sesame seeds
Ginger-Wasabi Dressing:
¼ cup seasoned rice vinegar
3 tbsp canola oil
2 tbsp soy sauce (can sub for coconut aminos for soy free)
2 tbsp lemon juice
1 tsp lemon zest
2 tsp brown sugar (I recommend swapping for coconut palm sugar)
2 tsp sesame oil
1 tsp grated fresh ginger
wasabi powder to taste
Instructions
Cook pasta according to package directions; drain well. Rinse under cold water until well chilled; transfer to large bowl and set aside.
In a pot of boiling water, cook snow peas and edamame until tender-crisp. Drain and rinse under cold water until well chilled; set aside.
Meanwhile, halve the cucumber lengthwise and use the end of a spoon to scoop and discard seeds; cut cucumber into julienne strips.
Ginger-Wasabi Dressing: Whisk together rice vinegar, canola oil, soy sauce, lemon juice and zest, brown sugar, sesame oil and ginger. Season with wasabi to taste.
Add cucumber, snow peas, edamame, napa cabbage, red pepper, green onions and avocado to noodles; toss with enough dressing to coat.
Garnish with cilantro leaves and black sesame seeds.
Notes
If you have time, you can chill the noodle dish by refrigerating for 1 to 4 hours.
Thank you to Catelli,
Chef Lynn
, and the
Get Cooking Kitchen
for this fantastic experience and introducing me to a product that promotes health and shows great improvement in the ever growing and changing food industry!
Christal
Nutritionist in the Kitch
*DISCLAIMER – THIS POST IS SPONSORED BY CATELLI, BUT AS ALWAYS THE THOUGHTS AND OPINIONS EXPRESSED ARE ENTIRELY MY OWN!
*Select photos as indicated taken by Nicole Ashley of Nicole Ashley Photography.