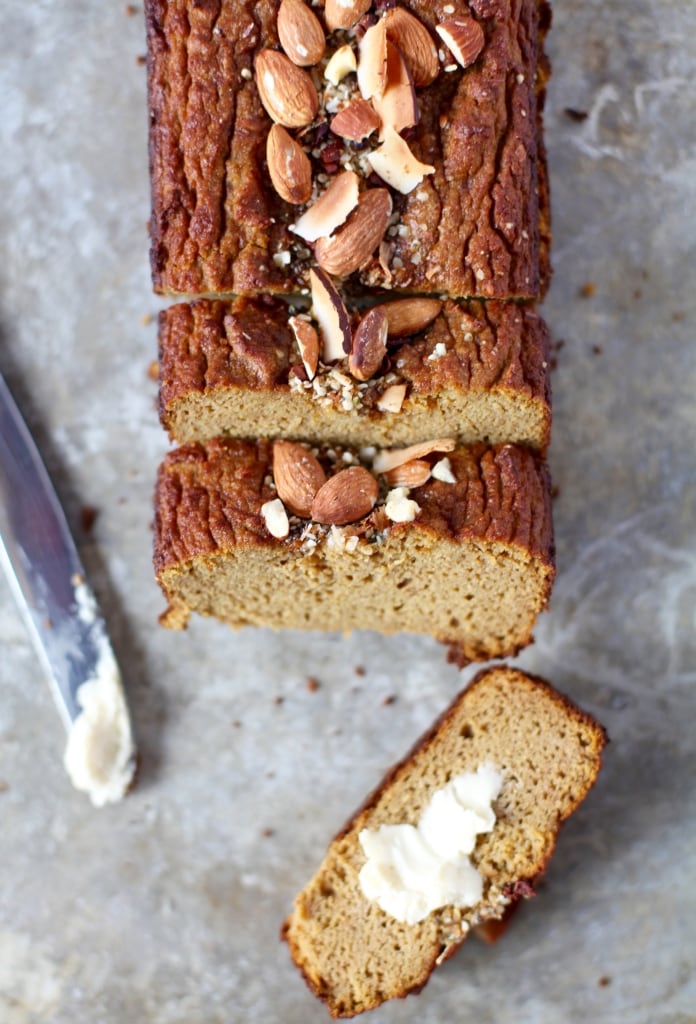 Confession:
I try to hold back, I try my best not to overload on pumpkin and practice restraint but it's SO HARD this time of year. I know it would probably be annoying to post something pumpkin every week for 2 months… but I mean, there's endless pumpkin possibilities!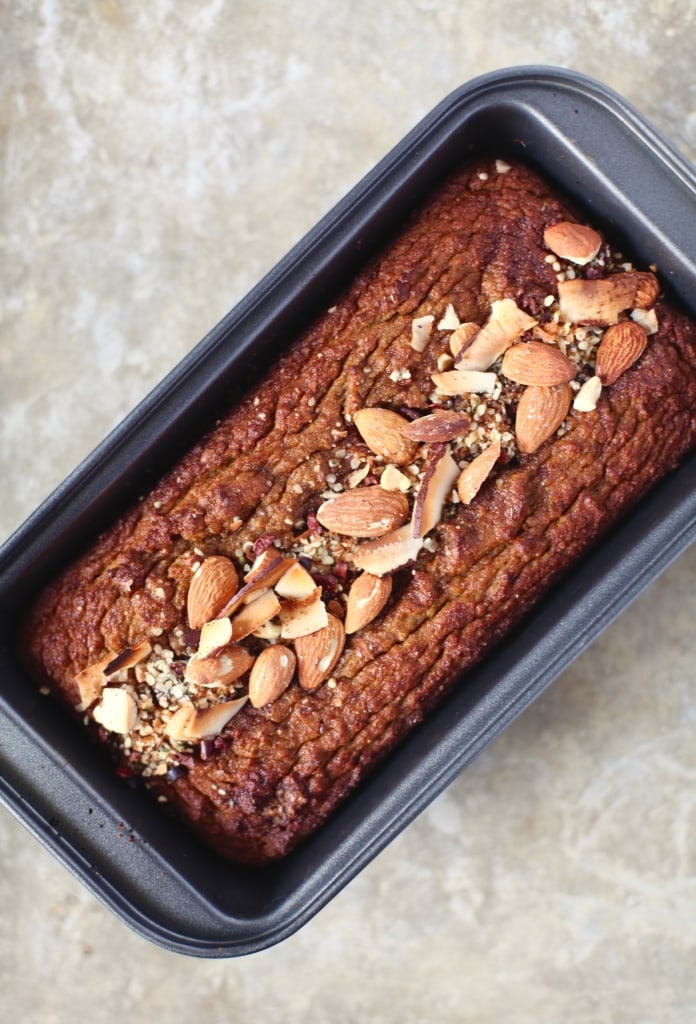 I already did a PUMPKIN Round-Up post last year, so I won't do it again this year, but I can't promise there won't be at least one more pumpkin recipe on the blog this Fall! I do have a client request for pumpkin crepes, so I'm going to see if I can come up with something!
I created this super moist, dense, and delicious 5-Ingredient Pumpkin Pie Loaf by adapting an awesome recipe from the Wellness Mama for pumpkin muffins! I had bought a can of pumpkin pie filling (naturally sweetened with cane sugar) from SPUD in a recent order and thought I'd give it a try. I usually only buy the pure pumpkin in the can, but I figured a canned pie filling with all natural, organic ingredients would be a fine compromise!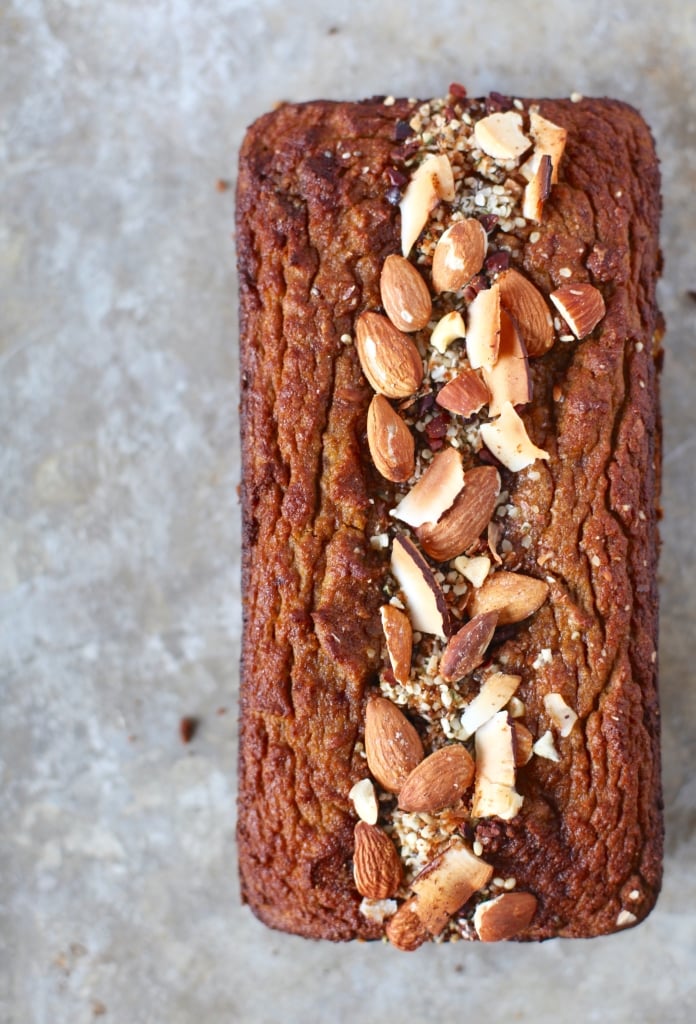 Creating this pumpkin pie loaf is a serious breeze. It's so easy you could make it with your eyes closed.
So, this is a perfect recipe to make with little ones or just whip up if you are pressed for time and want something to wow friends/family/coworkers/your cat… whoever (don't judge, my cats LOVE pumpkin!).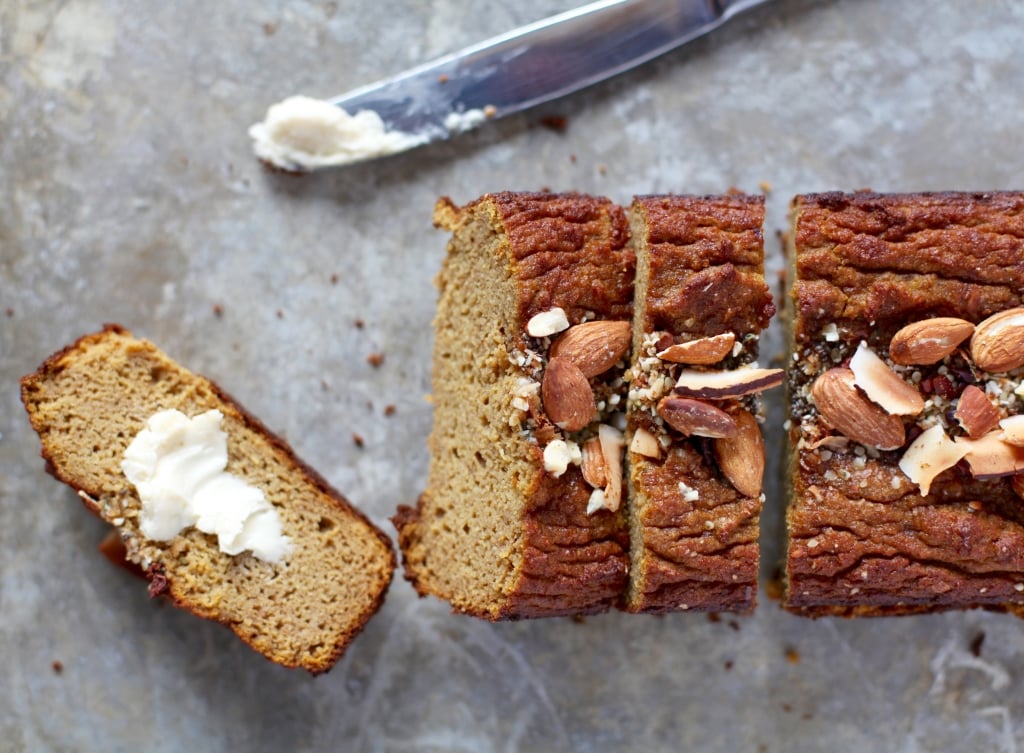 Aside from the fact that there's cane sugar in the pumpkin pie filling (which is not a biggie in my opinion…as long as one isn't overloading on cane sugar every day!), this recipe is nothing but nutrient-dense, chock-full of fibre, loaded with healthy fats, balanced with protein, and dripping with that classic pumpkin pie flavour.
Thanksgiving breakfast…snack…dessert?? Yes please!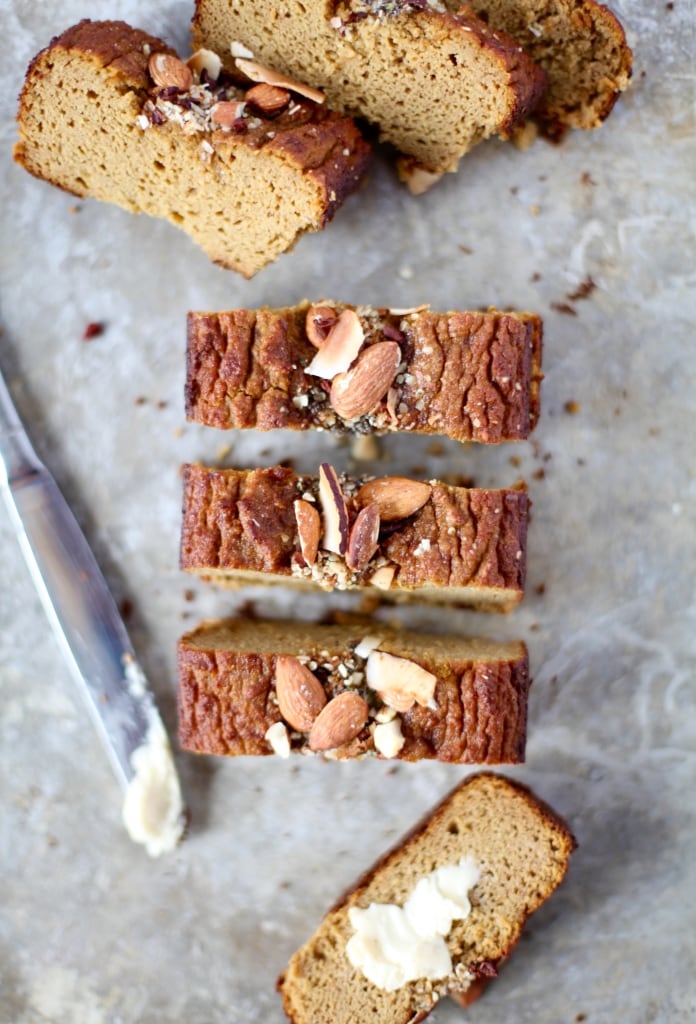 Just imagine: a thick, warm, fresh out of the oven slice, smeared with Earth Balance… heavenly!
If you aren't a fan of pumpkin, I would LOVE for you to try this recipe with sweet potato puree OR mashed banana in place of the pumpkin and let me know how it turns out! Let the experimenting begin! That's usually how the best recipes are made!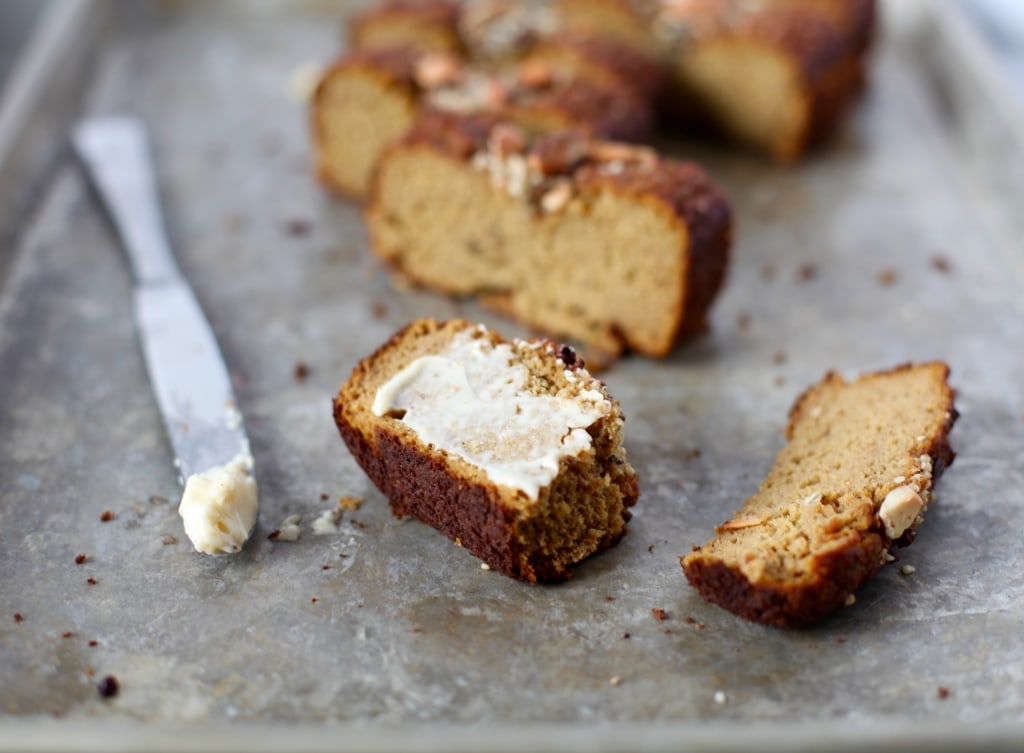 What's on your menu for (Canadian) Thanksgiving (or American if you plan this early!)? I'd love to hear about it in the comments below!  

5-Ingredient Pumpkin Pie Loaf // Grain & Dairy Free
Author:
Adapted from Wellness Mama
Ingredients
5 Eggs
1 cup organic pumpkin pie filling (I use Farmer's Market brand which is sweetened with cane sugar)
¼ cup coconut oil
½ cup coconut flour
1 tsp baking soda
Instructions
Preheat oven to 400 degrees
Add eggs and pumpkin pie filling to a bowl, whisk together with an electric beater or by hand.
Add in coconut flour, melted coconut oil, and baking soda and continue to mix until smooth.
Pour into a well greased (with coconut oil) SMALL loaf pan (8x4).
Bake for 22-25 minutes until lightly browned and set in middle, use a toothpick to check.
Additional toppings: I used almonds, shaved coconut, coconut sugar, and hemp seeds.
**Recipe Adapted from Wellness Mama
Have a lovely Sunday!
Christal
Nutritionist in the Kitch