This is the ideal summer salad, it really doesn't get any better than this. Peaches are in their prime and it is totally BBQ season, so combining the two into a salad, makes heaven on a plate. Really.
This salad can be made vegetarian, or like in the picture, with chicken breast. For the hubby, I added prosciutto (a cured ham, you'll see this in one of the pics), which also really compliments the peaches for those pork eaters out there…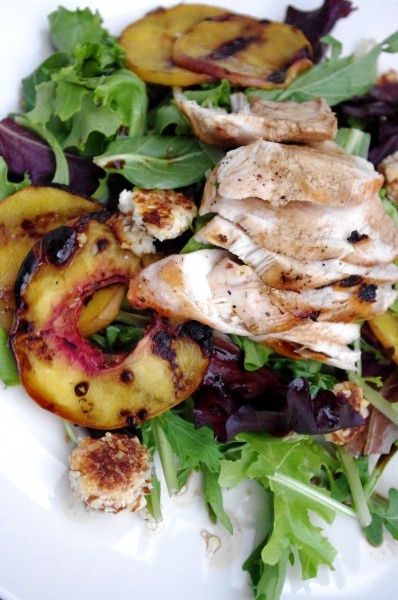 I love salads, they are always super easy to put together, contain a ton of bright colors, delicious flavors, and combinations of yummy nutritious bites… they really are a wonderful summer meal. I always go light on the dressing when making my own salads, and I always get the dressing on the side when I am at a restaurant, because well, after working in the industry for a decade I came to the conclusion that most salad dressings are just a lovely addition of fat, calories, and usually sugar. The dressing for this salad was a simple mix of extra virgin olive oil and balsamic vinegar, whisked together with a sprinkle of pepper. Simple, perfect, and all the salad really needed.
Peaches, the summertime staple that they are, were a perfect choice for the salad. They taste amazing grilled and they also have a lot of nutritional value. They are very high in vitamin A, and vitamin C, and also contain a great amount of potassium (almost 20% of the required daily intake!).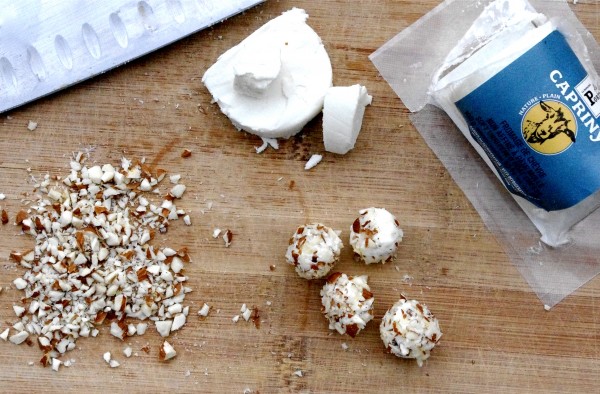 The goats cheese adds just that extra little delight. I love the creamy, soft texture of the cheese and the tangy taste. Goat's cheese is also quite light in calories and fat compared to most other cheeses, at only around 70 calories per ounce. I used chopped almonds to crust the goats cheese then baked it to give the cheese that little crisp on the outside and soft warm inside! Yummmm…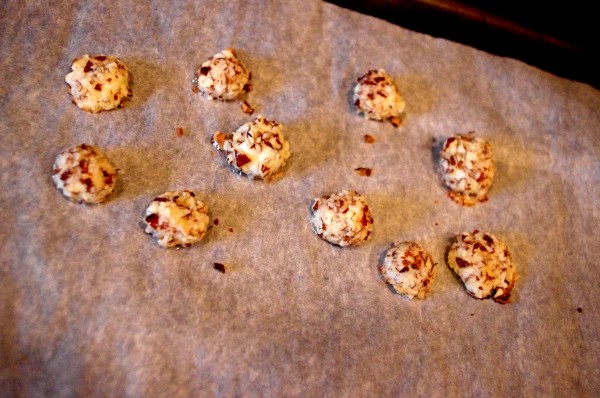 Grilled Peach & Goat Cheese Salad
Ingredients
6 almonds, chopped into little bits
2 ounces goats cheese
4-6 cups salad greens
2 ripe peaches , each cut into 8 wedges, or sliced into rounds
2 – 4 ounce organic chicken breasts (skinless, boneless) (optional)
2 tablespoons balsamic vinegar
1 tablespoon extra-virgin olive oil
Salt and freshly ground black pepper , to taste
2 slices prosciutto (optional)
Instructions
Preheat oven to 400° and preheat BBQ to medium heat. Place chopped almonds on a small plate. Separate goat cheese into 6-8 round balls. Gently roll each goat cheese round in almonds, pressing gently so they adhere.
While oven is heating, slice peaches and toss in a bowl with a tiny drizzle of the olive oil, balsamic vinegar, and a pinch of salt. Toss to coat.
Lightly season chicken breasts with salt and pepper.
Place chicken on BBQ, then place peaches on BBQ and leave for 2-3 minutes on each side to develop good grill marks and slightly caramelize.
While chicken and peaches are cooking, place goat cheese rounds on a parchment-lined baking sheet and cook 10 to 12 minutes, until almonds are lightly browned. Remove and let stand 2 to 3 minutes.
Whisk together olive oil and balsamic vinegar to make dressing.
Divide salad greens among 2 serving plates; top each with grilled peaches, chicken, prosciutto (if using), and 3 or 4 goat cheese rounds. Drizzle with dressing and season lightly with salt and pepper, if preferred.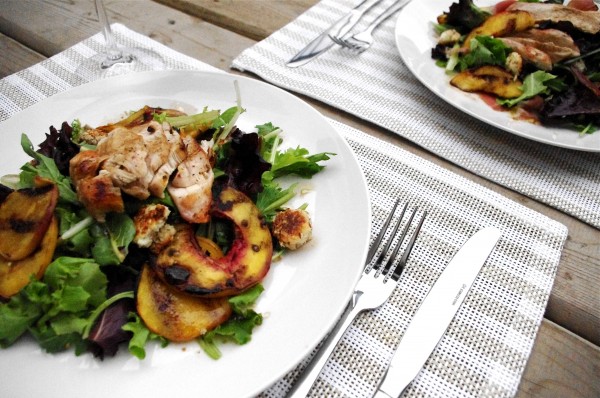 So wonderful, seriously, LOOK at that peach slice, all caramelized, sweet, and tasty. Dinner tomorrow night? I think you know what you're making!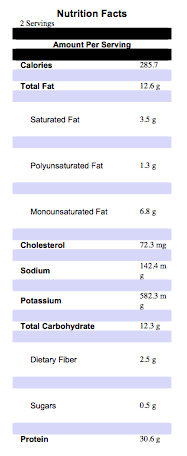 Nutritionist in the Kitch