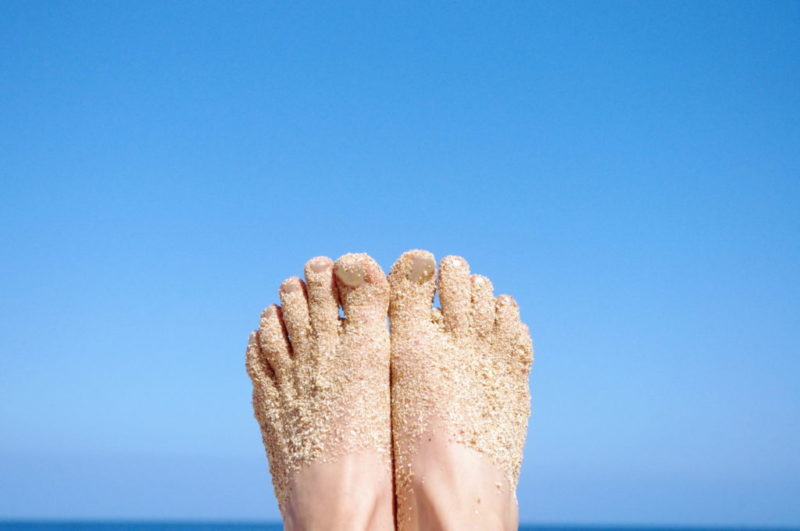 Ok, prepare yourself for an incredibly long post with TONS of pictures… I seriously couldn't help myself! I'll keep the chit-chat simple and let you enjoy the pics!!
Hawaii is well… paradise?! Is that even the best word to describe the ultimate amazingness that is Hawaii! I love it here! I've traveled to quite a few tropical places and Hawaii is definitely making top rank on my list. Our trip is already more than half over.. booo! But I'm going to soak up every single day we have left and continue to take it all in! Here is what we've been up to, and what (mostly) healthy eats I've been enjoying.
We started our trip with a couple days in Waikiki beach, the beach is beautiful but it's definitely tourist central.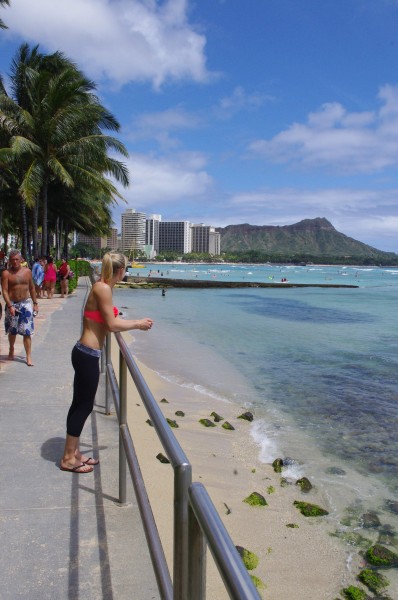 We spent our whole first day on the beach and walking around Waikiki taking it all in, especially that gorgeous view of diamond head, I was staring in awe at it in the picture above. The next night we picked up my parents from the airport (they came a day later than us) and we all went to the Shorebird Restaurant at the Outrigger Reef for dinner.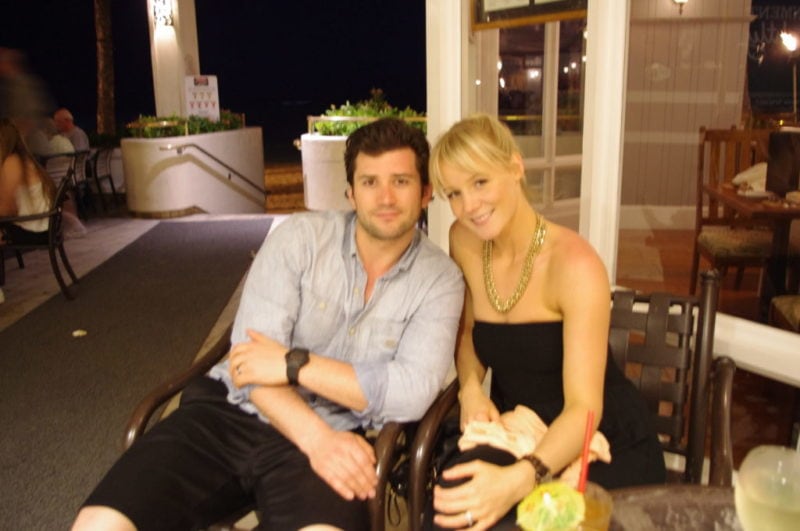 This was a super cool restaurant with an amazing ocean view where you grill your own food! I had the Mahi Mahi and it just felt like a huge communal BBQ, tons of fun. The salad bar was also super delicious with tons of healthy choices like fresh veggies, quinoa salad, pineapple, and purple sweet potato. It was fun to get involved and grill my own food!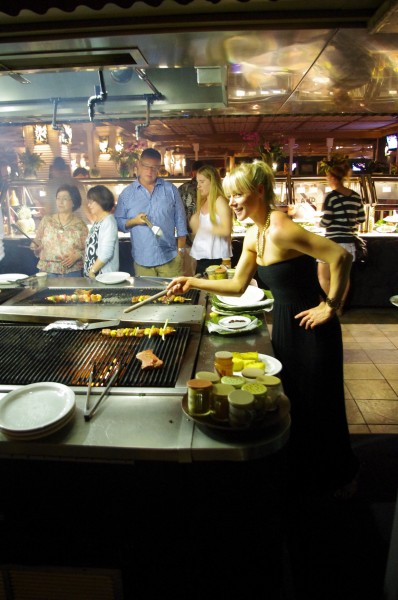 After a couple days in Waikiki we packed up into our jeeps and headed out to the North Shore of Oahu! This is where we are spending the rest of our time in Hawaii, just outside of the low key, surfer town of Haleiwa. I LOVE the feel out here, so much more my pace than Waikiki.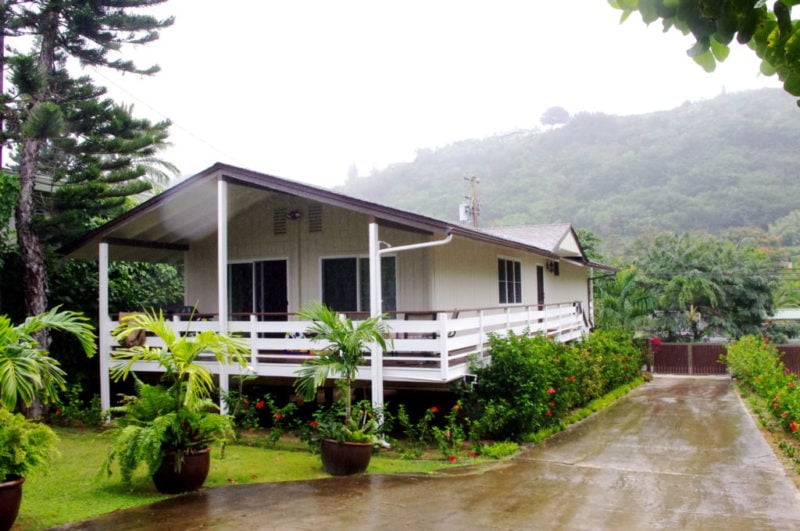 We rented our awesome vacation rental through VRBO.. I totally recommend this! It's so nice having the comforts of home and truly experiencing what it's like to live on the island.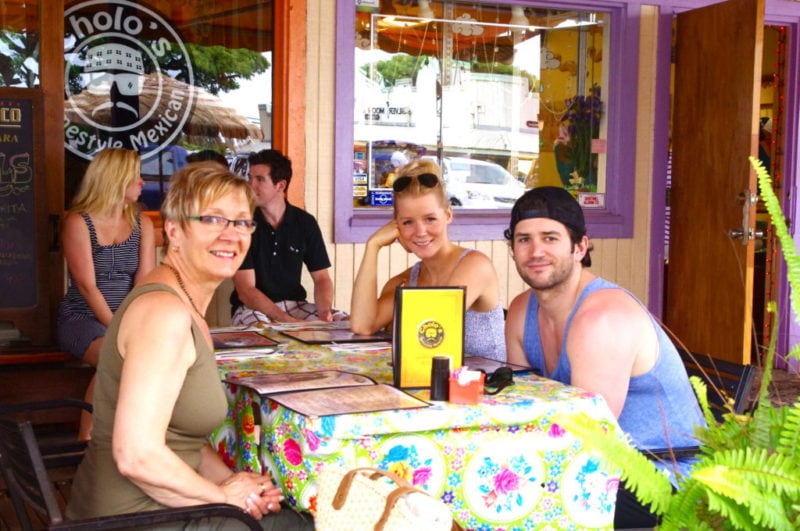 Our first day on the North shore was a little rainy so we drove into Haleiwa and explored the cool town! We stopped for lunch at an awesome Mexican restaurant named Cholo's. It was delicious.
I had a taco salad with shredded chicken, rice, beans, lettuce, tomato, and olives… sans the taco.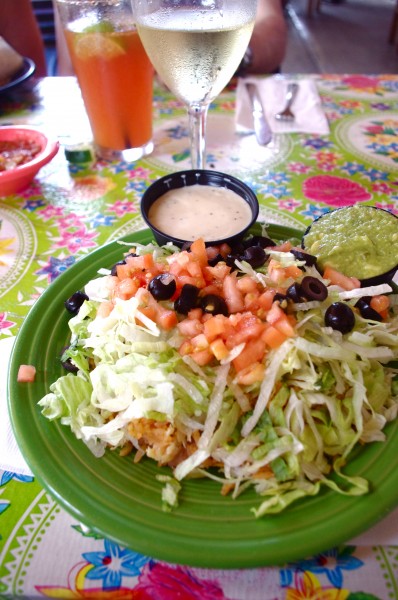 Oh, and some wine of course. 😉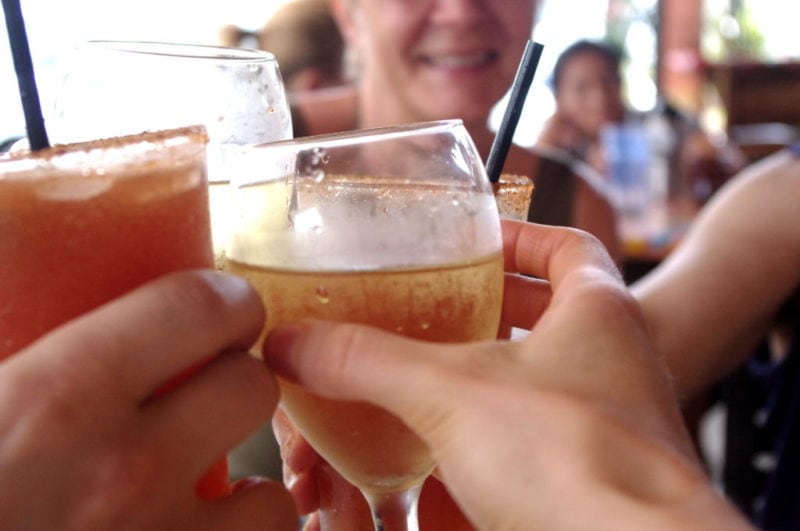 The next day was gorgeous. Clear blue skies, turquoise waters, hot bright sun, perfection. I picked up this cheeky pink bikini just for this Hawaii trip, and I love it.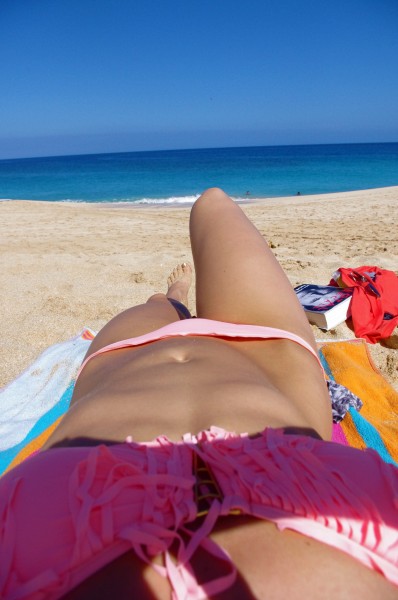 After a few hours in the sun (because lying on the beach totally tires you out..! ;)) we decided to drive back into Haleiwa and find this famous shrimp truck I had heard many things about.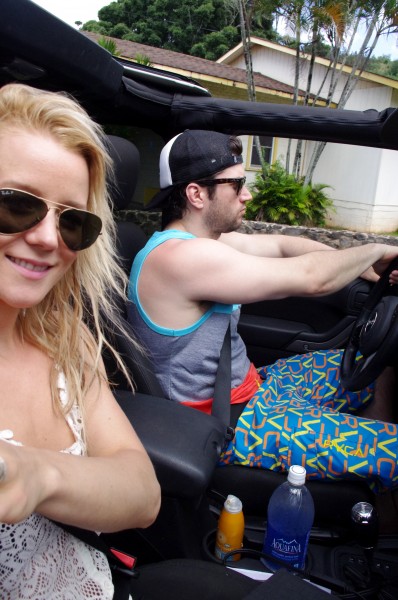 Giovanni's Shrimp Truck is supposed to have the best shrimp on Oahu, and I would have a hard time arguing that.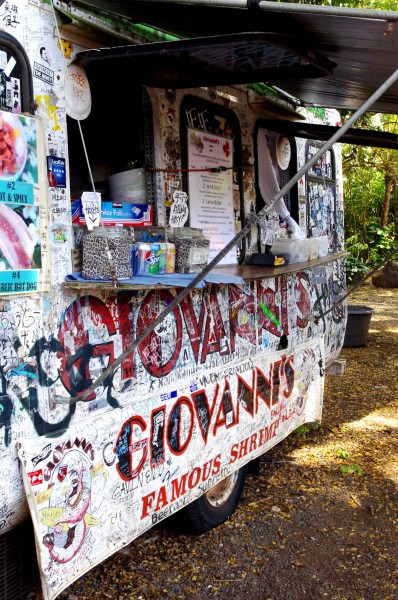 I got a half size shrimp scampi plate and it was deeeelicious! I wouldn't say it's the healthiest, but I enjoyed the shrimp and the hubby ate my rice. Then I whipped up a quick salad when we got home.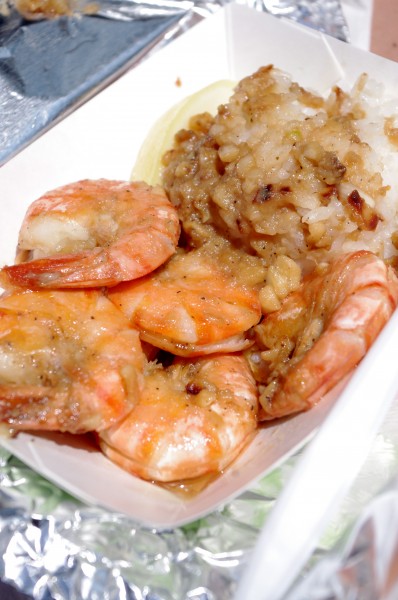 That night I enjoyed some raw ahi tuna sashimi (that I picked up when we did our big Costco stop the day before) with a side salad, and some grilled asparagus. A tasty and healthy dinner. I love the availability of seafood here, we just don't get the same selection at home in Alberta so I've been all over the seafood here.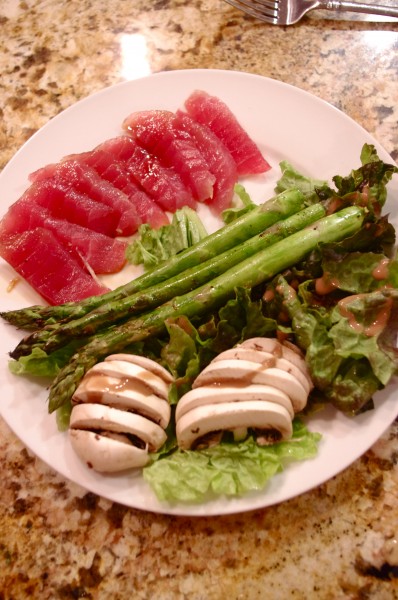 The next day we searched for another famous food truck on the North Shore called Shark's Cove Grill. We actually happen to be staying about a ten minute walk away from this place so it wasn't hard to find.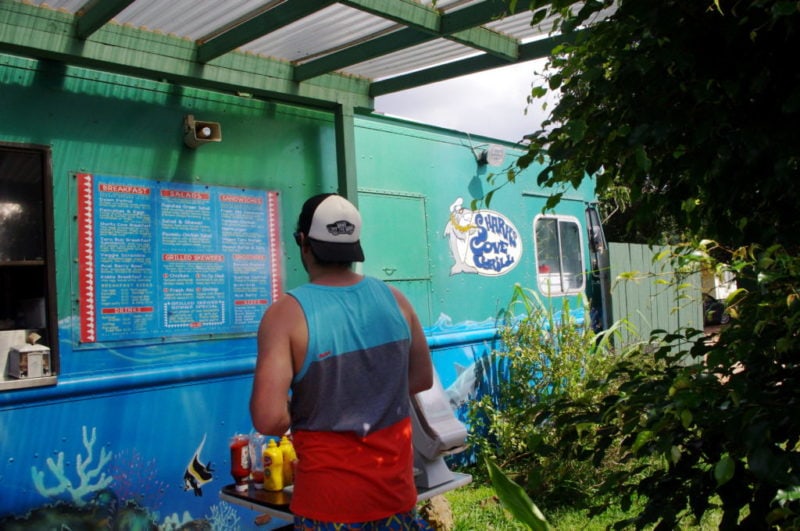 The whole culture of food trucks here is awesome and we've had a great time checking out different ones.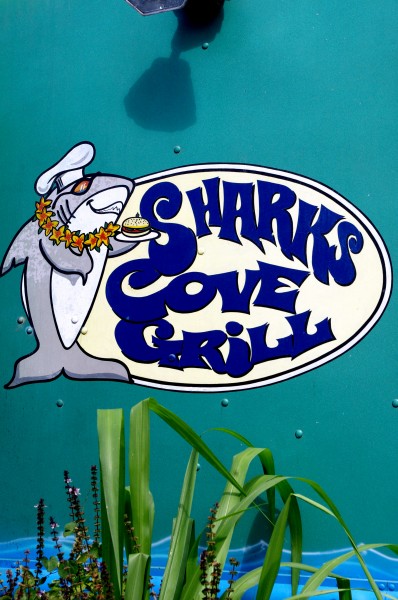 I enjoyed the Paumalu Salad which had grilled chicken, fresh pineapple, green onion, and a super tasty peanut dressing. I didn't realize they put these little chip things on the salad, which I would have rather gone without, but the hubby helped me out with those. 🙂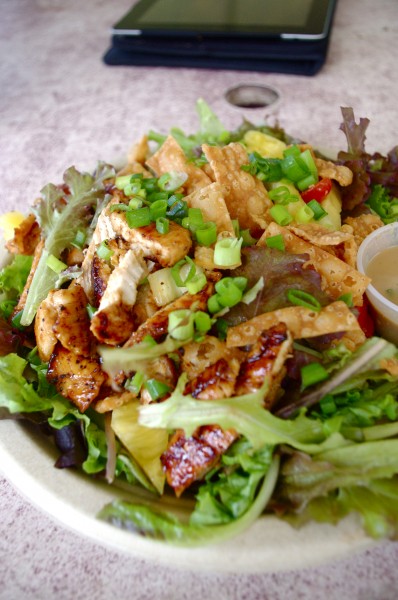 That night, back at the beach cottage, we grilled up some prawn skewers, organic chicken breasts, pineapple (grilled is unreal delicious), asparagus, peppers, and I roasted some of my new love.. purple sweet potatoes, known as Okinawan potatoes, which are a locally grown staple of Hawaiian cuisine.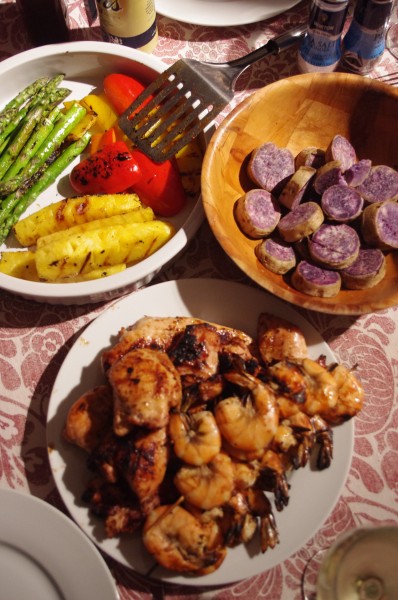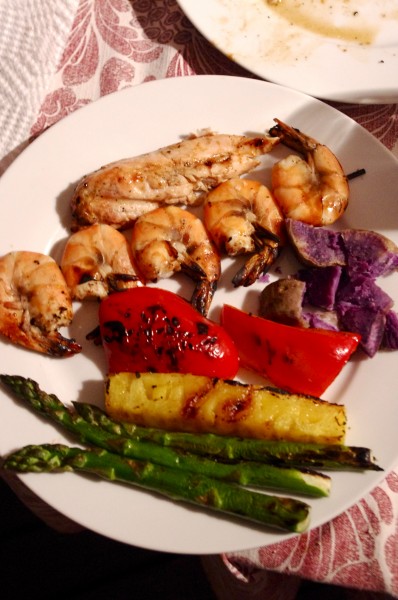 The next morning I woke up rather early and decided it was time for a beach run! My Dad got up shortly after me so I cooked us up a batch of two pancakes! One for me, one for Dad. I wanted something small to eat before my run, because I knew the hubby and I were going to search for an Acai bowl for breakfast.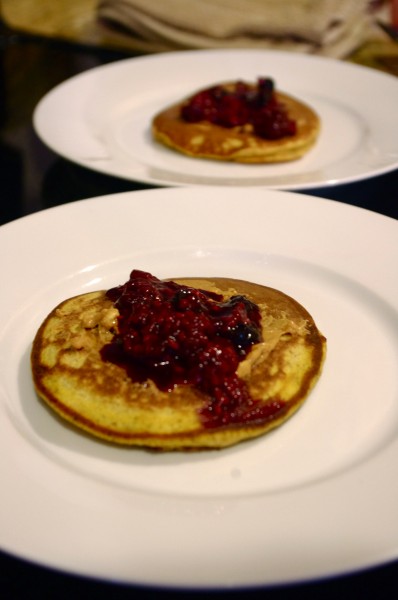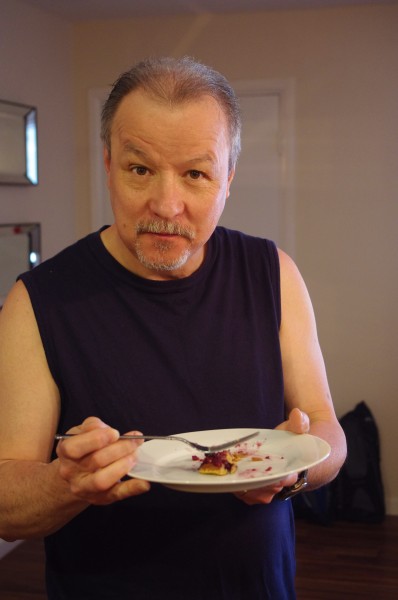 I topped each pancake with a tiny bit of peanut butter and warmed berries! Dad approved!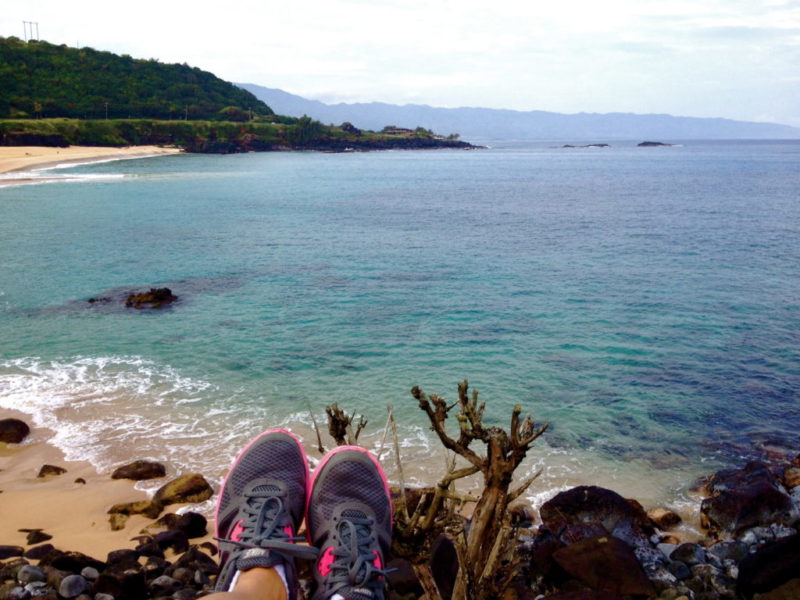 My run was fantastic. I stopped halfway to take in the view… seriously, can I run here every morning? I honestly wouldn't even dislike running at all if this could be my morning run every day… 🙂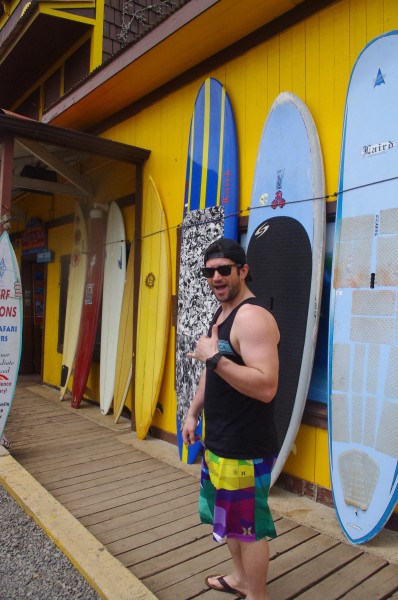 After my run, the hubby and I headed into Haleiwa to check into surfing lessons and to search for the famed Acai Bowl I had heard about. We stopped at Haleiwa Bowls, a little stand known for their delicious take on this bowl.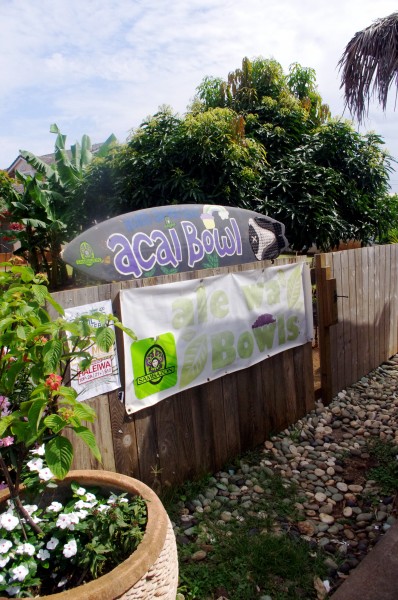 The picture below will give you a good idea of what an Acai Bowl is… and my description of an Acai Bowl…
YUM, yum, yum, yummmmmmmmmmmmmm.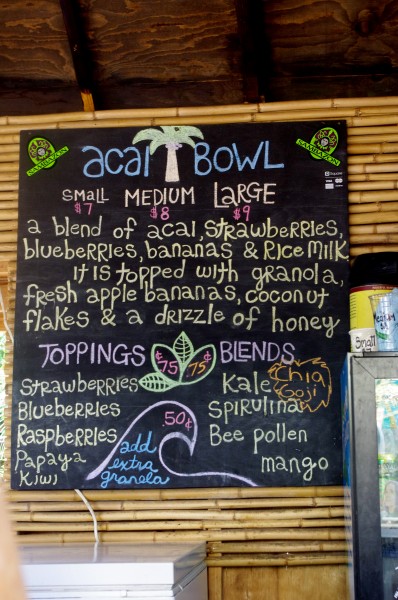 I knew that the Acai Bowl would be a whole lot of good fruity carbs so I brought along a ziploc of my own protein powder to mix into the bowl.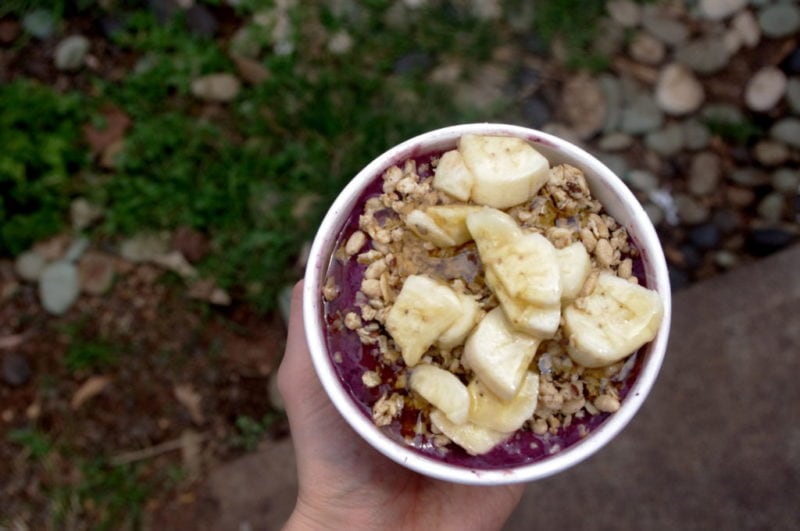 By mixing in the protein powder I upped my protein intake and the carbs helped me refuel after my run.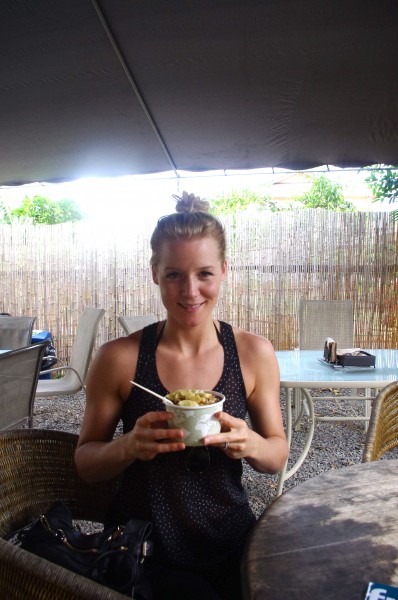 We will definitely be getting another one.. or three… of these bowls before we leave Hawaii. They are amazing!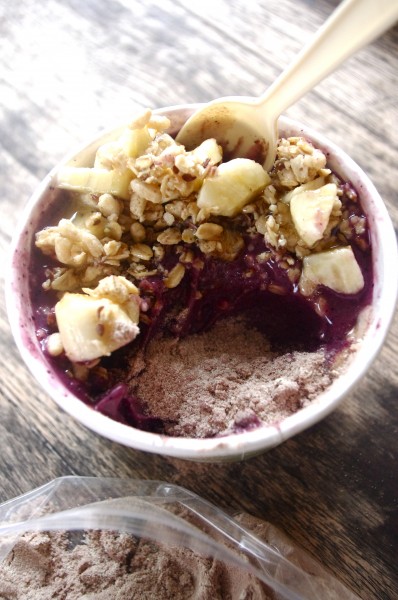 After hanging around Haleiwa we decided to keep driving around and explore some more. We came across this little Kahuku Farms stand that was selling local produce and of course had to stop.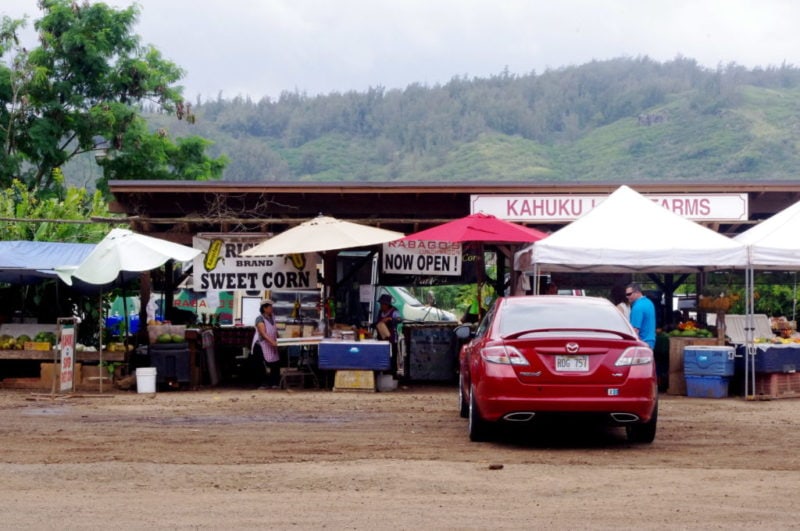 I loved the colors of all the fresh fruit and veggies!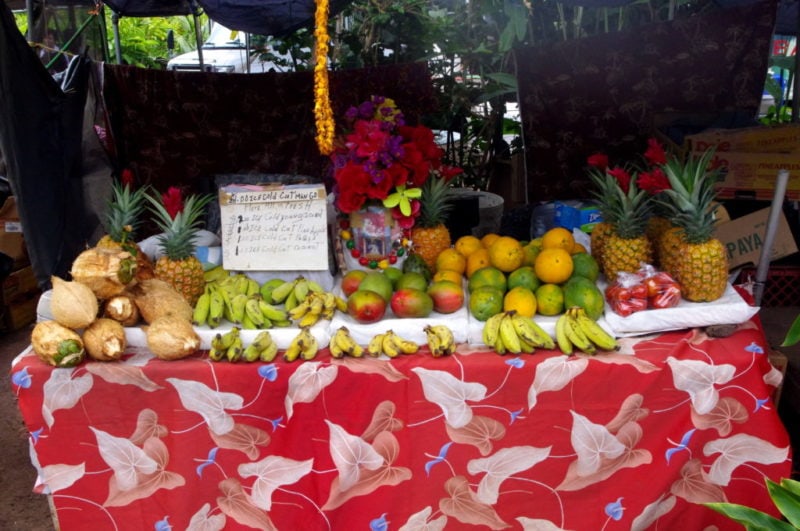 We picked up some corn-on-the-cob, lemons, limes, and mango!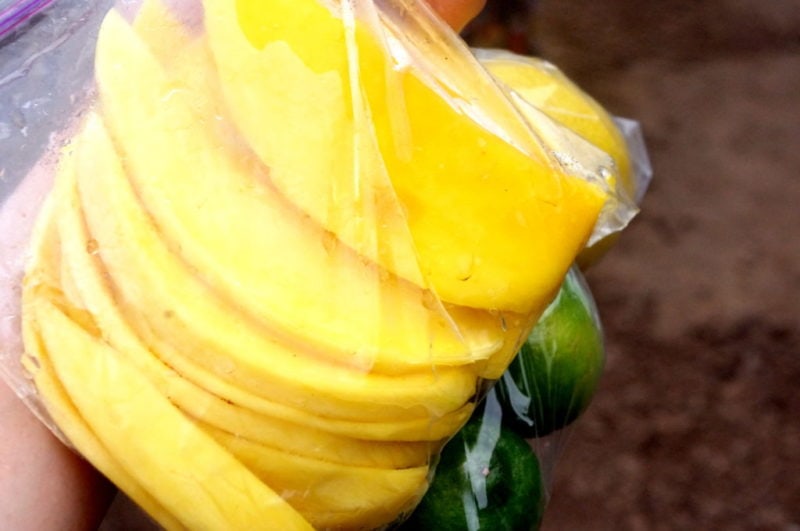 Later for lunch, I made a salad with leftovers of chicken and sweet potato from the night before, and used some of the fresh mango for the salad along with some avocado, tomatoes, and hard boiled egg whites.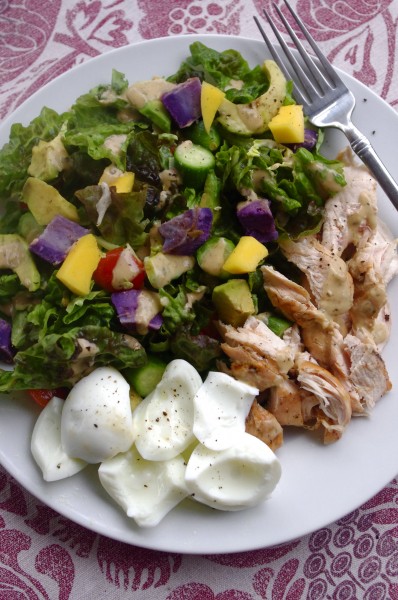 After lunch we walked over to Shark's Cove and got a good afternoon of snorkeling in! The fish were beautiful! I wish my camera was waterproof because the pictures would have been spectacular, but the hubby used his Go-Pro camera so at least we have some video.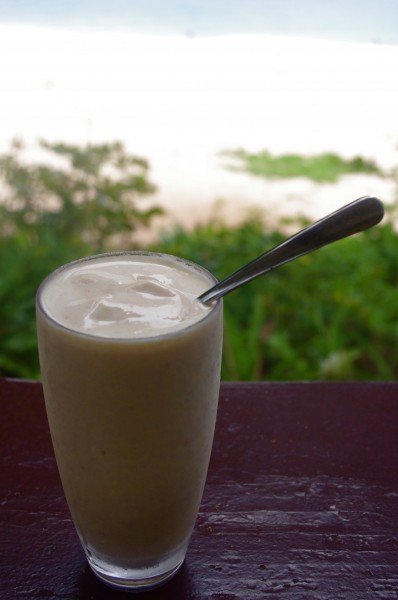 Snorkeling really is quite a workout when the tide is strong, which it was (I banged up my knee against a rock!!), so when we got back to the cottage I made one of my fave protein shakes.
Frozen peaches, ice, protein powder, and water, blended up into a nice ice-cream like smoothie. Perfect!
Oh! And a few of these amazing little salted macadamia nuts!!
Before dinner we caught the most amazing sunset, just sat on the lanai and took it all in with a glass of wine… oh and of course a cliche yoga post "holding" the sunset.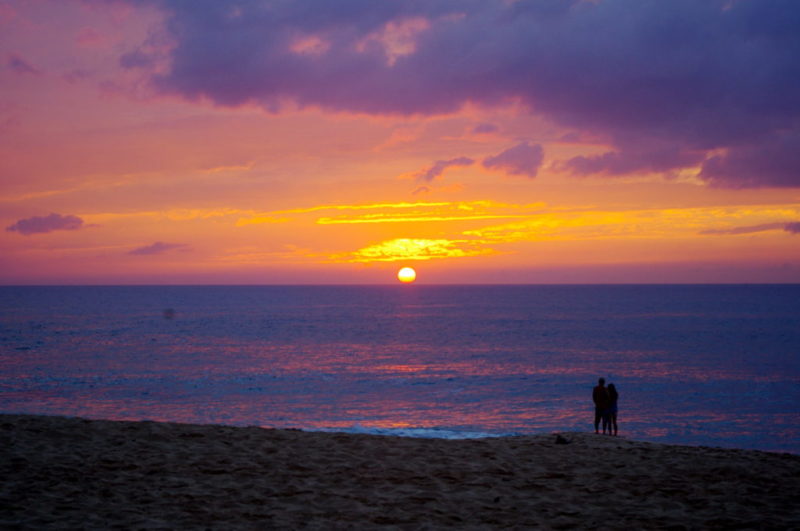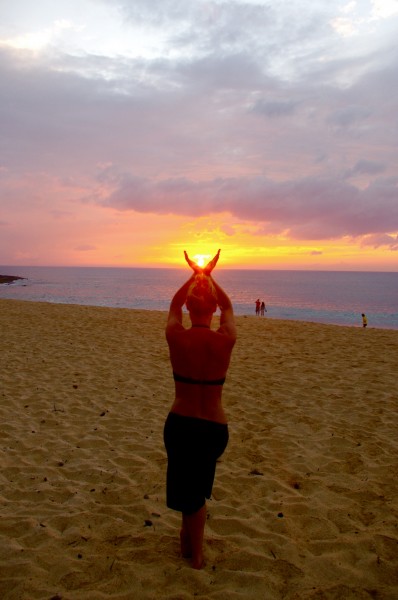 For dinner was grilled Ahi Tuna.. yes, we've done a lot of grilling… with more grilled veggies, pineapple, and salad. The Ahi Tuna was perfection… just seared and still nice and rare on the inside with zero fishy taste!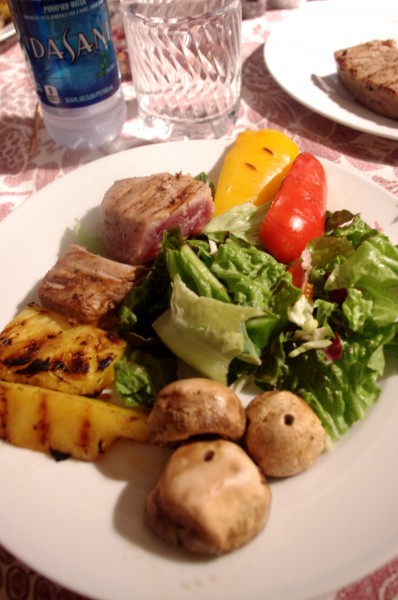 If you've made it to the end of this post I congratulate you!! I KNOW it was a long one!
I hope I have also convinced you that it is imperative that you come visit Hawaii if you have never before!
Have a wonderful day, today the hubby and I are off to do some surfing!!!
Christal
Nutritionist in the Kitch… still in Hawaii, having the best time ever!!!