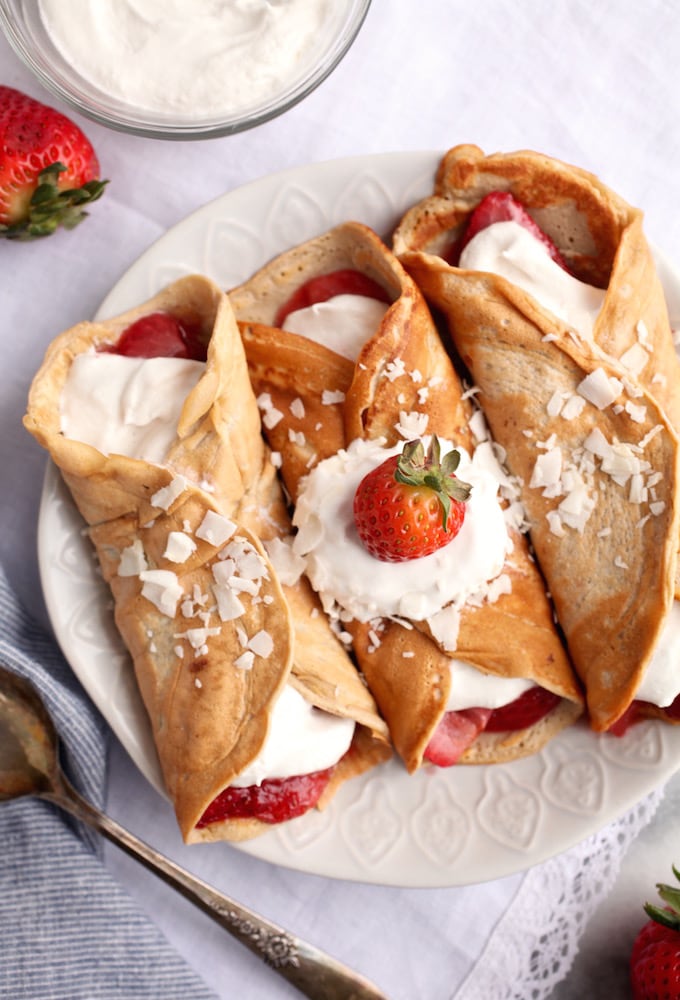 If there's one meal in the day that I absolutely, without a doubt, always look forward to…it's breakfast. I often go to bed thinking about breakfast the next day and the funny thing is I don't change it up that often. I usually have a tasty protein smoothie, free-range eggs and gluten-free toast, or coconut yogurt with fresh berries and granola. On weekends I get a little more creative with pancakes, fruit salad, organic breakfast sausages, egg scrambles, or this recent breakfast addition… Strawberry Shortcake Protein Crepes made with Genuine Health fermented vegan proteins+ in natural coconut.
Breakfast is definitely the meal of the day that if I go without it…helloooo miss cranky pants. I'm sure that partly has to do with low blood sugar levels from skipping it, but it's also partly disappointment because it's my all-time favourite meal of the day.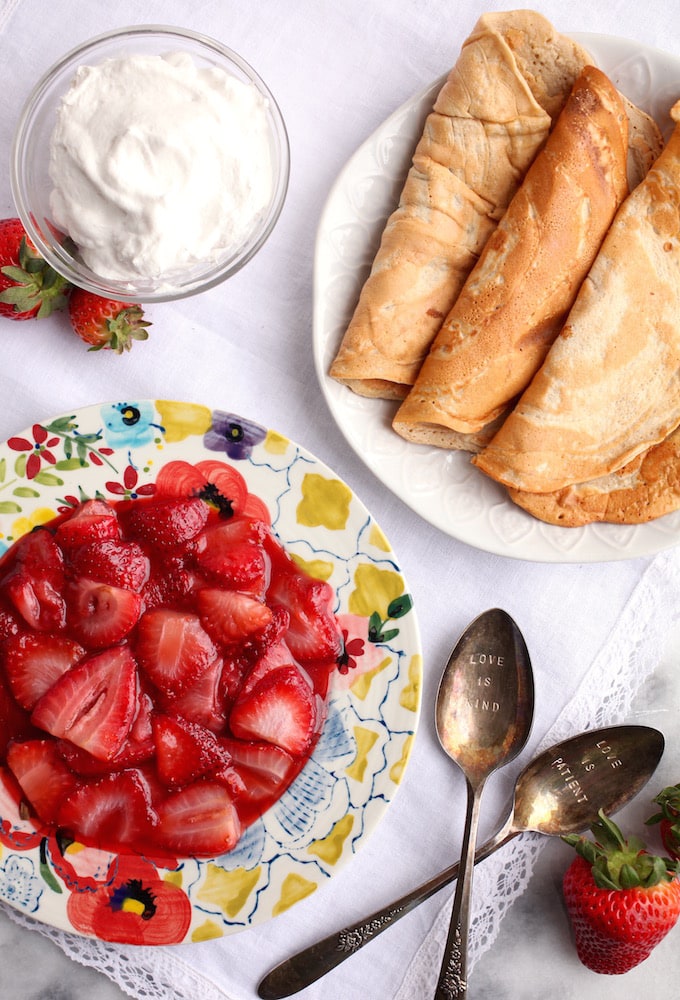 As you probably already know I'm a fan of Genuine Health and I've been using their products personally for the last several years, and I also often recommend their products to my clients. I always enjoy testing out a new product when it rolls out and recently Genuine Health came out with a new flavour for their fermented vegan proteins+…natural coconut!
If you are a regular NITK reader you also know that coconut is pretty much one of my favourite ingredients. So, needless to say I was very excited to give this natural coconut flavour a try. Initially I was going to add it to a smoothie but then I thought I'd play around with a different breakfast idea. I decided to get a little more creative and make crepes!
I call these "Strawberry Shortcake" crepes because there's something about the natural coconut flavour in the protein powder, along with the coconut flakes and coconut whipped cream, that gives them an especially "cake-like" taste and texture!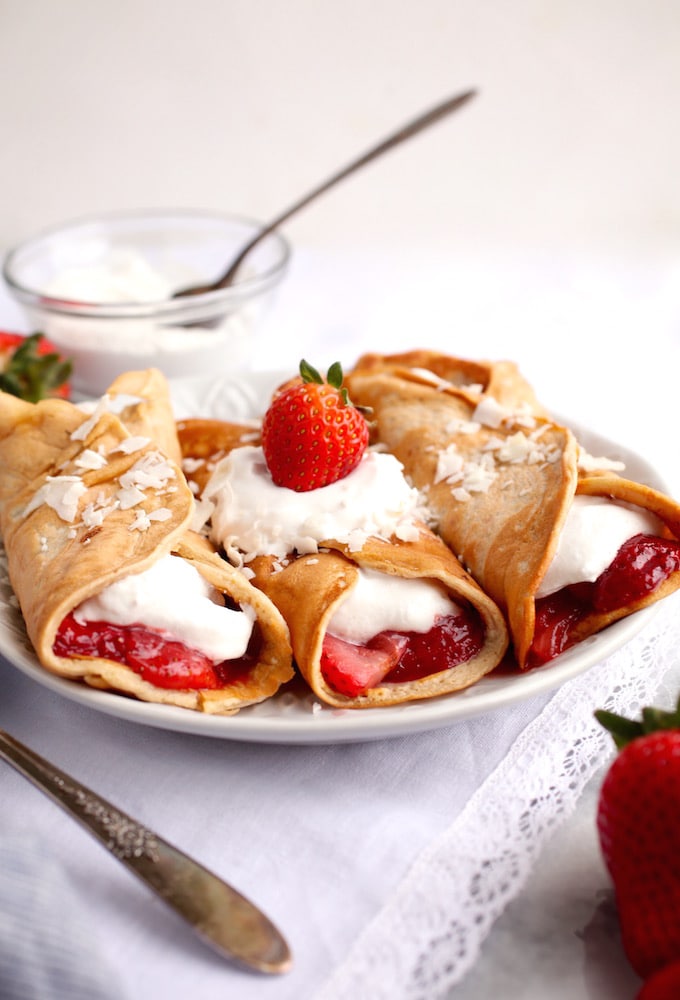 When it comes to breakfast I mix it up between sweet and savoury options but no matter what, even with naturally sweet breakfasts, I always ensure there is a protein component. Protein at breakfast is crucial for stabilizing blood sugar levels, keeping you satisfied, and even stimulating metabolism in the morning. So often we forget to include protein at breakfast and make our meals very carbohydrate-focused instead. Think muffins, cereal, bread, croissants, oatmeal….etc.
There's nothing wrong with healthy complex carbohydrates and fruits in the morning, as they are a perfect source of energy to fuel the body for the day, but having only carbohydrates can be an issue. A carbohydrate-heavy breakfast that is out of balance because of a lack of healthy fats and proteins will leave you feeling hungry about 1 hour later and often leads to sugar cravings.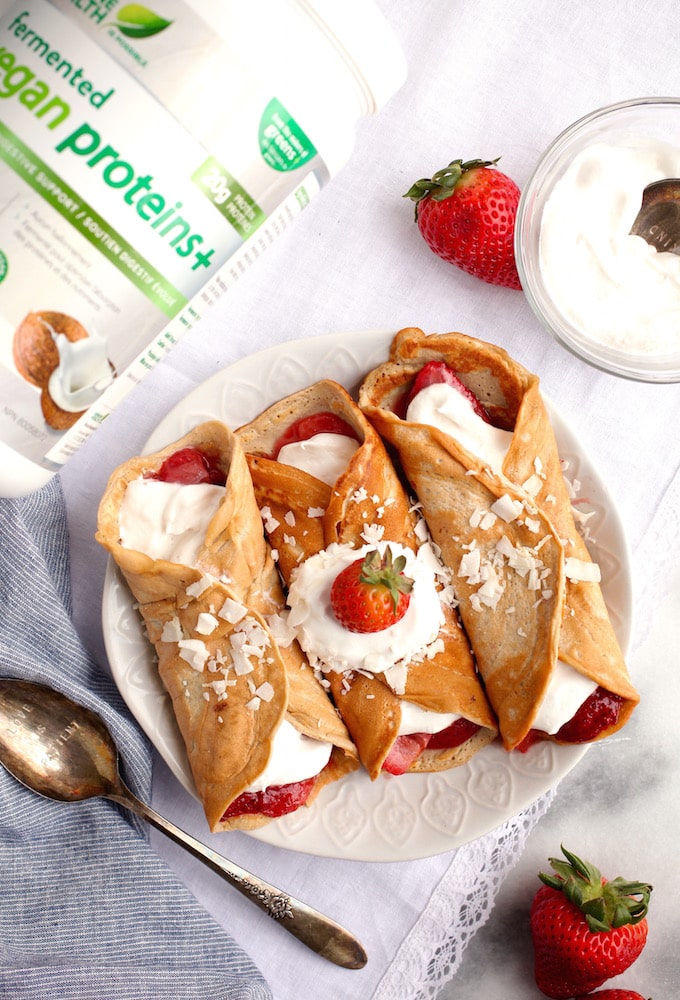 Working with clients over the years I've seen this common "breakfast issue" again and again. As soon as we make consuming protein in the morning a focus there is always a positive change in appetite, mood, cravings, and energy. That's why I recommend incorporating healthy protein options such as eggs, Greek yogurt, organic breakfast sausage, smoked salmon, or protein powders in this very important meal.
The Genuine Health fermented vegan proteins+ is a unique product because the plant proteins used are fermented (obviously!). This fermentation makes the digestion and absorption of the proteins much easier which ultimately increases the body's use of these proteins by up to 40% compared to non-fermented plant proteins. On top of that, the proteins are derived from 7 different plant sources which offers a variety of amino acids and nutrients rather than protein powders made from just 1 single plant protein source like brown rice or hemp.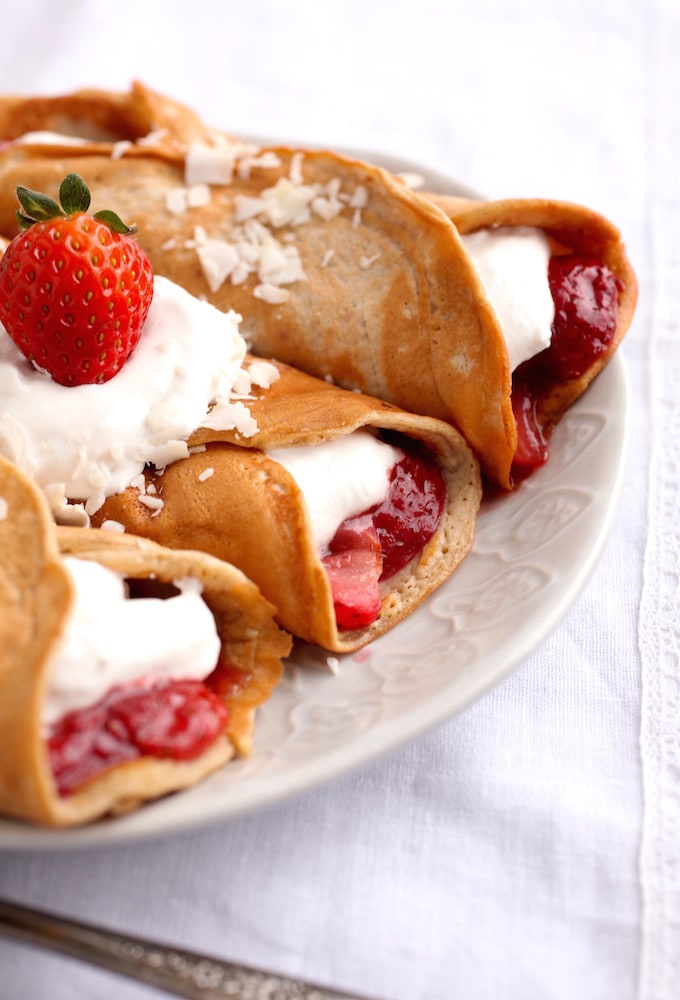 With all the protein powders on the market it can be confusing, and trust me I've tried a lot. When I had to switch from whey protein to a non-dairy option because I discovered I had a dairy allergy, I spent many hours researching and testing out different protein powders and I can definitely vouch for the beneficial aspects of fermentation in plant proteins.
…I can also vouch for these crepes. You've got to give them a try! 
How do you make sure you get protein in at breakfast? Or, have you not thought much about it? I hope this post has convinced you to give protein in the morning some attention. Tell me about in the comments below! 

Strawberry Shortcake Protein Crepes
Ingredients
Crepes:
1 scoop genuine health fermented vegan proteins+ natural coconut
½ cup + 2 tablespoons egg whites
1 tablespoon pure maple syrup
2 tablespoons almond milk
½ tablespoon coconut oil
Strawberry Filling:
1½ cups sliced strawberries
1 tablespoon pure maple syrup
Garnishes:
⅓ cup coconut whipped cream*
1 tablespoon flaked coconut
1 fresh strawberry
Instructions
Add the crepe ingredients to a small food processor or blender and process/blend until smooth. It should resemble a thin pancake batter (if the mixture is too thick you can add additional almond milk).
Heat a large, non-stick pan or a griddle over medium heat and add in the coconut oil to coat the pan or griddle.
Using a ladle pour a very thin layer of the batter and swirl with the back of the ladle to spread the batter out, making a thin pancake about 6-7" inches in diameter.
The crepe will cook quite quickly, so carefully flip after 30 seconds or so, or until the crepe is bubbling. Cook for an additional 30 seconds on the other side.
Repeat the process to use up all of the crepe batter. I made 3 crepes total.
Once the crepes are cooked, set aside in a covered dish to keep warm.
Using the same pan add in the strawberries and pure maple syrup and saute until the strawberries become soft and the "sauce" thickens slightly and bubbles. Remove from heat.
Assemble the crepes by lining them side by side on a large plate. Fill each crepe with ⅓ of the strawberry and top with a dollop of coconut whipped cream (see notes).
Fold the crepe edges over the filling then top with another dollop of coconut whip cream and the flaked coconut.
Enjoy!
Have a wonderful Sunday!
Christal // NITK
*DISCLAIMER: THIS POST HAS BEEN SPONSORED BY GENUINE HEALTH BUT AS ALWAYS THE THOUGHTS AND OPINIONS ARE MY OWN. I WOULD NEVER RECOMMEND A BRAND I DO NOT STAND BEHIND AND ONLY SHARE THOSE I HOPE YOU TOO WILL ENJOY. THANK YOU FOR CONTINUING TO SUPPORT THE LIFE AND GROWTH OF NUTRITION IN THE KITCH!