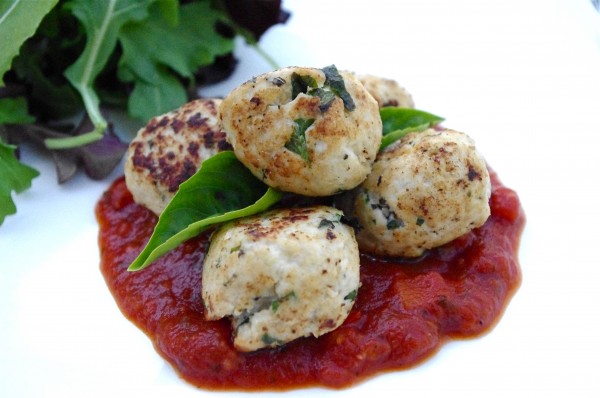 This has to be one of the best recipes I have made yet – no joking around.
These turkey meatballs are little moist balls of flavorful heaven! I made them for dinner last night and Justin called dibs on the leftovers for lunch, so I will be making them again very soon because I could have seriously eaten more for breakfast today, they were that good!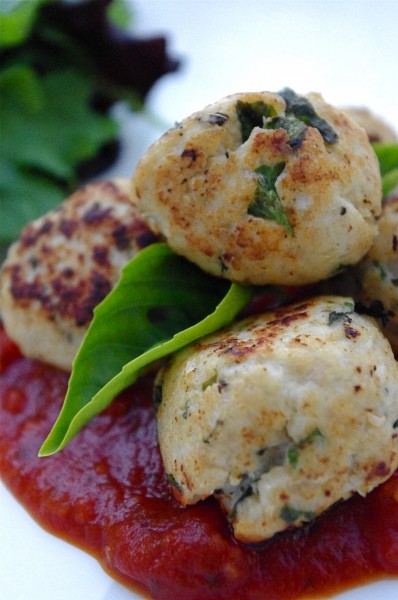 Compared to traditional meatballs, these ones get an A+! They are made with extra lean turkey, light ricotta, oat-bran, and fresh herbs! For those who don't know, oat-bran is a fantastic source of soluble fiber and works perfectly in the recipe as a substitute for breadcrumbs! Although the Bob's Red Mill brand of oat-bran I used isn't specified as gluten free, guaranteed GF rolled oats or oat-bran would work just fine to make these meatballs GF! (I adapted this recipe from the Center Cut Cook blog)
It took me less than 30 minutes to make these little meatballs from start to finish, and in the meantime I whipped up a quick salad, heated some organic primavera sauce (sugar free!), and made some whole wheat spaghetti for the hubby. I'm not a huge pasta fan myself so I only took a little spaghetti on the side and enjoyed the meatballs with the primavera sauce and a side salad!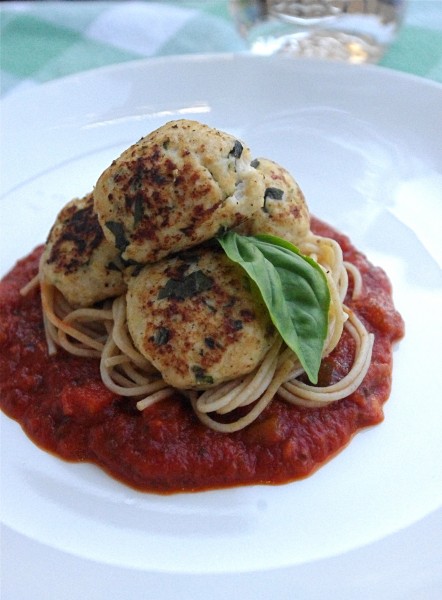 Doesn't this dish look just so wonderful?? The meatballs really do melt in your mouth, and yet they have a light taste so I didn't feel stuffed after eating! A great summer evening dish!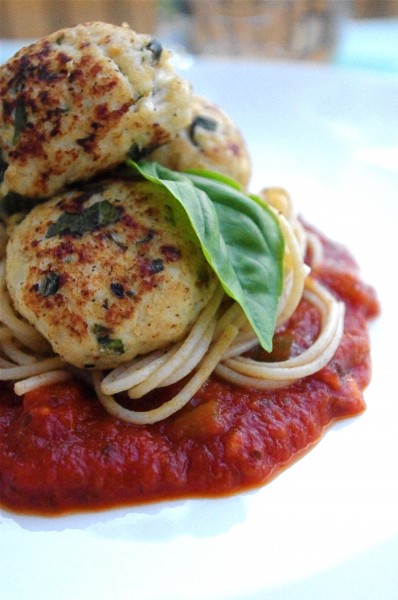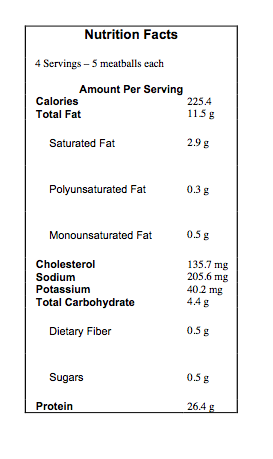 Turkey & Ricotta Meatballs
Ingredients
1 pound extra-lean ground turkey
½ cup part-skim ricotta cheese
¼ cup oat bran (or GF binder)
1 egg
¼ cup fresh basil, chopped
2 tablespoons fresh parsley, chopped
1 tablespoon Italian seasoning
salt and pepper
Instructions
Preheat oven to 375 degrees.
In a bowl combine all ingredients, use clean hands to mix together.
Divide the mixture into 20 meatballs.
Heat a non-stick skillet to medium-high heat and coat lightly with cooking spray. Brown the meatballs for a few minutes on each side only enough to brown the edges not to cook the meatballs fully. You may have to do this in batches.
Place the browned meatballs on a lightly greased baking pan and bake in the oven for 15 minutes or until done.
Enjoy!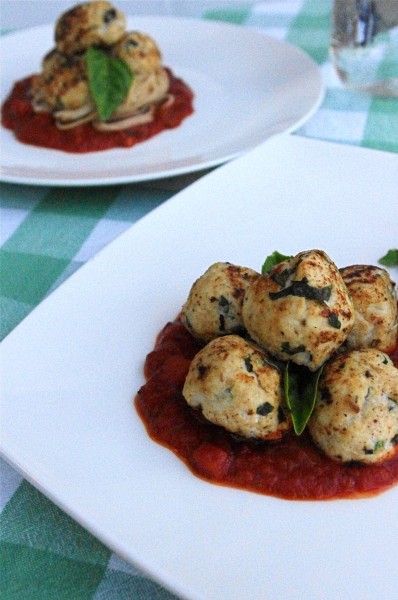 Enjoy!
Christal
Nutritionist in the Kitch