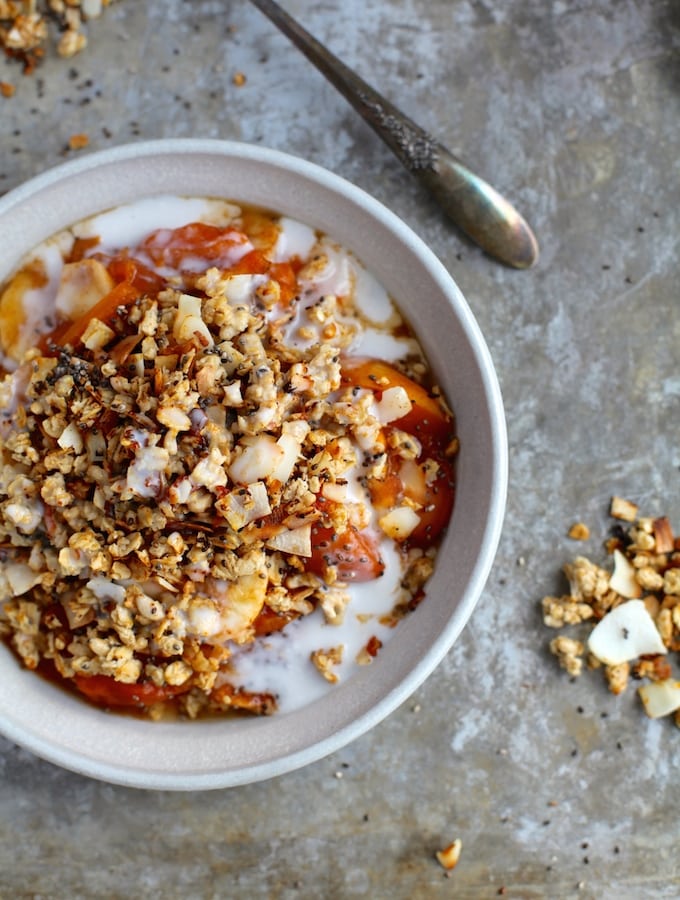 Ever since a BC Trip we took a few years ago I've had an intense love for apricots. Of course, British Columbia apricots are some of the best, and luckily we can get them here in Alberta when they are brought into the stores or when SPUD is carrying them!
I had bought a nice big bag of apricots and decided I wanted to make an apricot crisp, cobbler, or crumble! I was confused as to the difference between these three delicious desserts so I googled it to find out that a crisp, cobbler, and crumble are all in fact a little different!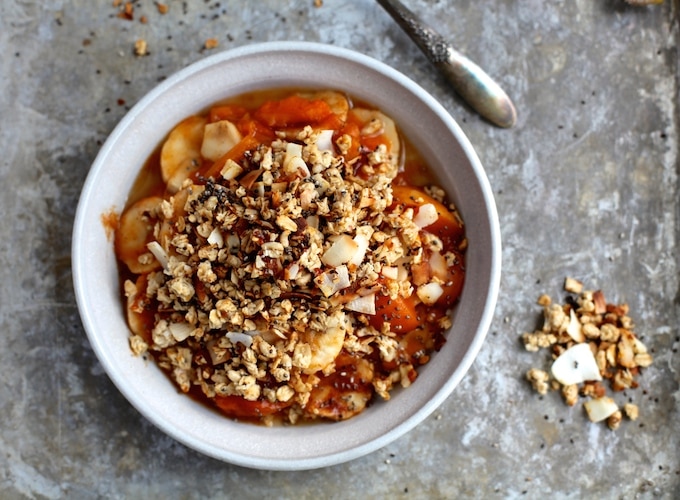 This recipe might not be a traditional crumble, but it's close enough to the definition!
Because it's about a million degrees in our house in the summer and I have no desire to turn on the oven (oh why, oh why didn't we get AC installed?!) I decided I was going to make my own version of a crumble that was no-bake, using some bright, fresh, juicy apricots of course!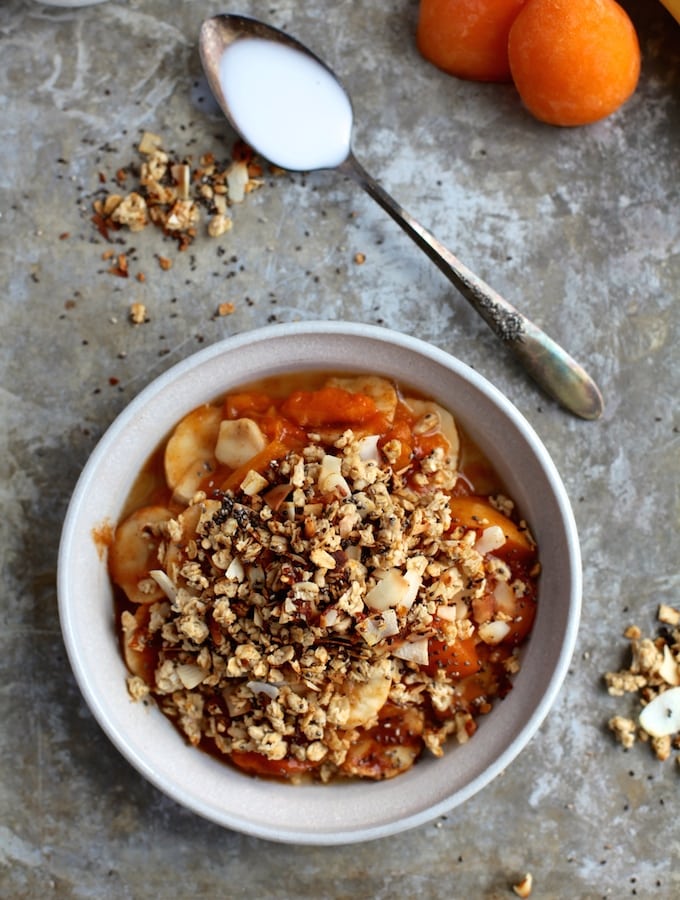 Apricots are full of vitamins A and C. They are a great source of potassium, fibre, and beta-carotenes which give them their beautiful yellowy orange hue. I also love that apricots are generally low in calories but are still packed with nutrients! Lots of bang for the nutritional buck in these little stone fruits!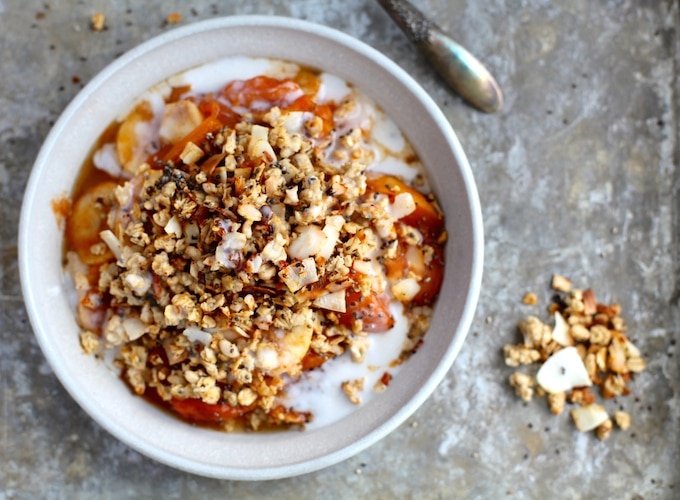 To be honest, this is a lazy persons crumble. I was feeling a bit lazy so I decided I'd create this dish with one single pan and the stovetop along with super simple ingredients… apricots, bananas, granola, coconut chips, chia seeds, and canned organic light coconut milk to keep my clean up minimal and the time to make at less than 10 minutes.
Easy, peasy.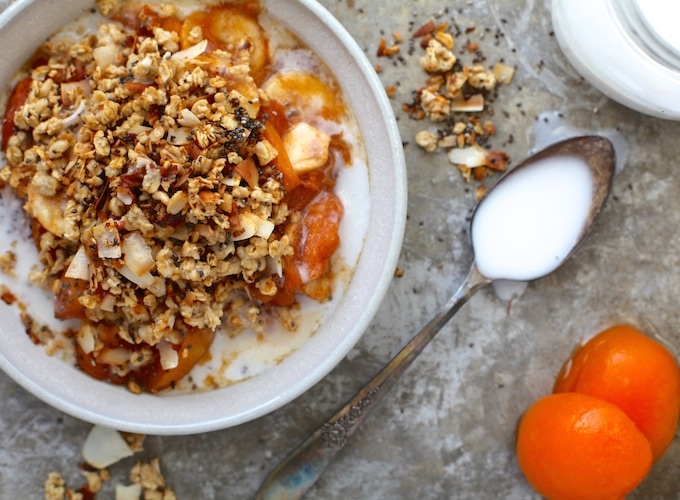 Granola makes a fantastic "crumble" topping! I used Nature's Path Coconut Chia Granola which is made with a minimal amount of natural, unrefined sugar to keep this yummy dish healthy and free of refined sugars!
Because I love, love, love healthy ingredients, I added in extra chia seeds and extra coconut, and I used a small pour of creamy, dreamy light organic coconut milk over the crumble as the ultimate finishing touch!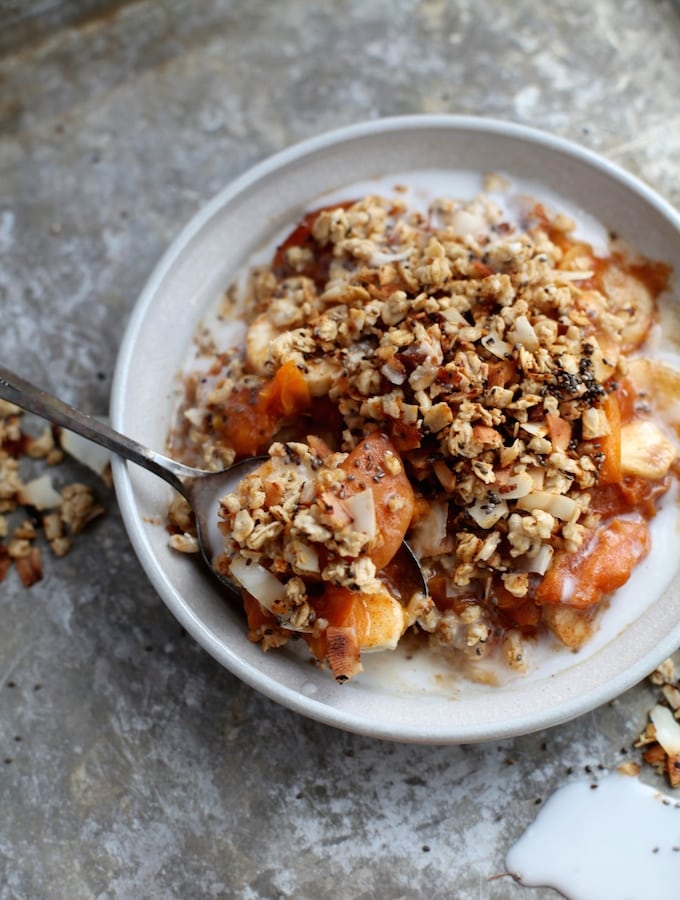 I couldn't decide what part of this dish was my favourite… the soft, sweet, cinnamon-filled fruit base, the toasted crunchy and sweet granola crumble, or the light and creamy coconut drizzle…. mmmm.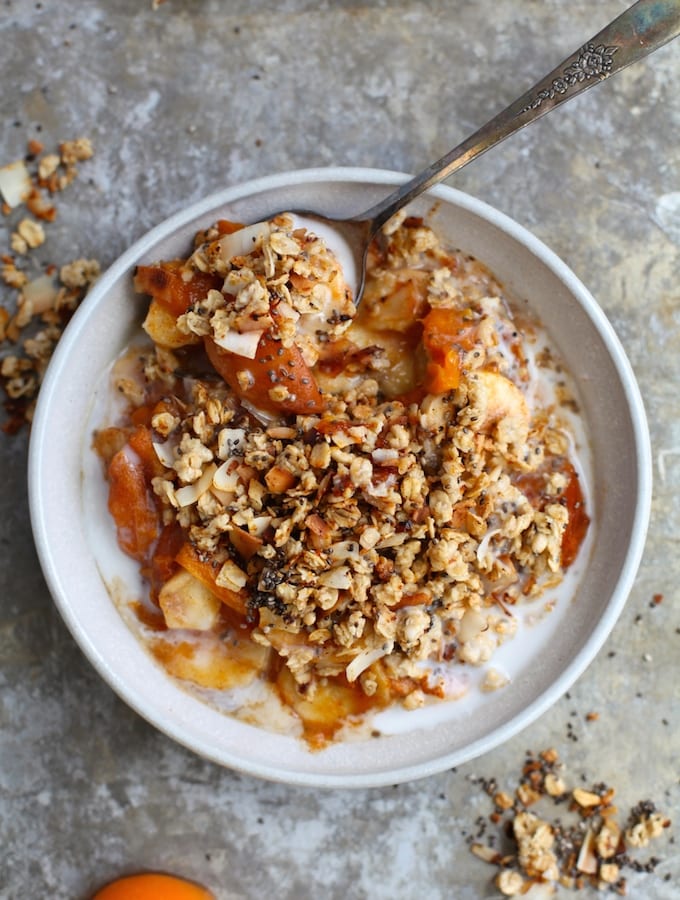 All of the flavours and textures came together wonderfully to make a delicious, memorable summer fruit crumble that is healthy enough to enjoy for breakfast!
What is your favourite kind of crumble? Do you have an easier method than baking that you use? I'd love to hear about it in the comments below! 

10-Minute // Banana Apricot Coconut Cream Crumble
Instructions
In a medium pan add the coconut oil and heat over medium to high heat.
Add in the sliced banana, apricot, (honey if using) and cinnamon and reduce heat to medium,
Sautee for 3 minutes until soft and warmed through.
Divide the fruit mixture between two dishes.
In the same pan over medium heat add in the granola, coconut, and chia seeds and sautee for 2 minutes until the coconut is lightly toasted and the granola is warmed through.
Divide the granola mixture between the two dishes by adding to the top of the fruit.
In the same pan, add in the coconut milk and sautee for 1-2 minutes just to warm. Pour the warmed coconut milk over each dish and serve!
Have a wonderful Sunday! If you have 10 minutes to spare after dinner this evening I highly recommend whipping up a couple batches of this delicious crumble!
Christal
Nutritionist in the Kitch