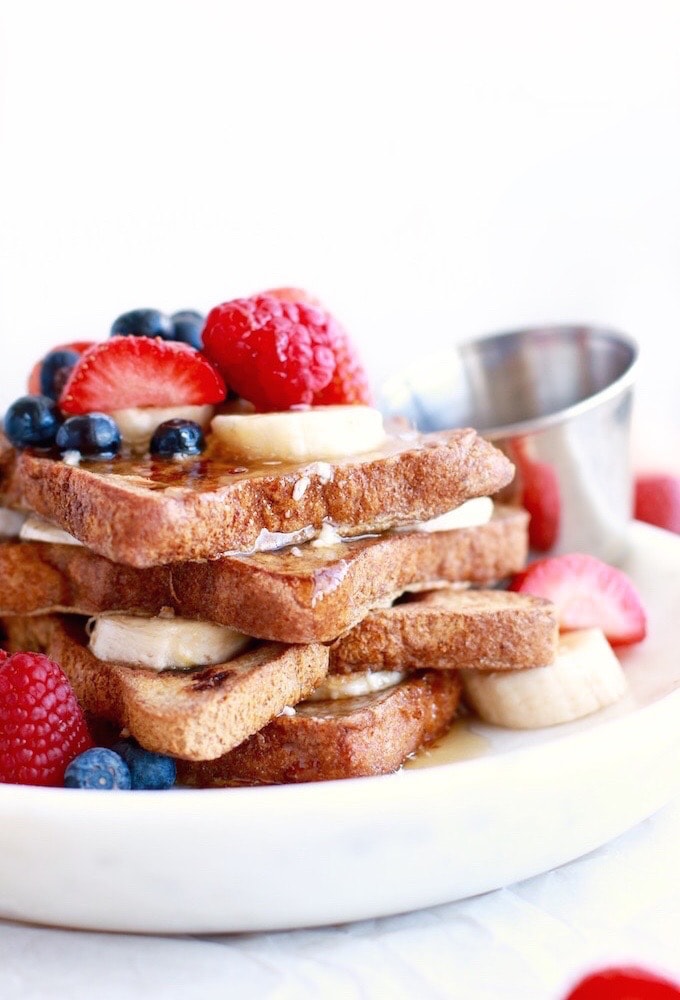 Do you ever feel restless?
I've been working through some restlessness lately. I think part of it is the weird March weather fluctuating between December-like winter blizzards and spring warmth trying it's hardest to break through the cold. I'm certain that all of us here in Alberta are eager for winter to come to an end.
But this restlessness is more than just the weather. Since returning home on such a high from my trip to San Francisco last month to having nothing pressing in my work schedule, I've felt a little aimless. I've realized that when I don't have deadlines to be met and tasks to be done, I can lose inspiration. As much as I crave rest and slowing down, I think I've become so used to feeling overwhelmed in my career that when I'm not, I feel restless.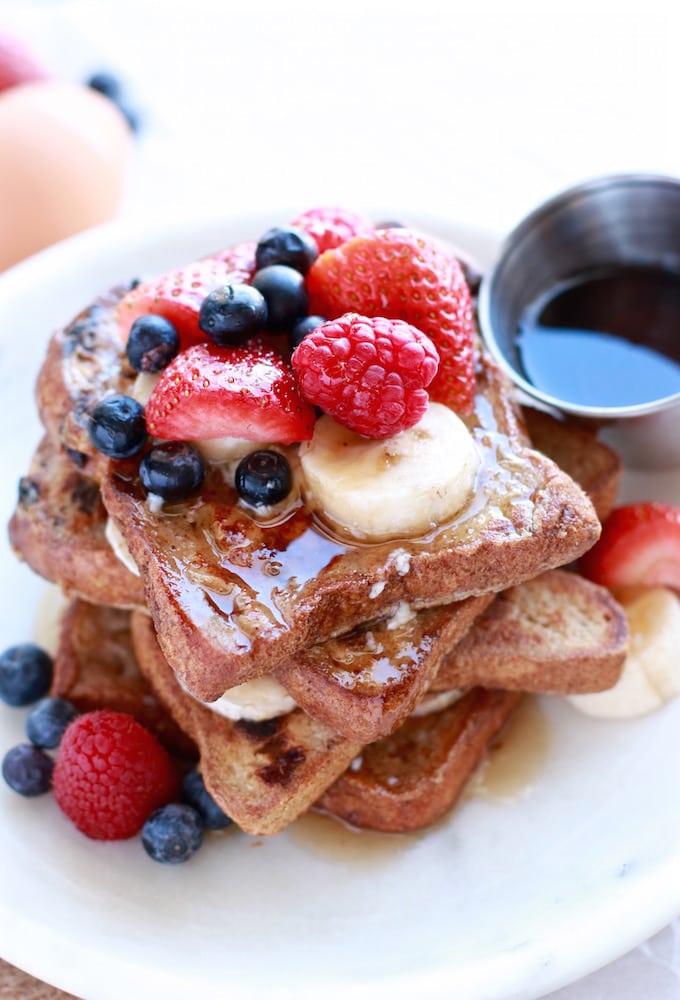 It's like God to bring the right person into my life to say something to me in these times that resonates, and when my sister Sarah was over the other day for a visit she shared with me a quote from Lysa TerKeurst:
 "If I really want an unrushed life, I must underwhelm my schedule so God has room to overwhelm my soul". 
It struck a chord. How often do I really leave room for my soul to be overwhelmed?
I know that when I have that breathing room, that time to sit and listen, God brings peace, wisdom, inspiration, and settles my restlessness. So, as much as my natural inclination is to strive to fill my schedule and my days in this rare time of unbusy, I am choosing to simply trust, wait, and be overwhelmed…in a different way.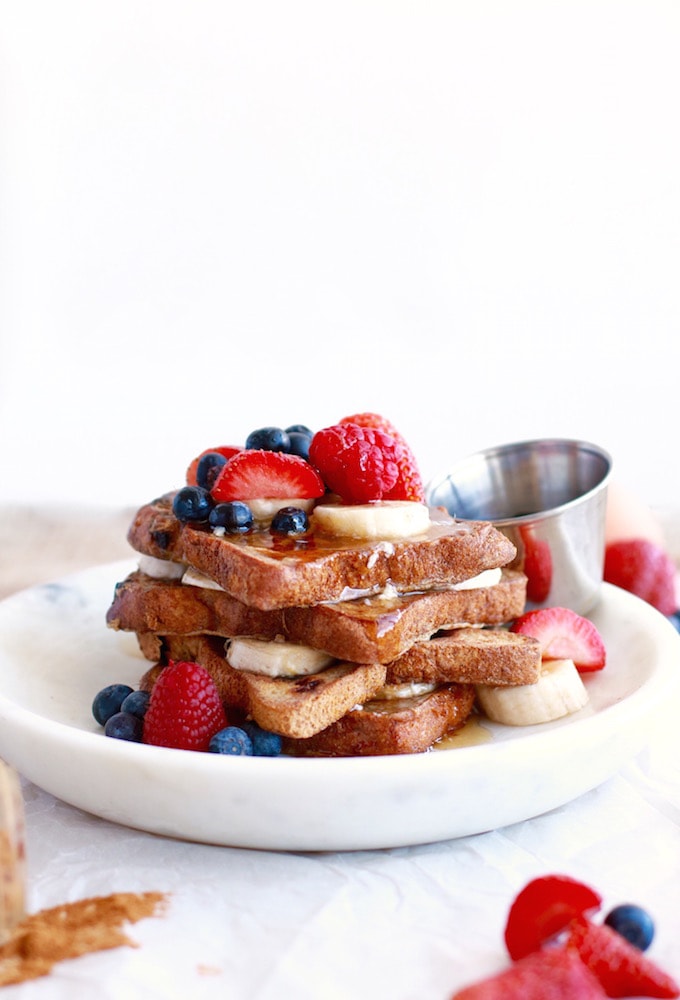 Which brings me to my lazy french toast. 
What does french toast have to do with God and an underwhelmed schedule?
This recipe is not the result of striving, toil, or hard-work in the kitchen. It's what you make when you're in one of those lazy, relaxed moods, with no pressure to make a fuss. It's not complicated, stressful, or forced. Just one of those easy, Saturday morning, messy-hair, stay-in-your-pyjamas, let-go-of-the-weeks-worries recipes.
It's kind of filled with grace. No perfection required, come as you are, sit down, and eat your lazy french toast. It's exactly how I feel when I sit down, with my underwhelmed schedule, and let God overwhelm my soul.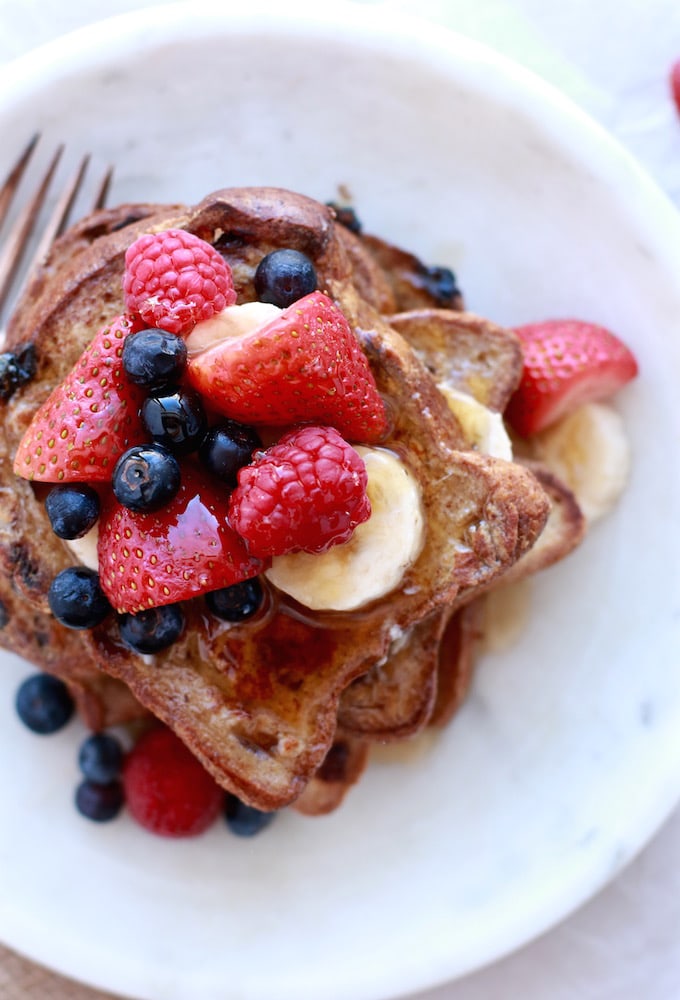 Does your schedule need some "underwhelming"? I often wonder why we have such a hard time being unhurried, unrushed, and unscheduled in our culture. Maybe much of it is simply purposeful distraction to keep us from sitting quietly and having uncomfortable feelings or issues come to the surface that are begging to be dealt with…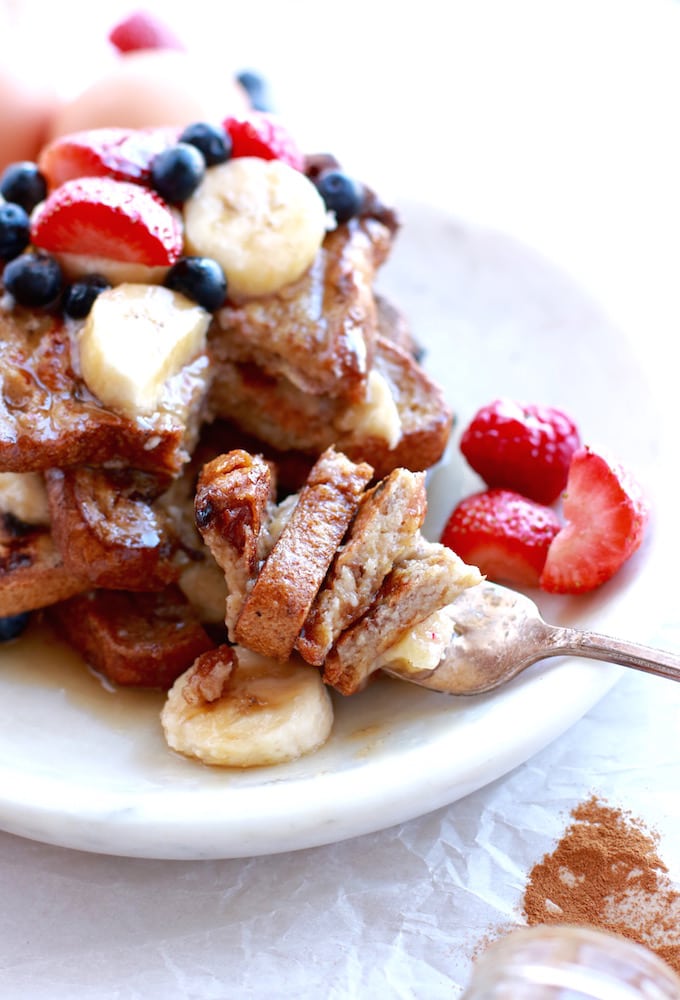 Well, this post got deep really fast. I'll lighten things up a little and go back to the recipe. Lazy French Toast, my friends, you must try it. It's simple, warm, and flavourful, perfectly sweet, and made with only 5 main ingredients. It's gluten and dairy free, and makes a perfect blank slate for all the healthy toppings your heart desires.
Exactly the recipe to add to a perfectly and blissfully underwhelmed schedule…

Lazy 5-Minute French Toast
Ingredients
2 large organic eggs
½ tablespoon unsweetened almond milk
¼ tsp cinnamon
⅛ tsp vanilla extract
pinch of salt
4 slices gluten-free cinnamon raisin toast (any brand, I love Little Northern Bakehouse or Udi's)
Optional Toppings:
Organic grass-fed butter or vegan butter
Pure Maple Syrup
Sliced Banana
Fresh Berries
Coconut Yogurt
Instructions
In a bowl whisk together the eggs, almond milk, cinnamon, vanilla, and salt until smooth.
Transfer egg mixture to a wide shallow bowl.
Heat a large non-stick pan or skillet over medium-high heat and grease lightly with coconut oil or butter.
Dredge 1 slice of bread into the egg mixture and flip back and forth to make sure each side is coated with the egg mixture and is slightly soaking into the bread.
Add the bread slice to the pan and cook for 1 minute on each side until just lightly browned.
Repeat the process for each slice of bread (you should use up all of the egg mixture with the 4 slices of bread).
Stack the french toast slices, layering with sliced banana, top with a dollop of butter or vegan butter and berries, and then drizzle with pure maple syrup.
Enjoy!
Have a beautiful Sunday,
Christal // NITK