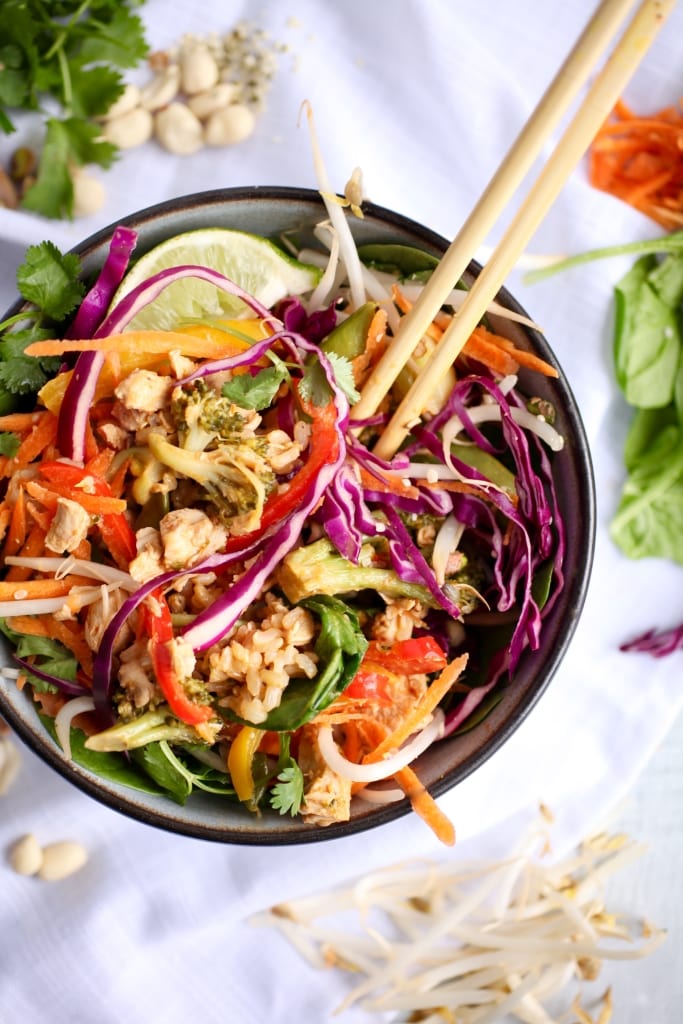 Sometimes I'm pretty certain that I'm just genuinely a weird person. Maybe we are all weird in our own ways, but I think I'm up a couple notches on the weird scale.
Like… the other weekend, when the hubby and I took a trip to the mountains and stopped in Canmore for a bite to eat. We went to Communitea Cafe and I ordered a Dragon Bowl. First of all, I was already in. my. glory. standing in a restaurant that had a menu FULL of food that:
a) I could actually eat (ugh, allergy life)
b) was genuinely, legit, comes-from-the-ground healthy
c) had so many bright, raw, vegetable combinations it was like a rainbow explosion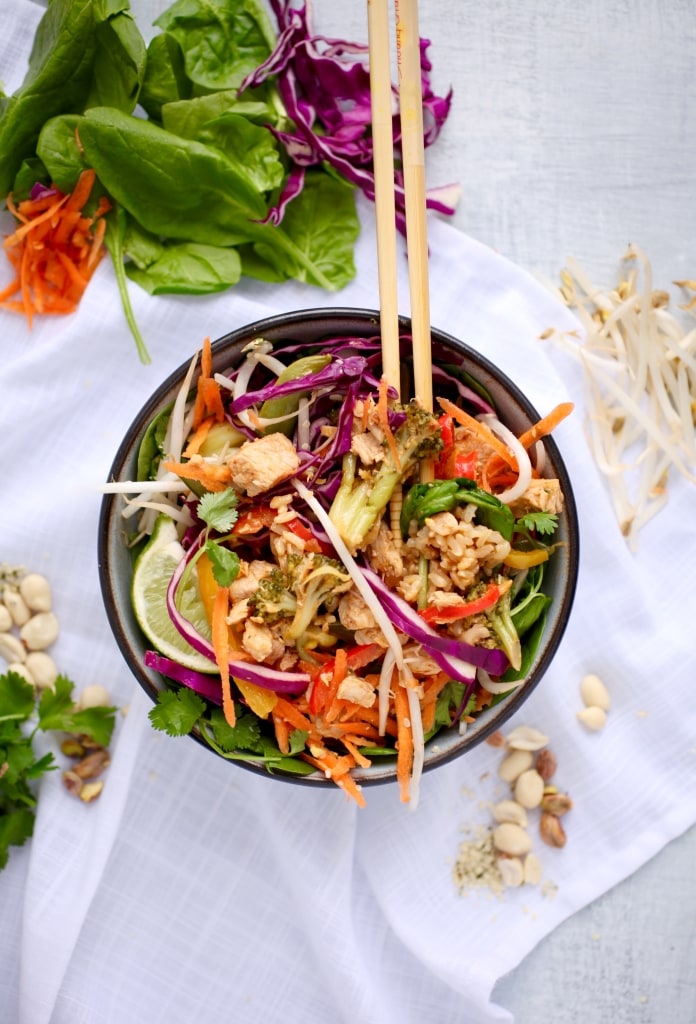 So, anyways, I ordered my dragon bowl to-go because the hubby had already eaten at another stop and wanted to get back on the road.
When the meal was ready I could barely make it back to the vehicle without digging in, and with each bite I was eeeking with excitement.
Yes, eeeking.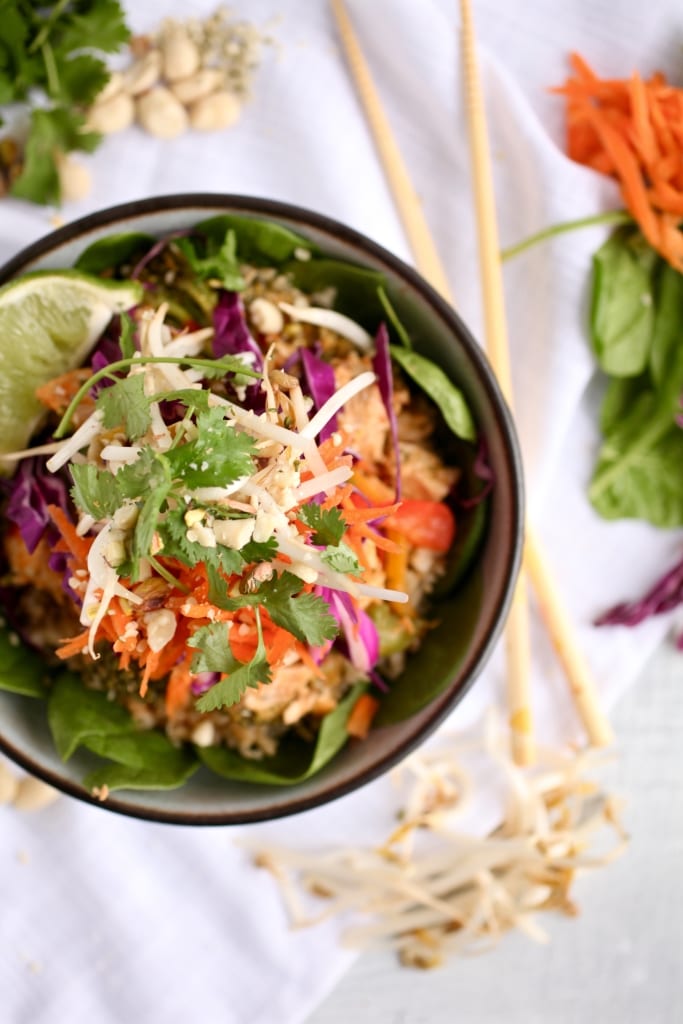 It was just SO FREAKIN' GOOD!
I'll admit, the excitement I felt as I was literally mowing down on this amazing dragon bowl was a bit over-the-top. Is this normal? Probably not.
When it was over and my shirt/face/car was splattered with coconut curry sauce and bits of vegetable I looked up to see my hubby staring at me with a look, just this look, maybe it was disgust? bewilderment? amusement?
I don't know. But that's when I decided that I am officially weird.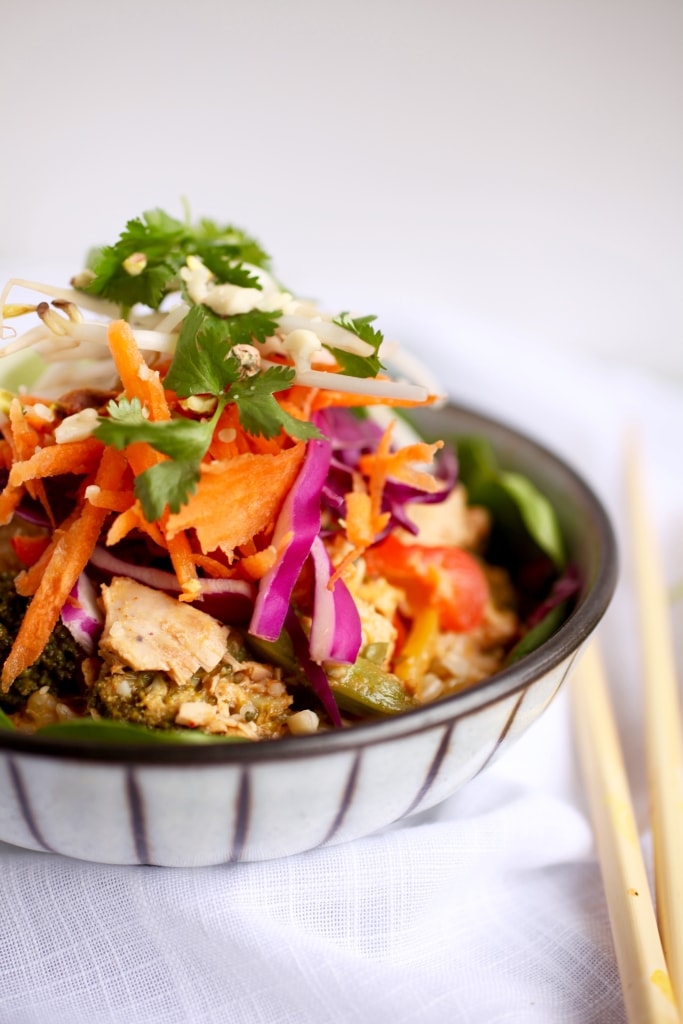 Needless to say, I knew this dragon bowl would have to be recreated in the kitch.
Dragon bowls aren't a new thing. A dragon bowl is simply a meal-in-a-bowl that consists of a high-quality protein and nutrient dense vegetables over a whole grain base like rice, or is sometimes served over roasted sweet potatoes and a bed of spinach.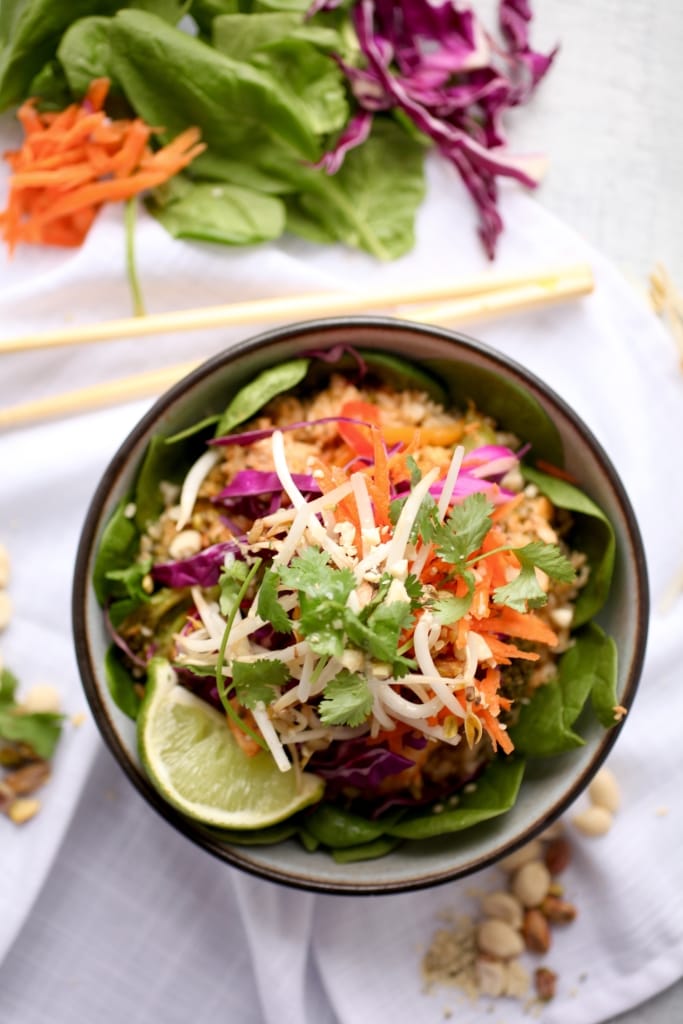 I stuck with spinach and brown rice as the base for my bowl, and then chose to go with chicken, broccoli, snap peas, and peppers in a delicious red curry sauce (with peanut butter and tahini!) as the bulk of the bowl. Then I chose to use similar toppings as the bowl I enjoyed at Communitea – cabbage, carrots, cilantro, peanuts, and bean sprouts for that crunch!
The colours, textures, flavour combinations, mixture of warm and soft with cold and crunchy is honestly so amazingly good. I just can't help but FEEL unbelievably nourished and satisfied after this meal. It's definitely a keeper.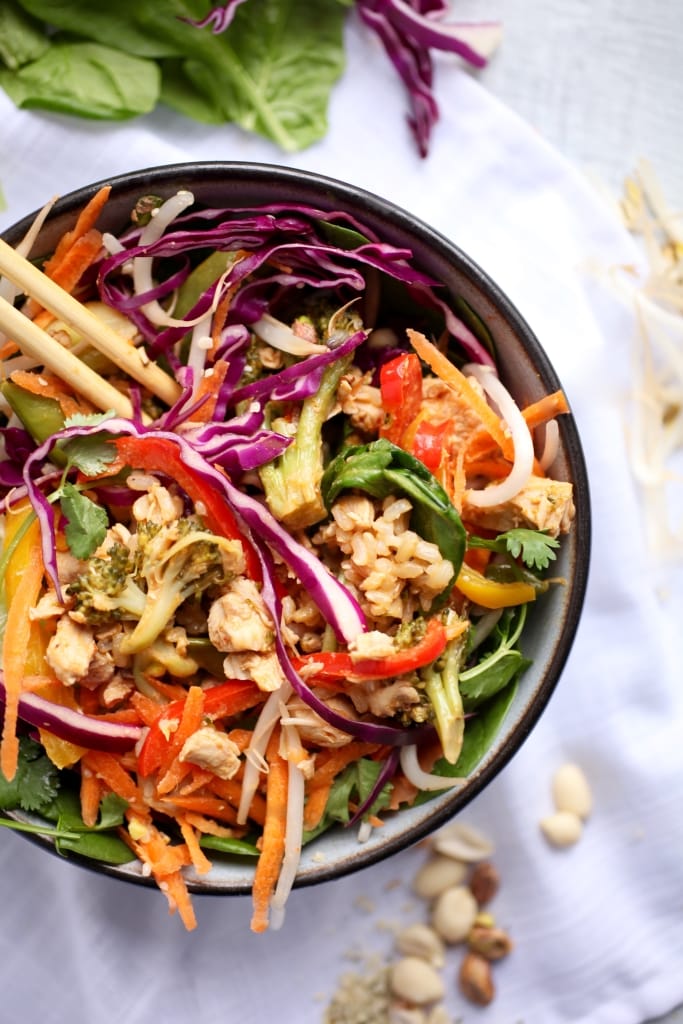 Have you had a dragon bowl before? What was in yours? I'd love to hear about it in the comments below! 

NITK's Red Curry Dragon Bowl // Gluten & Dairy Free
Ingredients
SAUCE:
1½ cups coconut milk (I mixed full fat and light)
2 heaping tablespoons natural peanut butter
1 heaping tablespoon tahini
2 tablespoons red thai curry paste
2 tablespoons coconut aminos or gluten-free soy sauce
½ tsp sesame oil
1½ tablespoons coconut palm sugar
juice of 1 lime
2 cloves garlic, crushed
2 teaspoons minced ginger or ginger paste
BOWL INGREDIENTS:
4 skinless boneless chicken breasts, diced into small pieces (cook with coconut or olive oil - see instructions)
1 red bell pepper, sliced
2 cups broccoli crowns, chopped
1 cup snap peas
2 cups brown rice or quinoa, cooked
GARNISHES:
2 cups spinach
¼ head of red cabbage, sliced
2 carrots, shredded
1 cup bean sprouts
½ cup cilantro. chopped
¼ cup peanuts, crushed
Instructions
Begin by making the sauce. In a bowl dd all the sauce ingredients EXCEPT the coconut milk and whisk until smooth.
In a large pan over medium heat, add 1 tablespoon of coconut or olive oil and warm for 30 seconds.
Add in the diced chicken and cook, stirring frequently until browned.
While the chicken is browning, in another large pot/wok over medium-high heat add in the curry sauce and bring to a simmer. Stir in the coconut milk and bring back to a simmer.
Add in the bell pepper, broccoli, and snap peas and continue to cook for a few minutes until the chicken is finished browning in the other pan.
Add the browned chicken to the pot/wok with the red curry sauce and vegetables.
Simmer everything for 3 more minutes or until the chicken is cooked through.
Remove from heat.
Take 4 large bowls and line each bowl with fresh spinach leaves.
Top the spinach leaves with warm cooked quinoa or brown rice (1/2 cup per bowl, cook the rice or quinoa ahead of time).
Divide the red curry chicken and vegetable mixture between the four bowls.
Top each bowl with the sliced raw cabbage, shredded carrot, bean sprouts, cilantro, and crushed peanuts.
Dig in!
Have a beautiful Sunday! If you've got about 30-40 minutes today to make an amazing meal then look no further… the recipe is right here!
Christal
Nutritionist in the Kitch