I've decided to do another revamp on the blog today. I was quite preoccupied this month preparing for and travelling to San Francisco so I didn't have a ton of time for recipe creation. Besides, I always love to bring old content back into the spotlight by revamping and updating my recipes.
This particular recipe is actually still quite popular on the blog and gets visits every day. I imagine it's because these cookies are not only delicious and healthy, but they are also so darn easy to prepare you could make them with your eyes closed.
I also couldn't handle the old photos anymore…eeeish. At least it's nice to see my photography has in fact improved over the years!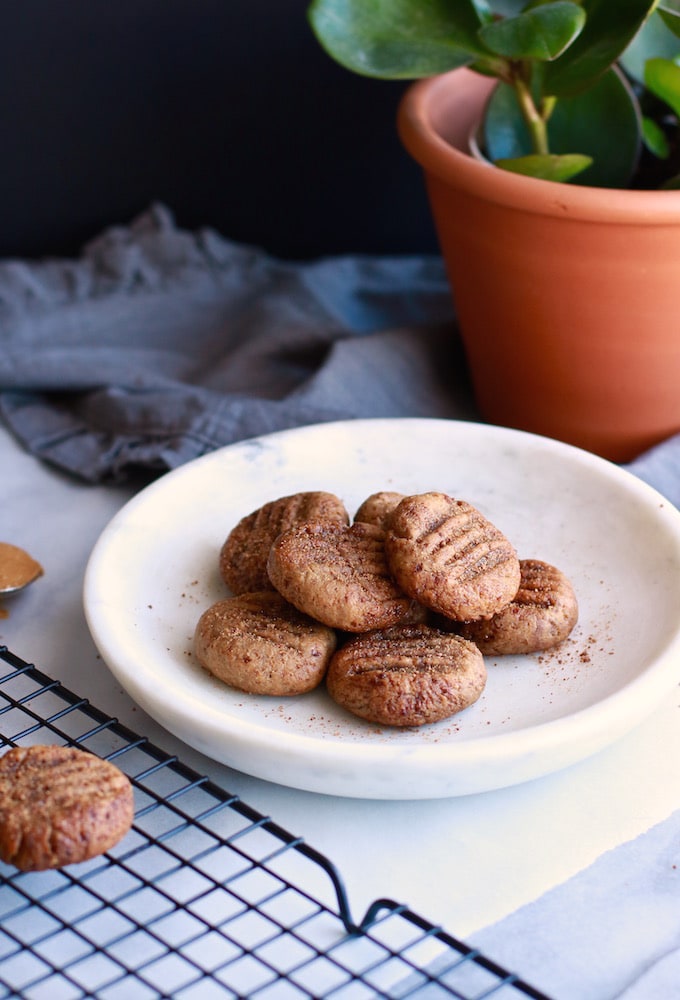 These cookies are made with only 4 main ingredients. That's it, that's all! While I'm sure you could find a ton of variations of this cookie out in the blogosphere, I think keeping it simple is sometimes the best approach.
I loved revamping this recipe as these cookies are also totally baby friendly which means that my lovely miss Hemsley could enjoy them as well. And, without any refined sugars, I had no qualms about letting her mow down on a couple.
Banana is really the key ingredient to making these cookies work as it cuts out the need for eggs or sweetener. Banana is great for binding and it also brings in natural sweetness along with potassium, vitamin B6, calcium, and fibre.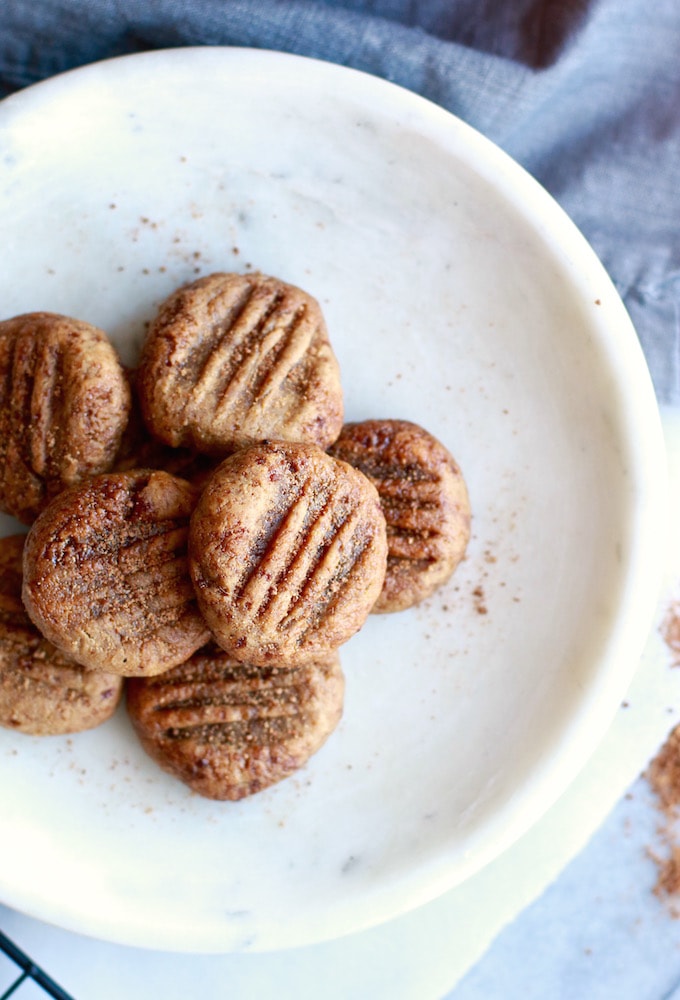 While these cookies definitely aren't super sweet, they are rich, moist, and buttery, with a slight sweetness, and they really are melt in your mouth delicious. If you are looking for a mouth-puckering-eye-wincing-sweeter-than-sweet cookie…I'd say these ain't the ones for you.
I know many people who made a New Years resolution to cut back on sugar (myself included…sleep deprivation from Hemsley's 4-month regression gave me quite the sugar tooth and I've been trying to kick it since!), so if you are one of those people this is a great cookie option to satisfy cravings without any refined sugars.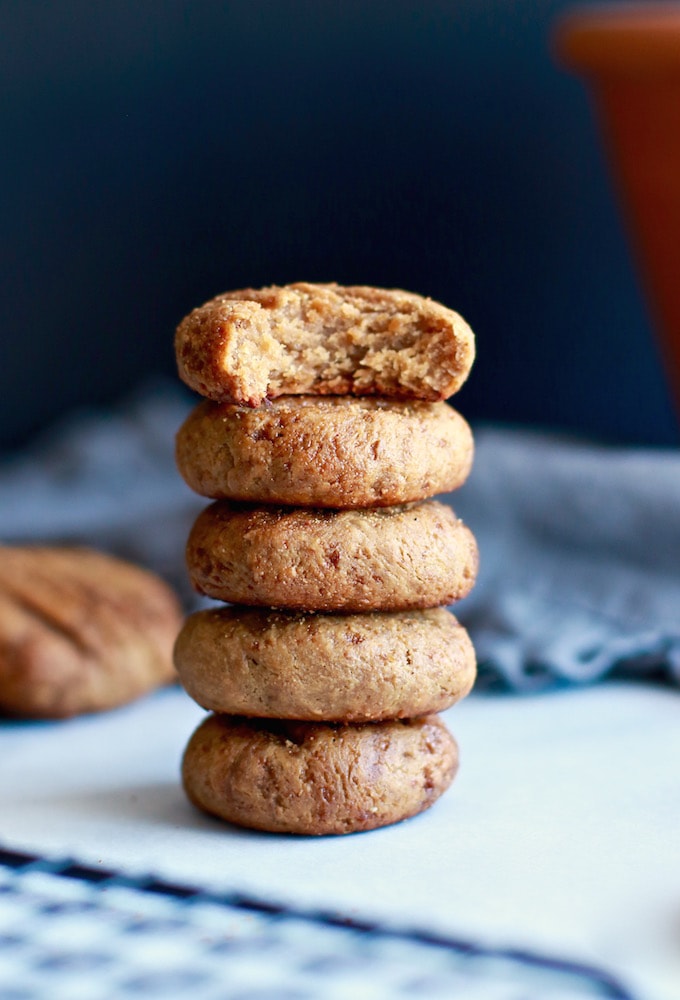 For these cookies I use a mixture of natural almond and natural peanut butter, but they would also definitely work out fine with cashew butter, sunflower butter, or a combination of all of them. 15 minutes from start to finish and you will be gobbling up these delicious little cookies…so what are you waiting for? 

Soft & Chewy Banana Nut Butter Cookies
Instructions
Preheat oven to 350 degrees.
Mash banana in a large bowl until nice and smooth.
Add in nut butter, nutmeg, and cinnamon if using, and mix.
While mixing the dough will slowly come together into one big ball of batter and nothing will be stuck to the sides of the bowl.
Grease a cookie sheet with a healthy oil or line with parchment paper.
Roll the batter into 10 balls and arrange on the the cookie sheet, then press each cookie ball down with a fork.
Bake for 10 minutes.
Remove from oven and sprinkle with the coconut palm sugar, if using.
Let cool and enjoy!
Notes
Optional add ins, just mix into the batter: ¼ cup shredded coconut, ¼ cup chocolate chips, ¼ cup raisins.
Nutritional Information
Serving size:
1 cookie
Calories:
86kcal
Fat:
6.7g
Carbohydrates:
4.9g
Sugar:
2.3g
Fiber:
1.2g
Protein:
2.7g
Pin me!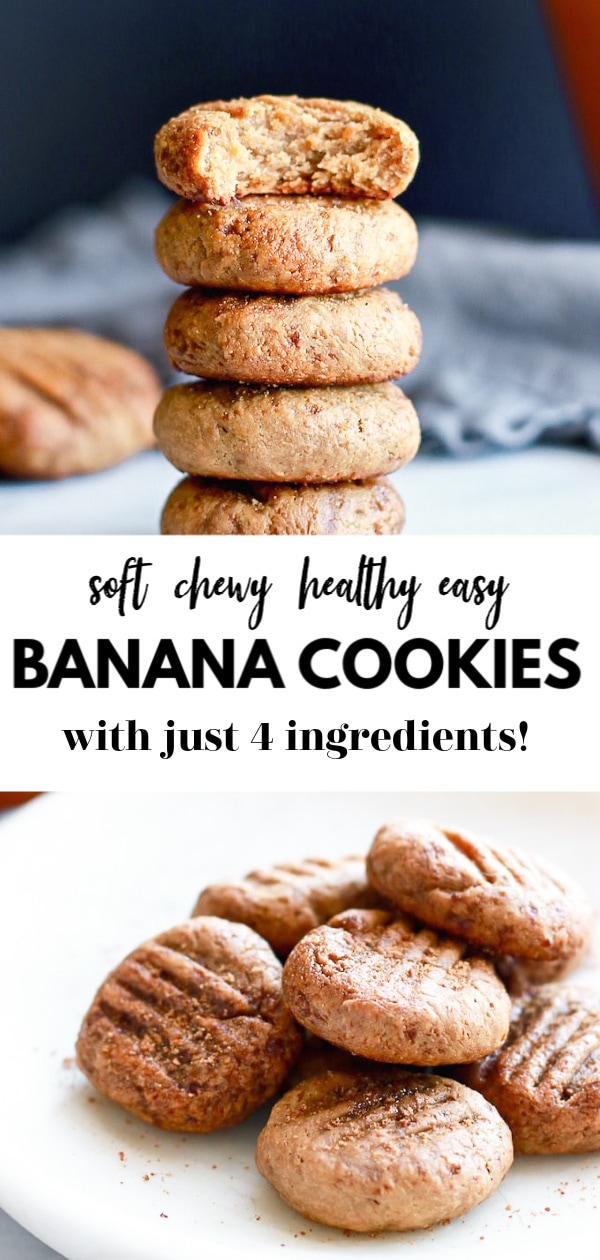 Have a great weekend!
Christal // NITK