Delicious gluten free and dairy free healthy homemade chocolate banana bread donuts sweetened with honey!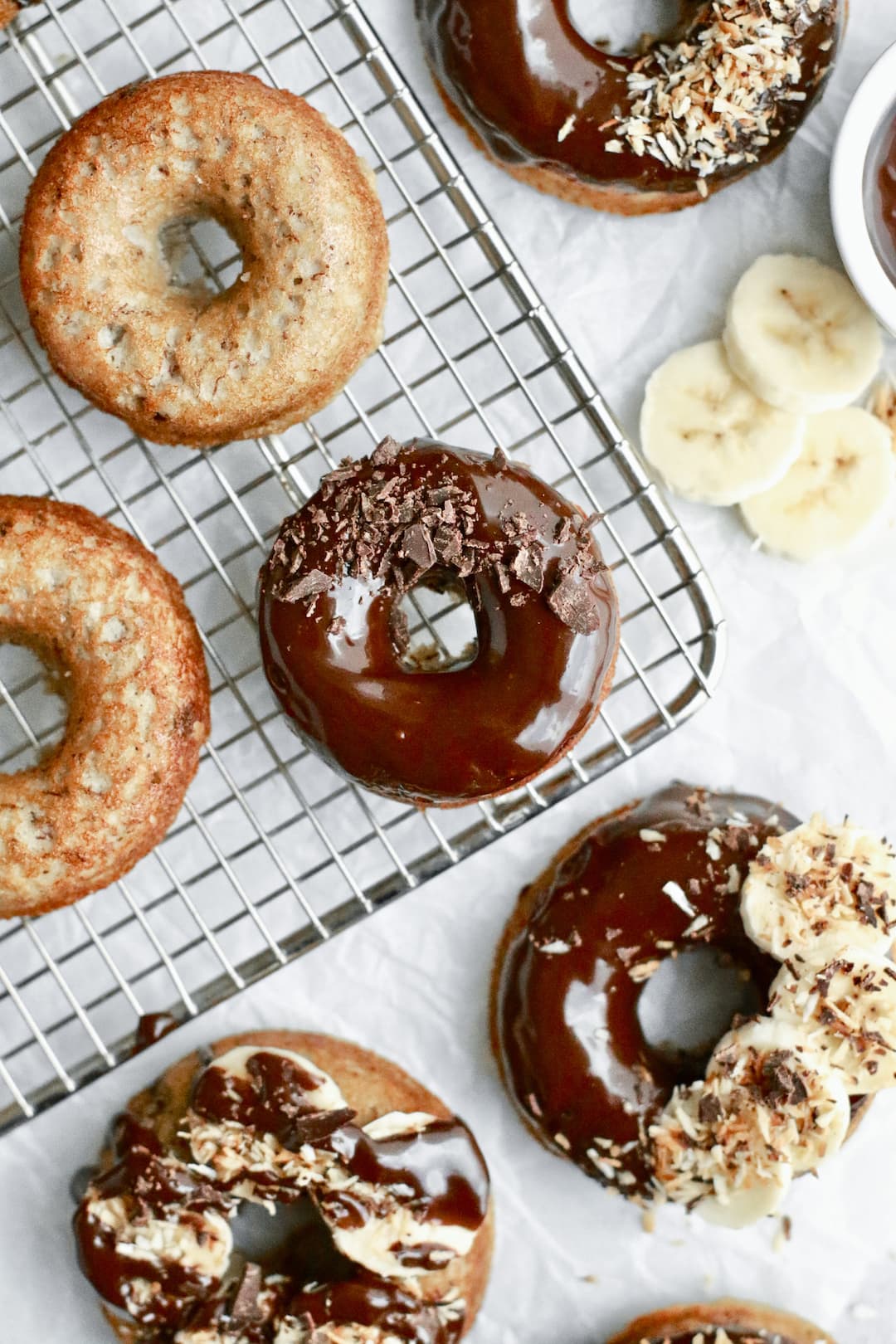 Let's Talk Healthy Homemade Chocolate Banana Bread Donuts!
If you are a regular reader of Nutrition in the Kitch you know that I seriously love healthy treats. Although I try to balance the recipes on the blog with a combination of savoury and sweet recipes, I typically tend to lean to the sweet side and really, it seems like everyone else enjoys these sweet recipes too! Today on the blog I've teamed up with The Brick to share this incredibly delicious and super easy recipe for healthy homemade banana bread baked donuts with a quick and decadent chocolate glaze. I originally created this recipe back in 2015 after a trip to Hawaii where my travel pals had taken a few trips over to Krispy Kreme. Because those donuts all contain dairy (as far as I'm aware), I wasn't able to partake in the delicious donut indulgence. When I returned home I made a plan to create my own healthy homemade donuts to enjoy!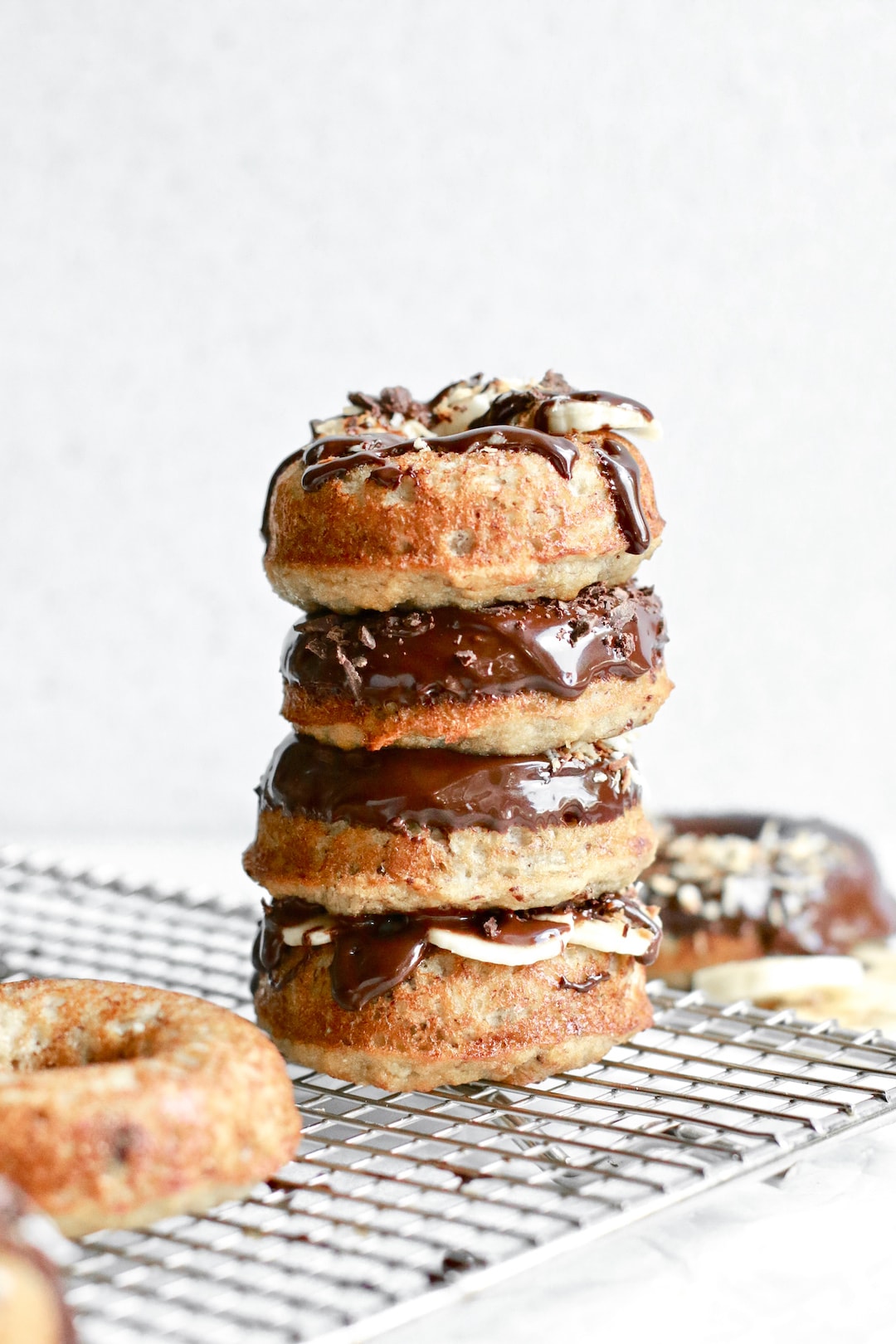 Over the years I've been experimenting with grain-free baking and I've found the right combination of flours can create the most delicious cake-like texture – perfect for a baked cake donut (versus a yeast donut). I decided to combine almond flour and coconut flour along with mashed bananas (which bring in a delicious banana bread flavour and added natural sweetness), honey, dark chocolate chunks and shredded unsweetened coconut for a perfectly sweet batter that would bake up to perfection in my donut pans. 
When I recreated this recipe these healthy homemade banana bread donuts I had my mom helping me in the kitchen (I am using her kitchen these days after all while we do our renovation so she's often available to help and definitely a great assistant!). I whipped up the first batch to get them photo ready and then she helped make the second batch as we took pictures in the kitchen. My mom doesn't do a ton of baking so she's relatively novice in this area and she was super impressed with how easy it was to make these homemade donuts!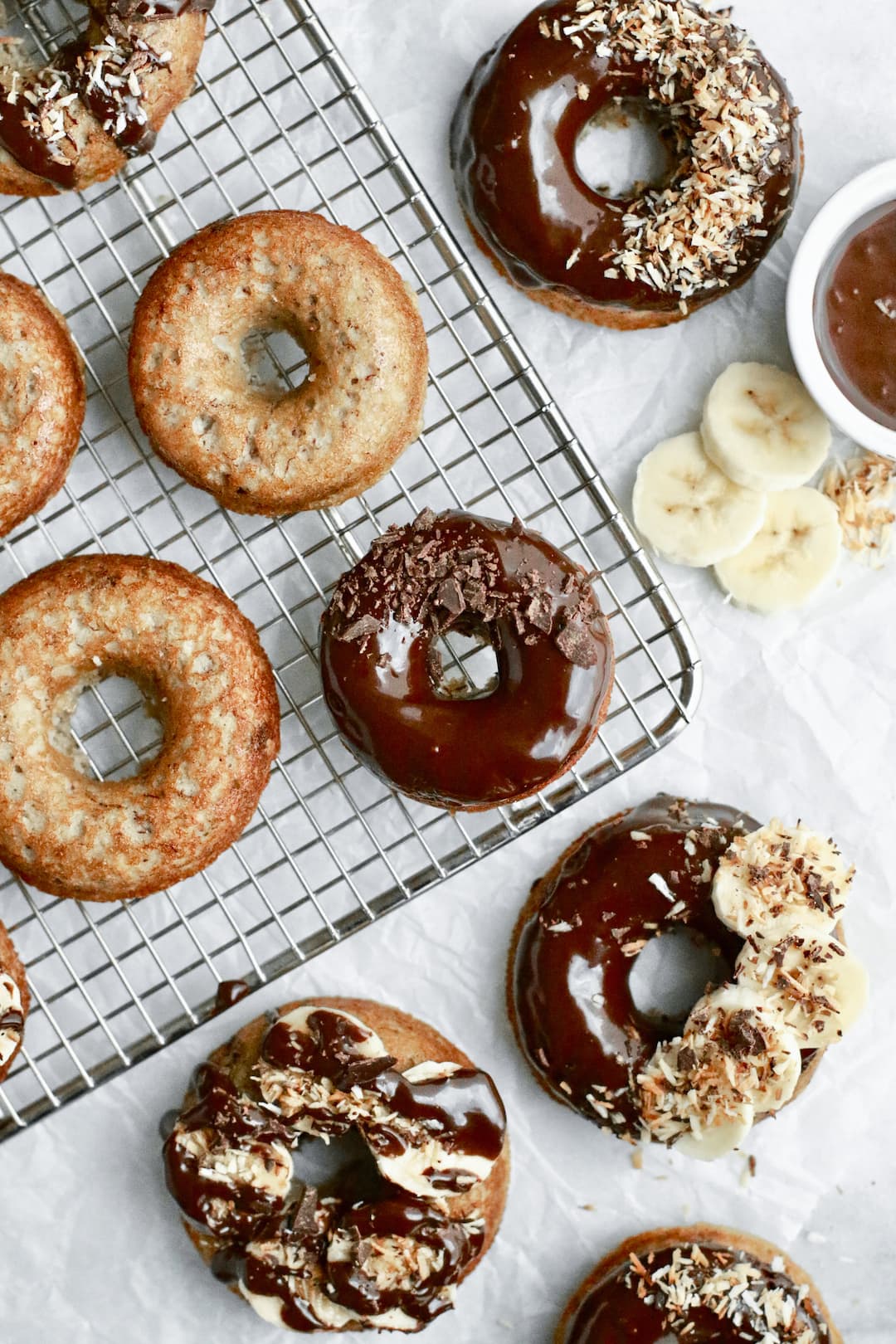 How To Make Homemade Donuts:
While there are many methods to making healthy homemade baked donuts, one of my favorite, and simplest ways is to throw everything into my Cuisinart Stand Mixer and let it do the work! The Cuisinart Precision Stand Mixer from The Brick is not only sleek and beautiful, it's very user friendly and has so many uses and functions (remember the Easy Shredded Chicken Tinga Tacos I made with the stand mixer a few months ago?). It can be used for baking, cooking, mixing, shredding, whipping and much more. The more I play around with this kitchen tool the more impressed I am with it and for these homemade banana bread donuts, it really does all the heavy lifting.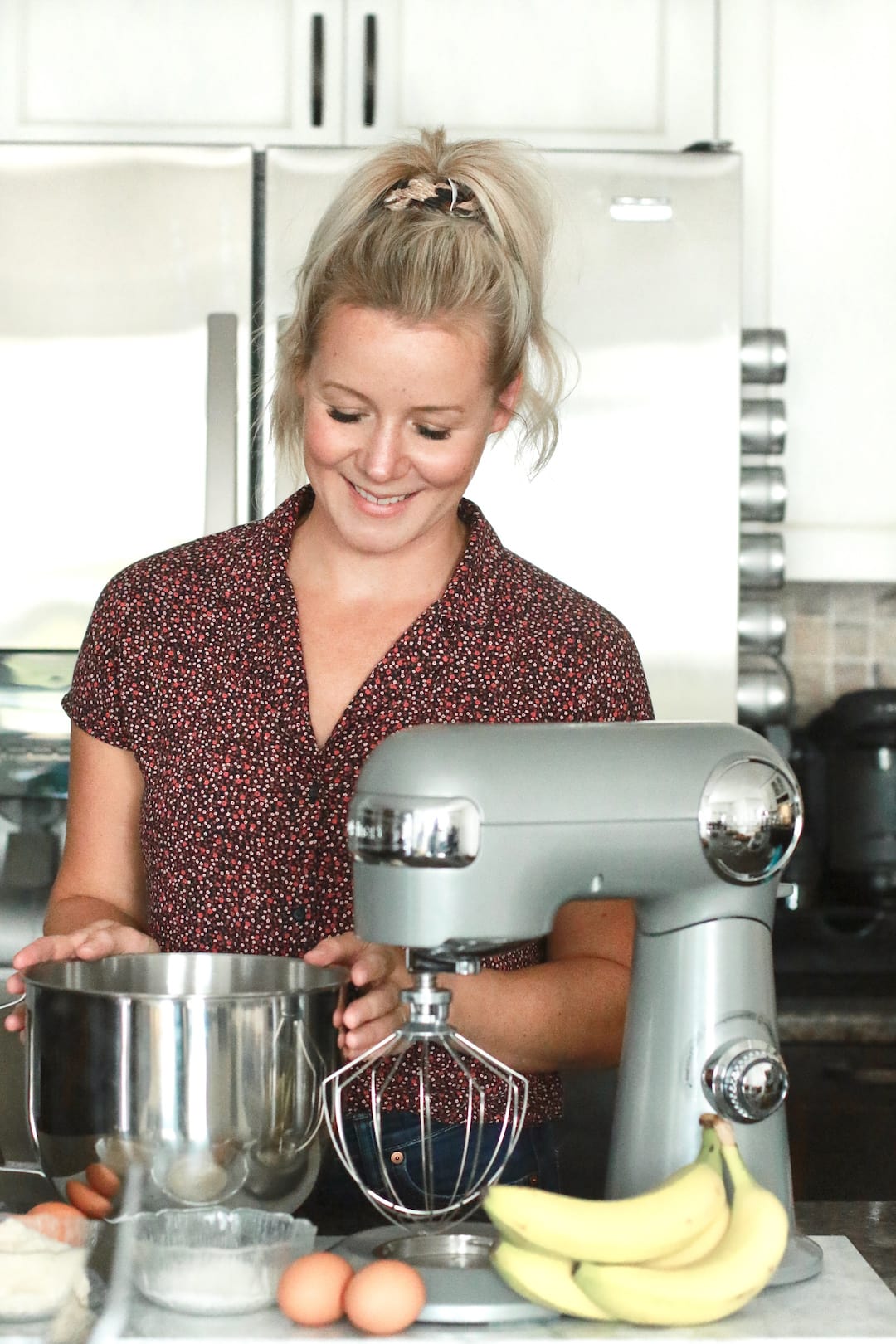 For this method you simply add the flours, eggs, leavening agents, sweetener, and any add-ins all to the stand mixer bowl, whirl everything around with the chef's whisk attachment and then pipe the batter into a couple of well-greased donut pans. I picked up my donut pans at a couple of local homeware stores but you can also find them online on Amazon. While you can definitely mix everything together by hand in a bowl, I find the Precision Stand Mixer does a better job and eliminates most of the lumps from the mashed banana.  
For the decadent chocolate glaze I used just 4 ingredients: cocoa powder, honey, coconut oil, and non-dairy milk. It's amazing how with just these few ingredients you can get a rich, thick, shiny chocolate glaze that firms up and smothers the homemade banana bread donuts perfectly.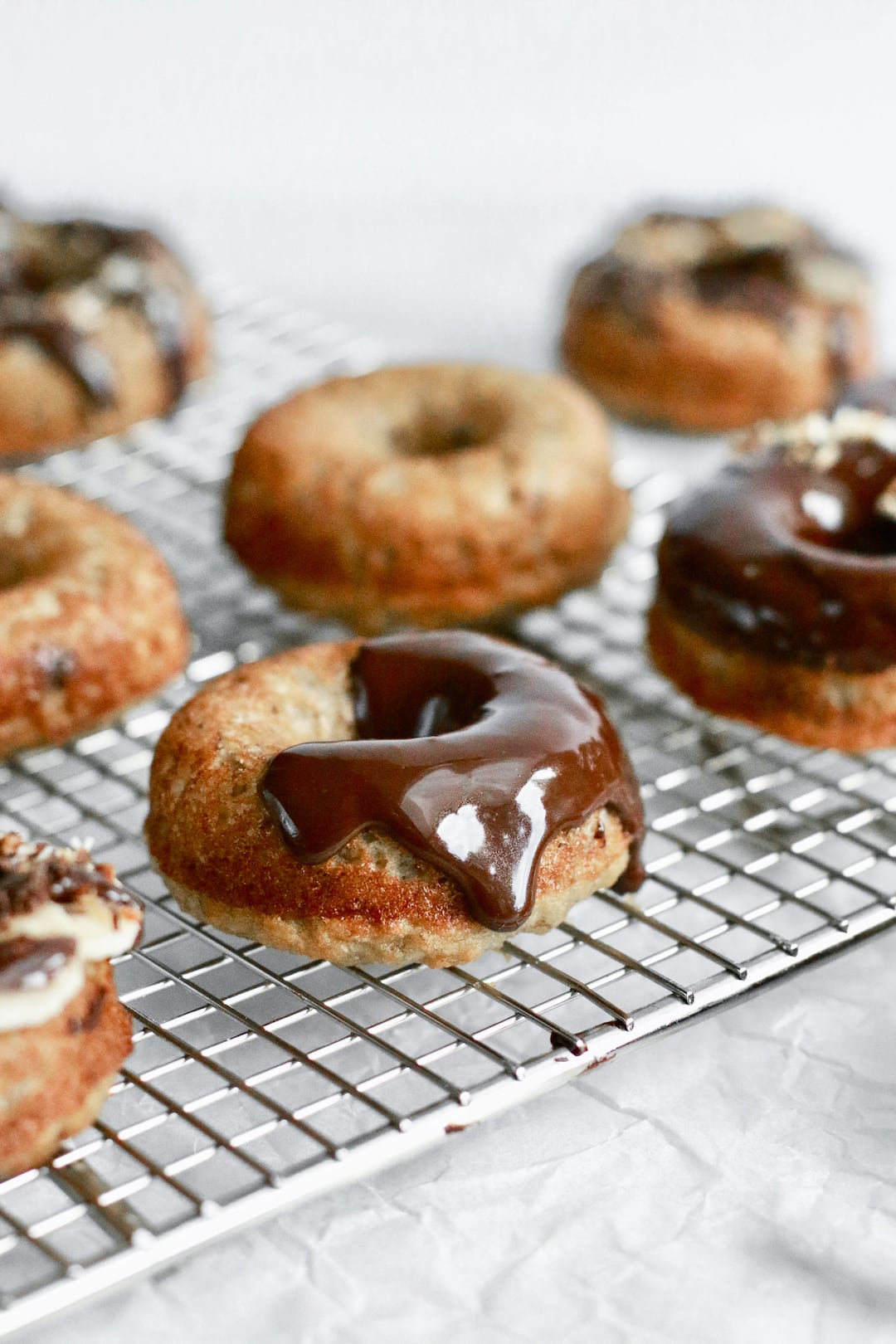 To take it all up a notch I used different toppings including toasted unsweetened coconut, sliced banana, and dark chocolate shavings to decorate each of the homemade chocolate banana bread donuts a little differently. 
This delicious and healthy take on a donut is honestly perfect for so many occasions including birthdays, baby showers, brunches or honestly, just a random Tuesday night at home. Without any refined sugars, and almost all whole food ingredients (aside from the dark chocolate chunks), these strike a wonderful balance between treat-yo-self and nourish yo-self!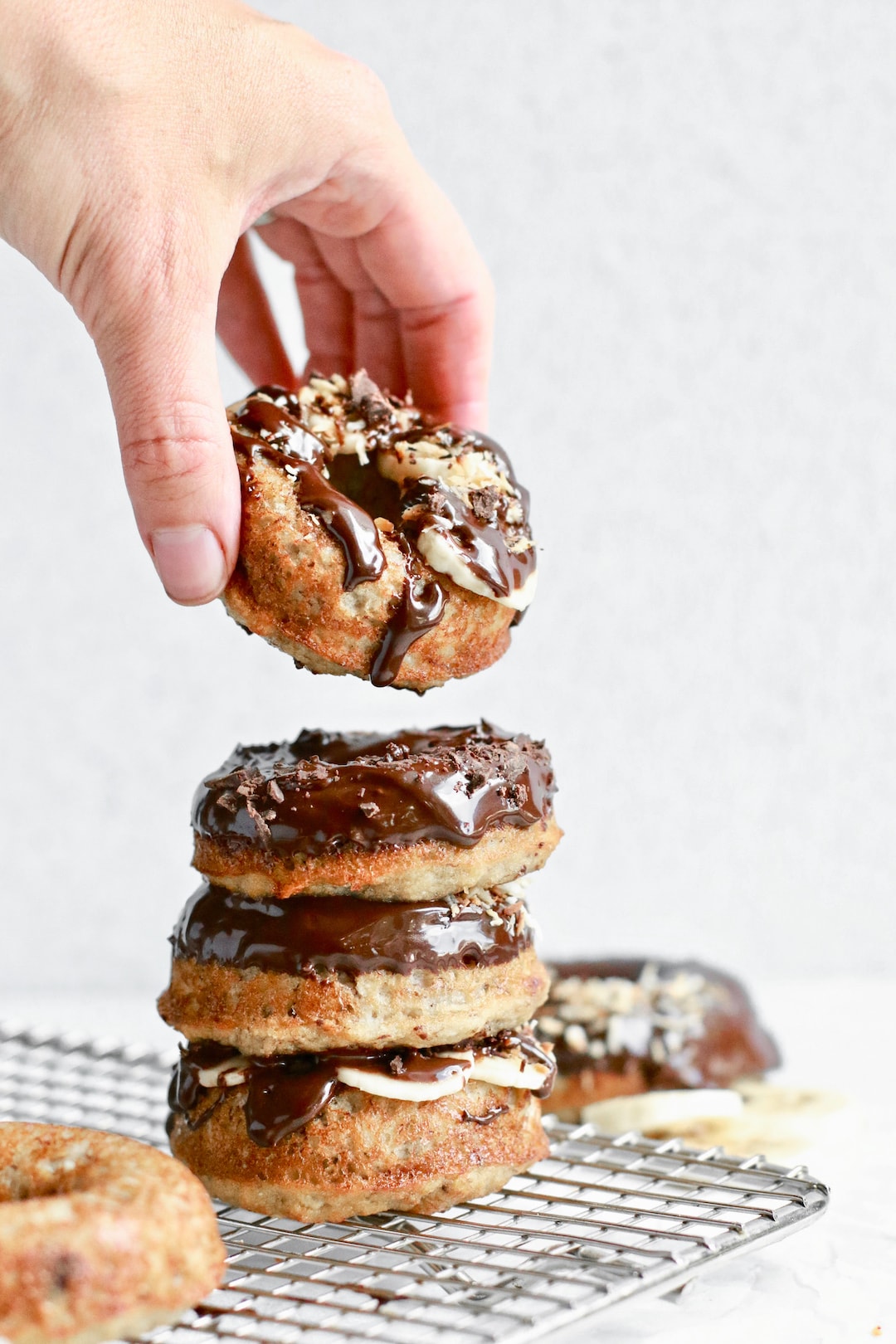 Have you ever made healthy homemade donuts? What's your favorite method? Tell me in the comments and be sure to pin the photo below to save this recipe for later and of course, share the love! 

Healthy Homemade Chocolate Banana Bread Donuts
Ingredients
Banana Bread Donuts:
¼ cup + 2 tablespoons almond flour
¼ cup + 2 tablespoons coconut flour
¼ cup unsweetened shredded coconut
4 large eggs
2 tablespoons raw honey
¼ cup high quality dark chocolate, chopped into chunks
¼ cup earth balance soy free vegan butter OR regular organic butter, melted
1 cup mashed banana
¾ teaspoon baking soda
1 teaspoon vanilla extract
¼ tsp salt
Chocolate Glaze:
5 tablespoons cocoa powder
2 heaping tablespoons raw honey
1½ tablespoons coconut oil
1 tablespoon non-dairy milk of choice
Optional Toppings:
¼ cup unsweetened shredded coconut, toast in a warm pan for 2 minutes
1-2 tablespoons finely chopped dark chocolate
1 medium banana, sliced
Instructions
Preheat the oven to 350 degrees.
To the Cuisinart Stand Mixer bowl (or in a large mixing bowl) combine the flours, shredded coconut, baking soda, salt, mashed banana, eggs, honey, melted vegan butter (or regular butter) and vanilla and whisk on medium speed for 1-2 minutes (or mix with a spoon) until smooth.
Fold in the chocolate chunks.
Generously grease two non-stick donut pans (6 donut cavities each) with coconut oil and pipe or spoon in the batter to fill each mold.
Bake the donuts for 10-12 minutes until just beginning to brown on the top.
Remove donuts from the oven and leave to cool for at least 10 minutes.
Once mostly cooled, remove the donuts from the pans and place on a plate.
Lastly, prepare the chocolate glaze by melting the coconut oil and honey in a small pan over low heat, then transfer to a small bowl and stir in the cocoa powder and non-dairy milk until the sauce is thick and smooth.
Place the chocolate glaze in the fridge for a few minutes to thicken more and toast the shredded coconut, if using.
Dip the top of each donut into the chocolate glaze to coat, then add on any additional toppings.
Enjoy!
Notes
Store glazed donuts in the fridge for best keeping.
Pin me!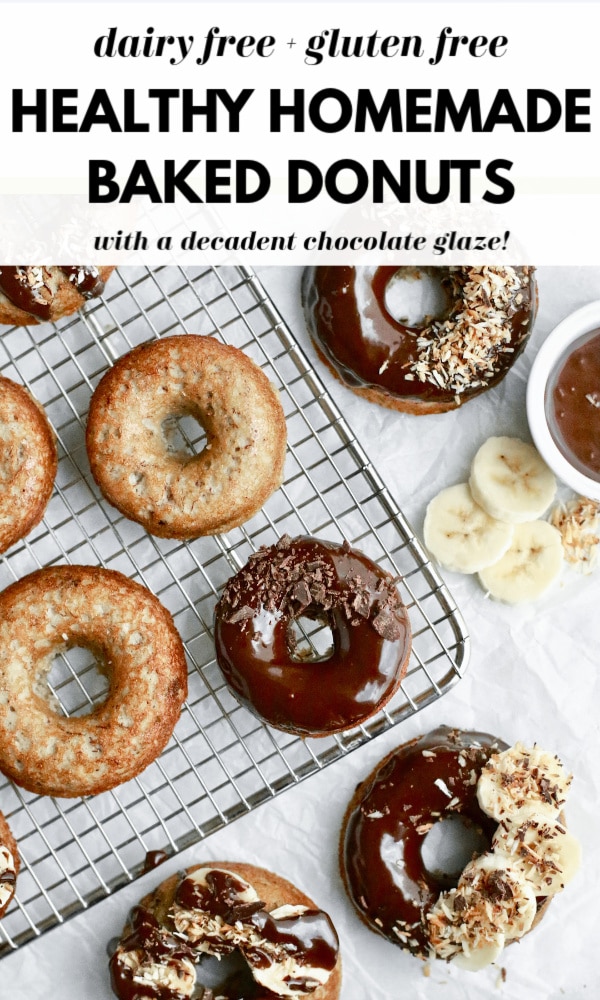 Not into donuts? Try these Vegan Protein Gluten-Free Banana Muffins!
Have a great Sunday!
Christal // NITK
DISCLAIMER: THIS POST WAS MADE IN PARTNERSHIP AND SPONSORED BY THE BRICK. ALL THOUGHTS AND OPINIONS ARE MY OWN.