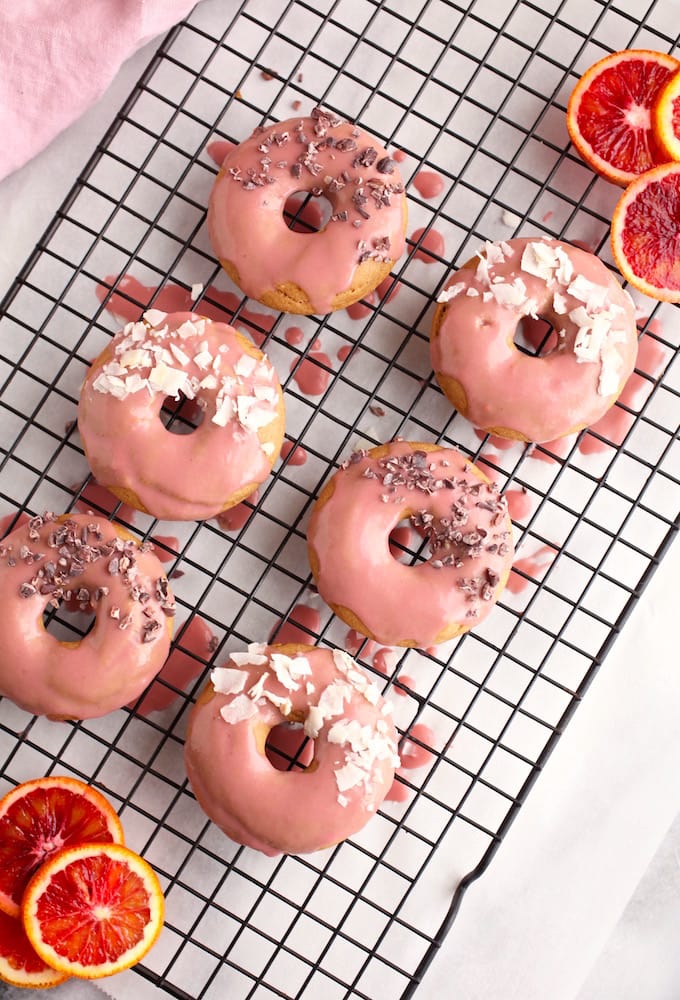 It's been far too long since I've posted a donut recipe on the blog. After all, donuts are the new cupcake right?! Over the last year there's been funky donut shops popping up all over the place in my city providing not-your-average donuts to long lines of customers. Luckily there's even a few places that offer gluten and dairy free donut options too.
While I've yet to get myself to one of these places to buy a box of freshly made allergen-friendly donuts, I have felt inspired to whip up a batch for myself at home. Having some extra time to tinker around the house as I was waiting patiently for the new little bundle to arrive seemed like the perfect opportunity to bake.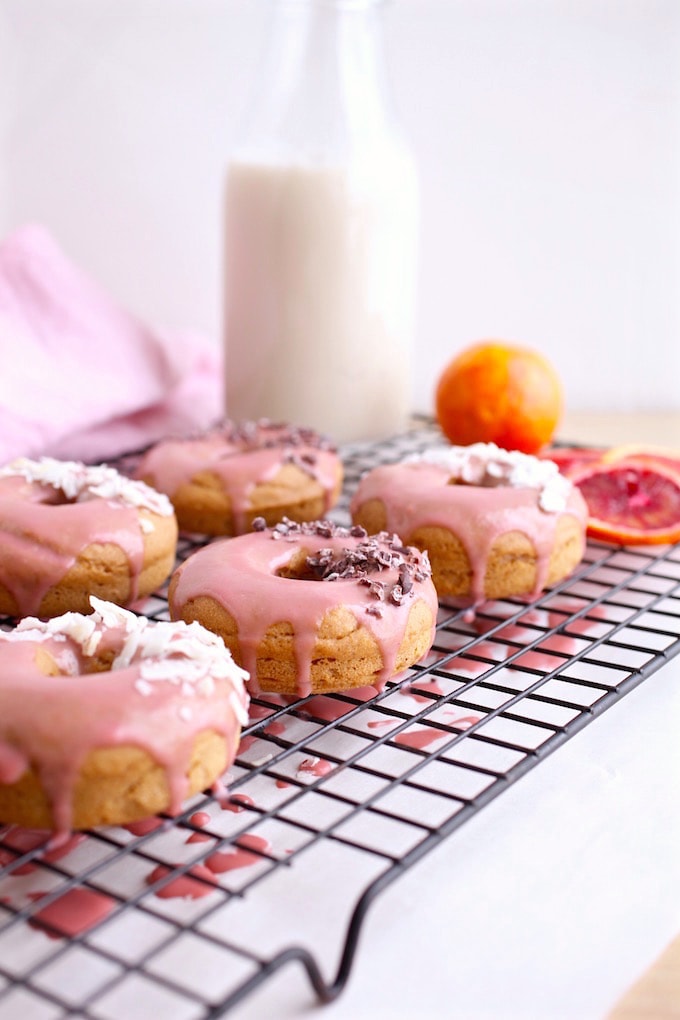 As I'm sure you've seen me say before, baking is not my forte. However, the more I experiment and test out variations of recipes, the more confident I feel when it comes to baking. My main goal whenever I am inspired to bake something is to make sure that I'm making a baked goodie that tastes indulgent, looks indulgent, but contains as many whole food ingredients as possible and is free of gluten and dairy.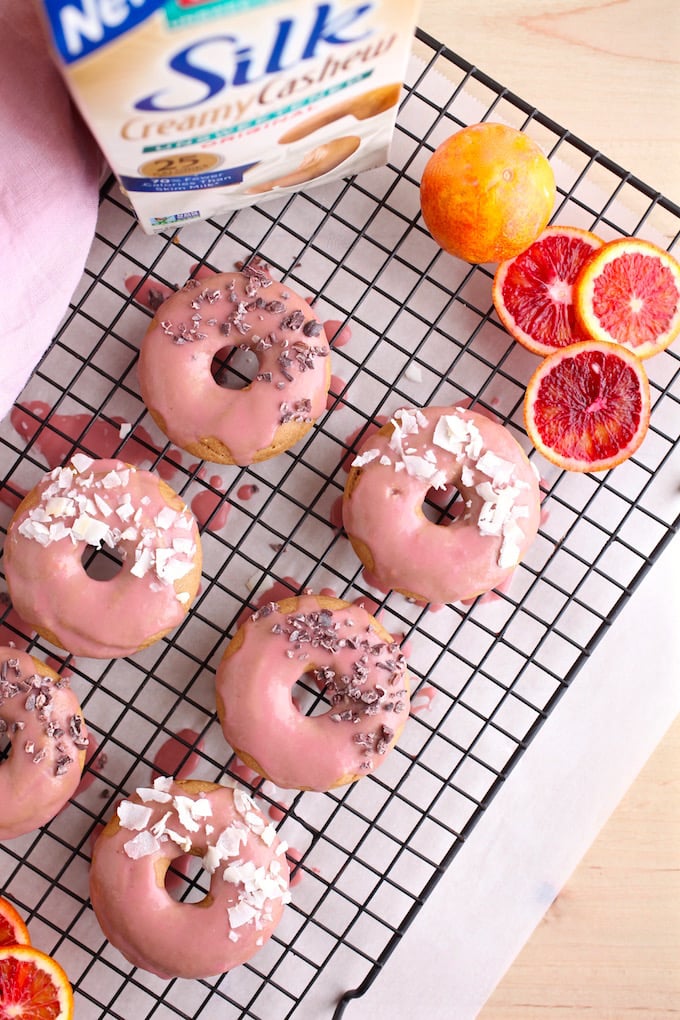 That's why I always reach for dairy free nut milks and butter alternatives. It's hard to find traditional baking that isn't loaded with cow's products! For these pretty pink donuts I used Silk's new Unsweetened Creamy Cashew beverage. While almond milk has always been my go-to, I loved the idea of switching it up to a nut milk made from cashews which are a great source of magnesium, iron, vitamin B6, potassium, and healthy fats.
The creamy texture of the cashew milk adds even more richness and moisture to these delicious donuts, and also adds a tad of creaminess to the strawberry blood orange glaze. Silk also just came out with their new line of plant-based Protein Nutmilks which are available in the US, and I'm eagerly awaiting their arrival to Canada, as these would be a perfect way to add a little protein power to these donuts.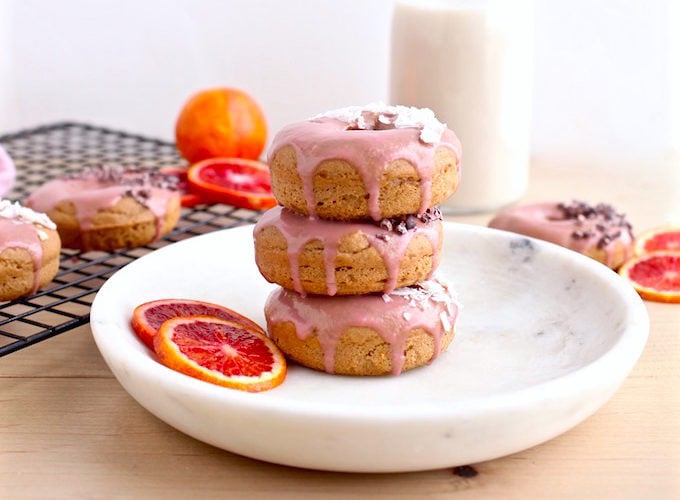 Using a gluten free baking flour along with the cashew nut milk created the perfect combination for a tasty dairy and gluten free baked donut. I had also just purchased some new silicone donut trays from amazon (much better in my opinion than the non-stick steel donut pans) and I was eager to test them out!
I went with my favourite granulated sweetener, coconut palm sugar to give these donuts a great flavour that isn't overpoweringly sweet. The coconut sugar is also what gives these donuts their caramel colour as opposed to light and white. Coconut palm sugar is a great substitute for white sugar as it's low on the glycemic index and releases much slower into the bloodstream when consumed. This slower release of sugars prevents blood sugar spikes, which ultimately prevents sugar crashes and cravings like refined sugar normally does.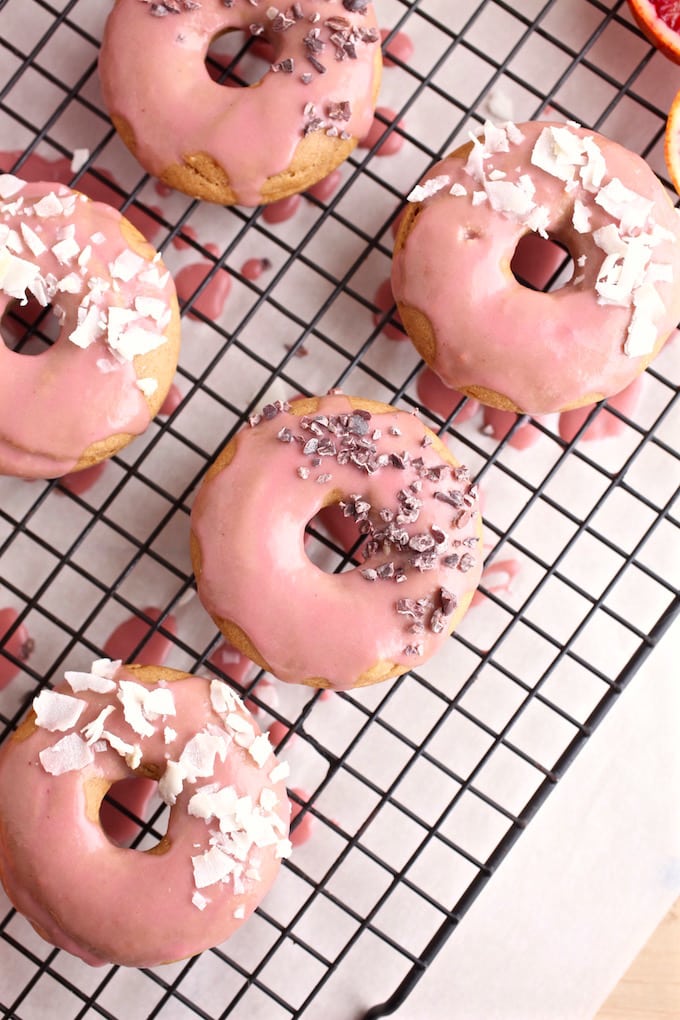 While I did use a teeny, tiny amount of powdered sugar for the strawberry blood orange glaze (just 1 teaspoon), these tasty baked donuts are definitely not sugar-laden like the typical donut. The glaze really get's its flavour and sweetness from the combination of strawberries and the blood orange and some pure maple syrup, another great unrefined sweetener option.
The donuts (without the glaze) are quite simple, with a slight vanilla cake flavour, so after I had made them my mind was going wild thinking of all the different ways they could be changed up for Spring!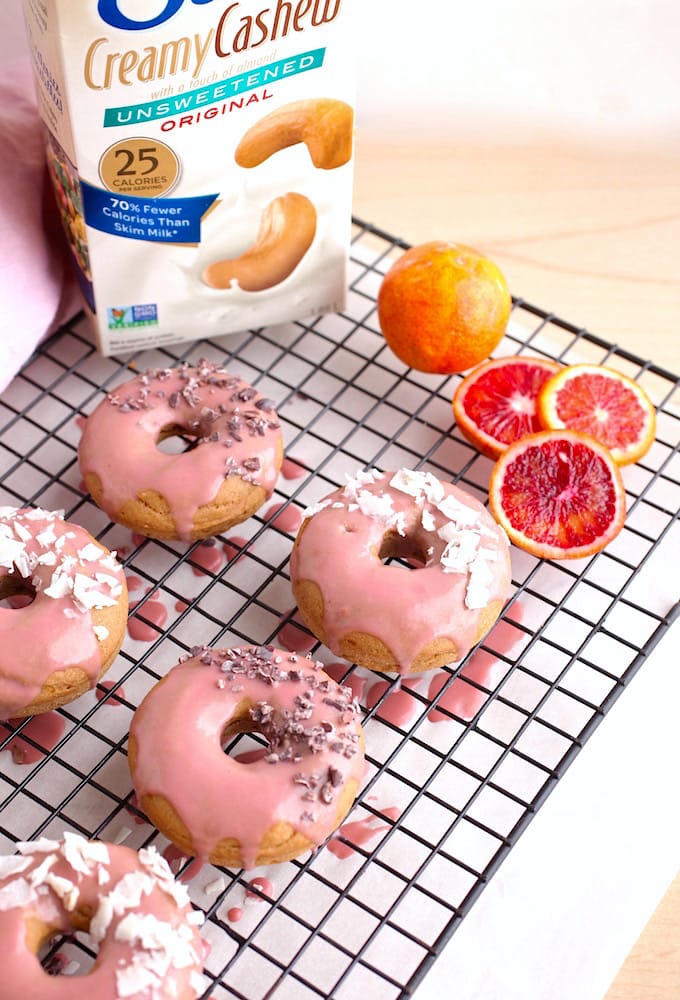 If strawberry blood orange isn't your fancy you can easily swap in a chocolate frosting or add fresh blueberries to the donuts and then make a sweet and simple lemon glaze or a make a tasty vanilla coconut glaze. I can tell you already there will be more donuts on the blog this year as a variation on this recipe … you just wait! 
Spring brings out lots of pretty pastel colours which is what inspired me to make the strawberry blood orange glaze for these donuts. I loved the light pretty pink colour and subtle berry citrus flavour that the two fruits provide. There's also a nice dose of antioxidant power in both strawberries and blood orange that works to add just a little more nutritional oomph to these delicious donuts.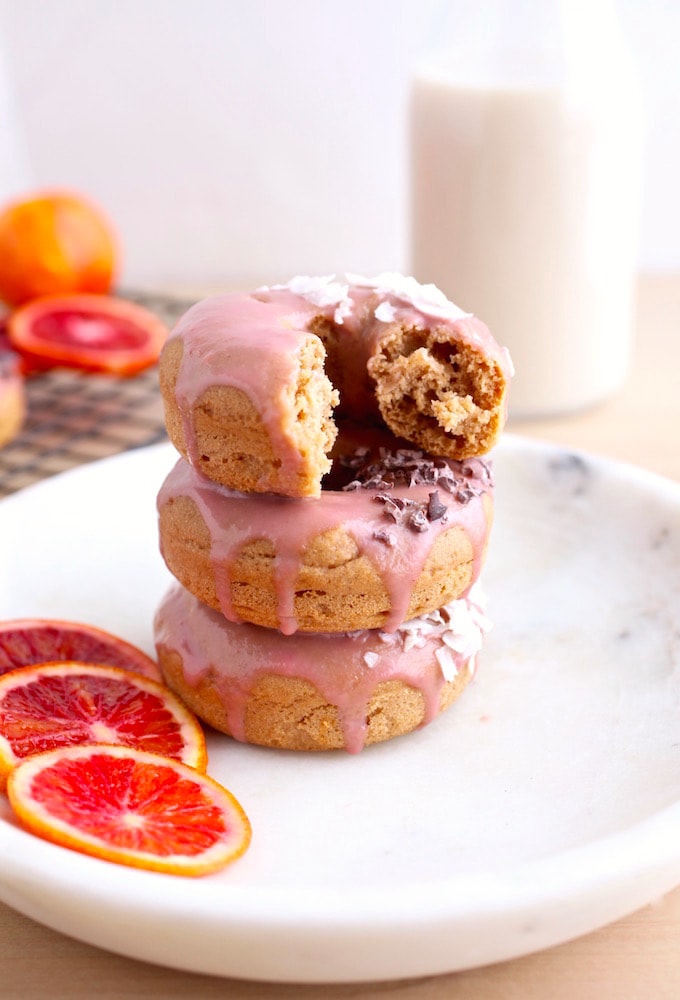 I hope you are feeling a little more inspired to do some Spring donut baking and give these ones a try! I'd love to hear if you make them and create a variation on the flavours, or if you keep them just as they are.
Have you made baked donuts before? How do you healthify these usually indulgent desserts? I'd love to read about it in the comments below! 

Baked Donuts with Strawberry Blood Orange Glaze // Gluten & Dairy Free
Ingredients
¾ cup + 1 tablespoon gluten free baking flour (I used Bob's Red Mill 1 to 1)
¼ tsp salt
¼ cup coconut palm sugar
2 tsp baking powder
2½ tablespoons melted coconut oil
¼ cup Silk Unsweetened Creamy Cashew Beverage (brought to room temperature) or other nut milk of choice
1 egg (brought to room temperature)
½ teaspoon pure vanilla extract
Strawberry Blood Orange Glaze:
½ cup thawed frozen strawberries (brought to room temperature)
½ blood orange, peeled (brought to room temperature)
1 tablespoon coconut butter
1 tablespoon pure maple syrup
1 tablespoon Silk Unsweetened Creamy Cashew Beverage (brought to room temperature)
1 teaspoon coconut oil
1 teaspoon powdered/icing sugar
Instructions
Preheat oven to 325 degrees.
In a large bowl combine flour, salt, coconut sugar, and baking powder.
In another bowl, whisk together coconut oil, almond milk, vanilla, and egg.
Pour the wet mixture into the dry mixture in a few batches, stirring in between to combine. The mixture should be nice and smooth and somewhat thick.
Lightly grease a donut pan with coconut oil or olive oil spray (you can also use a muffin pan)
Fill donut cavities about ⅔ full.
Bake for 13-14 minutes, or until a toothpick pulls clean.
Allow the donuts to cool completely before removing from pan, follow with the glaze.
Add all of the glaze ingredients to a small food processor or blender and blend until completely smooth.
Add to a mesh sieve to remove any clumps left from the strawberry or blood orange and create a nice, smooth, velvety glaze (if you don't have a sieve you can skip this step but the glaze will just be slightly more "textured")
Once the donuts have completely cooled, drizzle each donut with the glaze and enjoy!
Notes
- Bringing any cool ingredients to room temperature will prevent the coconut oil/butter from clumping.
- If you would like to serve these for a brunch/event, I recommend waiting until just before serving to drizzle on the donut glaze as over time the donuts slowly absorb the glaze.
Have a wonderful Sunday and happy donut making!
Christal // NITK 
*DISCLAIMER: THIS POST HAS BEEN SPONSORED BY SILK, BUT AS ALWAYS THE THOUGHTS AND OPINIONS ARE MY OWN. I WOULD NEVER RECOMMEND A BRAND I DO NOT STAND BEHIND AND ONLY SHARE THOSE I HOPE YOU TOO WILL ENJOY. THANK YOU FOR CONTINUING TO SUPPORT THE LIFE AND GROWTH OF NUTRITION IN THE KITCH!