This delicious slow cooker Indian butter chicken is dairy free, gluten free, and full of flavour made easily in the crockpot or slow cooker!

Slow Cooker Indian Butter Chicken that's Dairy Free!
This dairy-free slow cooker Indian butter chicken has been a blog favourite, a client favourite, and a personal favourite over the years. I usually shy away from Indian-inspired food as I find it can be challenging to create, and there are a lot of Indian dishes that contain dairy, like butter chicken (traditionally called Murgh Makhani) for example. Despite the name, traditional butter chicken does not typically contain butter, but actually cream or yogurt which gives it a rich, hearty consistency.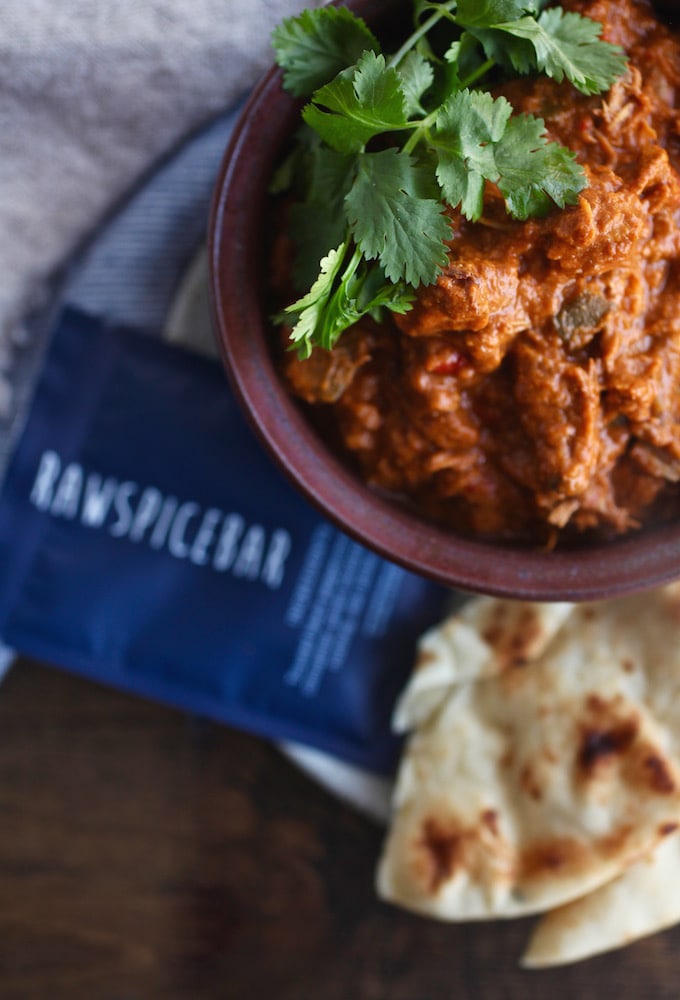 When I created this recipe a few years ago, I was inspired by a great recipe I got from the lovely Half Baked Harvest blog! Tieghans butter chicken looked absolutely delish, and I loved the idea of making it in the crockpot, but as per usual, I wanted to healthify the recipe a little more, and make it dairy free.
Milk, Cream, Yogurt Substitute for Butter Chicken
For this delicious slow cooker Indian butter chicken instead of using any dairy products, I used two simple ingredients that can create a creamy, rich texture in any recipe:
Raw Cashews
Coconut Milk
Raw cashews, when blended up with the rest of the sauce ingredients create a lovely cream-like consistency that can be mistaken for a traditional Indian butter chicken sauce. With a few bites, you would likely never guess this recipe was actually dairy free. The light coconut milk is also a great substitute for the cream to blend with the cashews to create a wonderful flavour and richness.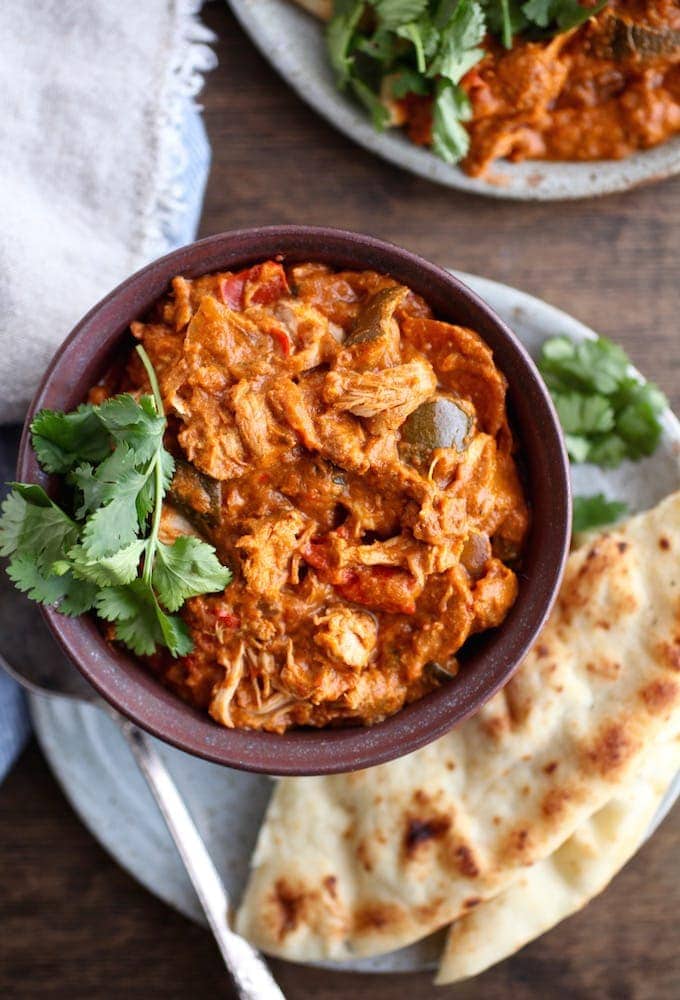 Another very specific feature in the recipe that makes this recipe warming and perfect for cooler weather is the blend of spices! Garam masala, ginger, turmeric, and cayenne blend wonderfully with curry paste, light coconut milk, and garlic create a deliciously savoury flavour, that couldn't be mistaken for anything but slow cooker Indian butter chicken!
Nobody knows spices like Raw Spice Bar, who reached out to me not long ago to share their spice kits. These kits contain freshly ground spices in delectable blends for wildly flavourful meals. The spice kits (and quarterly spice subscriptions!) can work for savoury recipes such as Indian-inspired, sweet recipes like pumpkin-spiced cornbread or chai-spiced apple clafoutis. Drooling yet?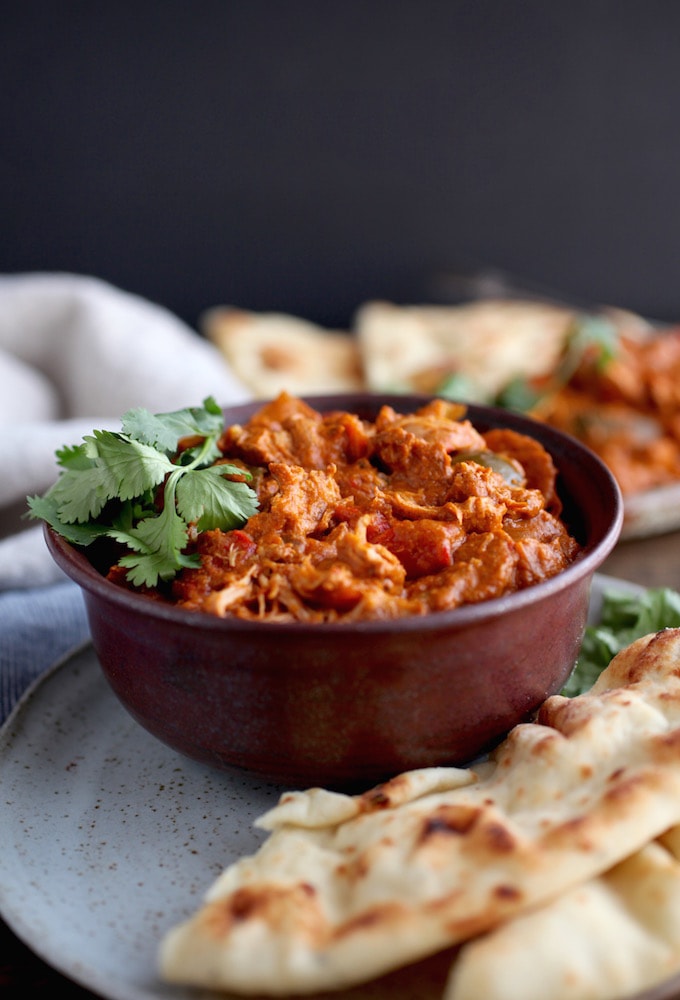 The coolest part of this spice-lovin' company is their spice subscription option, where you can sign up for a monthly spice box delivered right to your door.
While I love working with individual spices, having blends already whipped up and ready to go with recipe ideas for inspiration takes all the guess work out of it. Over the years I've gained a little more knowledge in the spice world (I think?), but having ready-made spice kits are always a treat. Also, if you have specific tastes and prefer certain flavours, you can personalize your recipes with the Raw Spice Bar Flavor Profile Quiz after you sign up. How cool is that?
CrockPot Butter Chicken or Instant Pot Butter Chicken
If you love the idea of this recipe but don't have a traditional slow cooker and rather have a Crockpot or an Instant Pot, you can definitely use either one instead! I would recommend following the recipe instructions as listed and then add to a crockpot for 6 hours on low. For the instant pot, follow the instructions according to the appliance or use the "poultry" setting!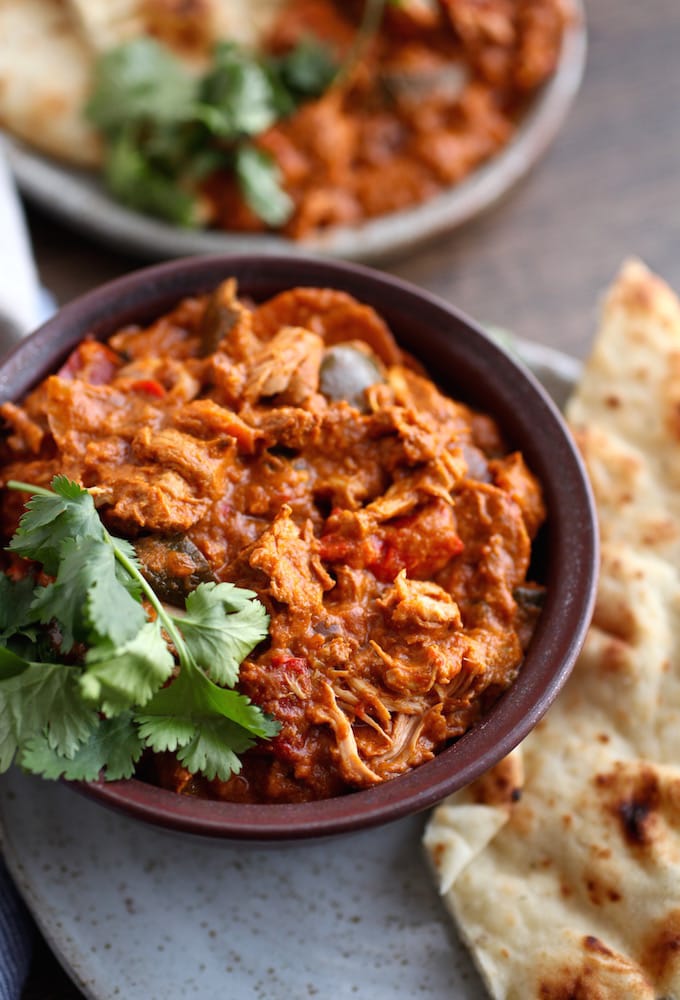 If you are feeling like some warm, comfort food these days like I am, pull out that slow cooker and whip up this delicious slow cooker Indian butter chicken, then pop on over to Raw Spice Bar and check out all the warming spicy holiday options to suit your tastes!
MORE DAIRY FREE SLOW COOKER RECIPE IDEAS:
Looking for more delicious dairy free recipes you can make in the slow cooker, Crockpot, or even Instant Pot? Check out some of my faves!
What's your favourite spiced recipe for warming up in cooler weather? I'd love to read about it in the comments below! Also, be sure to pin the photo below to save this delicious slow cooker Indian butter chicken recipe for later!
Pin me!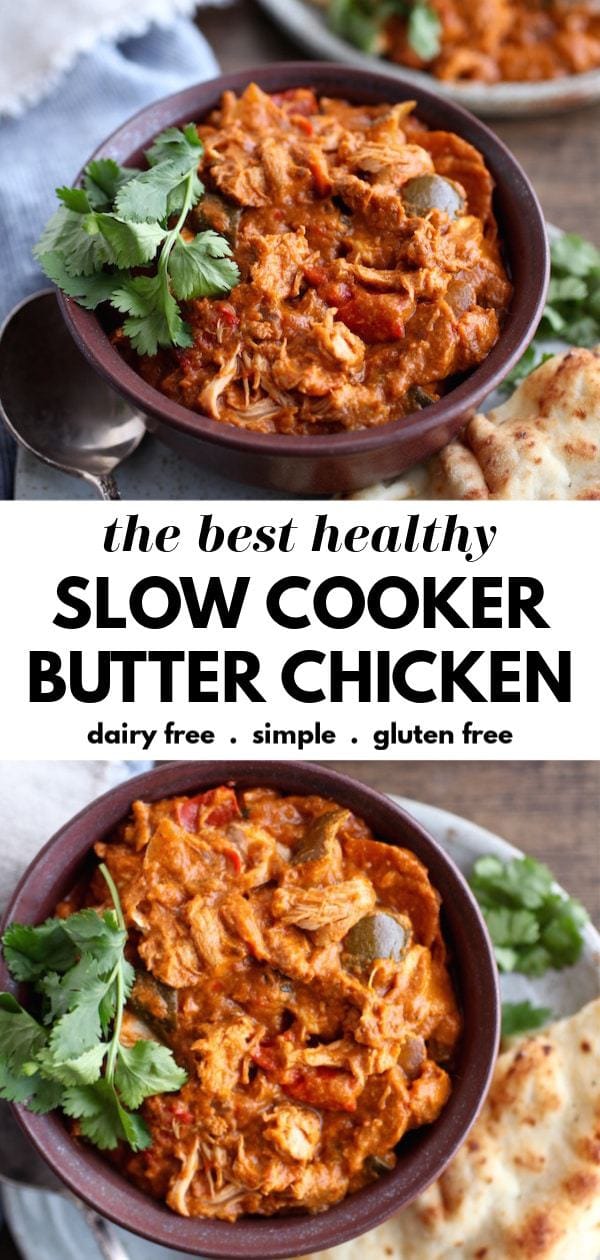 Enjoy the rest of your Sunday!
Christal // NITK
Disclaimer: This recipe post was sponsored by Raw Spice Bar, but as always, the thoughts are opinions are completely my own!