This sweet and simple mango avocado salad is dairy free, gluten free, and perfect for a light meal or as a side, it's healthy and delicious!

Mango Avocado Salad
I posted this delicious mango avocado walnut salad on the blog back in 2012 and it's another recipe that needed new photos, a little extra love and a time back in the spotlight. Not only does this salad look beautiful, it tastes amazing and it's beautifying too. It contains several ingredients that have beautifying properties that help boost skin, hair, and nail health so you can truly glow from the inside out!
The salad actually only contains five ingredients aside from the dressing which is only three main ingredients in itself! I can almost guarantee you probably have most of the ingredients already in your fridge or pantry and you can enjoy this salad on it's own or amp it up with grilled chicken breast or baked salmon. It is Father's Day after all so if the Dad you are celebrating it is a big griller, convince him to grill up his favourite protein and enjoy it on top of this yummy salad!

I want to talk a little more about the star ingredients of this salad, as the name suggests – mango, avocado, and walnuts! Each ingredient has tons of nutritional benefits and specific properties that help support skin, hair, and nails. Let's dig deeper!
Mango Nutritional Value
Mango is a fruit I actually hated as a kid! I'm not sure why but I just didn't like it and now as an adult, I can't get enough! I love how meaty and filling it is, the perfect amount of sweetness and it's ability to make a smoothie extra creamy! Mango contains an ample amount of polyphenols, compounds that are antioxidants and help protect the body against free radical damage. Mangos also contain vitamin C which helps produce collagen in the body, necessary for healthy skin, and vitamin A which keeps skin firm and healthy!

Nutritional Benefits of Avocado
Next up is one of my all time favourite foods, avocado, which plays an incredible role in improving the health of hair, skin, and nails. The power of this delicious fruit (yes avocados are a fruit!) is in the healthy fats avocados contain. Avocados are loaded with essential fatty acids including Omega-3 fatty acid which nourishes hair follicles and keeps skin moist and supple. Avocados also contain a great amount of vitamin E which helps to protect the skin against free radical damage and sun damage and vitamin A which helps keep nail tissues strong.
The avocado in this salad also adds a richness and taste and texture that contrasts wonderfully with the mango and lettuce greens. Avocados are just so creamy and delightful they make the perfect addition to this tasty mango avocado walnut salad!

Nutritional Value of Walnuts
The last lovely little star ingredient of this salad is walnuts! Walnuts contain a healthy dose of essential fatty acids including a plant-based form of omega 3 called alpha-linolenic acid or ALA. The ALA in walnuts help to and improve the skins' barrier and enhance it's overall appearance. These healthy fats in walnuts also help to reduce inflammation and can reduce the severity of breakouts. I'll take that any day!
The walnuts add the perfect crunch to the salad and I also decided to throw in hemp seeds for good measure (which also contain healthy fats!). The walnuts and hemp seeds also bring in some protein, but again there's always the option to add chicken breast or salmon to this delicious mango avocado walnut salad!

The dressing for this salad is incredibly simple but pairs perfectly with the rest of the ingredients in the salad. A bit of oil, touch of honey, squeeze of lemon, and dash of salt and pepper. Perfection! For the oil you can use either olive oil or avocado oil! I love how subtle avocado oil is so it's definitely my top choice for the dressing but it's totally up to you and both olive oil and avocado oil have essential fatty acids and benefits hair, skin, and nail health!
Another optional addition to this salad is goat cheese which I had on my original version of this recipe, or you could use a dairy free cheese such as a crumbled dairy-free feta! Add ins or not, I guarantee you'll love this tasty, light, and beautifying salad!
Be sure to pin the photo below the recipe to save this post for later and of course, share the love!
Pin me!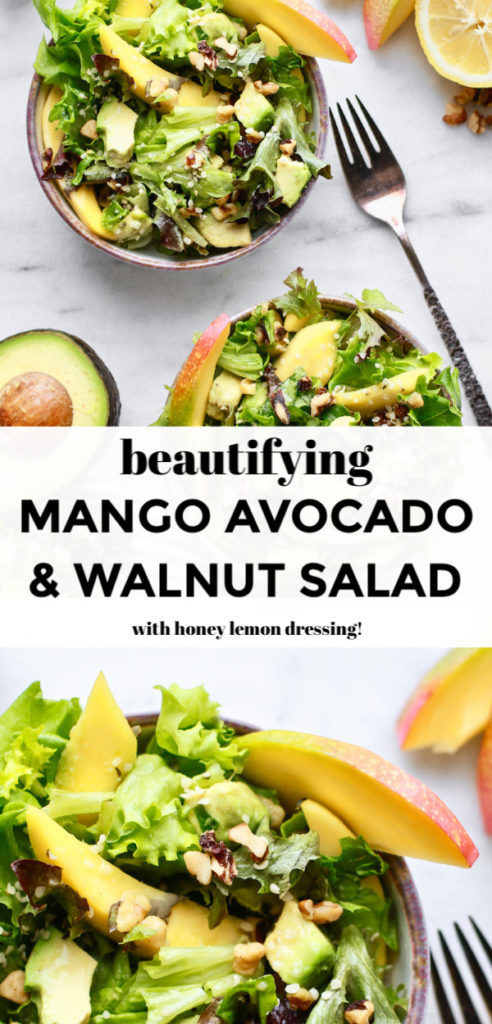 Have a wonderful Sunday (and Happy Father's Day to my own Dad, my hubby who is an amazing Father and all the Dad's out there being celebrated today!)
Christal // NITK