This is a dish that I very commonly put into my clients weight loss meal plans.
Yes. You read that right. THIS dish, clients, weight loss, meal plans.
Even though it looks like a rich, creamy, might-go-straight-to-my-hips, kind of dish. It's not! Not only is this recipe absolutely delicious, it's low cal, high protein, and versatile. You can have it on a bed of lettuce for a filling salad, wrapped into a whole wheat tortilla for something quick on-the-go, or between two warm toasted slices of fresh bread as a filling and energizing meal!
When a client comes back for a follow-up who has had this dish in their meal plan, all I hear is "Ohhh, and THAT Waldorf salad thing!! YUM!!!!".
Yep, it's that good!
One thing I always try my best to do is keep client meal plans exciting yet manageable. I try to focus on recipes or dishes that are flavorful, yet easy to make, and compact-able, because the reality is, not many people I see have a whole lot of time to spend in the kitchen or have a lot of experience with cooking in general.
The last thing I want to do when a client comes in looking for guidance on weight loss, is to give them a meal plan that keeps them in the kitchen for hours and is completely unmanageable for their lifestyles, that's just a recipe for failure, never-mind anything delicious!
So in comes the Skinny Chicken Waldorf Salad. Why "Skinny" you ask?
Well, the classic Waldorf salad is dressed with a big dose of full fat mayonnaise and whipping cream…not so waistline friendly. This version of the salad… is dressed with plain fat-free Greek yogurt (clearly one of my faves) and a bit of reduced-fat mayonnaise!
The "skinny" version of the Waldorf also uses skinless chicken breast (which I pre-cook by baking), a lean protein, and then a mix of fresh fruits and veggies! Top it all off with some chopped walnuts or pecans and this salad comes out with delicious flavor and texture!
Trying to decide what's for lunch tomorrow? I think you have your answer. 🙂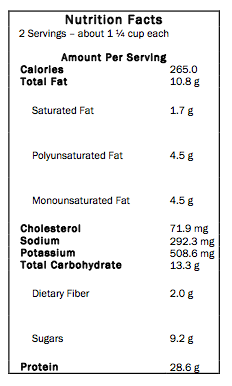 Skinny Chicken Waldorf Salad
Ingredients
8 oz chicken breast, pre cooked (I bake mine, can be grilled too!)
½ cup apple, peeled and cut into small cubes
½ cup red seedless grapes, cut in half
⅓ cup celery, chopped
2 tbsp plain fat-free Greek yogurt
2 tbsp light mayonnaise
1 tsp dijon mustard
¼ cup chopped pecans or walnuts (optional)
salt and pepper
Instructions
Dice or pull apart cooked chicken breast, set aside.
Combine mayo, yogurt, mustard, salt, pepper and mix well.
Add chicken, grapes, apples, celery, and let it chill in the refrigerator until you are ready to eat it.
Top with pecans or walnuts before serving.
Serve over bed of mixed greens, in a tortilla wrap, or as a sandwich!
Enjoy!
Christal
Nutritionist in the Kitch