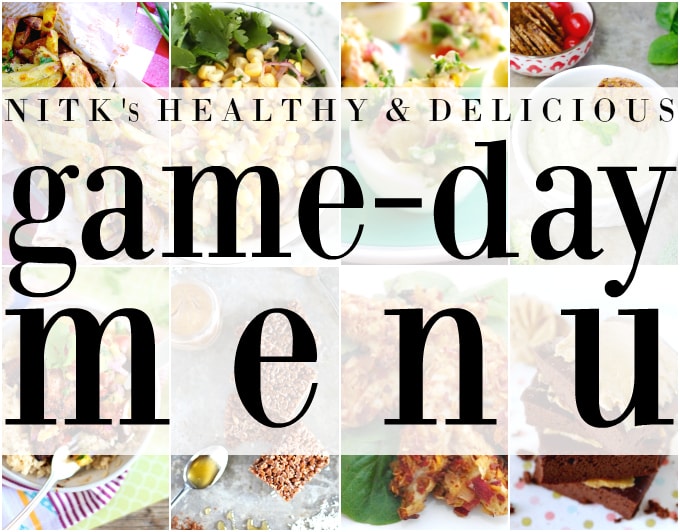 I'm not a huge football fan. Actually… I'm almost a football non-fan, only because my hubby is literally football-obsessed. After listening to football for months and months in the background at home I'm convinced that an effective form of torture would be to put someone in an empty room, tie them up, and make them listen to football commentary for hours on end.
t.o.r.t.u.r.e…
That being said. I love food, I love getting together with friends, and I love any excuse to cozy up on the couch on a Sunday afternoon in the wintertime. So, needless to say, Superbowl Sunday is actually kind of OK. (just a little… don't tell my hubby!)
I thought it would be fun to create a healthy, delicious, and seemingly indulgent menu for those of you who need some inspiration for what to feed your guests or bring to a party for tomorrow's game! So let's get into it!
THE KICKOFF
Start of with some tasty Not-So-Evil Devilled Eggs, green and creamy Broccomole Dip with Chips, and Veggie Chip Chicken Strips. 
Click the photos below to be taken to the recipes!
HALF-TIME FEAST
Mid-game get into the 'meat & potatoes' with some Spice Rubbed Chicken & Pineapple Salsa, a fresh and tasty Cilantro & Lime Corn Salad, and THE Best Baked Herb & Garlic Fries!
Click the photos below to be taken to the recipes!
THE TOUCHDOWN FINISH
Finish of with a little natural sweetness, some Flourless Chocolate Brownies with Salted Peanut Butter Topping, and some Healthy Cocoa Rice Crispy Squares! Total CROWD PLEASERS!
Click the photos below to be taken to the recipes!
Oooh yes! Even if you aren't a football non-fan like me, I can guarantee this spread will make listening to football commentary for 4 hours well worth it!
Have a lovely Superbowl Sunday tomorrow… and GOOOO Whatever-Teams-Are-Playing!! 
Christal
Nutritionist in the Kitch