Do you have a little extra time this beautiful Sunday afternoon? I've got a plan for you! Make some healthy homemade energy bars!
These delicious bars are filled with wonderful healthy ingredients including apricots, cashews, hemp seed, unsweetened coconut, and oats. While most packaged granola bars or snack bars are full of artificial flavors, colors, added sugars, these are a great alternative, and, of course, super easy to make whip up!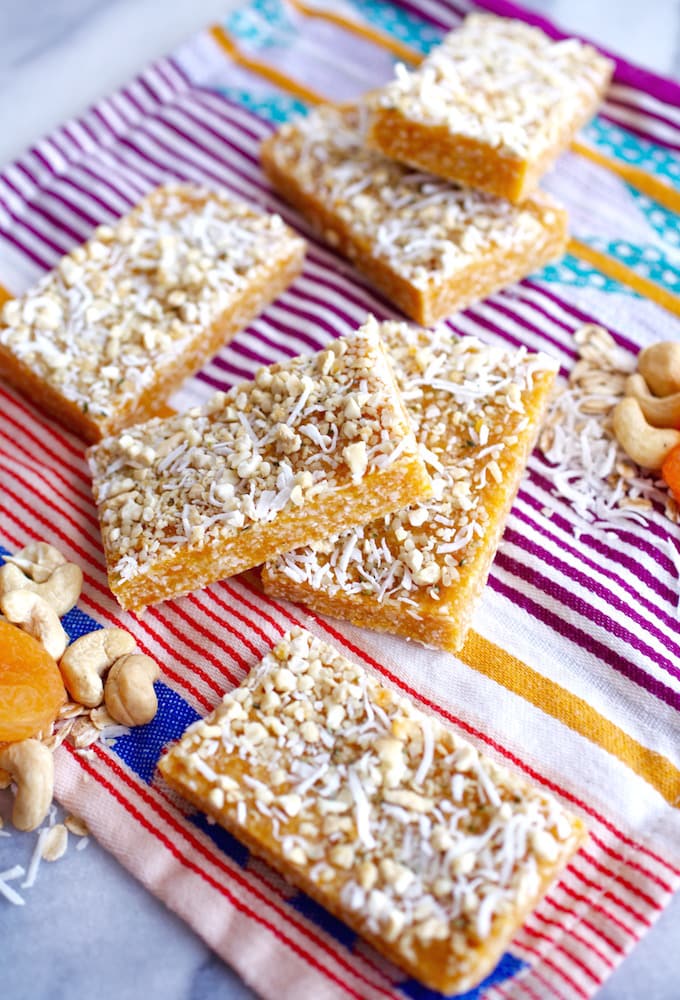 This recipe (originally created by shutterbean and adapted to make this one) has actually been one of the most popular since I began my blog in 2012 because it's such an easy, tasty, great recipe! But, the old photos I had of the bars needed to go!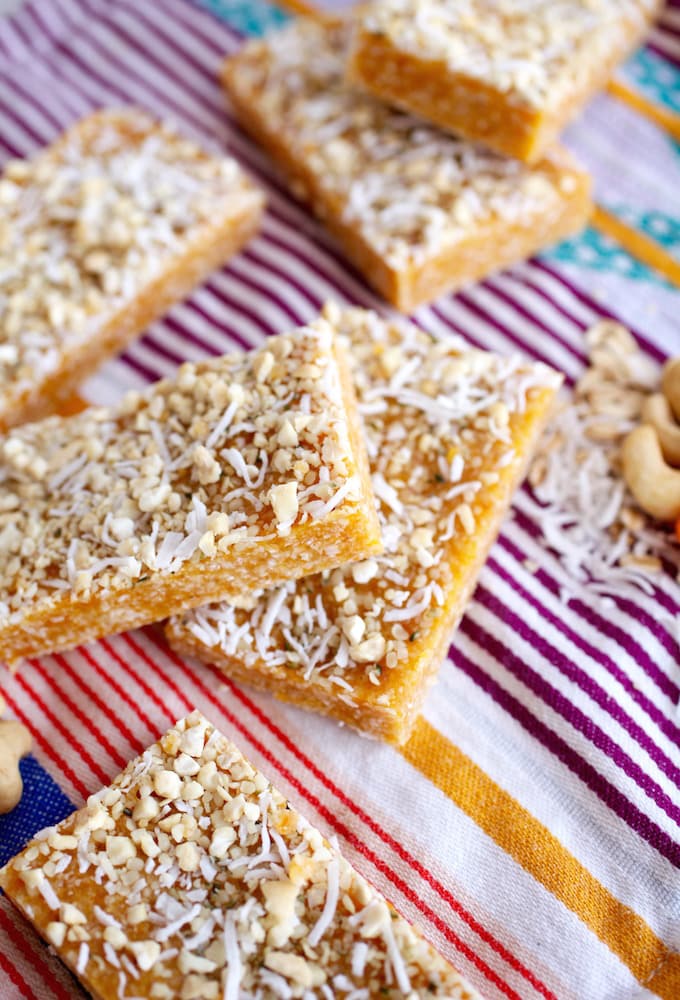 These new photos really show the bright, bursting, flavour and deliciousness of these easy bars a lot better and I've been trying to slowly but surely go though my older posts to give them a little bit of a fresh face!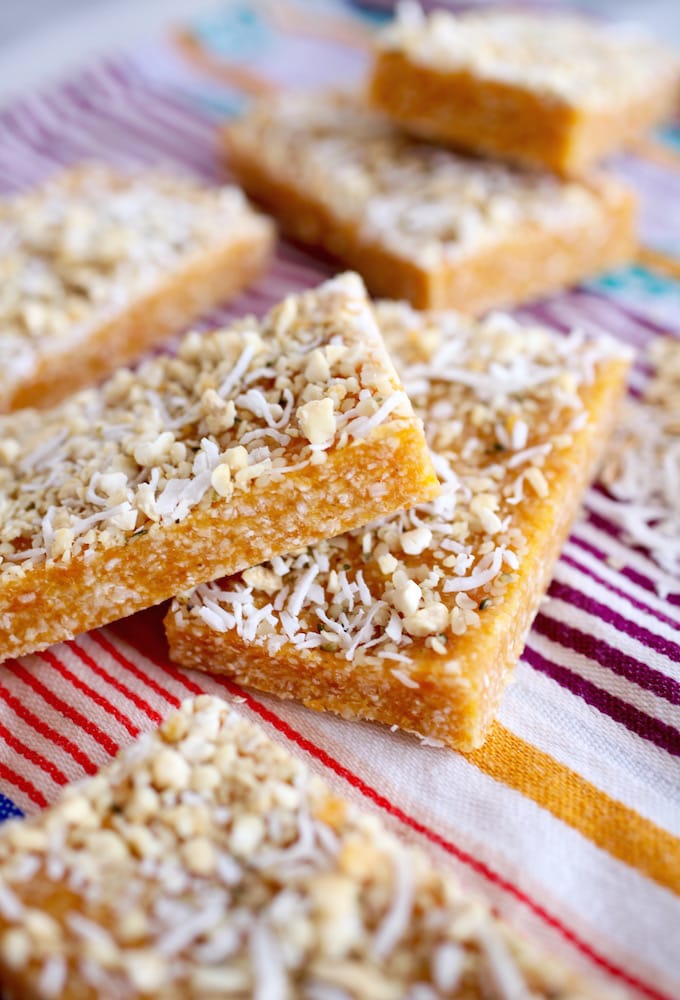 Ok, back to the recipe!
Dried apricots are full of Vitamin A, so these bars are going to help with eye health while they give you a pick-me-up in the day. I love making energy bars/balls/bites like these to have in the fridge or freezer because they are quick to grab and quick to eat when I need a little nutrition in the middle of a busy day.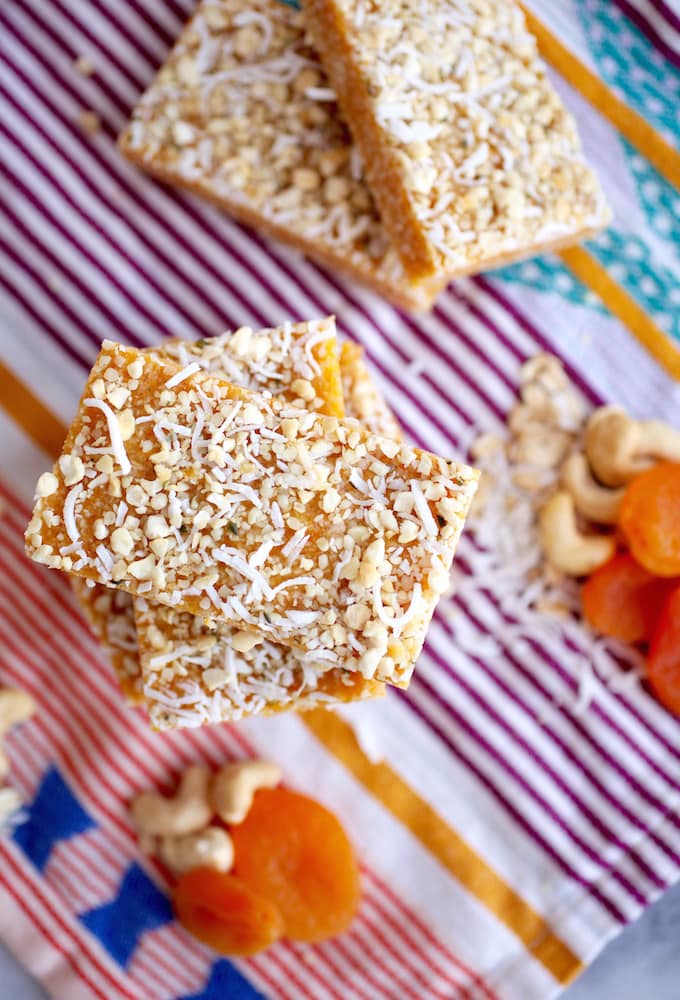 Do you make your own homemade energy bars? I'd love to hear about the mix of ingredients you use in the comments below! 

Apricot & Cashew Energy Bars
Apricot & Cashew Energy Bars Prep time: 10 mins Cook time: 1 min Total time: 11 mins Serves: 8
Instructions
Line and 8 inch baking pan with parchment paper or saran wrap, and set aside.
Pulse cashews in a food processor until crumbly, place in a separate bowl.
Pulse apricots in food processor until finely chopped. Add all other ingredients to the apricot mixture and process until well combined.
Add the chopped cashews to the mixture and pulse until combined.
Firmly press the apricot mixture into the baking pan, using the flat surface of a measuring cup to create a flat even layer.
Place pan in the freezer for one hour, then remove and cut into 8 rectangle bars (or more or less, depending on desired size).
Place in an airtight container and store for up to one month in the fridge.
Enjoy!
*recipe adapted from the lovely Shutterbean blog*
Have a wonderful Sunday!
Christal // Nutrition in the Kitch