This delicious gluten free protein banana bread is super moist, nutritious, and dairy free. It's filling and packed with protein power and topped with an optional cashew cream cheese!

Protein-Packed Banana Bread
Do you ever crave banana bread? The almost intoxicating smell that fills the house while it's baking, the deliciously dense texture, and perfectly sweet flavour? I do. Yes, I sure do. Banana bread is definitely one of my favourites and I'm revamping this recipe yet again for the blog today… I honestly feel it's a recipe that can be changed so many ways and today I've seriously taken it up a notch. Did someone say cashew cream cheese frosting?!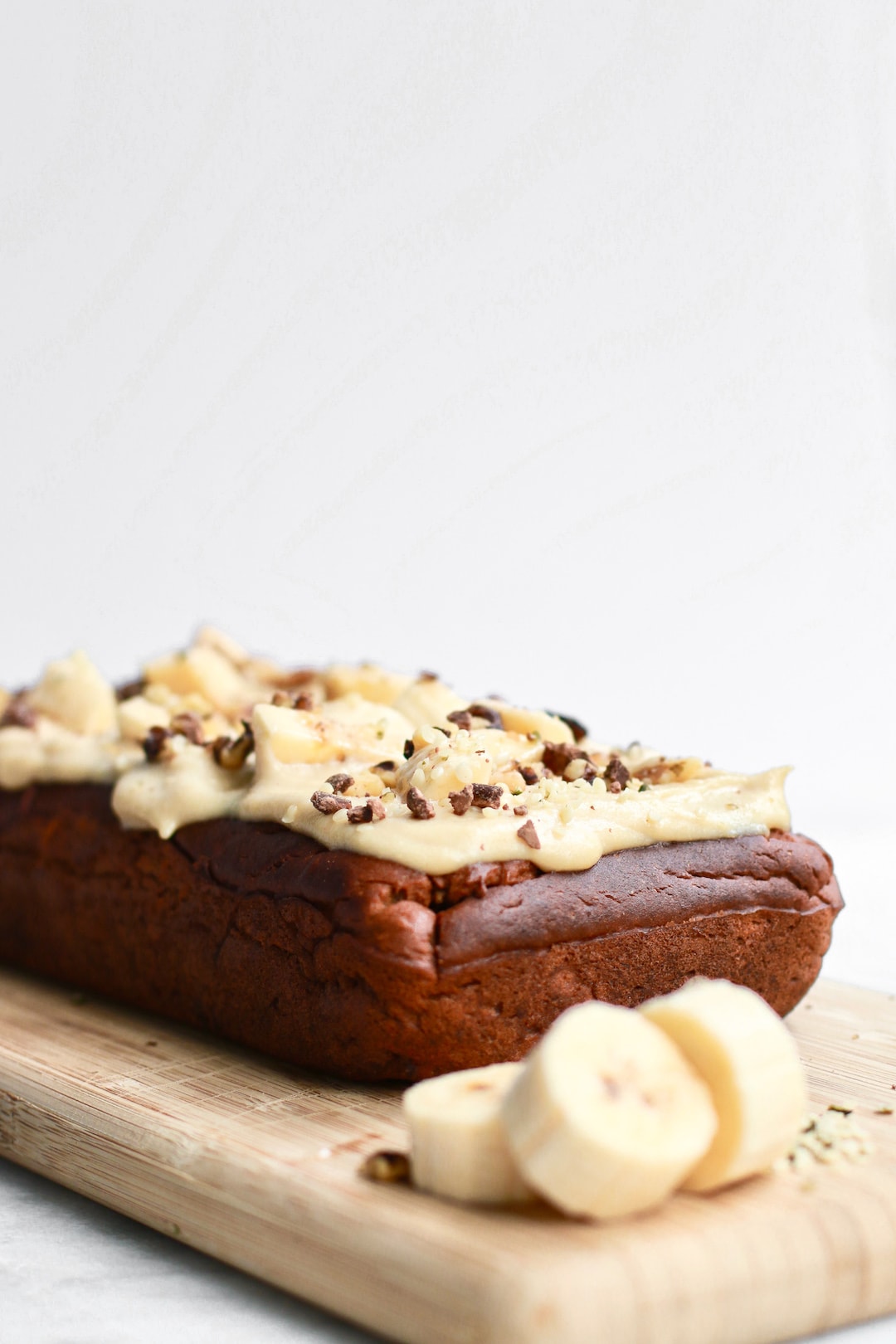 Years ago I would always order the "reduced-fat, healthy"  banana chocolate chip coffee cake at Starbucks (before I knew any better!) but now I almost always make my own at home. That banana bread was delicious, but one day my curiosity got the best of me and I looked up the nutritional details on the Starbucks website and let's just say, like usual, "reduced fat" = "a crap-load of sugar" and seriously, there's absolutely nothing wrong with dietary fat anyways, so the whole "reduced fat" label (especially when one piece is still 400 calories) is just plain silly. A perfect example of deceptive food-industry marketing.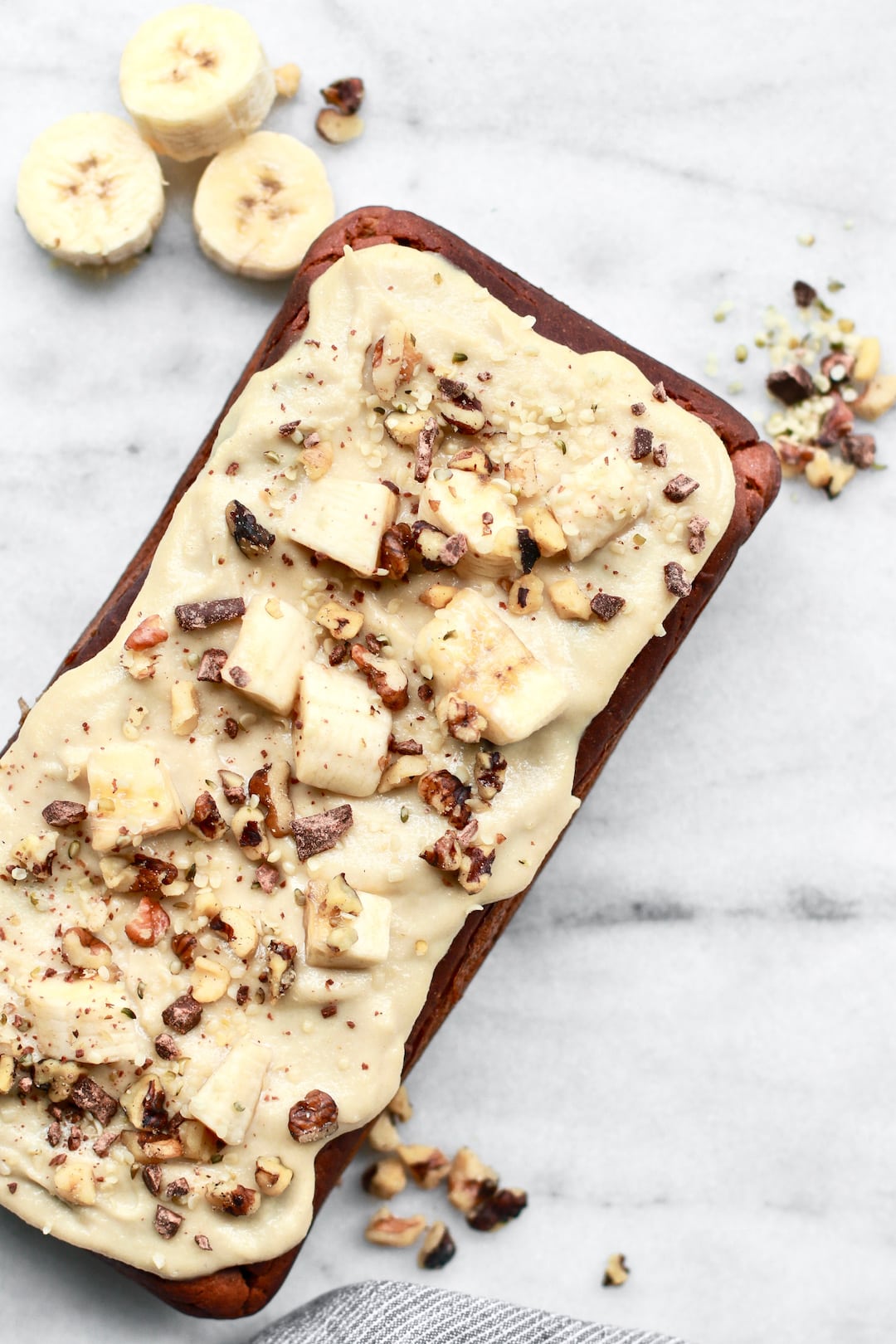 What Makes this Banana Bread Protein Packed?
I decided shortly after my Starbucks awakening that I'd have to find or create a  better, more balanced and healthy banana bread. To my delight I stumbled across a recipe from Brittany at Little B's Healthy Habits that seemed like a good starting point (she has since made her blog private and it can't be accessed anymore!). Brittany's recipe for high protein banana bread was packed with protein from the addition of whey protein powder and Greek yogurt. Unfortunately, due to my dairy allergy I can't do either so instead I've created a couple adaptations based off of Brittany's banana bread recipe that are dairy free and contain plant-based protein powder and egg whites to bring in a great amount of protein. 
For the version I'm sharing today I've also brought in even more protein with a cashew cream cheese frosting that contains added protein powder as well. Vanilla plant-based protein powder isn't all created equal though so my suggestion is to stick with a powder that is either brown rice based, (organic) soy based, or pea based for this recipe. This bread is delicious, super moist, dense, hearty, and full of protein, complex carbohydrates, and a nice amount of healthy fats.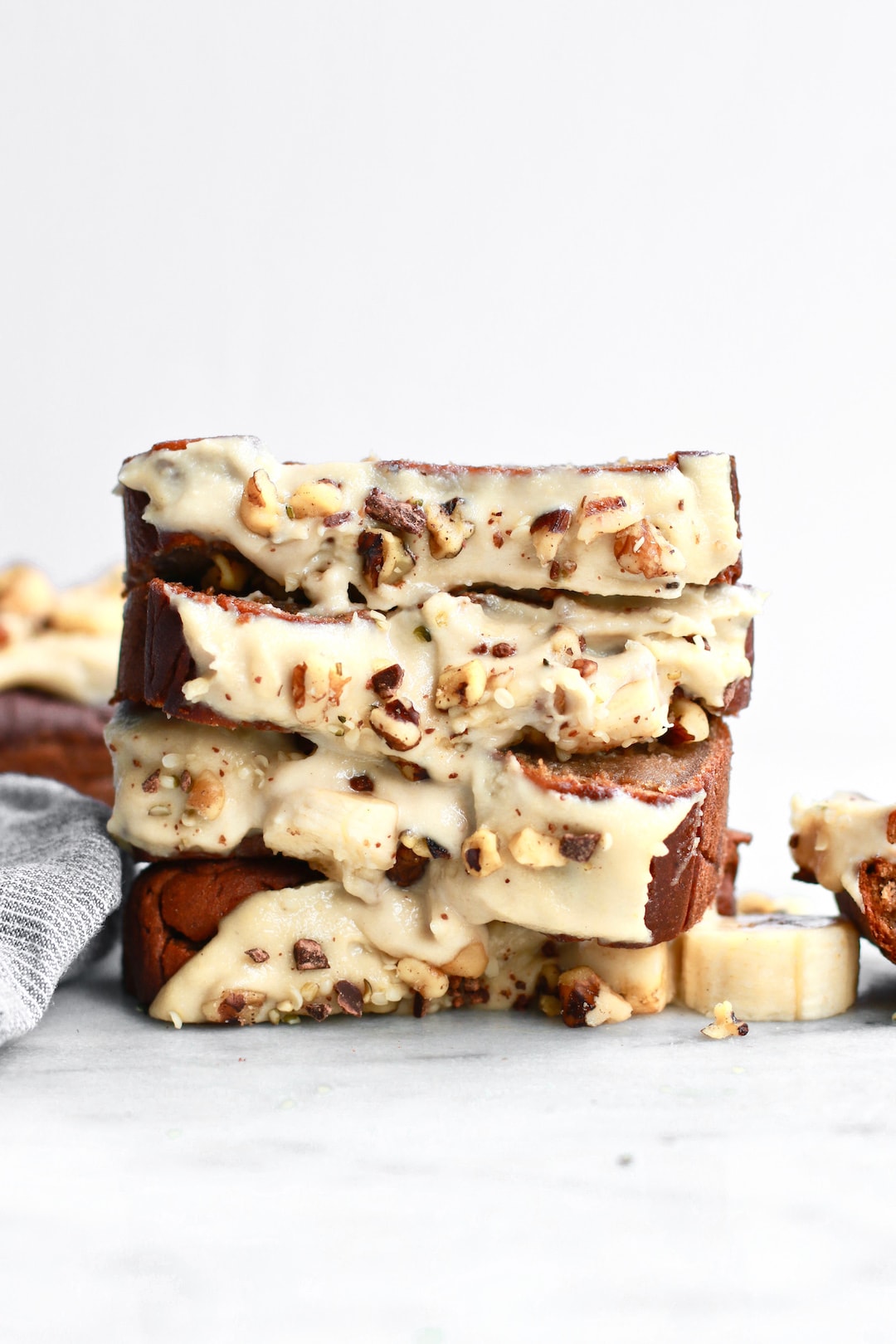 The wonderful thing about protein packed banana bread is that it helps keep blood sugar levels stable which can in turn prevent sugar cravings. When I used to work with nutrition clients I would always assess their daily protein intake (especially if sugar cravings were an issue) and it was amazing how often cravings and mindless snacking would disappear when protein intake wasn't lacking. 
Healthy dietary fats can also help with cravings as they make you feel more satisfied, full, and slow the release of sugars into the blood stream. The cashews in the delicious dairy free cream cheese frosting for this banana bread bring in healthy fats (and some more protein!), and blend perfectly with vanilla protein powder, a touch of vanilla extract, maple syrup, and almond milk. The frosting is totally optional for this recipe as it makes the loaf more indulgent and a touch messy (but really, does that even matter when it tastes so darn good?!).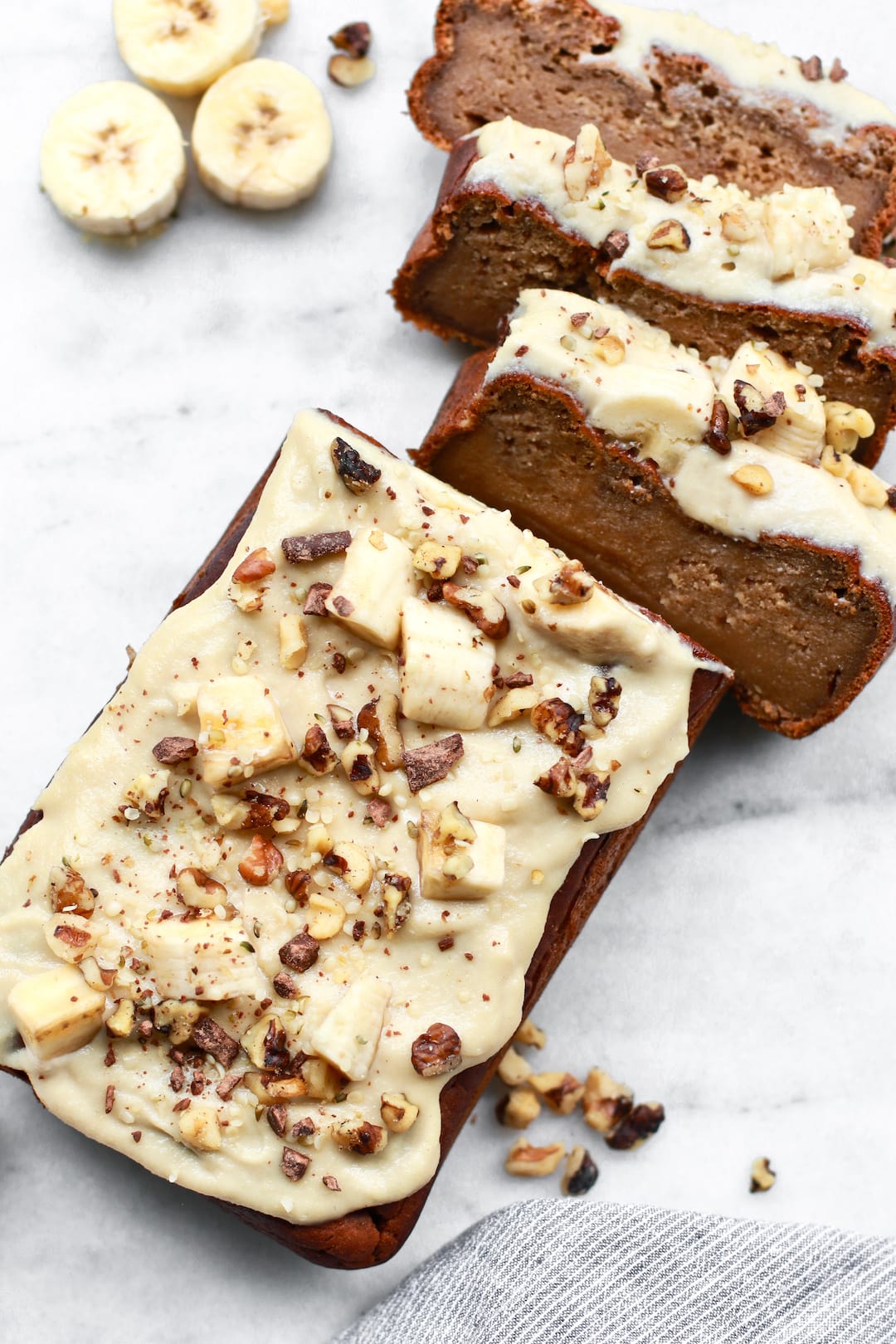 Recipes Notes:
With this recipe it's also important to keep in mind that the type of yogurt you use can change the texture somewhat. I used coconut yogurt which contains a decent amount of fat so the bread takes longer to cook and ends up more dense. If you go with a soy yogurt or other dairy free yogurt that contains less fat, or if you do not need dairy free and use Greek yogurt, you will need to reduce the cooking time slightly (5-10 minutes). My suggestion is not to stray from the recipe too much with substitutions and cook the bread for as long as you need until a toothpick pulls clean from the centre of the loaf, checking it often! 
If you love banana bread as much as I do and want to increase your protein intake to ward off sugar cravings, this protein packed banana bread is a perfect way to do just that! Be sure to pin the photo below the recipe to save this post for later and of course, share the love! You can also check out my Vegan Protein Banana Muffins which are just as delicious and even easier to whip up! 

Healthy Protein-Packed Gluten Free Banana Bread
Healthy Protein-Packed Gluten Free Banana Bread Author: Christal Sczebel Prep time: 10 mins Cook time: 40 mins Total time: 50 mins Serves: 8-10 Protein-Packed Banana Bread Recipe Type : Gluten Free & Dairy Free Prep time: 10 mins Cook time: 35 mins Total time: 45 mins Serves: 14
Ingredients
Banana Bread:
2 ripe bananas
¾ cup of oat flour
6 grams granulated stevia OR ½ cup coconut palm sugar (using coconut palm sugar will make the loaf a darker color)
1 teaspoon of baking soda
¼ teaspoon salt
¾ cup vanilla protein powder (whey or plant-based - avoid coconut based protein powders)
1 cup of 0% fat Plain Greek yogurt OR ¾ cup plain coconut yogurt
⅓ cup egg whites
¼ cup of unsweetened applesauce
2 teaspoons of pure vanilla extract
Cashew Cream Cheese Frosting: (Optional)
¾ cup raw cashews, soaked in warm water for 20 minutes
2 tablespoons vanilla protein powder
1 tablespoon pure maple syrup
¼ cup unsweetened almond milk
¼ teaspoon pure vanilla extract
Optional Garnishes:
Sliced banana
crushed walnuts
hemp seeds
Instructions
Preheat oven to 375 degrees.
Pace bananas in a mixing bowl and mash until you have a thick pudding-like consistency.
Add all remaining banana bread ingredients to bowl and mix until well combined.
Grease two small loaf pans (8" x 2½") with coconut oil or line with parchment paper (alternatively you can use one larger loaf pan but this will increase cooking time)
Divide batter between both pans and bake for 25 minutes (if using 0% Greek yogurt) or 40 minutes (if using coconut yogurt) or until a toothpick pulls clean when tested.
While the banana bread is baking prepare the cashew cream cheese by soaking the cashews then draining and adding to a high speed blender with the remaining ingredients.
Blend until completely smooth, transfer to a bowl then set in the fridge to chill.
When bread is done baking, remove from oven and cool completely before frosting with the cream cheese and garnishing.
Slice and enjoy!
Notes
Store leftovers in the fridge for up to 5 days.
Pin me!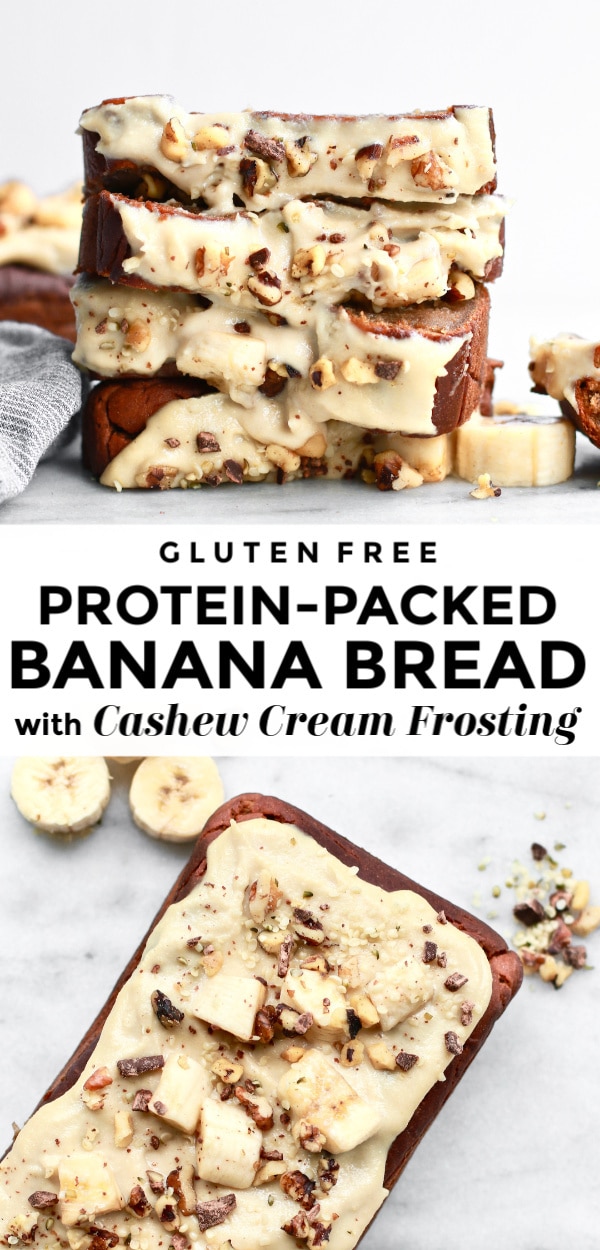 Have an awesome day!
Christal // NITK